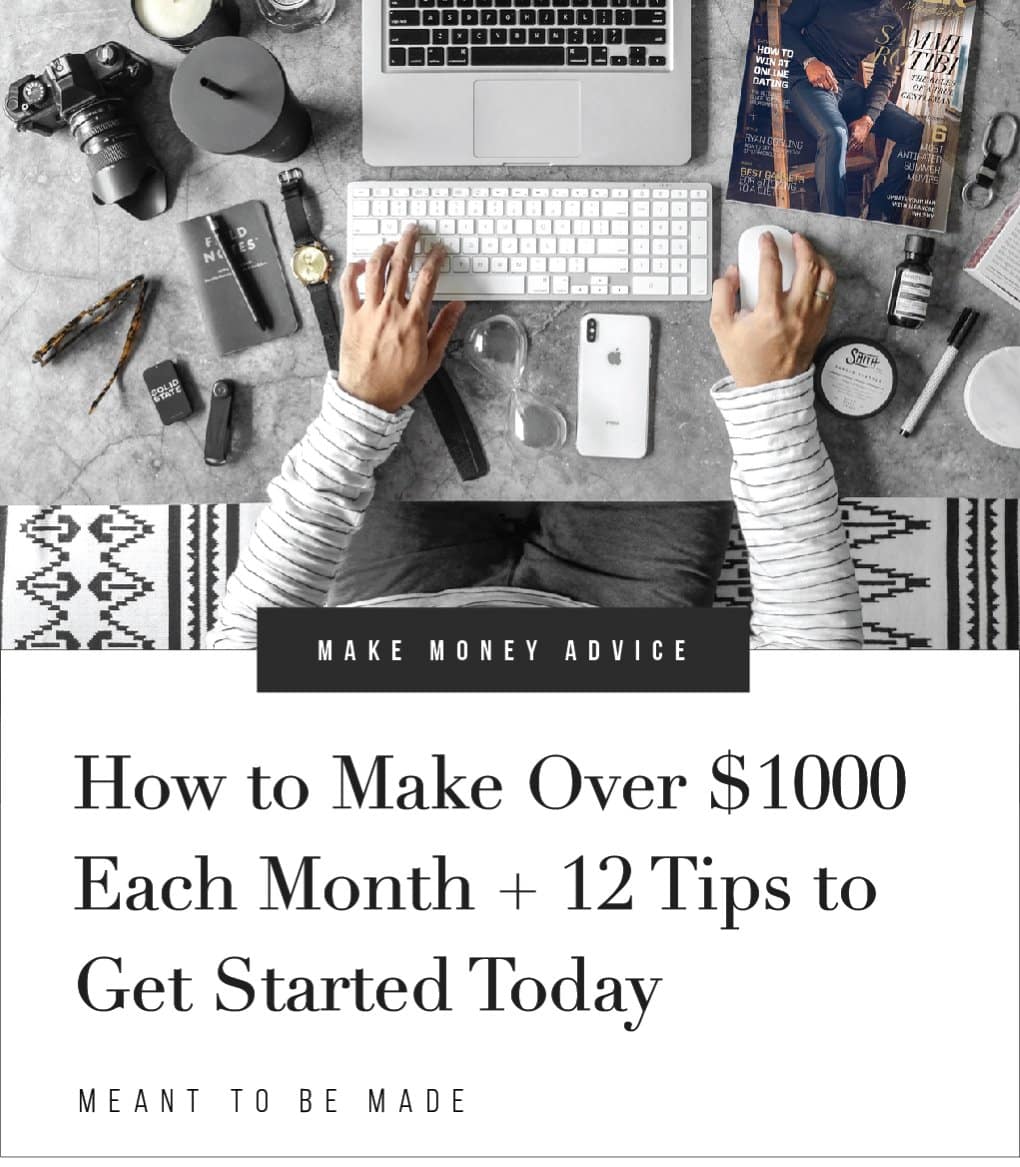 We've listed some amazing ways of making well over $1,000 per month!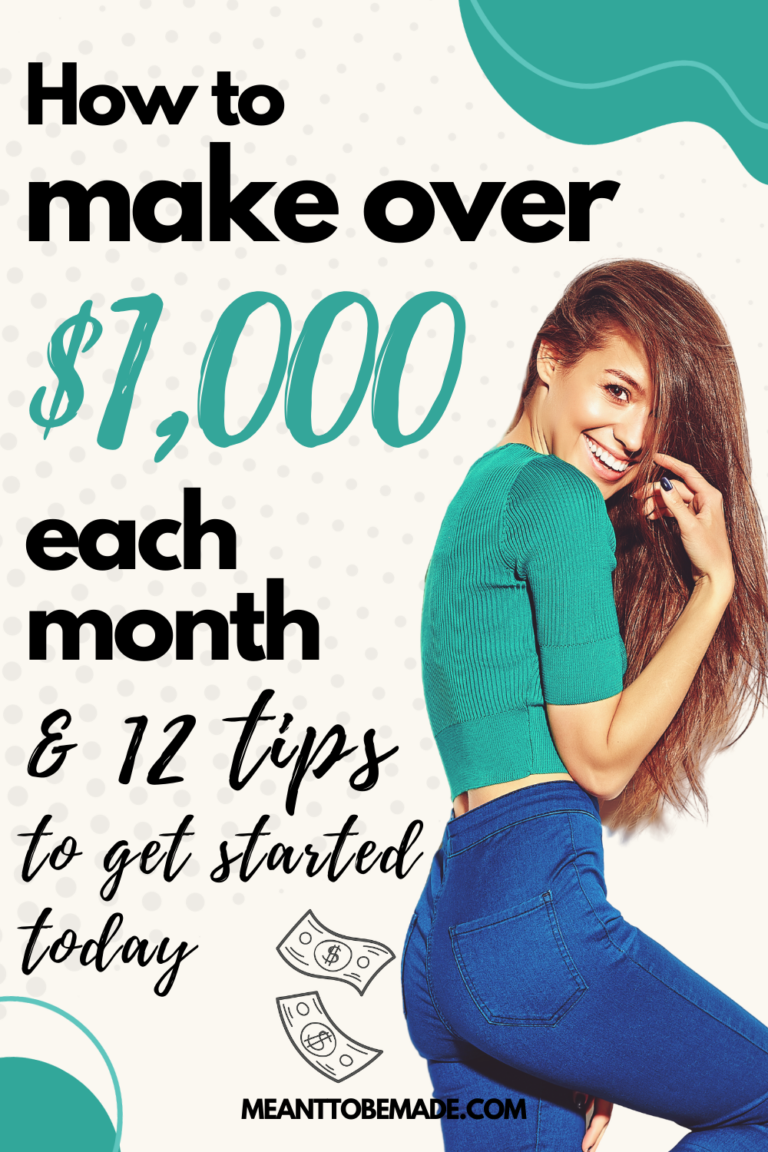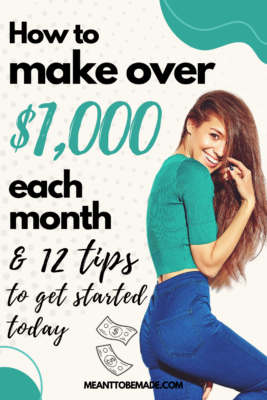 In this article, we are looking specifically at ways for you to earn $1,000 + extra per month.
Some of these ways will be a nice little side earner, while others can quickly turn into a full-time income. You can earn up to $10,000 per month (for these, you might have to either become a workaholic or switch jobs).
If you're looking for substantial money over chump change, then take a look at our ideas and see if any work for you.
For many of our big earning jobs, we have relatable articles and courses! These will teach you how to start and succeed, so you're never left to struggle when you're with us.
So what can $1,000+ do for you?
Having an extra thousand bucks a month is going to help out whether you plan to use it towards paying off debt, having more fun times, or solely for saving.

Each of the things we speak about has the potential to earn you up to $1,000, but depending on how hard you work, you can make a heck of a lot more.

Earning more from your side hustle will give you opportunities you never thought you could have. You could completely change your life, and you could even retire super early. Let's have a look at some of the options.
Sell on Amazon
Let's talk about selling on Amazon. Amazon offers a vast marketplace for sellers to work with, and there are different ways of selling on Amazon. You can sell your stuff on Amazon, such as CDs, DVDs, and Books. Or you can make a business by selling things you've made on Amazon Handmade. You can also make a lot of money by selling things that you've bulk bought using Amazon FBA.

We applied to sell on Amazon Handmade, and when we were accepted, we had to start from the bottom like everyone else.

We quickly made a name for ourselves (at our peak we earned about $12,000 a month, but it was demanding work).

Many people sell with Amazon FBA, but there are both pros and cons to this, it all depends on the rules you want to set yourself.


Sell on Etsy
Selling on Etsy is also a great way to make serious money. Etsy has an incredible global market and is an ideal way of getting your handmade products out into the world.

You might find Etsy slow to start with. It might take a week or two before your first sale, but when you get your first sale, you then go on to get more sales. It's like a chain reaction. Etsy has a lot fewer restrictions than Amazon, and we have sold successfully on both platforms.


Sell on eBay (dropshipping)
Dropshipping is a big thing, particularly on eBay. The reason why dropshipping is so appealing to many is because it is low risk and low cost. However, it is becoming more restricted due to new policies being put into place. Many people have made a ton of money with dropshipping, but it doesn't have to be limited to just eBay; you can also dropship on Shopify too.


Start your own blog
One of our favorite ways to make money (obviously) is by starting your blog. Now maybe you have already tried to start your own blog and think there is absolutely no way of making good money from it, but there is a difference in having a blog as a hobby and having a blog to make money. Creating a blog for money requires a different strategy from a hobby blog, and not many people realize this. They assume that the money will just happen.

It's easy to start a blog but the real hard work and success starts when you create your strategy and act on it.

If you want to start a blog to make money, then we strongly recommend reading our blog article here.


Start your own online store
Starting your own online store is a massive way of making money. Having a website to sell from gives you complete control over your policies, products, and customers! You also won't be limited like you are when using a marketplace to sell.

You don't need to pay listing fees on your website, but there are other minimal costs involved, such as advertising and some relevant plugins.

We found running our own online store was such a relief compared to selling on Amazon. This is because we didn't have ever-changing policies and restrictions, and at one point, we ran both side by side.

Check out our series on starting your own online store here and make money on your own terms.


Print-on-demand services
Print-on-demand services mean using websites such as Printiful, Society6, Printify, and Shopify to create custom products from your unique designs.

The great thing about using print-on-demand is you do the work at the start and then let the platform deal with the rest.

When using print-on-demand, you only receive a percentage of the earnings. This is because as you are only creating designs and don't have to cash out for anything else.


Retail arbitrage
Retail arbitrage is a simple concept. You purchase items from a wholesaler in bulk, then resell them on at a higher price to make a profit. It sounds simple, but you do need to be tactical and understand a few tricks to do this well. We have the right guidance to help you get involved in this money-making plan, particularly on Amazon FBA.


Make and sell your own products
Making and selling your own products is massive. It sounds like a no brainer, but you can create and sell your products anywhere, at a price that you choose. When we talk about making and selling your products, we don't just mean physical products. What about ebooks? Ecourses? Downloadables? You can sell digital products on your website or blog, you can sell your designs on print-on-demand websites, and you can sell physical products on your site, your blog, market places and in the real world like markets and events.


Airbnb
Another great way of making a good chunk of money each month is by renting out your space. You can rent out a room, space you have in your garden or even the whole house when you are away.

Another option is to move in or stay with friends and family while listing your property for a few months to bring in some money.


Teach English
Teaching English through VIPKID is a great way to make extra money. With an hourly rate of between $18 – $22, you can earn a nice income depending on how many hours you work. Some teachers make well over $1,000 per month through this, and you don't even have to commute!


Virtual assistant
Becoming a virtual assistant is another great way of bringing in up to $1,000 per month. Many businesses require virtual assistants to assist with many different jobs, such as answering emails, responding to comments, or doing research.


Freelance writer
If you enjoy writing, grammar, and punctuation, then becoming a freelance writer might be a good option for you. You can either look for freelance writing opportunities online or in the local paper. If you have a blog, then make people aware they can get in touch to 'hire' you.


Fat Llama
Fat Llama is a website that lets you rent out your stuff! If you have a spare tv sitting around, or bike that you never use, then you can rent them out to people who might need them. You never know, they might ask to buy it off you in the long run.


Babysit or nanny
Depending on the rates these days and how many hours you work, you could easily make up to $1,000 through babysitting or being a nanny.

This is a great earner for teens, especially through the summer holidays, where you can cram in a ton of hours throughout the week.


Fiverr
Multi-talented? Offer your skills on Fiverr. You might not think that you can earn a lot from Fiverr, but the more skills you have to offer, the wider the reach meaning more paid opportunities for you.


Rent out your car
Just like renting out your home, you can also rent out your car through websites such as getaround.com. You can rent your car out by the hour or even per week and you are covered for up to $1 million in liability insurance!
GUIDES AND ARTICLES TO HELP YOU ON YOUR WAY
Remember to take advantage of all of our guides to help you get started and successfully earn up to $1,000+ per month.
Conclusion
There we have it, some great ways to earn up to $1,000+ per month with the opportunity to make a heck of a lot more.

We can personally vouch for the majority of these points, and we have had a lot of success with many of them.
Remember to save this post and refer back to it later. Pin it, save it, share it.