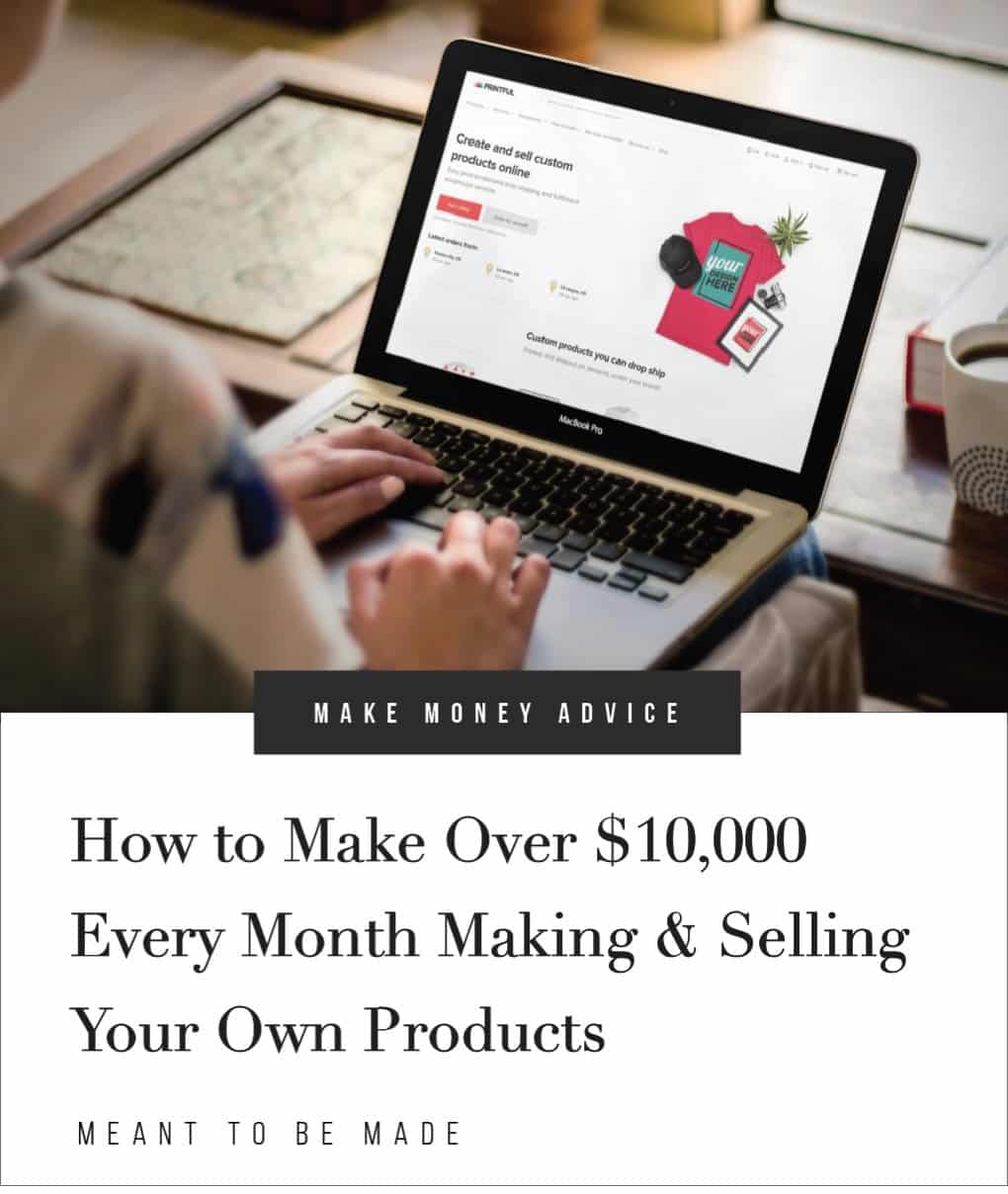 How to successfully sell your own designs even if you're not super creative!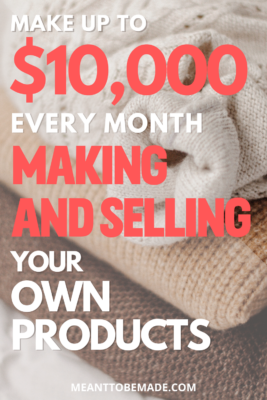 Do you like the idea of being able to design and sell your products?
More importantly, high-quality products that you don't manufacture? Do you want to create art or designs that get noticed by people all around the world?
Then look no further! We have you sorted.
Selling on print-on-demand sites is something that we do for one of our side hustles, and it is an enjoyable and easy way to sell online.
Designing products but leaving others to handle the shipping and even customer service takes the headaches out of the product making process. Meaning the fun stuff of designing the products and making money is left to you!
So let's take a look at what it is, the range of products that you can create and sell, and how you can quickly go about doing it for yourself.
What is it?
Designing your products and having others make them for you is called a print-on-demand service. They're typically free to set up and don't come with any monthly fees or minimum order requirements. So you are free to get started at any time and don't have any financial commitments.
You design products, and when they sell, you receive a portion of the sale price.
Easy right?
It's a great way for creative people to get involved in product design, get a great experience, and make money too.
You can start your range of products, and if they prove successful or your business begins to grow, you can then manufacture products. Manufacturing your products can give you more profit.
Using a print-on-demand service is different than a bulk wholesale way of buying and selling products.
You don't need to make any initial financial investment, and you don't need to hold stock. Nor do you need to ship products individually to customers as and when they order, not to mention that your products are always in stock. It does take a lot of the hassle out of the selling process.
The best thing is that you have nothing to lose if your products don't sell – you won't have any leftover stock, and you won't have lost any money.
The customer benefits as they can buy products that are custom made and unique, wanting something different rather than buying from the big brands.
How it works
The print-on-demand services typically follow the same necessary steps.
You upload a design
Choose a product that the design will be applied to
And finally, the provider will take care of the order fulfillment and warehousing service that fulfills and ships the products to the customers.
Selling to your customers
There are different ways that you sell the products to your customers. You can use your website if you have one, use marketplaces like Etsy, or use the print-on-demand services themselves. Better yet, you can use a combination of them all for maximum revenue possibilities.
For example:
If you use your website connected to a print-on-demand service, the customer will browse your products and buy something from your store.
The provider will then produce the order and ship the product directly to your customer
The product and shipping will be under your brand, so the customer is never aware that you use a print-on-demand service.
This is essentially a form of dropshipping, meaning you generate passive income. How does earning while you work a day job, travel, or sleep sound?
The more products you have on your stores and the more stores you have, the more likely that you can generate enough income to work full time on it. As the income is passive, you are free to work on more products or other side hustles!
The type of things you can design and sell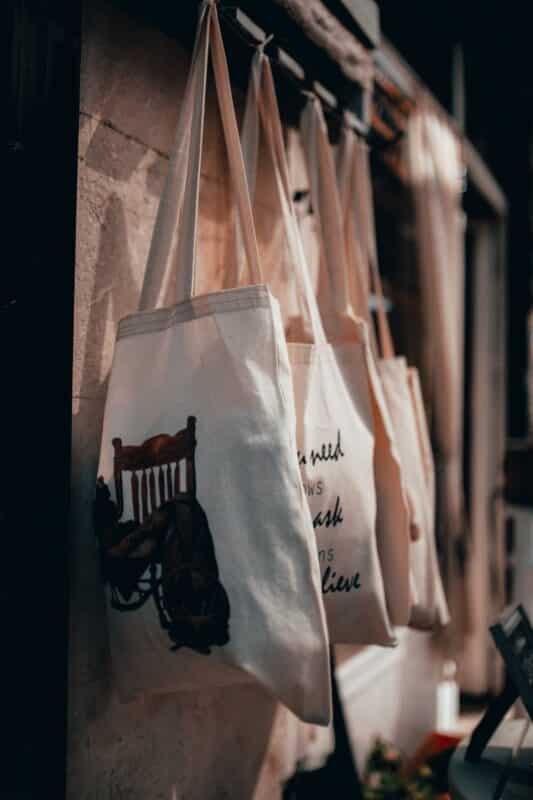 Print-on-demand providers let you create a wide variety of products.
You can make:
Clothing such as T-shirts, polo tops, tank tops, shirts, jackets, hoodies, sweatpants, leggings, shorts, dresses, swimwear, sports bras, baby bibs, baby bodysuits, hats and much more
Accessories including bags, phone cases, bracelets, necklaces, flip flops, socks and more
Home and living products like coffee mugs, stickers, pillows, blankets, rugs, clocks and more
Wall Art such as prints and framed prints, canvas prints, posters, wall hangings, and wood art
Furniture including credenzas, benches, stools, side tables, and coffee tables
And more such as mugs, serving trays, cutting boards, wrapping paper, sun shades, sling chairs, welcome mats, picnic blankets, books, and much more.
As you can see, there is a wide variety of products for you to sell, and you can use the same design over multiple products, which is what we do.
Imagine making ten designs, adding them to ten different products, and quickly making one hundred products to add to your stores! That's how easy it can be!
The kind of designs you can make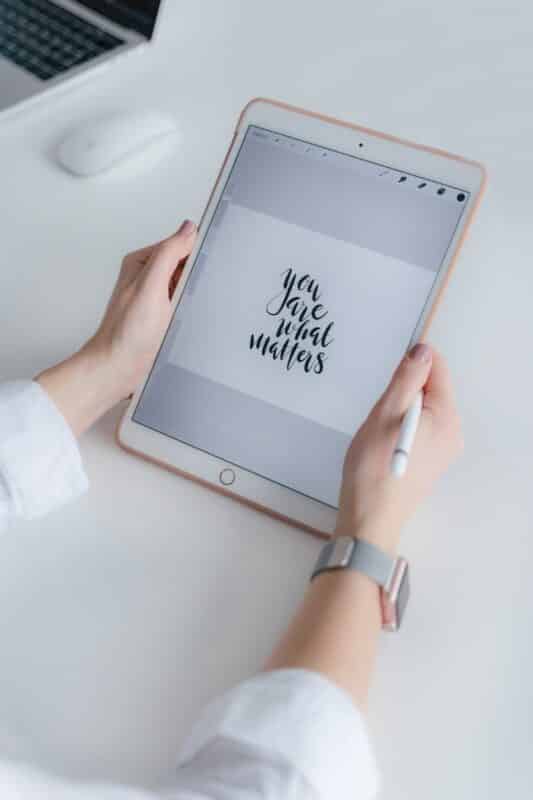 The designs that you can create and upload to these products are pretty limitless and range from:
Quotes (which are very popular)
Abstract designs
Artwork
Patterns
Photography
anything you can draw, paint, photo, or design.
The skills/experience you need
If you can use popular software such as Adobe Illustrator or Photoshop, you'll be able to get started right away by creating your designs. If you've already got designs that you've made previously, then you are good to go immediately!
Using Canva to create
However, if you're not already familiar with those software programs, then you can also use the online design site Canva. This tool doesn't require any graphic design experience and makes the process of designing so easy you can create stunning, professional-looking designs within minutes.
Canva has a wealth of templates that you can use to start your designs.
Just load up a template, change colors, text, photos, and you'll quickly make your designs in minutes. You'll then be able to upload these and create a vast range of products to fill your store.
We love Canva!
But if you're not very creative, then that shouldn't stop you. You can use services like Fiverr and commission artists to create designs for you based on your requirements.
Where to make them & where to sell them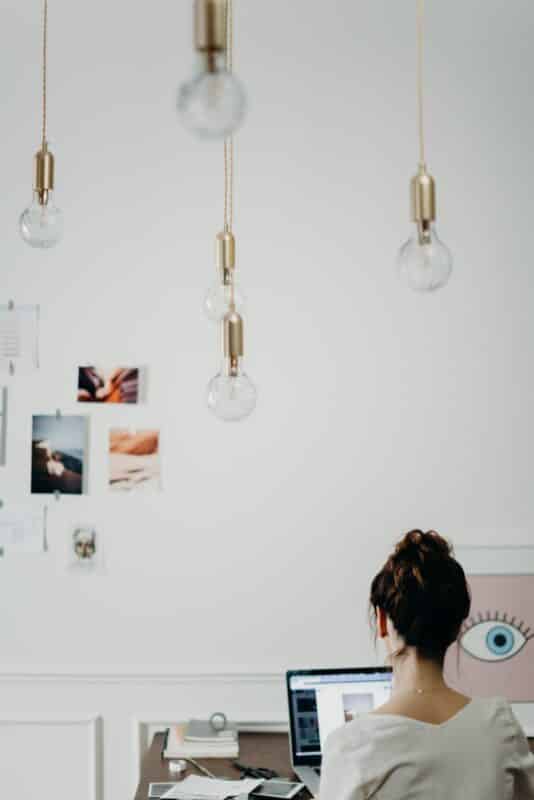 Various print-on-demand sites will produce these products for you. Some of them will also host the products, and others will only integrate with your website or online marketplaces such as Etsy, eBay, and Amazon.
What we have to stress is that using these providers works best when coupled with your website.
This way, you can use your website to promote each of the products and also offer a centralized location where all of your various products are available.
See our full guide on how to start a website from just $2.70 per month!
Let's look at each of the print on demand providers in detail.
Printful
Printful is one of the oldest print-on-demand services and is our favorite as it gives us the most control over our products. It also allows us to choose where and how we sell them, which makes it an excellent site for entrepreneurs.
The products are very high quality, the shipping is fast, and everything is under your brand. You are creating a full, professional business.
Using Printful with Etsy, eBay, and Amazon
You can list your products on marketplaces such as Etsy, eBay, Amazon alongside many others. When a customer on one of these marketplaces purchases one of your products, Printful will make the product for the customer and ship it directly to them.
Using Printful with your Shopify or website
If you have an eCommerce store such as Shopify or Woocommerce, you can integrate your store, and it will fill your store with your Printful products. When a customer purchases on your store, Printful will make and ship the products directly to the customer.
Integrating your site makes it very easy to start a business selling a wide range of products designed by you.
Printful products include:
clothing
wall art
accessories
home decor
How Printful works:
Create designs using tools like Canva, Adobe Illustrator, etc.
Create a free Printful account, and upload your designs to Printful, choose the products you want to customize, and your products are ready.
Configure your online store or marketplace accounts to connect with Printful – which will then populate your stores with your products ready to go.
A customer purchases your product; Printful receives the order automatically and begins to print your product, packs, and ships it complete with your branding.
You are notified of the sale and provided with a tracking number once orders have shipped.
The customer receives your branded package, which gives the appearance of it coming directly from your business.
There are no setup or monthly fees, and the shipping fees are meager as Printful has fulfillment locations in the USA and Europe. Printful works with partners such as FedEx, DHL, USPS, and others.
Printful also has an app so you can keep an eye on business wherever you are.
Printify
Printify is a service that's very similar to Printful. Newer to the print-on-demand industry, but with substantial financial backing, it is quickly becoming a leader in this industry.
As with Printful, you can design a wide variety of products and integrate Printify with your store or the top marketplaces such as Etsy and Amazon.
Printify offers a more extensive product range than Printful, and it also provides printing providers in more countries such as the US, UK, Germany, Australia, and China.
The process of setting up and selling is very familiar:
Create a Printify account
Printify has over 250 product types to choose from; you'll find everything from phone cases to socks. Decide which products you want to customize and sell.
Upload your design, and using their mockup generator, you'll be able to see how the products will look.
Next, you choose your printing provider from a large selection of top-class printing providers
Integrate your stores, whether this is your WooCommerce or Shopify store, or your Etsy, Amazon, or eBay store, amongst others. Just set the product descriptions and price for each product, and they are instantly ready to purchase on all of your stores.
When you publish your products, customers can buy from any of your stores. When an order is received, Printify will print, pack, and ship the products directly to your customers, meaning you don't need to do a thing.
Many people integrate both Printify and Printful products in their stores for the most extensive selection of products. The great thing is, you are only spending time upfront designing and customizing products, which will then be available for sale indefinitely on your stores. After this stage, you don't have to do a thing.
You need some creativity to get started – or pay creatives to make them for you using sites like Fiverr.
Zazzle
Zazzle lets you create over 3000 products, and there is an impressive variety of products to customize and sell. The great thing about Zazzle is you can design your products and also modify designs from other artists too.
The Zazzle website receives millions of visitors every month, and as well as being able to sell the typical products such as clothing and artwork, you can sell products such as buttons, invitations, business cards, pacifiers, and much more.
How Zazzle works
You decide what type of account you need from Designer, Maker, or Affiliate.
Designers choose which products they want to sell, upload artwork, and Zazzle will make and ship the products for you.
Makers manufacture products to make available to Zazzle for customizing by designers, then manufacture the products and ship them to customers.
Affiliates recommend products, and when someone purchases a product, they receive a small commission.
If you choose Designer when signing up to Zazzle, you'll be able to set up your Zazzle store and offer a wide variety of products.
You choose to upload your designs or modify designs uploaded by other members. Your products will then be available to purchase immediately on the Zazzle marketplace, which receives millions of visitors every month.
You don't need to have a web store such as Shopify or Woocommerce. You create products, and Zazzle handles everything else from manufacturing, packing and shipping, and even customer support.
Redbubble
Redbubble is huge! It receives tens of millions of visitors every month to its marketplace, which sells products created by over 700,000 creatives. For people who want to design their products, Redbubble lets you reach new audiences and sell your designs very quickly.
When you choose the products, you want to design, upload your designs, and Redbubble will make them available directly on their marketplace.
They will also take care of everything, from manufacturing to shipping and customer service.
The process is similar to Zazzle:
Create your Redbubble account for free
Upload your artwork
Choose the products you want to sell and set your pricing
Your products will be available to the millions of Redbubble customers every month
A customer buys your product, and Redbubble will handle the transaction, manufacture the product, and ship the product to the customer directly.
You receive money when the customer has received their product.
When you set your prices for each product, you will see the profit margins, and anything above the base price is yours.
Fine Art America
If you are an artist or only prefer to sell high-quality artwork such as canvases, framed prints, or posters rather than the typical apparel, then Fine Art America will be for you.
The site draws its audience of millions of visitors per month who want to purchase artwork or wish to sell artwork and Fine Art America rate itself as the world's largest online art store.
You can sell products such as:
Wall art, including framed prints, canvases, acrylic prints, and even originals.
Home Decor include throw pillows, fleece blankets, duvet covers, towels and more
With just a few clicks, you can sign up for an account with Fine Art America for free. You can upload your artwork, set your prices, and even license your artwork or sell the rights to it. You'll then instantly be able to sell your artwork to millions of buyers from around the world.
If you decide to sell your original artwork via the site, you get to keep 100% of the money!
This is because Fine Art America is happy to take zero commission as they want to see the artists that use their site become successful.
TeeSpring
If T-shirts are your thing, then TeeSpring might be the thing for you. TeeSpring is similar to Zazzle in that you can either create your designs or choose existing designs to modify and sell.
Unlike Zazzle, you can sell your products almost anywhere, from your TeeSpring storefront to popular marketplaces such as Etsy, eBay, and Amazon.
How TeeSpring works:
Signup for a free TeeSpring account.
Create a product and start designing, set your pricing
Customers find and buy your products, and the profit is yours.
TeeSpring print, pack, and ship your products directly and handle any customer service.
You collect your profits!
Society6
Society6 is an older print-on-demand platform that we've been selling on for years. Similar to Zazzle, you can choose from a variety of products, upload your artwork, and reach millions of buyers every month.
Although not quite as big as Zazzle it's still a site that lets you customize products such as
Wall art
Home decor
Furniture
And the typical apparel that print-on-demand sites offer.
Society6 might not be the first choice, but it is certainly recommended to use it alongside other print on demand sites to give you the maximum sales reach.
After all, if you've already created the designs for products on other print on demand sites, then why not upload them to Society6 and create a few dozen products. Every penny counts, right?!
Other notable mentions
Along with the print on demand providers mentioned above, several other significant providers are worth a mention.
Sunfrog – Custom t-shirts, hoodies, and apparel
Amazon Merch – Create and list t-shirt designs on Amazon, upload your design, set your prices, and Amazon will take care of the rest.
Cafepress provides t-shirts, mugs, posters, and more.
Teefury offers t-shirts, hoodies, posters, prints, and more.
Threadless has t-shirts, art prints, iPhone cases and more
Design by Humans offers t-shirts, hoodies, art prints, mugs, and more.
We recommend uploading your designs to as many print-on-demand sites as possible. You should also sell your products on all of the popular marketplaces such as Amazon, Etsy, and eBay but, most importantly, centralizing them all on your website or Shopify store. This way, you'll maximize your earning potential.
You could be creating dozens of designs every month and adding these to a wide variety of products. You can then sell on various stores all over the world and make a very nice income, all from the comfort of your own home, or anywhere else if you're a digital nomad/traveler!
How much you can make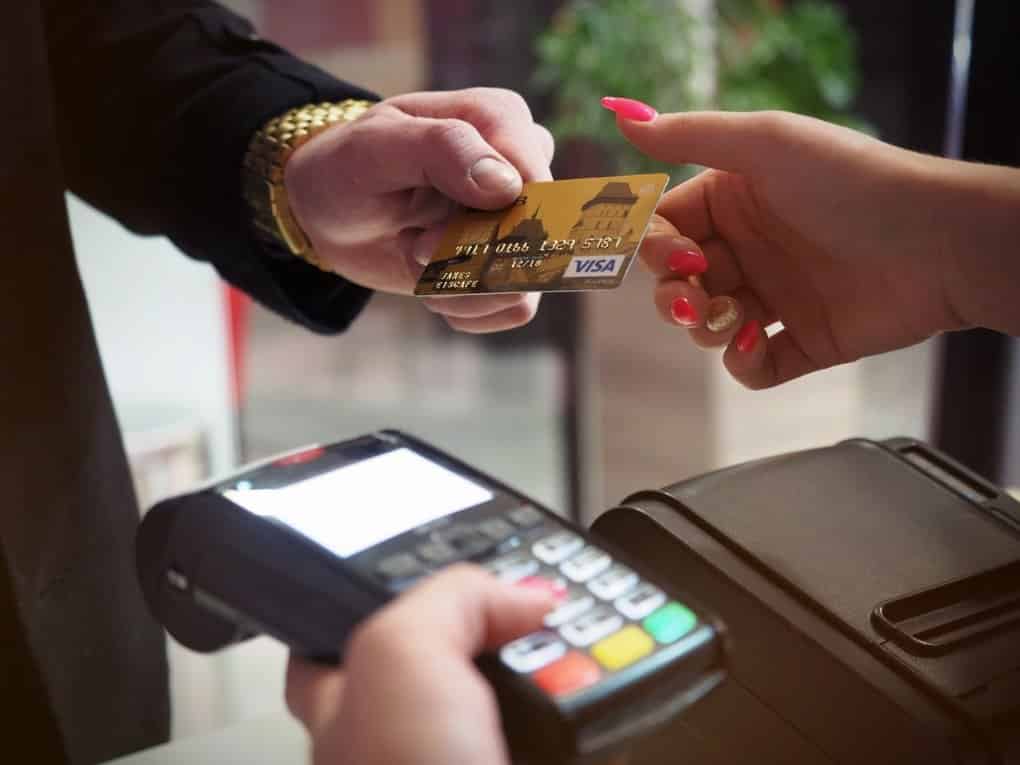 What we love about print-on-demand services is that you can start a store with zero capital in your spare time, and the quality of the products is very high. The amount of money you can make by selling print-on-demand products vary. Firstly, each product type gives a percentage of the sale, and different products have different rates.
Product selling methods
It also depends on which way you sell the product.
If you sell the product directly using the print-on-demand marketplace (which is the easiest), your share will be lower than if you are selling the products from your website (even though they are drop shipped from the print-on-demand supplier).
The percentage of the sale that you make ranges between 10% to 30%, but with Printful, you can set your prices so your profit can be higher.
We often make around $10,000 from selling the products that we've designed online, from our own website and marketplaces combined.
How soon you can make money
How fast you can make money by selling products that you've designed varies depending on the provider you use. If you're using Printful, then you can sell products directly on your website and make money instantly.
Your payment is instantly processed as you're technically buying the product directly from Printful and selling it at a profit immediately.
Society6, on the other hand, waits until 30 days after the item has been shipped to the customer. They will then pay you for that order on the first day of the following month. This is a way of protecting themselves against returns.
Where to promote your products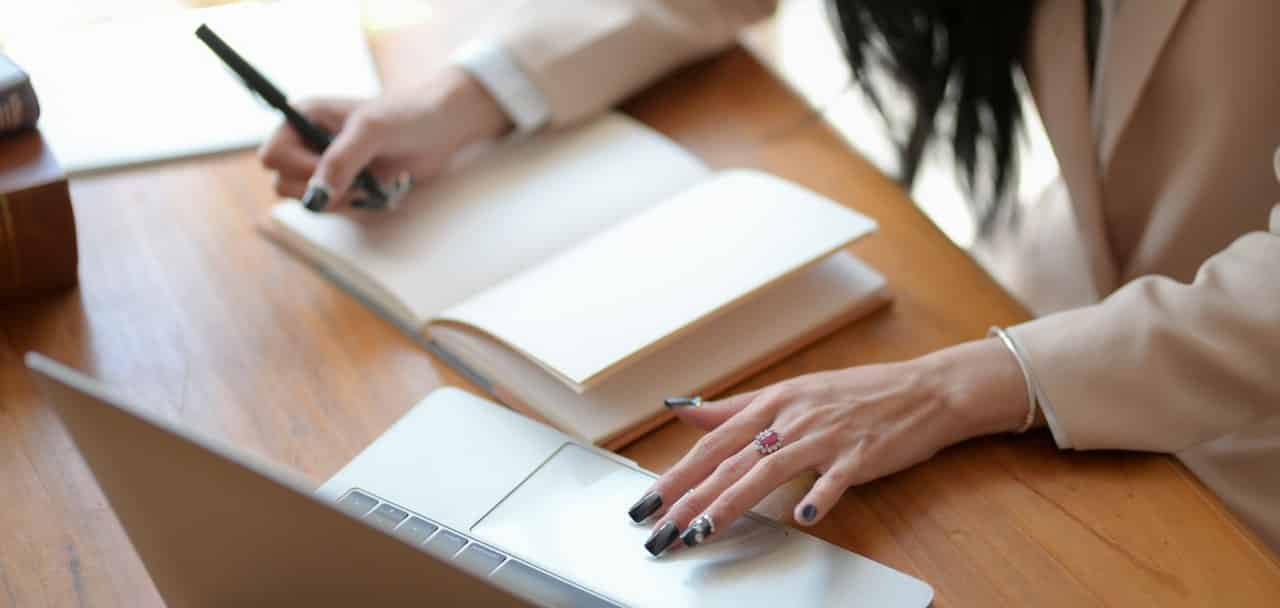 There are so many different places to promote your products, and you may find that some work better for you than others. Let's take a look at the options.
Promoting on your blog or website
Remember, having your blog or website is ultimately the best way of centralizing and promoting your products. This way, you can have your website URL on any promotional material, social networks, business cards, etc. rather than linking off to random sites here and there.
If you decide to stop using any particular print-on-demand service, you won't lose potential customers, including repeat customers, as your links remain the same.
Setting options to buy on your website
It's essential to focus on building your site as the central hub for all of the products you create.
Then on each product page on your site, you can set your options to buy.
You can either show 'add to basket' buttons where your customers can buy directly from your site
You can also use 'buy now' buttons. 'Buy now' buttons will take customers directly to the product page on the print on demand providers site.
Use social media to promote your products
Using social media is a great way to promote your products, the best of which is Pinterest.
Pinterest is the leading social network and search engine used by people who are actively looking for products like yours to buy.
See our Pinterest guide for advice and help on how to boost your website traffic and generate incredible revenue!
Use your design skills to create great-looking, compelling pin images that link to your product pages and use tools like Tailwind to help you reach a massive amount of Pinterest users.
Let's get started!
To get started, we recommend that you sign up for each of the print-on-demand providers listed above.
Next up, we recommend that you start your website or blog!
Start your own website from as little as $2.70 per month using our link!
Lastly, it's design time. Just head over to Canva, or use your favorite design software and start creating designs.
Once you've got a handful of designs, you can simply:
Upload them to the print-on-demand sites
Create the products you want to sell.
Write any accompanying titles and descriptions
Set prices where possible
If you have your website and use the Printful service, your products will instantly populate your site. The same applies if you have integrated Amazon, Etsy, eBay, or any other marketplace with Printful.
Now it's just a case of promoting your products, and you'll soon be making money in no time!
Why not create custom products to give to your friends and family for Christmas or birthdays? You're now a product designer, so why not?! They'll make great gifts.