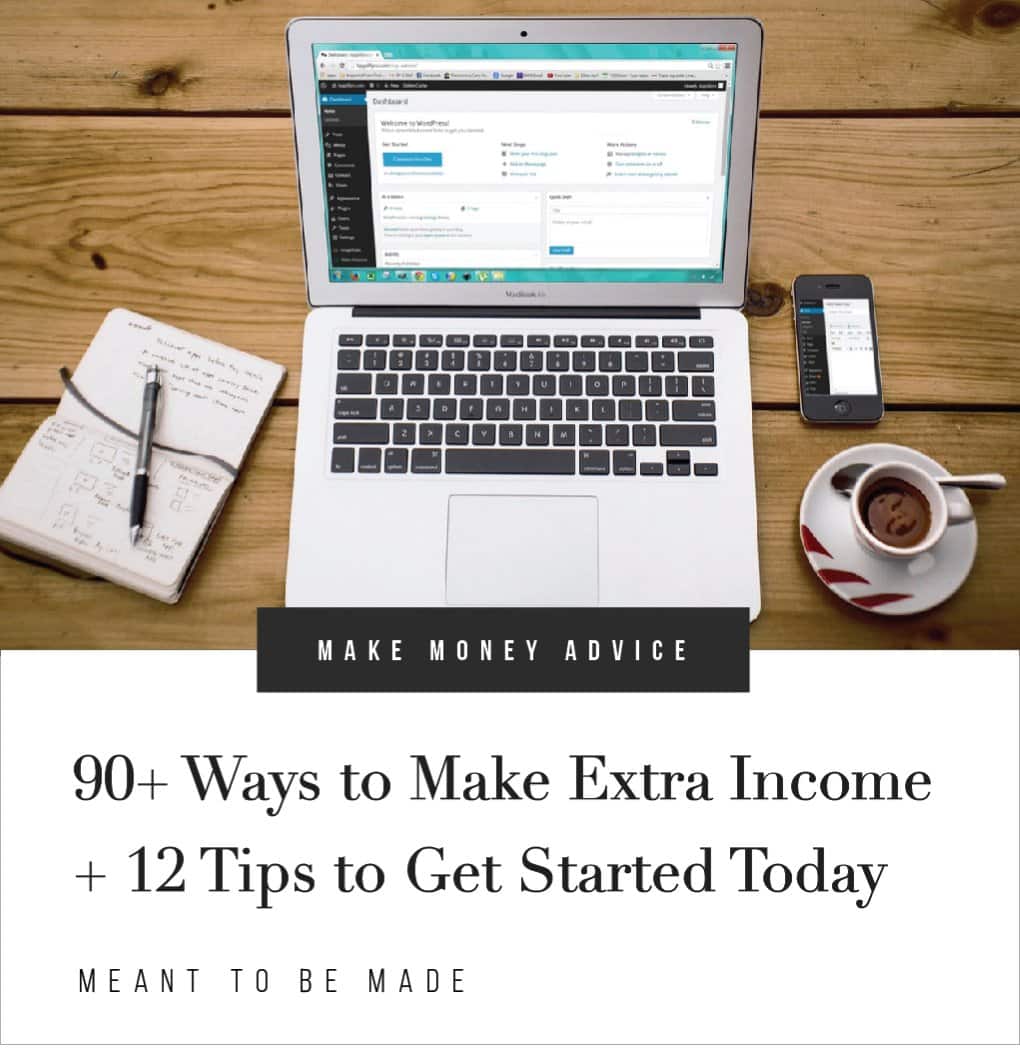 We have over 90 options for making extra money this year! Why not try them today?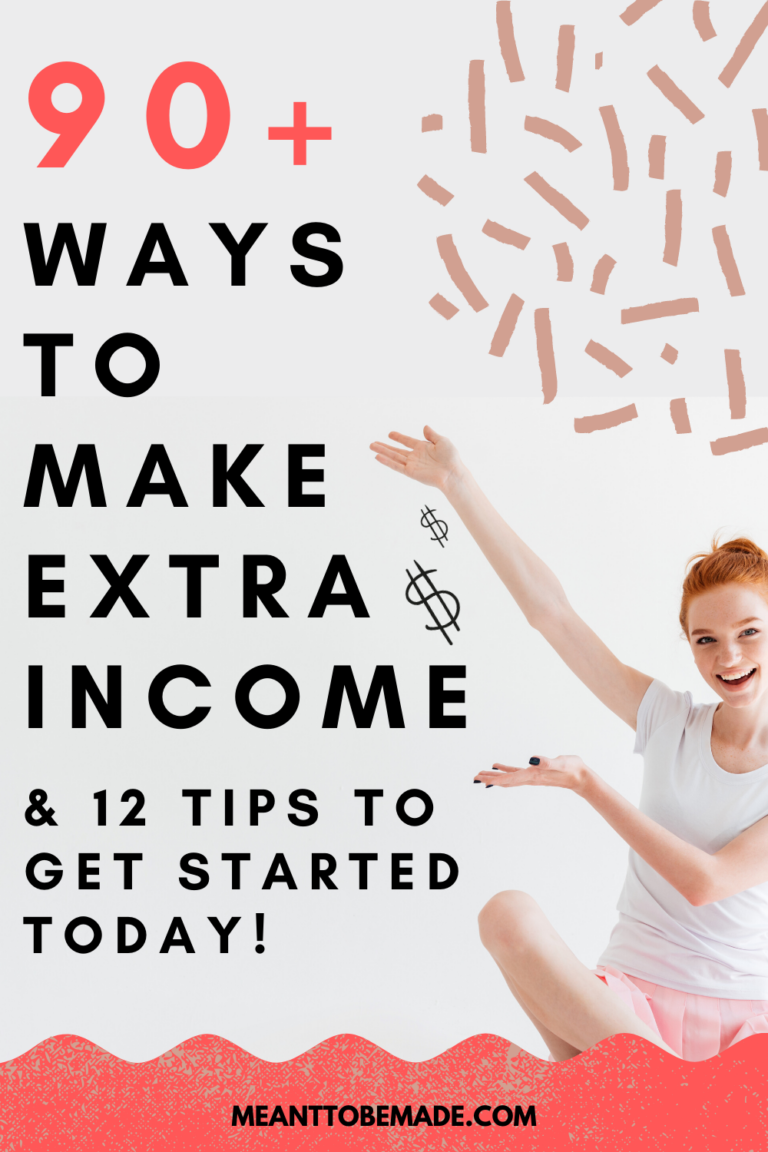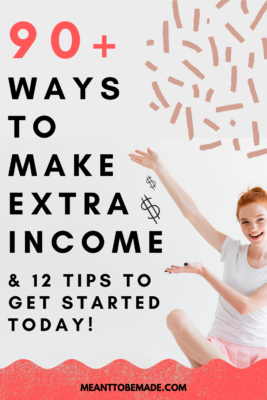 It's always nice to have extra income, especially when you desperately need it. You might work your 9-5 job and still not be pulling in enough money to make ends meet, so what else can you do to bring in that little extra cash? Lots of things!
We've got a great list which covers basic, creative and specialized ways to make some side money. Above all, everyone and anyone will find something on this list that will work for them.
If you want to save our 90+ ways to make extra income, then remember to pin this post for later!
So what can extra money do for you?
Having extra money can help so much! It might be spare change at first, but it can build up to something substantial.
Extra money can help towards:
Paying off debt
Paying towards the holiday season
Saving for a vacation
Building savings
Give you money to enjoy yourself
Help you retire sooner
Each of these points is something to strive towards, and they are doable! All you need is determination, extra energy, and the will to work hard in your spare time. A small sacrifice in your time can pay off big for your financial situation.
If you're ready to start, then here are 90+ ways to make extra income!
Online shopping/cashback

Rakuten is currently a popular website that provides you with cashback and points just for shopping online. Rakuten has over 2,000 well established and popular stores for you to choose from, so you can do a lot of your shopping just like usual in addition to getting rewarded for it!
Online surveys
Taking online surveys can bring you some extra cash, but they don't always work. I've had plenty of experience being told that I don't meet the requirements for a survey, but there are some good ones out there, such as Swagbucks and Survey Junkie.
Start a blog
Starting a blog is no easy feat, especially if you are expecting to monetize it. However, it can be a real earner if you pull this side hustle off. Expect to earn between $5,000 – $20,000 per month, and if you work hard enough, you could become a six-figure blogger.

Are you interested in starting a blog? Check out our guide!
Start an online store
This is a bit like starting a blog, it's going to take some work, but it is so rewarding. We have a lot of experience selling from our website, earning over $12,000 per month.

If you want to learn more about starting a profitable online store, then check out our guide here.
Create an online course
Do you have knowledge, experience, and skills that people desire? If so, there is a market for you! You can make some extra money by teaching other people exactly what you know on websites such as Teachable, Skillshare, and Udemy.
Deliver Food
You can always earn a bit of extra cash through delivering food. Work part-time for a fast-food chain or ask at your local take out.
Offer your services on Fiverr
Ever heard the phrase "there is a job for everyone"? Well, there is. Websites such as Fiverr allow people to complete odd jobs for little money, and you can offer anything!

To learn more about Fiverr and how to utilize it for optimum income, read our article.
Sell unwanted items
A great way to make extra money is by selling your unwanted items. You can do this online or in person. There are tons of different options to sell anything from old clothes to old ornaments.
Rent out your space
If you have a spare room in your home, you can always list it to rent on Airbnb or put out a local ad for a long term tenant. You can even consider this if you are going on vacation and rent your home out for a week or two.
Rent your parking space
Do you have a parking space you don't use? You can list your parking space to rent on websites such as CurbFlip or Pavemint.
Sell your photos
If you are particularly good at taking photographs and have a unique style, then consider selling these to stock image sites.
Work a remote job
Use websites such as Flexjobs, weworkremotely, or remote.co to find flexible part-time work that you can do from the comfort of your home.
Field agent app
The Field Agent app is an app that allows you to do small tasks around your local area for different clients. You get to choose what tasks suit you and get paid for it.
Babysit
A more traditional way to make some extra money is through babysitting. Babysit for a family friend, relative, or through a website or ad. Just make sure you are responsible enough.
Dog walk
Another way to make some extra money is through dog walking! You could reach out to any neighbors that have a dog to see if they would like you to walk them around the block or if you have a car, you can even walk the dog along the beach or at the park.
Review music
The website slicethepie puts you on the reviewing end of 1,000s of unsigned bands and artists' music. You might not earn much to start with, but the more you write honest reviews, the better your scout rating, meaning you can make more.
Mystery shopper
If you want to get paid to shop, who doesn't? Then being a mystery shopper could be right up your street. Take a look at websites such as secretshopper, marketforce, and bestmark to get started.
Teach a language online
If you have experience in teaching or mentoring and an undergraduate degree, you can make up to $22 an hour by teaching English online! Go to VipKid to learn more.
Distribute leaflets
Distributing leaflets is another simple way of making money, whether that's for your local takeout, a local business, or club!
Earn more interest on your savings
Ok, so this one is more about earning money through saving rather than working for money, but it still applies. The best way to do this by checking what banks offer a reasonable interest rate and moving your money to that bank. Over time you will build up some extra cash from your savings, maybe not much, but still, more than you would have had.
Rent out your car
You can use a website such as getaround.com to list your car for rent by the hour, day, or week! This is a cool idea if you know you won't need to use your vehicle at specific points, and you are covered by up to $1 million in liability insurance too.
Be smart with your spare change
This is one that piqued my curiosity. There is an app called Acorns, which essentially helps you save by giving you the option to round up your purchases and receive cash back when you purchase from participating brands such as Nike, Macy's, and Apple.
Cash in the cent jar
Everybody has one of those jars or tins stuffed with cents, dimes, and dollars that you've found in your old jacket pocket or under the sofa, so why not take it to the bank and cash it in?
Nielsen digital voice
Nielsen digital voice is an app that is used to track the amount of time you use on your phone (for research purposes) and rewards you with points. You will also receive an entry into their monthly sweepstakes.
Sell your books
Rather than directly donating your books to charity or letting them gather dust in the corner of the room, why not sell them? You can use websites such as eBay or Amazon to sell your books or even the BooksCounter app.
Become a freelance proofreader
If you are an ace at grammar, punctuation, and spelling and have incredible attention to detail, then becoming a freelance proofreader could be an ideal way to make some money in your spare time. Being a proofreader can become tedious, so you need to make sure you are dedicated and able to focus on long, technical documents, and if you can, then you could make up to $50,000 in your spare time.
Become a virtual assistant
Working as a virtual assistant means that you offer aid to business whenever they need you. This could be simple tasks such as replying to emails, admin work, or doing research.
Sell your unused gift cards
How many of us are given gift cards for birthdays or Christmas because we are apparently "too difficult to buy for"? And how many of us still have these gift cards months later because we don't ever shop at those stores, ever? Well, if you are one of those people, then there is a place where you can sell your unused, unwanted gift cards. Check out cardpool.com.
Fat Llama
We're not talking about the body mass of Llamas here, but we are talking about fatllama.com, where you can buy, sell and rent your items. For this point, we are looking mainly at renting your items out for use, which is interesting. Happen to have a canoe in your garage from the good old days? RENT IT OUT.

On Fat Llama, you can put your unused objects to good use and rent them out to people who need them.
Buy and sell domain names
Sometimes you can buy a domain name and sell it on for top dollar. An example of this is when Jeremy Peter Green bought a domain name on the cheap and sold it for thousands a few years later. With some smart planning, you could reap the rewards.
Google Opinion Reward
Google Opinion Rewards is an app aimed at rewarding you with money for almost every survey you complete. I use this app, and I find it very good as a survey can take less than 1 minute of your time, and you can get up to $0.36 per survey. Over time that adds up. I currently have just over $20 sitting in my google account from earnings that I have made using Google Opinion Rewards. You can spend your earnings on the Google Play store to purchase apps, books, Google drive storage, and much more.
Wash cars
Wash cars to earn some extra money! No, you don't have to wear a bikini, no you don't have to carry a sign while you strut your stuff – this isn't Hollywood, simply ask around the neighborhood if anyone needs their car cleaned or put out a post on social media.
Mow the lawn
This is another one of those old school ways of making money – mowing the lawn! This one is good for all ages; younger kids and teens can mow their yard for some extra cash or their neighbors' yards. If any adults out there have a ride-on lawnmower, then you might be a preference for cutting the grass instead!
Advertise on your car
You can always use your car to advertise for companies or small businesses. Ever heard of a car wrap? Businesses can seriously pay good money for you to be a driving advertisement. You can also advertise your services on your car to get yourself out there.
In-home help
Many people need in-home assistance, and I don't mean being a carer, just merely helping out with some things that people might struggle doing. Help with putting the groceries away, tidying up, vacuuming, these are only a handful of things you could do to help out.
Window Clean
Window cleaning is a large business, and you don't even have to be a professional to get involved. Some window cleaners charge a pretty penny for their services that put some people off, so consider bypassing the businesses and offer your services at a lower rate.
Transcribe audio into writing
There are some sites out there that will pay you to transcribe audio into writing. Although this may not be the most fun job in the world, it brings in the dollars. Look at websites such as Scribie, TranscribeMe, Rev, and Transcribe.
Become a mock juror
You can partake in a mock trial that allows attorneys to practice their skills before a trial. Take a look at eJury for more details.
Housesit
House sitting is a cool option for making extra money as many people would prefer to have a house sitter when they are on vacation or away for the holiday season. We have a family friend who house sits across Europe, and he loves it. We're talking about living in villas across Italy, Spain, and France and getting paid for it while enjoying the sun and culture.
Recycle empty ink cartridges
In Britain, you can recycle your empty ink cartridges for money using websites such as the recycling factory. Likewise, If you're in the US, consider looking at TonerBuyer.
Become a life model
Art students, art societies, and art clubs are always looking for life models. All you need is a little self-confidence and to be comfortable enough to meet the requirements for that particular project. Look around your local colleges, universities, and clubs for opportunities.
Rent out your large backyard to campers
If you own a large space of land or a large garden, you could always rent this space out to campers or list it on Airbnb.
Become a product tester
Some websites and groups pay you to test products out for them in return for a detailed, honest, and thorough review. Look at this article for ideas and reviews on these sites.
Play trivia with Swagbucks live
Swagbucks has a live trivia game show that you can take part in daily. By testing your knowledge and answering questions correctly, you can earn SB points, which in turn can be redeemed for gift cards or PayPal cash.
Sell on Etsy
This is an excellent side hustle that can turn a hobby into a big earner. Etsy is a great marketplace for selling unique, handcrafted items to the world.
Sell on Amazon
This is another side hustle that can bring in big bucks. Talking from experience, you can earn up to and beyond $12,000 per month, depending on what you sell and on what marketplace.

We have a couple of great articles on selling on Amazon and turning it into a profitable full-time income:
Sell on eBay
When you sell on eBay, you can sell anything from the additional items lying around your house to finding bargains and selling them for a profit.
Clean homes
If you find enjoyment in cleaning, then cleaning houses could be an excellent option for you to earn some extra money. You can either sign up with a firm to do this as a part-time job, or build your client list, starting with neighbors.
Move furniture
At some point, people will need the help of others when it comes to moving furniture. Whether that's rearranging a room or moving furniture in and out of a house, you could offer your help. Just make sure you're up for the challenge, and you don't injure your back!
Do guided tours
If you live somewhere which is considered a hotspot for tourists and you know the area unbelievably well then you can always do guided tours. We noticed when we went to Copenhagen, Denmark, there were a lot of students doing free guided tours but asking for a donation at the end, and nearly everyone does donate.
Sell food
If you create terrific bakes, jams, pickled goods, etc. then you could always get involved in a local food market. This is a great way to start if you're interested in selling in the food sector, the more you sell, the more recognition you will get, and you may even get approached for wholesale.
Enter Contests
You might not win money from contests and giveaways, but you could win gift cards and products that you can either sell on or enjoy.
Sell at a craft market
If you are particularly skilled at making craft products consider selling them at a craft market. If you haven't tried your hand at craft-making, then don't fret. We have a post on easy crafts to make and sell that offers tons of great ideas.
Sell to second-hand stores
Some second-hand stores will pay you for any items they find of interest, so it's worth taking a look before you automatically donate (although donating is good too). You probably won't make a ton of money from this, but every little counts, and you never know, you might have something particularly special worth paying for.
Garage sale
Hold a garage sale or yard sale to sell all of your unwanted items. You might not make a fortune, but at least you're getting rid of unwanted items and getting something for it!
Sell on craigslist
If you're living in the USA, then consider selling any unwanted items on craigslist.
Sell on gumtree
If you're living in the UK, then consider selling any unwanted items on gumtree.
Take part in a flea market or car boot sale
Like a garage sale, taking part in a flea market will give you the same experience of selling your items face to face but on a much larger scale. Unlike a garage sale, you will have more opportunities to sell your items as you will be selling to a much larger crowd, and you can always increase your prices too.
Test websites
Websites such as UserTesting allow you to make money from testing different elements of a website and sending a video review of you interacting and analyzing the site.
Advertise on your social media with Izea
Izea is a company that pays you to advertise on your social media account or blog. It's effortless to set up, and you don't even need a blog to get started! You can begin by linking your social media. Izea always pays out (digitally) and has partnered with some top brands such as Netflix, Walmart, and Lego.
Help build other peoples websites
If you are a dab hand at designing, coding, and building websites, then this could be an excellent option for you. Offer your skills in specific areas at a discounted rate, and you could be chosen over other more prominent companies time and time again.
Work on a farm
If you're a hard worker and don't mind getting your hands dirty, then working at a farm is a great option for making extra money. A lot of farmers are calling out for help, so offer your services, and you'll more than likely get snatched up.
Pick fruit
Picking fruit is one of those jobs that require hard work. It might sound like easy pickings (forgive me), but picking fruit such as strawberries requires quick hands, attention to ripeness, and perseverance when things get tedious. In the UK, it is hard to get workers now due to Brexit, so if you're British and thinking of getting involved in this seasonal work, then you will be welcomed with open arms.
Give music lessons
Skilled guitarist? Pianist? Lend your musical skills to people willing to learn a new instrument. You could give one on one lessons in your own home or in the clients home.
Tutor children
If you have any qualifications or experience in the education sector, then you could always offer to tutor or mentor children on the side or in the run-up to exam time.
Flip items
Like flipping houses but on a more manageable, affordable scale, flipping items could be a great way to make some cash. Consider investing in things that have potential and upcycle them to make them better…then sell them on at a premium.
Sell old clothes
If you have some stylish or unique pieces of clothing sitting in your wardrobe that you don't wear, then sell them on! Use sites and apps such as Poshmark, thredUP, Kidizen (perfect for kids clothes and hand me downs), and Tradesy.
Do chores for others
There are only so many hours in the day, and for many, that isn't enough to get through everything, especially chores. Consider doing chores for neighbors or the elderly such as cleaning the house, doing gardening, taking the garbage out, doing some shopping.
Part-time work in retail
Retail stores are advertising like crazy for temp workers for the festive season, so this could be an option to earn some extra money (if you don't mind working Christmas Eve and Boxing day). Aside from seasonal work, you could always work flexible shifts to bring in extra cash when you have the time.
Part-time work in a hotel
Hotels are always looking for extra help, and depending on the contract, you could have flexible hours, making this a great option for part-time work and additional income. Hotels might also be looking for extra help over holiday periods such as spring break, Thanksgiving, and Christmas.
Part-time work at a restaurant
Restaurants and diners might be looking for work for several reasons, such as students quitting to move after finishing school, the festive season, or simply because they need more workers. You could help in the kitchen, help at the front of house, be a waiter or waitress or even clean.
Part-time work in a bar
Bar work is a particularly popular option for those looking for flexible work due to the shifts being mostly during the evening and night. However, if you have responsibilities at home, then this might not be for you.
Work extra hours over the holidays
Rather than finding another job to bring in extra income, why not work overtime at your current job or work over the holidays?
If the option is there, then it's a good one to consider.
Paint homes, fences + exteriors
If you like working outdoors and enjoy painting, then you could get involved in painting home exteriors, sheds, fences, etc. You do this on your own or as part of a team, and accumulate decent extra cash over the period you are working.
Help to fix things (handyman)
Why not be a handyman on the side? You could help fix things, put shelves up, and any other DIY projects that might need an extra pair of hands.
Shovel snow
During the winter season and snowy days, people are going to need some help shoveling the snow from their doors and drives. You could always put a post out on social media before the storm is due to hit to get clients in advance and guarantee an income.
Pet groomer

You can self teach to learn how to become a pet groomer or even gain an online qualification, and you could use this to groom pets on the side.
Pet trainer

You might need some qualifications or training to do this side job, but it's enjoyable and worth getting into if you are a pet lover.
Inbox Dollars

You can make money from Inbox Dollars who pay you to watch TV, take surveys, play games, and read emails. You also receive a $5 bonus when you sign up. Alternatively, for British residents, you can do the same on Inbox Pounds.
Become a brand ambassador

If you have a large social media following, then you could always approach brands for deals and to become a brand ambassador. You might not get money, but you will get rewarded with freebies, and that's still nice.
Use Dosh

Dosh is an automatic cashback app that will reward you with real money when you spend at partnered stores. You need to link up your card, spend and save.
Become a taxi service

You can sign up with a company such as Uber as well as offering lifts to friends, family, and neighbors for a small fee.
Sell on Society 6 and other print-on-demand sites

Society 6 is one of those cool websites to sell on that can earn you a passive income. Although you won't earn tons from Society 6, you can make a few dollars none the less from people purchasing your designs, and the great thing is you can upload your artwork and leave it alone.
Get involved in affiliate marketing

Ok, this is a big one. Many people get involved in affiliate marketing through their social media channels and their blog. The majority of blogs make most of their income from affiliate marketing, and sometimes this can be a staggering amount of money.

If you want to learn more about affiliate marketing, then check out our guide here.
Test apps

Just like testing websites and games, you can earn money for testing apps and reporting any bugs and faults. Look at sites such as Tester Work.
Help with sports coaching

You don't have to be qualified to help with sports coaching, so if you enjoy getting on the playing field and have a passion for coaching, then this could be a nice little side income. You could always start by volunteering and working your way into a paying roll or keep an eye out for local paying opportunities.
Interior design consulting

If you've got a keen eye for interior design and have a portfolio of this, then you may be approached for some advice. If you have a well established and styled home decor Instagram then you may become an interior design 'influencer' and be approached by brands or other residents wanting your help.
Event staffing

This is a fun one! For music festivals and other events, organizers are on the lookout for people to help run the show. This could include being a guide, helping backstage, or checking tickets. In addition to being paid to work at some cool events, you also get to experience them for free!
Sell your hair

Have you ever considered selling your hair? With a high demand for natural hair extensions, hair professionals are looking to buy hair if it meets their requirements.
Start a podcast

Many people love to listen to podcasts in addition to reading. So this might be a great idea if you enjoy talking into the mic and getting your voice out there. Depending on your listener ratings, you can demand up to $40 from advertisers for every 30 – 60-second ad.
Meal prep for people

There are so many people in the world who want to eat healthily but don't have the time to meal prep efficiently. If you've got meal prepping down to a tee (and a lot of people don't), consider offering this as a service. You could even go a step further and count macros for each individual.
Clinical trials

There are plenty of research organizations in the world that will pay you to take part in their clinical trials. However, make sure that you understand the terms, risks, and conditions before you agree to anything.
Direct sales

Some brands allow you to work for them by being a representative. This means you can work from home, within your hours and work on a commission basis. The more you sell, the more you earn. Many people sell to their neighbors and friends, along with hosting parties aimed at trialing and purchasing products.
Ready to make some money?
So there we have it! 93 different ways to make some extra money this year. Have you tried any of these or plan to? Let us know in the comments!
Found something to try? Remember to share the love and pin this post!