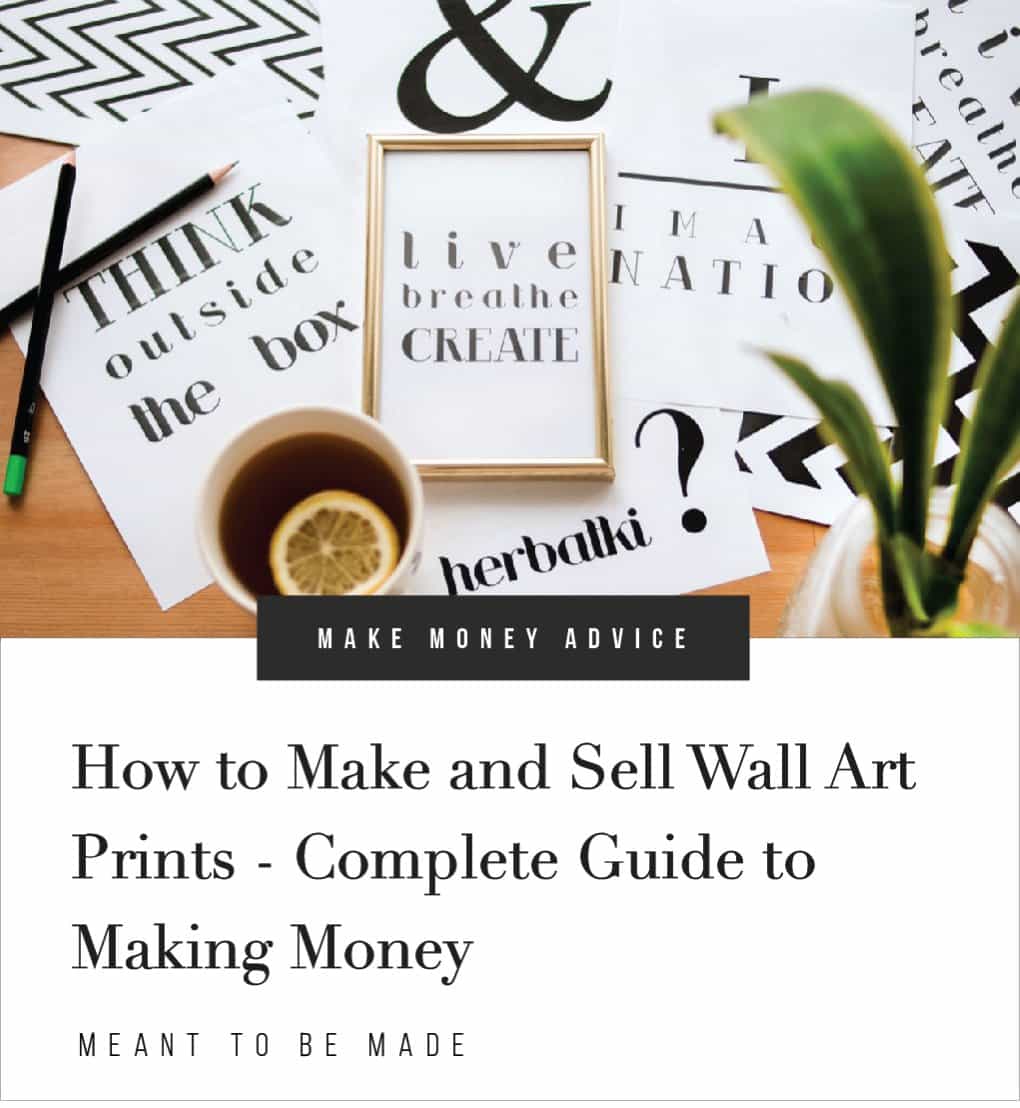 Learn how to use popular design tools and successfully sell your art online!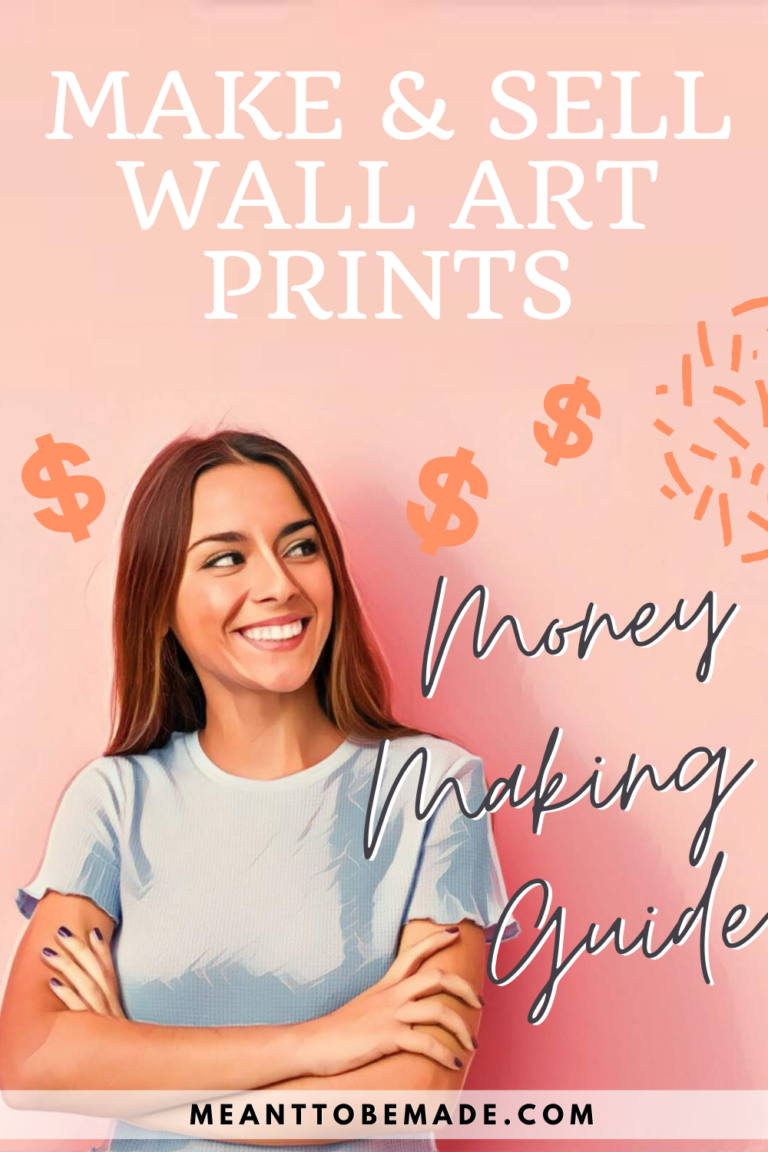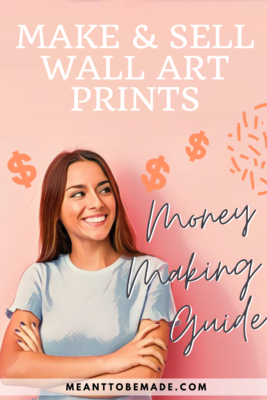 Welcome to another post from our how to make and sell series, this time we're going to show you how to create and sell wall art prints.
If you're creative and know how to use software like Canva or other popular software such as Adobe Illustrator or Photoshop, then read on for an overview of making and selling wall art prints.
We're going to cover:
What wall art prints are
How much they typically sell for
The likely profit
The tools you need to make them
And also where you can sell them.
We will also cover how to promote your wall art prints with some handy tips along the way.
Ready to get started?! Let's go!
What are wall art prints?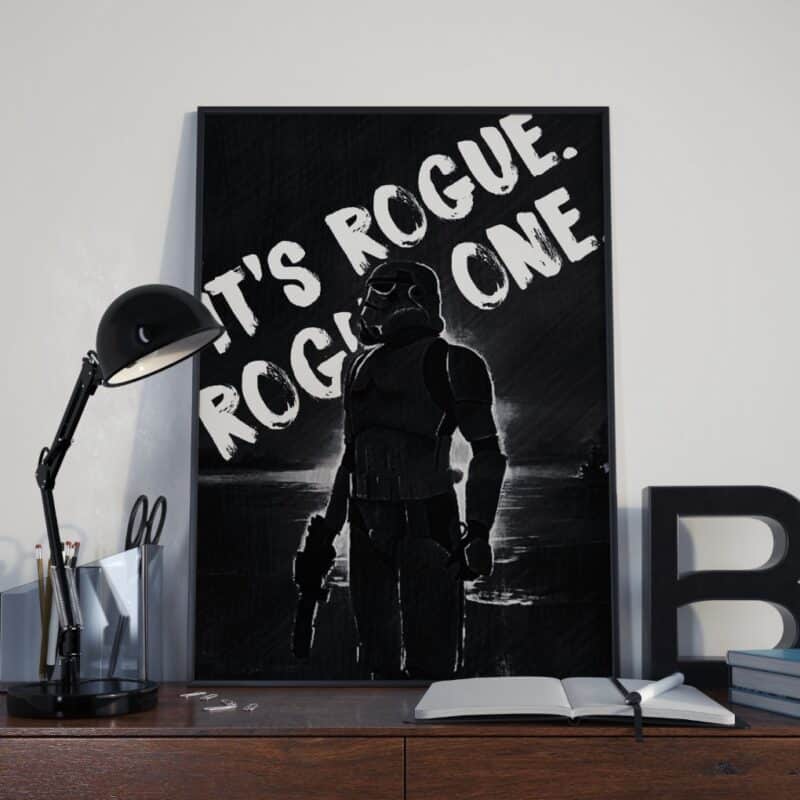 Everybody loves wall art prints. You've likely got at least one somewhere within your home, and many people have multiple prints, framed and hung up. These prints make a statement in any room and also make the perfect finishing touches when you're decorating your home. They also make the ideal gifts to give to others.
Wall art prints are art gallery quality prints made on thick and durable matte paper and feature anything from interesting or beautiful photographs, abstract art, inspirational quotes, and much more.
How much they sell for / how much you can make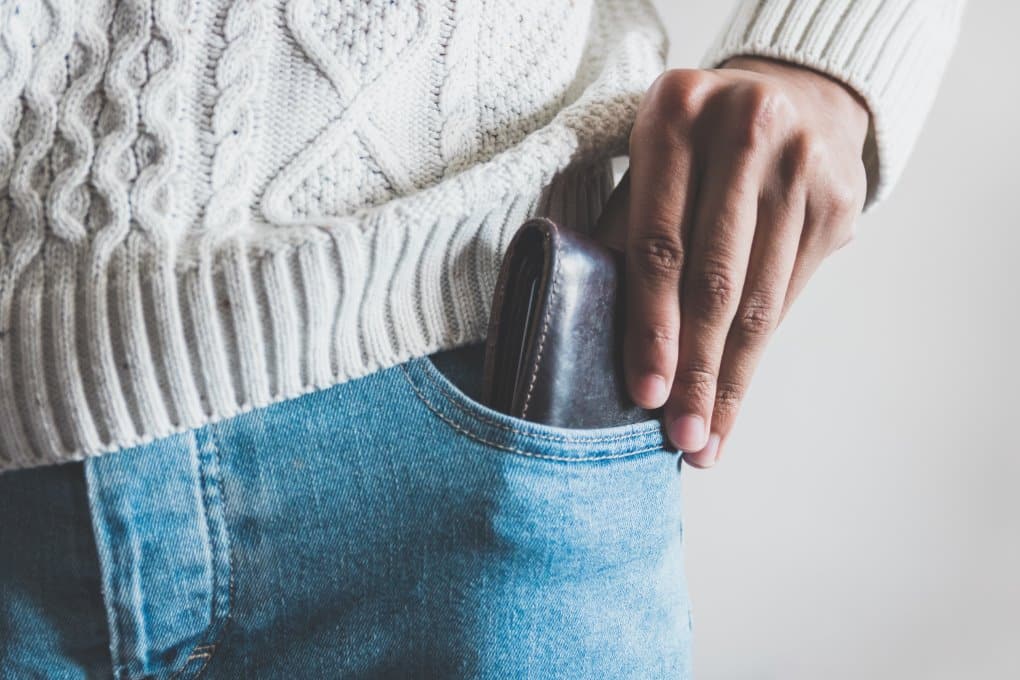 Wall art prints generally sell anywhere between $15-$40 on average, depending on the size. Suitable printers such as the Canon Pixma-Pro 100 will print on paper up to 13×19 inches. Some printers can print up to 16×20 inches, although these are considerably more expensive and bulkier.
This type of printer may not be viable for those of you starting as you need to justify buying a larger printer by having enough sales and interest first. But certainly, you'll be able to print up to 13×19 inches, which is a good size and within the most popular size choices that people opt for when buying art prints.
The costs involved are the printer, then the ongoing costs are paper and ink. The average sheet or print quality paper is around 50cents per sheet for an 8.5×11 inch sheet and $1.25 for a 13×19 inch sheet. On a per print in costs would be about $1.70 for a full color 8.5×11 inch page, $2.70 for a 13×19 inch page.
So total print costs:
8.5×11 print: $1.75 – sell for $15 – profit up to $13.25
13×19 print: $3.00 – sell for $30 – profit up to $27.00
Of course, you can charge more, and depending on where you sell these prints; there may be some small handling costs. For instance, if you sell the print at craft fairs for cash, you won't have merchant or payment processing fees. However, you might not sell anywhere near as many as you could if you had your own Shopify store. On the other hand, you will have to factor in the processing fee of around 20-40cents per print.
This gives you an idea. If you sold ten prints per day, then multiplied by the figures above, you could make a profit between $130-$270 per day.
The more you grow your business, the more prints you will sell. You'll also see more sales around the festive period, Mother's day, Father's day, Valentine's day, and so on.
By creating designs that work well for those periods, you can help maximize your revenue.
The great thing about selling art prints is that the actual order fulfilling takes very little time. For example, every morning, you will look at the orders that have come in over the previous day and send these to print. The printing of each print will take just a minute. You'll then pop into a protective sheet and then into a flat mailer or mailing tubes for the 13×19 prints.
So realistically speaking, if you sold ten prints a day, it would take you about 15 minutes to print them, 10 minutes to pack them, and a few minutes to print any labels. So for around 30 minutes per day, you can make up to $270.
What do you do with the rest of your time? Well, you can either design more art prints, promote your products on social media, work your regular day job, or do other side hustles.
Where you sell them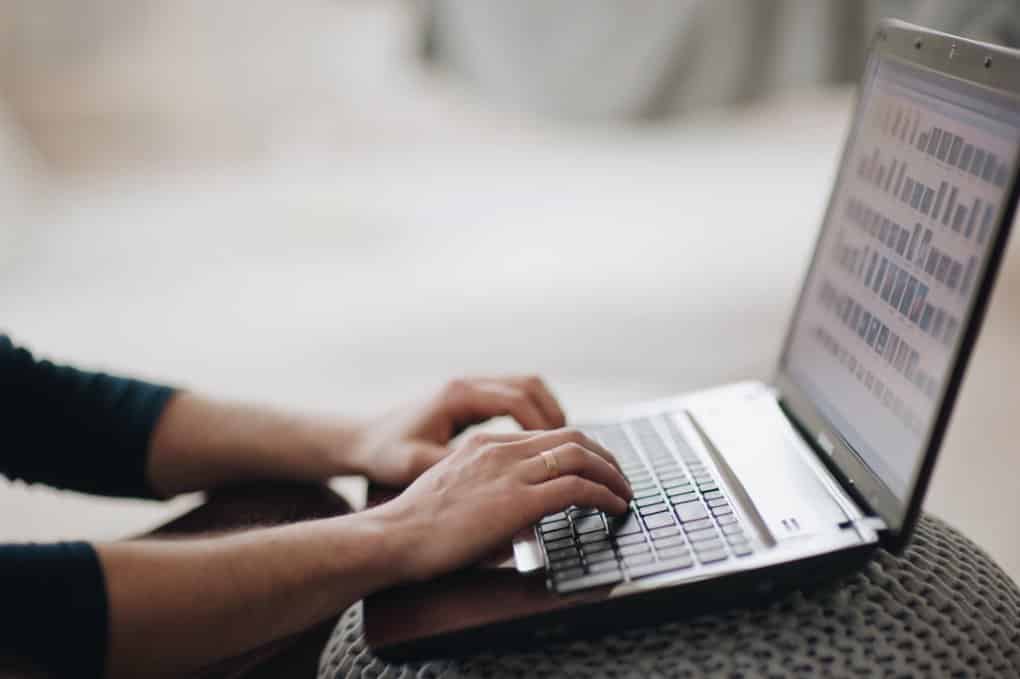 So now you know what art prints are and the type of money you can make you're going to need to know where to sell them. Let's take a look at the channels you'll use to sell your art prints.
Your own website or Shopify store
We recommend that you focus your efforts primarily on your website or Shopify store. Selling on your store gives you the most control, has the least fees, and is something that you can continually grow.
Most importantly, it will provide you with peace of mind that you won't ever lose your store, which can happen if you sell on marketplaces.
When you promote your art prints online or on social media, you need to provide potential buyers with a link to your store. If you're linking to your Etsy or Amazon store, then you're promoting Etsy or Amazon rather than your own business. Of course, buyers will be able to visit your store and products on those marketplaces, but they will also see other similar products from other sellers. They can harm your sales potential if they choose the competition over you.
Because of this, we recommend that you promote your own store as you'll be able to grow it and even have repeat customers continually.
It's easy to set up your own store! If you have a website or blog already, then you can easily add a store. If you want to get started with your store, you can do this very quickly in just an hour or two.
See our full guide on starting your site for $2.70 a month!
Alternatively, if you prefer something that's pre-built and don't mind paying a little more per month, then a Shopify store is what you need. With a Shopify store, you don't need to spend time setting things up; it's ready to go! You just need to list your products, set your prices and viola!
The Marketplaces
As well as having your own store, we also recommend that you list your products on popular marketplaces such as Etsy, Amazon, and eBay.
Branching out will help increase your earning potential, and you can make some good money by selling on marketplaces, although they do have fees of around 15%. Because of this, we recommend your store as the priority channel and the marketplaces as secondary channels.
Listing your art prints on the marketplaces is as easy as listing on your store. An advantage of listing your products on the marketplaces is that they have millions of buyers visiting their stores every month. Competition can be fierce but remember, buyers have various tastes, so you're bound to attract a sale.
You can also pay to promote your art prints so that they are more prominent on the marketplaces. This helps generate more sales but does have its costs, so dabbling with this and getting the balance of more sales while aiming to minimize your expenses is important.
Print on Demand
Print on demand is another great way of selling your artwork. However, the difference is that these services will do the printing, packing, and shipping for you. So it works by you uploading your designs to the print-on-demand websites and setting your product descriptions. Similar to how the marketplaces work, buyers can find your products and buy them directly from the print-on-demand provider.
As this is a purely passive income, you don't need to print, pack, or ship the product yourself, but you only make around 10%-20% of the sale price. We recommend this as an additional channel for some extra money because you can never have too many options.
Bonus Tip: Using a print-on-demand service such as Printful, combined with your own Shopify store, can be a great way of testing the market, minimizing your time, and giving you some extra income.
It works by populating your Shopify store with your range of art products, and you get the benefits of being able to promote and grow your own store, but Printful will take care of everything else. You won't make as much money this way initially, but it helps you get up and running quickly. You will also get an insight into the potential sales and revenue you can make.
When you see an increase in daily sales, you then switch from the print-on-demand to your own printing, and your profit will jump considerably. At this point, you'll need to invest in a printer, ink, and paper, which we will detail shortly.
Art Galleries & Museums
You can also submit your art prints to galleries and museums, and if they approve, they will sell your prints for you. You simply contact various galleries and museums (local ones work best), then write proposals, submit your prints, and when you have both agreed, you can supply your prints in sleeves. The galleries and museums will sell on your behalf, taking a percentage for the process they provide.
How to promote your artwork
How you promote your art prints depends on where you are selling them. You'll ideally have your own site or Shopify store and use social media to post regular images and promotions of your artwork.
More importantly, you'll pin your artwork regularly to Pinterest and also write blog posts about your new designs and other posts relating to yourself and your business. This helps gather a lot of potential customers to your website.
You can potentially receive a tremendous amount of traffic from Pinterest by using a good strategy.
We cover how to attract thousands of visitors a month to your website using Pinterest here.
For your marketplaces, you can occasionally pay to promote your products, which will help bring them to the top of the art print categories or search results. This helps increase sales and in turn, can increase your customer reviews. This will then encourage others to purchase your products going forward.
What skills/experience you need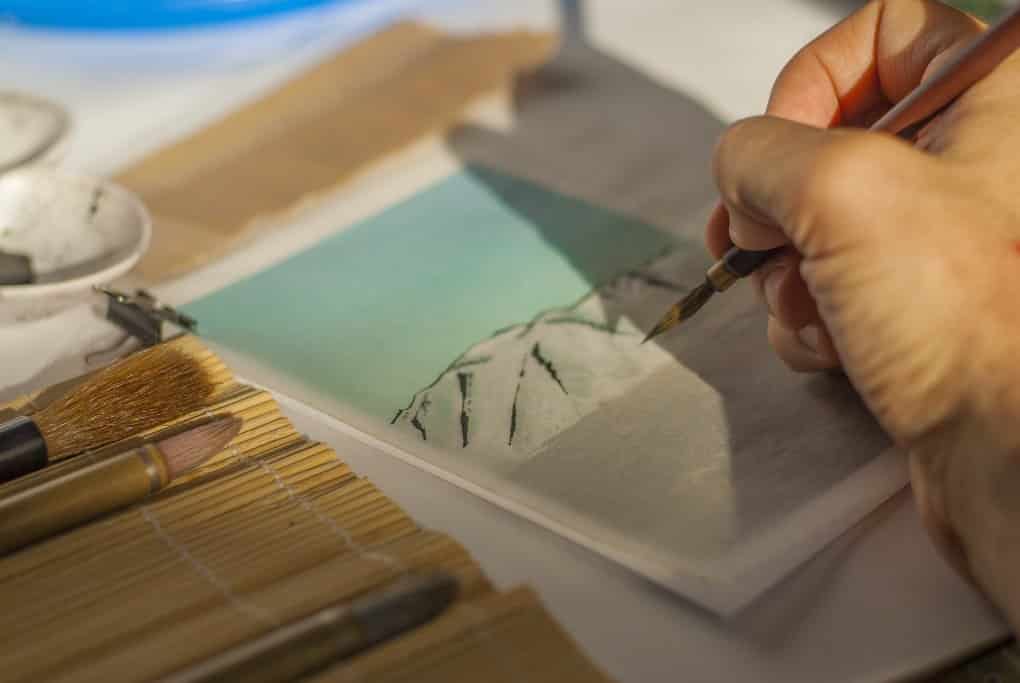 You don't specifically need skills or experience to get started. You just need to have some ideas and inspiration. You'll get this from browsing Art prints on sites like Etsy.
When you have your ideas, you can then get started designing. Use tools like Canva, Illustrator, or any other graphic design software – although we personally love Canva!
Some courses can help cover much of the process and aspects to creating and selling your art online, such as the best selling course on Udemy 'How To Sell Your Art Online With ETSY'.
In this course, you will learn how to list and sell your art on Etsy successfully and it covers the bulk of what you need to know about creating an Etsy store. This includes selling your art, writing descriptions, taking photos of your artwork for listings, and much more.
The Artist's Guide to Promoting & Selling Your Art Online is another great course that covers selling your art online.
Lastly, if you would like to sell your art in galleries and museums, then the course 'Your Artist Bio & Sell Your Art in Galleries' is great! This course gives you insight into writing a great artist bio and explaining how you can sell your art in art galleries and museum shops.
Tools you need / materials / equipment / software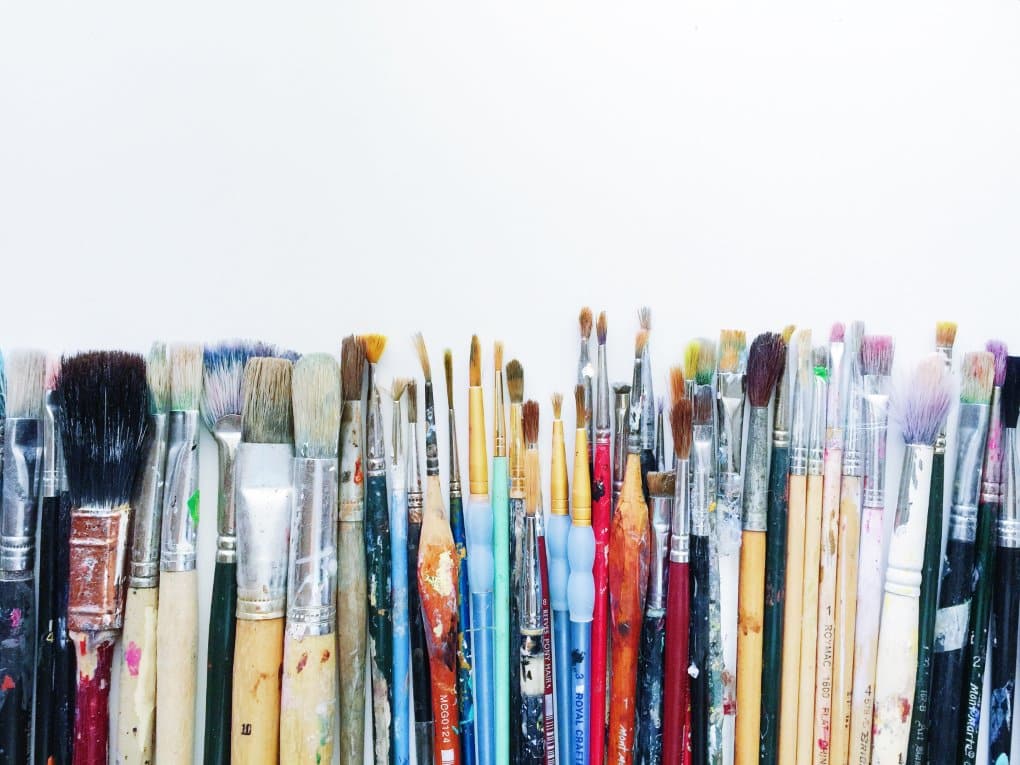 To get started making your own art prints, you're going to need a few things. Let's cover those now.
Firstly, the software to design the prints. You might already have software that you use to create various things for yourself, friends or social media. You might even use the software at work. However, whether you do or you don't, we'll cover what we recommend just in case.
So for software, the leading design tools are:
Adobe Illustrator
Adobe Photoshop
Canva
Canva is just great, and we love it. We don't only write about it, but we use it ourselves. We also use other tools such as the Adobe suite; however, our go-to design tool is Canva because it allows us to design something quickly.
It's so straightforward to use, and best of all has thousands of templates that you can use. These templates are a starting point and help you get creative quickly instead of staring at a blank page. It's also very cheap! The free version lets you do quick designs, and the pro version offers more features including:
loading your own fonts
adding photography
exporting to a high resolution and much more.
If you don't already use design software or you don't consider yourself very good, try Canva. You'll be surprised at what you can achieve within just a few minutes, and when you get to know it inside out, the possibilities are endless.
Adobe Illustrator
Adobe Illustrator is the world's most powerful graphic design software but is a little pricey at $19.99 per month on an annual commitment or $29.99 on a month-by-month basis.
Millions of designers and artists use Adobe Illustrator to design a wide variety of things, from graphics for the web and social media to product designs, artwork, and more.
Adobe illustrator is the perfect choice for creating wall art prints from scratch. Although you start with a blank page, you can bring your ideas to life with a little time and knowledge of the software. It's likely to be the tool of choice for most artists who make art prints.
Adobe Photoshop
Another tool from Adobe and also along with the same pricing structure of $19.99 per month, you can easily use this for creating your art prints. Where illustrator is a vector program for creating illustrations, typography, and things that focus on solid colors, photoshop is much more colorful and is perfect to use for photography or designs that are vibrant.
You can use either Photoshop or Illustrator. It comes down to the type of art prints you want to make.
Equipment
So when you have your designs ready, you're going to want to print them, which is what you'll do when you're producing the orders that you receive.
To get started selling art prints, you'll need a high-quality medium-range printer that can cover anything up to 13×19 prints, which can print to a very high quality so that your customers are happy with the products they receive.
We recommend the Canon Pixma Pro-100, which covers the paper sizes up to 13×19, high-quality printing, and is in the pricing range of most people looking to start selling art prints. It's what we use ourselves for our art prints, and we highly recommend them.
Materials
To print to a high sellable standard, we recommend starting out with a paper that's high quality, durable, and affordable. This helps make sure you get brilliant prints.
For this, we recommend the Epson Ultra Premium Presentation Paper (Matte).
Available in two sizes, although we recommend buying both.
Epson Ultra Premium Presentation Paper Matte (13″ x 19″) (50 Sheets/Pkg)
Premium Presentation Paper delivers long-lasting photographs with a matte finish
With its heavyweight, bright white, ultra-smooth finish, this paper is perfect for non-glare photographs, craft projects, and signage
Epson Ultra premium presentation paper matte, 50 count (S041341)
Ultra-premium white presentation paper with a matte finish
Manufactured in Japan
Ink
The best ink to use for the Canon Pixma Pro-100 can be bought directly from Canon.
We only recommend using original Canon ink.
Original will preserve the life of your printer and avoid making your warranty void, but also preserve the life of your art prints. Original ink doesn't fade like the cheaper compatible ink cartridges. This way, you won't upset customers later on who find that their art prints have begun to fade! You'll also avoid unnecessary and costly resends or refunds that you might need to make.
Flat mailers
Sending the smaller 8.5×11 inch art prints can be done using flat mailers!
Mailing tubes
Square mailing tubes are an ideal way to pack your rolled 13×19 inch art prints as they are easier to pull out than a circular tube. Buy in bulk for bigger savings!
Conclusion / summary
So now you've learned all about:
Making and selling art prints
Tips on where to sell them
The amount of money you can make
The tools and equipment to use, nothing is stopping you from getting started today.
As we have previously said, you can get started today by starting a Shopify store, signing up for a free Printful account, creating some designs using Canva, and quickly and easily creating products. This combination is a fast and low-cost way of getting started.
When you get bigger and attract more customers, you can move on to physically printing, packing, and shipping the art prints directly to your customers. You will receive more profit and have no limits.
Whether you're looking to make a few extra dollars a day or make a full-time business, anything is possible if you have a little creativity and invest a little time.