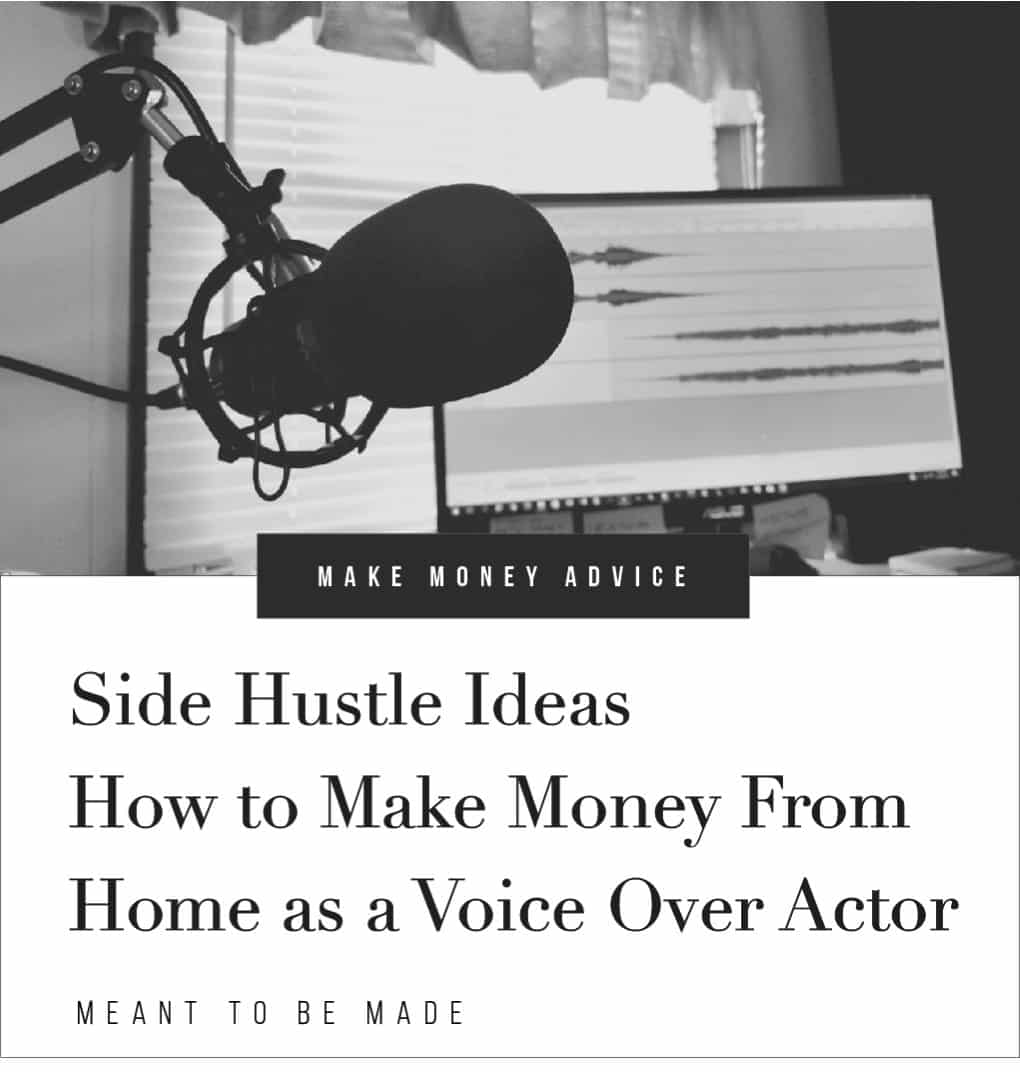 Got a voice like Morgan Freeman? Then use it to bring in the bucks!
How does the sound of making money from being a voice-over artist appeal to you?
Well, you may not have previously considered this as a way of making some extra money, but it is something that many people do.
You'll be able to record your voice while you read out the things that other people pay you to say, and you can even do this from the comfort of your own home.
Many people are doing this already, and there are lots of people looking to pay people like you who want to offer their time doing voice-overs. All you need is a microphone or phone recorder.
Being a voice-over actor is an ideal way of making extra money, and almost anybody can do it.
Let's take a look at what you can do.
What you do
Businesses are looking for male and female actors to do voice-overs for a variety of different things. As a voice-over actor, you can do voice-overs for:
TV commercials
Radio commercials
Instructional / training videos
Podcast Intros/Outros
Voicemail
eLearning Modules
Narration
Character acting
Corporate training
Podcasts
On Hold Message
Business Training Tutorials
Explainer Videos
YouTube Video
Online projects
Phone greetings
Internet Programs
Business Training tutorials
Audio Book
Internet Product launch
Websites welcome pages
PowerPoint Presentations
Whiteboard Animation
or anything that requires a voice!
You'll see that there are lots of things that need a voice put to them, and many businesses are needing this now!
How much you can make
If you're freelancing from home, you can make between $5-$10 for up to 200 words. The speaking time for 200 words is around 1 minute, and there are freelance voice over actors selling 1000's of these gigs! You have the potential to make some nice extra money.
As with all Fiverr gigs, if you do a good job, you're likely to receive repeat buyers that can contribute towards your earnings. If you deliver a good quality voice-over that's clear and well pronounced, you'll easily be earning money from this side hustle.
There are lots of addons you can charge for when providing voice over services.
These can be:
script proofreading
providing commercial or full broadcast rights if the buyer intends to use them for business purposes
VIP Delivery if the buyer needs it quick and much more.
Where to find business
You can find freelance work for voice-overs on sites like Fiverr, which is the world's largest Freelancer network. It's free to sign up with Fiverr, and you can begin posting your services right away.
A quick look through Fiverr for voice over actors shows some of the top sellers doing over 15,000 of these gigs, so there's certainly a lot of opportunities out there.
Better yet, if you have your blog or online store, you can begin drawing people in and make a business out of it.
How soon you can make money
Sites like Fiverr will pay you once you have completed the job and the buyer is happy with the service. There may be a holding period for up to two weeks if you are a new account holder.
What tools you need
To provide voice over recordings, you only need a microphone and ideally a computer, but you can even record voice-overs using your phone! If you're willing to invest in a good microphone from Amazon, with a pop shield (that is optional but recommended) and a stand will make things easier.
What experience do you need
To become a freelance voice-over actor, you don't need any previous experience, all you need is a voice and be willing to give it a shot.
When you advertise your services, you'll attract people who are happy to pay you to do this work. As you start to do these gigs, you'll begin to gain experience and perfect your abilities.
But you can certainly learn how to do voice over work with an online course, which will help give you many tips and send you confidently on your way.
Courses and books to help you
If being a voice-over actor sounds appealing, but you would like to learn more about it, then take a look at the best selling Voice Over Training course on Udemy.
This course will help you create professional voice-overs from the comfort of your own home, along with showing you how to sell your services around the world to high paying clients.
Alternatively, the Voice Over Voice Actor book by Yuri Lowenthal will give you behind the scenes look at voice over actors along with tips for reading copy for maximum effect.
How to promote your services
You can offer your services directly on Fiverr or on other similar freelance websites, but if you have a blog or website, you can promote your services there too. Doing this is an excellent way of attracting clients and growing your side business.
When you're selling your services online, we recommend setting up your own Shopify store. This is an excellent way of quickly making your services available to buy at the touch of a button.
You can start your own Shopify store in just a few minutes and can be up and running in no time. When promoting your services, we recommend directing people to your Shopify store rather than Fiverr. This way, won't be drawing in potential customers who may then start looking around at what else is available on Fiverr.
Focus on your Shopify store and use Fiverr as another income stream, and you'll soon potentially be earning some good extra money and may even make a full-time business from it.
Remember to promote your services on Social Media too for maximum reach!
Sign up for the free Shopify trial, it's quick, easy, and you can cancel at any time.
After signing up for a free Shopify trial, add your services and begin promoting. You can be earning money in no time.
How to get started
So there you have it. If you like the idea of being a voice-over actor and making some extra money, then give it a shot!
After all, what have you got to lose?!
We often recommend freelancing gigs as a way for our audience to make extra money. There are lots of opportunities out there, see our full list of gigs that you can do from home for some great ideas.
You can be earning some extra money in no time!
Try Shopify Free today.