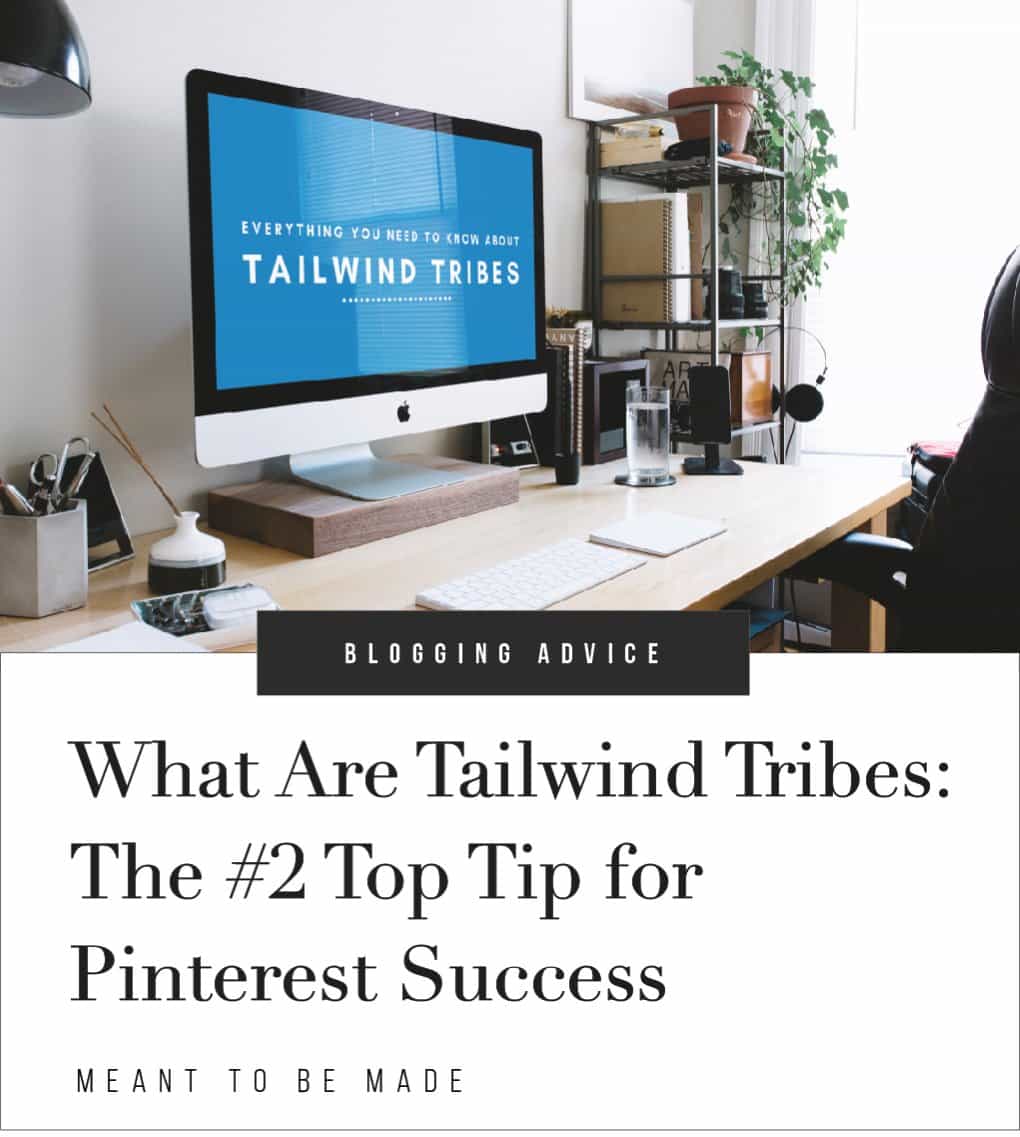 Using Tailwind Tribes to skyrocket your Pinterest success!
Tailwind tribes are a powerful way of sharing content with like-minded individuals who are also serious about their Pinterest success.
Let's take a look at what tribes are, how they work, and how you can use them to skyrocket your Pinterest success.
Tribes is a feature of Tailwind which can expand your reach on Pinterest and increase the traffic to your website. Similar to Pinterest groups, tribes share content as a group that relates to a specific topic.
However, Pinterest groups aren't as powerful as they used to be and can often be filled with spam, affiliate links, or even be abandoned. Poor performing Pinterest groups can also affect your Pinterest rank.
What's so good about Tailwind Tribes?
Tailwind tribes are rapidly growing communities of creators and influencers, all banding together with the same goals in mind – to find relevant, high-quality pins to share and to reach new untapped audiences by sharing with other people.
By joining several tribes you can share your best content with others in the tribe (tribemates) who have a combined massive reach. If tribemates post one of the pins that you've shared with them, then you can be sure that your pins will be seen by thousands or even hundreds of thousands of people.
With tribes you'll always have a steady stream of great content to share, so you won't have to go searching on Pinterest. The content comes to you, and by working together, every tribemate including you reaches a larger audience and can grow faster together.
Tailwind tribes are friendly and collaborative, and not only do members agree to share content, but you can also chat with other tribemates. This is great for making new friends and even collaborating on future projects such as guest posts.
Each tribe is monitored by the tribe owner who sets clear rules. You'll know what you need to do to be a good tribemate, and you can be sure that others in the tribe will be doing the same.
There are thousands of tribes spanning all kinds of topics, so you'll be able to find the right tribes for you.
How to Use Tailwind Tribes
So let's dive into how to use Tailwind tribes.
Start by finding tribes to join. This can be done via the tribes area of the Tailwind dashboard. If you haven't joined any tribes before then, you'll be presented with a get started with Tailwind Tribes screen. Simply click the green button and follow the steps to get started.
You'll now have the option of choosing between 3 – 5 broad categories, which will recommend the best tribes for you. Select up to 5 then move to the next screen.
You'll be presented with suggestions for tribes that you can join to get started. Don't worry about finding the perfect tribe yet, you can search for new tribes to join later and can leave tribes at any time should you want to.
Searching for tribes to join
You can search for tribes to join, and Tailwind will show a list of tribes to join based on the keywords used.
You'll find many tribes which you can join. Each of which will display the name of the tribe, a description of the tribe, the amount of members, how active the tribe is, and also any tribe rules.
It's worth previewing the content of tribes to give you an idea of the pins that are being shared before joining.
Many tribes will let you instantly join whenever you see the Join Now button. Other tribes require you to request to join.
How to find the right tribes for you
It's better to join tribes that share content that relates to the type of content that you create and share even if they are smaller tribes. This is better than joining a larger tribe that share a lot more mixed content. This way, tribemates are likely to benefit more by finding and sharing content that appeals to them.
You ideally want to join around 5-10 tribes to start. This is easy to manage and will offer the right amount of content for you to share. Make sure you join active tribes that are sharing the right kind of content that is relevant and high quality.
When sharing other tribemates content, always check the links to make sure the source is safe, relevant, and helpful.
Monitor your tribes regularly
Always monitor the tribes you've joined. Stay in tribes that are active, sharing, and contributing great content and consider leaving tribes that are not helping your growth.
Report any tribemates who are spamming or who are not sticking to the tribe rules. These tribemates can lower the performance of the tribe and affect your performance.
This also applies to you. It is essential to stick to the rules of the tribe and make sure that you are sharing other tribemate's content. Try to share the tribes content more often than posting your own content to the tribes. This way other tribemates will see that you are a good sharer and are more likely to share your content.
Make sure the content is being shared
Make sure your tribemates are sharing your content often enough and make sure you regularly check every tribe that you're in. Do this at least once a month to see whether it is worth staying in the tribe or choosing to leave.
If you want other tribemates to share your pins, then always share high quality and fresh content. This way, it is more likely to be noticed and shared. Don't keep posting the same pins to the same tribes, especially to smaller tribes. You'll be alerted by Tailwind when you try to do this, so try to keep mixing up new pins into different tribes to keep things progressing. If you have to post the same pin again then try to wait a few weeks before doing so.
Using tools like Canva or Easil, you can quickly and easily create great-looking pins for your content. You can select from a huge range of templates that need just a little bit of tweaking, using the drag and drop interface to add and change things until you're happy.
Start your own tribe
What better way of being in control of a tribe and making sure that it is successful than starting your own tribe?
By starting your own tribe, you'll be able to set the rules. You can make it open, or you can choose to select who can join. You'll also be the most important tribemate, so other tribemates will be more likely to share your content when you post pins to the tribe.
Starting your tribe
Make sure you don't start a tribe and then not be actively sharing your own or other tribemate's content. You have to lead the way, make it a great tribe, and you'll see great rewards.
Moderate
Moderation means you need to regularly check the quality, relevance, and consistency of the tribemate's content. If the pins that are shared are spammy, if the quality is poor or if the pins are not the right size, then you can delete them.
Make sure that the tribemates are sharing the right amount of pins based on the share ratio that you set in your tribe rules. The best ratio would be 1:2 or a 1:3, meaning that you must share either 2 or 3 tribe pins for every 1 of your pins that you share with the tribe.
Collaborate
Another great feature of tribes is the message feature, which lets tribemates talk to one another. This is a great way of forming relationships with other tribemates, especially those who are in the same industry as you. You can talk about partnership or project opportunities, such as guest posts or collaborations. There is so much potential here, but most of all, it is a great place to meet like-minded individuals.
Best Strategy for Tailwind Tribes
Don't just stick to the 5 free tribes that you get to join. Join tailwind tribes powerup elite. This way you can join unlimited tribes and post up to 200 tribe submissions per month.
When you search for tribes, it is important to be strategic, finding the best tribes for your niche. Don't just join tribes with the most members! Find a tribe with a good combination of a lot of members but also with at least 4 or 5 bars of activity. Those tribes are likely to be far more fruitful than large tribes with little activity, or small tribes with lots of activity.
You should also mix your tribes up. Don't follow lots of tribes on the same topic, as the tribemates are likely to be members of the other tribes that you're also a member of. For maximum shares, you want as many tribemates as possible seeing your shared content.
We have some tribes blogging, some money-making, money-saving, marketing, photography, and more. This way, we can be sharing different types of content amongst our tribes, with the relevant content targeting the relevant tribe.
Pinning with tribes
The important thing to know is that you should be sharing different pins to different tribes at different times. Always mix it up to keep things fresh for your tribemates, and they're likely to share your content more often.
You can't currently schedule pins to be shared with tribes at certain times, so you have to share them individually at the times that you want them to be seen.
It's important to be aware of when your tribes are most active, and share your pins during those times if possible. Pins are displayed in chronological order, so if you share when the tribe isn't active, your pins will be further down the page.
Test your tribes through trial and error. Leave tribes that don't work well for you, and join others. Work this way until you're a member of a lot of tribes that are working well for you.
An important tip – as tribes are sorted alphabetically, human nature is to start at the top tribe and begin working your way down through the tribes. Pins that are shared with the higher alphabetical tribes get shared more than the pins that you share with the tribes lower down the alphabet.
You have to focus on getting as many tribe shares as possible, and the rest will take care of itself. More tribe shares mean more repins, which means more impressions. The more impressions you get, the more traffic you will receive! So focus on your tribe share strategy.
Conclusion
Pinterest is amazing for bloggers and businesses if you know how to get the most out of it. By using Tailwind and their tribes feature, along with strategies and techniques that we've demonstrated, you can go from zero to hero on Pinterest and start bringing crazy amounts of traffic to your website in no time.
There is no other strategy that works as well as Tailwind Tribes.