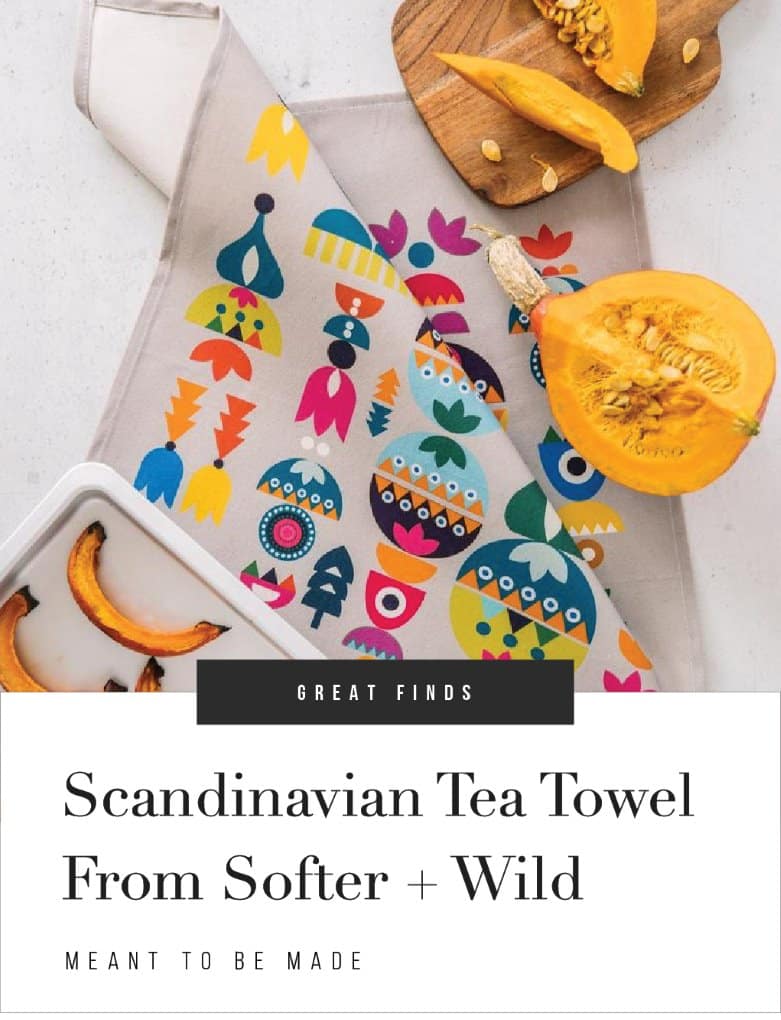 This colorful product feature focuses on Scandinavian and Bulgarian Folk Tales and Art!
Welcome to our latest product feature, which are our regular posts on Meant to be Made!
Here, we feature really cool finds that are made by really cool makers and can even inspire those of you who want to make and sell your own crafts and products.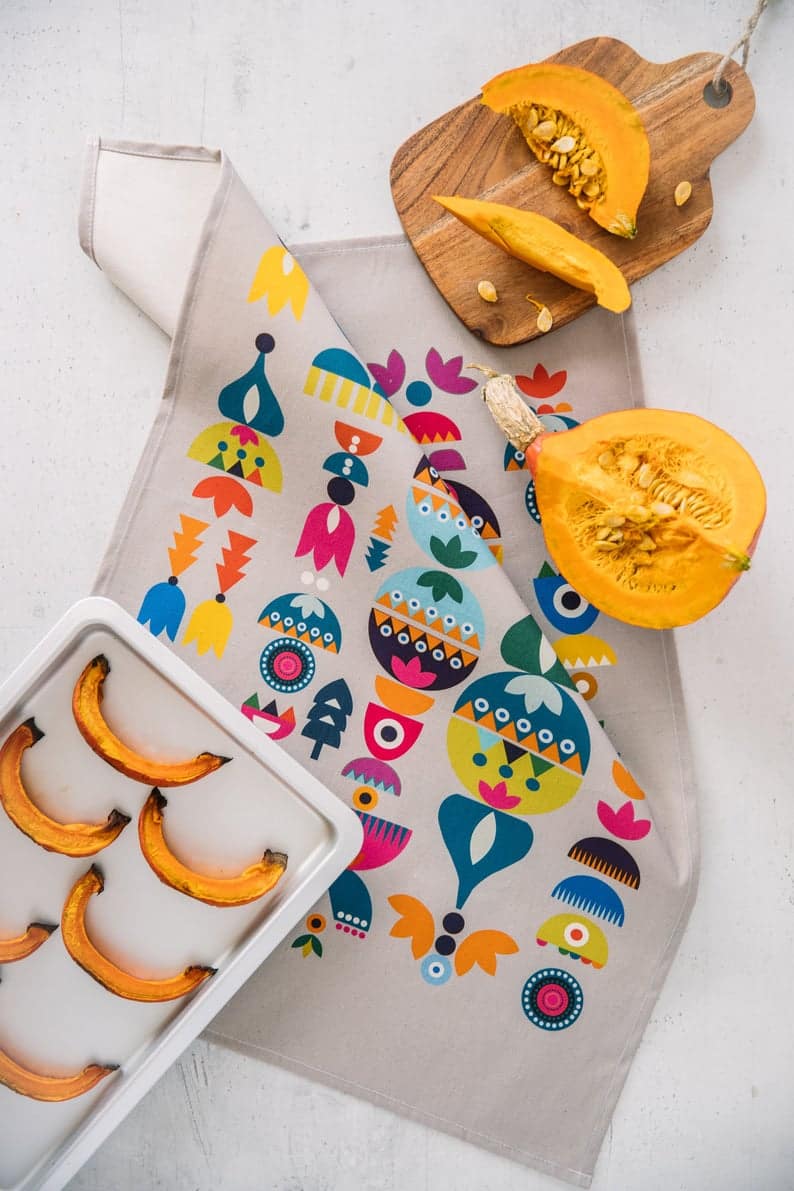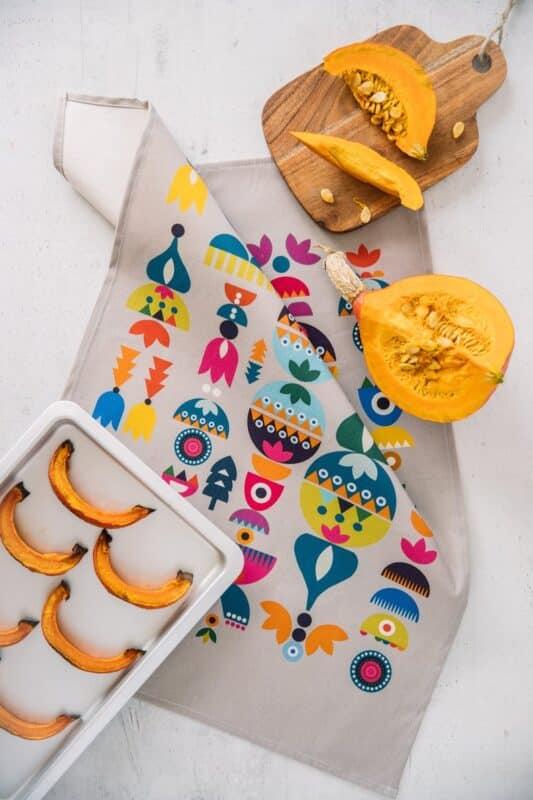 Today's featured product is this stunning Scandinavian style tea towel from Softer + Wild.
And I am so in love with it.
This beautiful tea towel from Softer + Wild might be a small and straightforward product compared to others we have featured, but that doesn't make it any less desirable. This tea towel has actually been classed as too beautiful to use, and I agree, it is a masterpiece.
Scandinavian Style Tea Towel
This beautiful and bright tea towel is handmade from 100% cotton and gentle water-based dyes in the UK. With its fabric patterns being completely unique to this product solely created by Softer + Wild, this tea towel also comes packaged in a fully recyclable natural cardboard box. Win for the environment!
This tea towel also has matching oven gloves (swoon) and apron (currently sold out), so if you fancy adding any extra cheer to your kitchen furnishings, then feel free to buy the matching items and receive free delivery!
What They're Used For
The tea towel is a kitchen staple in any home, and this gorgeous Scandinavian tea towel adds a real modern, and cheery feel to the kitchen. This product is simply a gorgeous gift for Christmas or as a housewarming present, and if you love it so much, you can't bear to give it away, then it's the perfect gift for yourself!
Let's take a look at some of the key features of this item:
Key Features
Handmade
100 % cotton and natural materials (including the packaging)
Bespoke and original designs
Quick Shipping
$13.38!
Interested to know more about who makes this beautiful tea towel? Read on!
SOFTER + WILD
Based in East Sussex, UK, Softer + Wild was created by two very talented artists, Tatiana and Sean, who wanted to transfer their love of design and patterns from paper to textiles.
Headed by Tatiana, Softer + Wild is a family business. Along with the help of textile designer Paula Downes, they create incredibly beautiful and durable kitchen accessories and prints based around Scandinavian and Bulgarian folk tales and art.
The transition into working with textiles is a lovely one. Tatiana found that her love of beautiful designs and prints were limited to certain materials. With a dream of seeing these beautiful designs on fabric, her father gently encouraged her to try it out. Now look where she is! A huge thank you to Tatiana's father, or we may have never laid eyes on her beautiful products.
The SOFTER + WILD Making Process
Let's take a look at how Tatiana creates her beautiful handmade tea towels.
The process for creating one of these tea towels begins right before the word 'fabric' is even mentioned.
Firstly, Tatiana has to find the inspiration to create the designs which will later become the key component to her final product. She does this by firstly drawing her designs either by hand (which are then scanned) or by drawing directly into the software.
Once Tatiana has the elements for her design, she will print them, cut them out, and begin working on the composition for her product, making sure the design is unique and bespoke to the product it is for.
After that, she works with textile designer, Paula, to choose the right fabric, color match, and sew the final pieces. Finally, she packs these beautiful tea towels in fully recyclable packaging.
Collective Customer Thoughts
With 40+ Etsy reviews with an average 5-star rating and 400+ Etsy sales, Softer + Wild may not seem like it is hitting large numbers, but we all have to start out somewhere. The reviews she has received are positive, and the quality of her products is outstanding.
In a nutshell, let's see what verified buyers have to say:
Very well made
Really beautiful
Arrived promptly
Good quality
A great addition to my kitchen
To buy these and other great items from this maker, visit Softer + Wild store on Etsy.