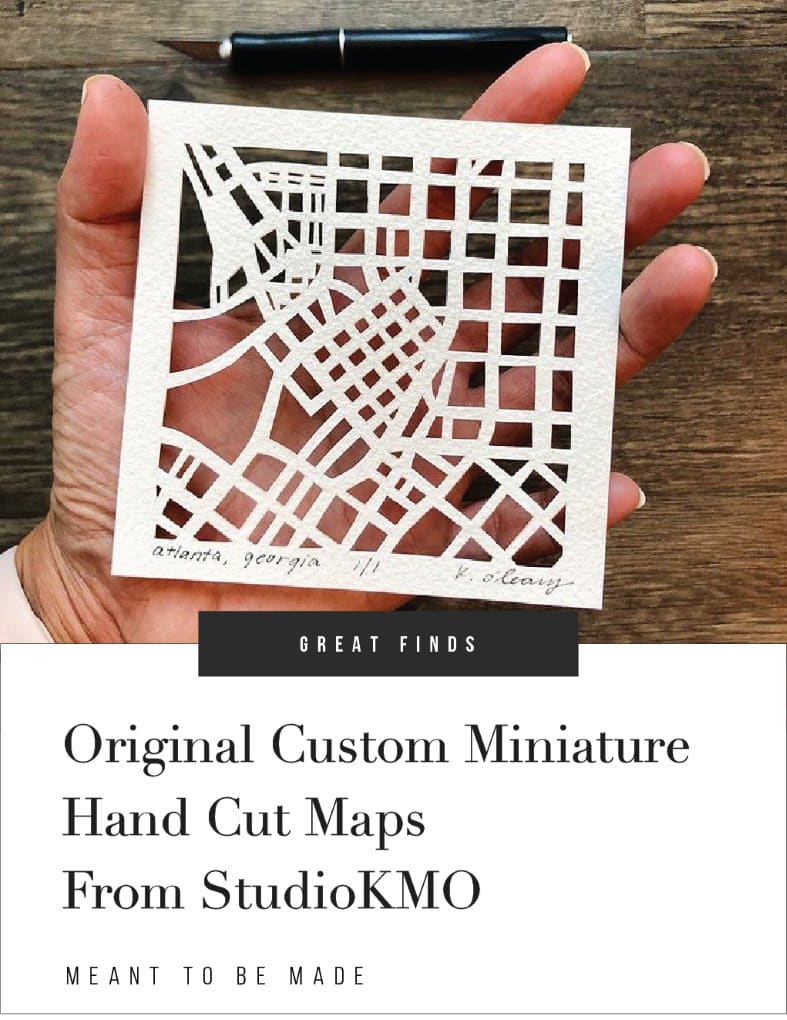 Take a look at these beautiful and intricate handmade maps!
Welcome to our latest product feature, which are our regular posts on Meant to be Made!
Here, we feature really cool finds that are made by really cool makers and can even inspire those of you who want to make and sell your own crafts and products.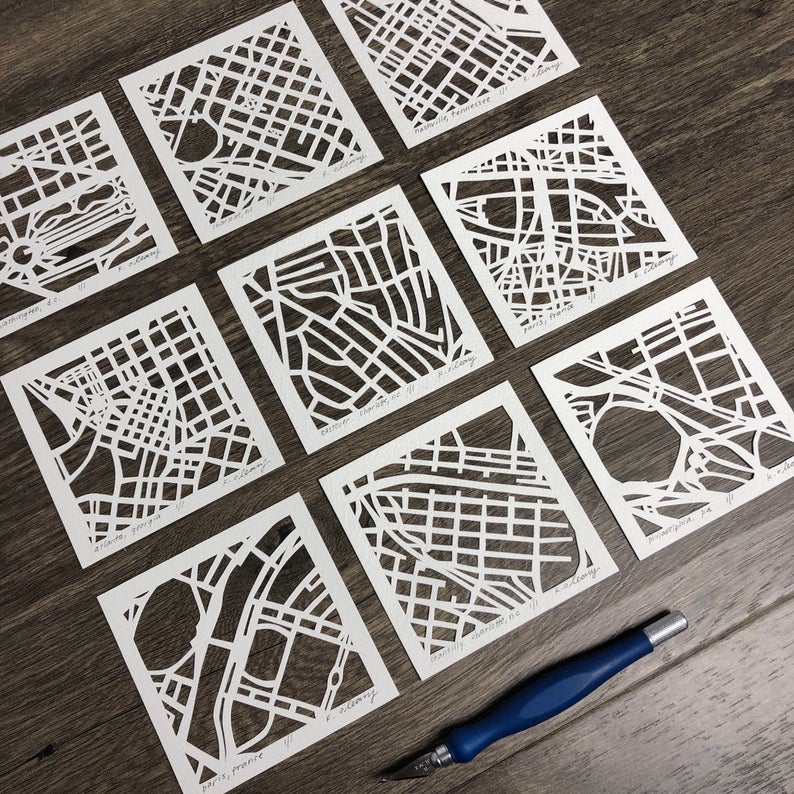 Today's featured product is this lovely original miniature hand-cut map from StudioKMO, and it is such a beautiful piece.
I want to note here that there is another product we were really keen to feature, but due to who our audience is and their needs, we have chosen a more affordable option to show you today. If you are keen to see the alternative product, then we will link to it later in the post.
Original Custom Miniature Hand Cut Map
This beautiful miniature map has been intricately hand-cut, signed and numbered and is an original piece of art. You can choose any city you like, which is a nice touch for those who have a special place in their hearts.
The map comes unframed, and you can't purchase a frame from Karen for this size of map; however, you can use your own frame or one from a local store. We personally think this map would look gorgeous in a box frame that you could get creative with.
What They're Used For
This custom miniature map would be the perfect gift, particularly for a wedding or first home. It is also a great gift for anyone who relates to a specific place in the world, which has significant and special meaning to them.
These maps are also super modern and chic and would look great as part of your home decor. If your budget allows, consider purchasing multiple miniatures to make a gallery wall of the relevant places in your life which would look stunning and be a total talking point!
Let's take a look at some of the key features of this item:
Key Features
Handmade
Original, titled, numbered and signed
Personalized
Free USA shipping
$75!
Interested to know more about who makes these gorgeous maps? Read on!
STUDIOKMO
StudioKMO was founded by artist Karen M O'Leary in 2009 and is based in Charlotte, North Carolina.
StudioKMO almost accidentally fell into existence when Karen decided to list one of her maps (which was a personal hobby and part of her school thesis) on Etsy to earn a bit of spare change.
What happened next changed everything.
Her intricate and delicate maps were a big hit with the online design community, and images of her work were circulated worldwide, resulting in an influx of business. Since then, she has expanded dramatically and has been featured in multiple magazines, books, and well-established hotels and retail stores!
Her story is one that is inspirational to read because there are so many artists, creators, and crafters out there who have hidden talents but don't put themselves forward. This could be because they don't think it is worth their time or that they won't make it, but the truth is you won't make it if you don't try.
Read Karen's story, be inspired by it, and believe you can. You will surprise yourself.
The STUDIOKMO Making Process
Let's take a look at how Karen creates her beautiful hand-cut maps.
This beautiful miniature map is a custom creation for the buyer who can give their choice of city to be created, hand-drawn, and hand-cut. The 4×4" map is hand-cut on white, 90lb, archival, textured watercolor paper by Karen and is an unframed product.
The map we are looking at shares the same process with her other hand-cut map products, but those are on a larger scale.
Let me show you another map that we are smitten with: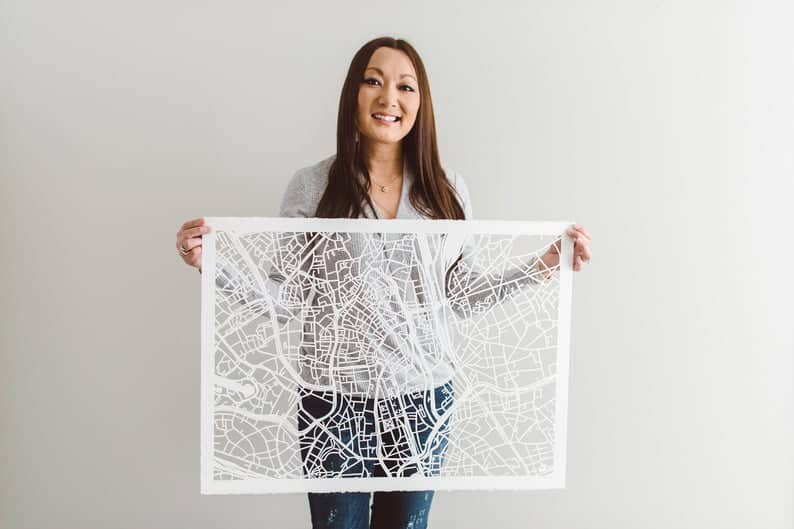 This custom made map starts at $400.00 for 11×14" and $1,400 for 22×30," and again, you can choose the city you want. It just looks so good large but isn't for those on a budget.
Each custom made map is fitted into a schedule so you will have to wait for your final product, but you are made aware of this before purchase, and let's be honest, they are worth the wait.
Collective Customer Thoughts
With over 1,400+ Etsy reviews with an average 5-star rating and 8,400+ Etsy sales, StudioKMO is making waves on Etsy (although already well established globally), but what are the thoughts on this particular product?
In a nutshell, let's see what verified buyers have to say:
So unique
The most amazing artwork
Karen is super professional and excellent to work with
If I could give a higher rating than 5 stars I would.
Prompt in sending proofs and final artwork
Shipped on time
Karen has definitely caught people's hearts with her beautiful artwork and craftsmanship, and you can easily see why.
To buy these and other great items from this maker, visit StudioKMO store on Etsy.