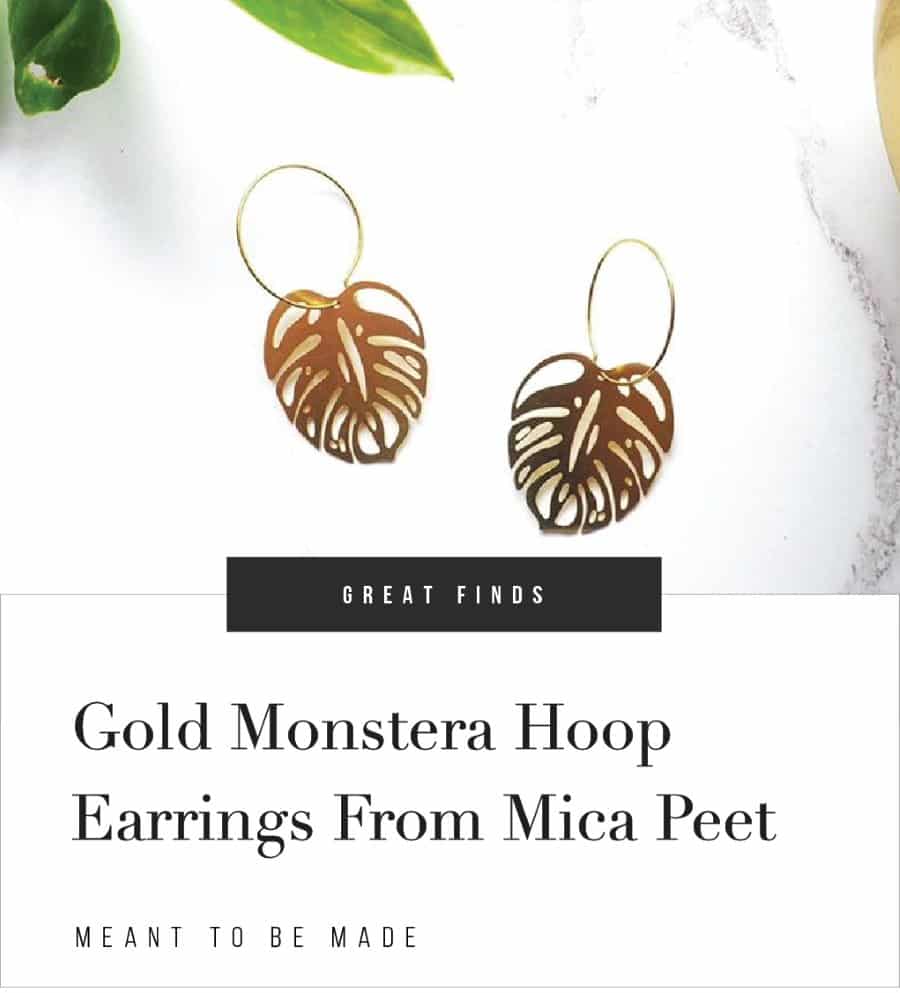 A beautiful product feature focusing on minimal, botanical-inspired jewelry.
Welcome to our latest product feature, which are our regular posts on Meant to be Made!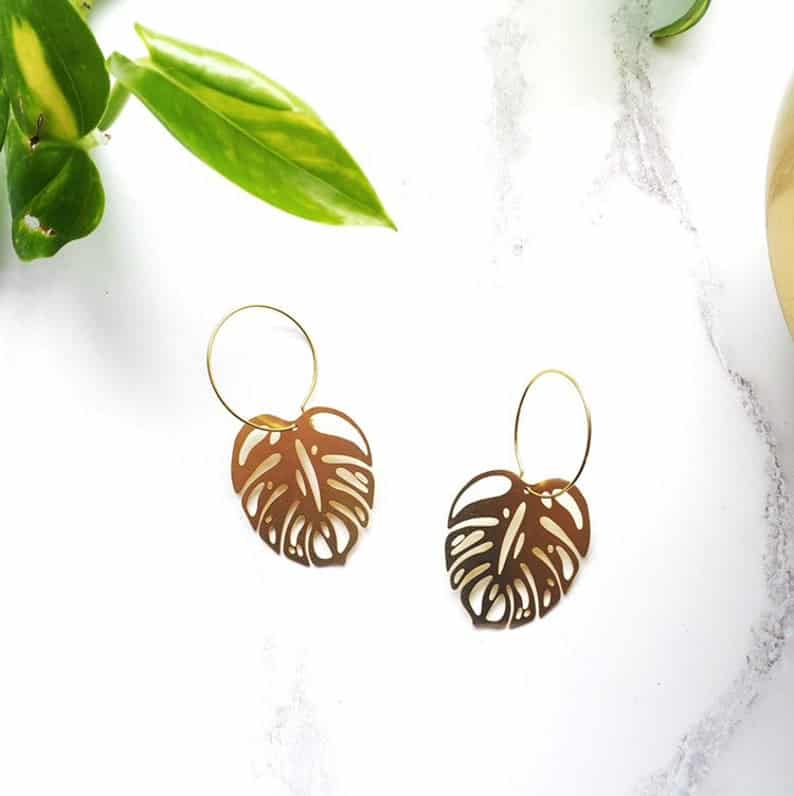 Here, we feature really cool finds that are made by really cool makers and can even inspire those of you who want to make and sell your own crafts and products.
Today's featured product is these beautiful minimal gold plated monstera hoop earrings from Mica Peet. They are simply perfect, especially for those of you who love swiss cheese plants (I currently have a huge one called Leon)!
So, without further adieu, let's take a peek at what they are, who they're made by, how they're made, and where you can find them.
Gold Monstera Hoop Earrings
These Monstera hoop earrings are a best seller, and we can see why. Simple in design, lightweight, and a desirable concept, these earrings are relevant for the here and now.
These hoops are part of the botanical collection. Let's be honest, everybody loves botanical vibes these days, and we don't think it will be dying down any time soon.
So wear them today, wear them tomorrow and every single day after!
What They're Used For
These delicate earrings are a perfect way of complimenting a simple outfit, allowing you to keep your look classy and sophisticated. They are also an ideal gift for friends and family who enjoy simple and minimal fashion.
These Monstera earrings are part of Mica Peet's botanical collection. So if you're not too keen on the Monstera hoop earrings, you can always opt for the Monstera studs, Monstera drop earrings, Monstera necklace or enamel pin! There are plenty of choices!
Now, back to those gold Monstera hoop earrings!
Key Features
Handmade
Hypoallergenic and nickel free
Beautifully presented
Matching jewelry items available
From $26.73!
I personally really love these Monstera hoop earrings, but I also adore the Monstera drop earrings, too!
Wanna know more about who makes this amazing jewelry? Read on!
MICA PEET
Founded in 2013 in Hampshire, UK, Mica began her small business as a jewelry designer, which she runs from her studio with her trusty teammate and fur baby Reg.
With a background in Fashion Textiles, Mica used her university degree to push her forward into the world of creating beautifully unique, handmade jewelry.
And boy does she do it well!
Mica is inspired by the natural world, which comes across in all of her unique pieces of jewelry, and living just ten minutes away from the beach allows her to go out and get inspired whenever she needs that extra boost!
The Mica Peet Making Process
Let's take a look at how Mica Peet makes these amazing gold Monstera hoop earrings!
These beautiful handmade earrings are created from matte gold plated metal with brass hoops and are hypoallergenic and nickel free. The earrings are finished with varnish, but the maker still recommends you avoid contact with water, cream, and perfumes to give them the best lease of life.
Along with her gorgeous gold metalwork, Mica offers stunning products in all different types of materials, such as wood, plywood, and MDF. Talking about MDF (and I know I'm favoring this brand right now), have you seen these gorgeous geometric drop earrings?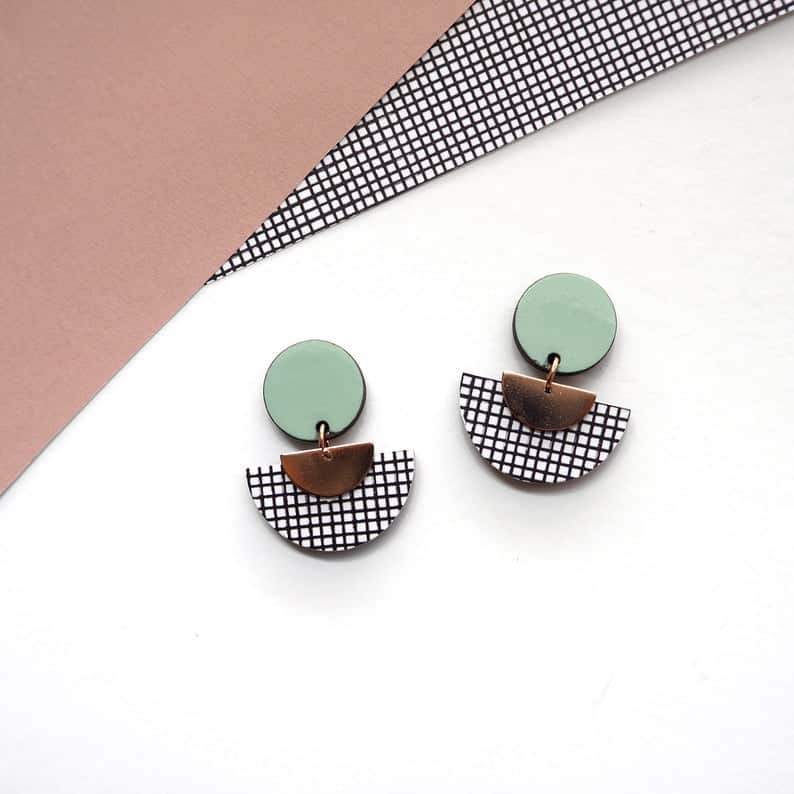 Collective Customer Thoughts
With over 3,000+ Etsy reviews with an average 5-star rating and 17,000+ Etsy sales, Mica Peet is on its way to taking Etsy by storm.
But what are the thoughts on this particular product? In a nutshell, let's see what verified buyers have to say:
Beautifully made
Such great quality
Fast shipping
Beautiful packaging
Good communication
Good value
It's always nice to hear such lovely comments about a product, along with hearing that it is a great value. It goes to show that you don't need to pay top dollar for a beautiful, high-quality product.
To buy these and other great items from this maker, visit the Mica Peet store on Etsy.