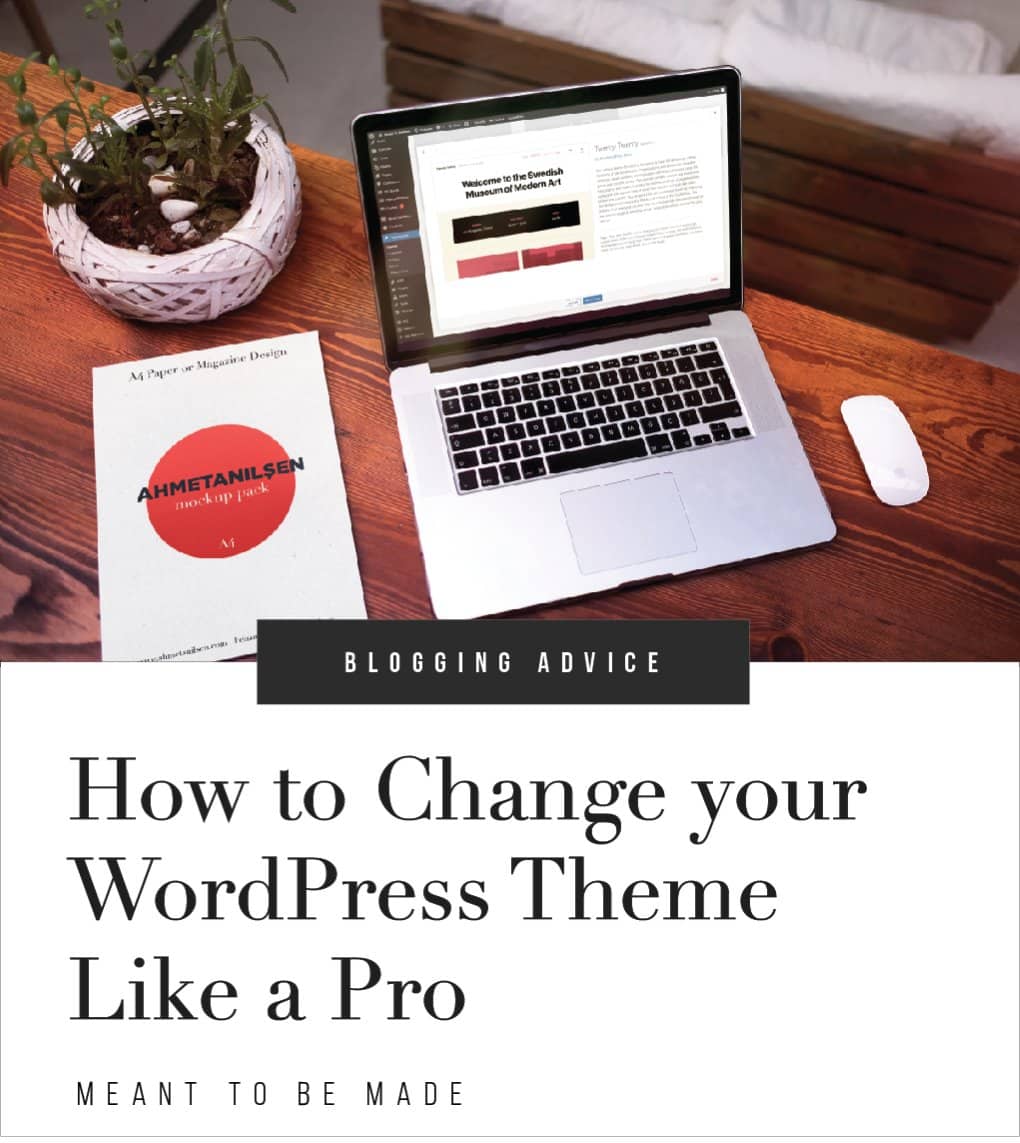 Where to find great themes, how to change your old theme and how to do it successfully
Are you looking to change your WordPress theme? It's easy to install and manage your themes within WordPress. Activating a theme is just a click of a button, but there are points you need to be aware of before doing so.
Changing your theme can be a big deal, especially if your site is live and already attracting visitors.
Here we outline the steps on how to change your theme while minimizing any disruption for your visitors with our easy to follow checklist.
Why change a theme
There are many reasons why you should change your WordPress theme, and doing so might be one of the best things that you can do.
Make your site look more professional
Quite simply, the most likely reason why you'll want to change your theme is to upgrade to one of the great-looking professional WordPress themes available.
If you're currently using an older theme, it's maybe time for a refresh. If you're running a free basic theme, then maybe it's time for a revamp.
Changing your theme is one of the simplest things you can do to change your website. Doing this can stop your website from looking drab to looking amazing! It will also give the perception that your site is a professional one.
Add new features
Premium themes tend to be full of features and can add lots of new functionality to your website that you can't get from a free or basic theme such as:
drag and drop page builders
email and contact forms
slideshows and galleries
call to actions and many more features.
Speed your site up
Website speed is very important to providing a good user experience and for helping you to rank high on the search engines. Premium themes tend to be well optimized and speedy, so the investment tends to be worth it for the speed improvements alone.
Compatibility with newer versions of WordPress and plugins
As WordPress is continually developed, it can often mean that updating to the latest version of WordPress or plugins can break the functionality of your website.
This is often due to the theme being older and no longer supported and, therefore, incompatible with newer versions of WordPress and plugins.
You must always update your WordPress core and any installed plugins. Not only do they add new functionalities, but they will also plug any security vulnerabilities that can develop over time.
Premium themes tend to be continuously updated, so you can be sure that you'll be able to update your WordPress site and its plugins without breaking your website.
Responsive and mobile ready
As technology develops, so does the way we view the web. Modern websites function not only on computer screens but also on mobile devices.
By having a modern theme, you can be sure that your website will adapt to the wealth of different screen sizes that your visitors access and read your site on.
Grow your visitors
It's simple. Websites that work well, look professional, and have great features will be more attractive than sites that are buggy and slow loading.
With a modern-looking website, you'll be able to grow your visitor numbers and help make your website a success.
Theme recommendations
If you haven't yet decided on a new theme for your website, then it'll be worth taking a little bit of time to research themes that will work well with your website.
Luckily for you, we have taken a great deal of time to narrow down the most popular WordPress themes, which you can view here.
But for this article, we'll quickly mention two of the most popular WordPress themes that look stunning, have great features and are mobile-friendly.
Divi
Divi is the most popular WordPress theme in the world and the ultimate WordPress page builder. It allows you to easily create any kind of page quickly and easily using a drag and drop interface.
Avada
Avada is another top WordPress theme with over 500,000 sales. Similar to Divi, Avada also has a visual designer, so you can easily style your website without any code. Great for beginners and those with no previous design experience.
How to install a theme
When you've settled on the new theme that you want to run on your website, you'll need to install it within your WordPress site.
After you have purchased and downloaded your chosen theme, you'll now need to log in to your WordPress administrator dashboard before you can install the theme.
When logged in to your site's admin panel, you can install your theme by visiting the themes section. You can do this by click on the Appearance > Themes menu.
At the top of this screen, you'll see an 'Add New' button. Clicking this will take you to the 'Add Themes' page of your WordPress website.
At the top of this page, you'll see the Upload Theme button. Click this to open the upload theme window. Just click the choose file button, browse for the theme package you downloaded after purchasing your theme, and then click open.
This will upload and install your new theme. You'll now almost be ready to switch to your new theme. But don't switch yet. There are some things you'll need to do to make sure your new theme works correctly with your website.
Things to prepare for before changing your theme
Changing a theme can be a very quick process, but you need to take some precautions before doing so.
Let us take you through the process so that you're clear on the procedure and that everything goes smoothly.
Check your tracking code
Many themes give the option of adding your google analytics tracking code into the theme so that you don't have to use any plugins. This is the same for Google Adsense.
If this is the case, then make sure to keep this in mind so that once your new theme is up and running, you can add the tracking codes to your new theme or add relevant plugins to handle the same jobs.
To get around this, you can install a Google Analytics plugin.
Take a backup
It's important to have a good backup plugin so that you can not only have regular backups of your website but so that you can take manual backups right before you make any changes to your website, such as changing your theme.
So make sure you take a backup and download the backup file to your computer.
Changing your theme should be relatively straightforward, but having a backup gives you the option of quickly restoring your website to the way it was should anything go wrong.
Check your sidebar widgets
Sidebars and other widget areas are great for displaying widgets such as latest blog posts, email signup buttons and forms, and much more.
When changing your theme, it will likely affect these widgets displaying.
So take a note of any sidebar widgets you are using so that you can place them back into sidebar positions once you have changed your theme.
If any of them have any unique settings or code added, then copy this so that you won't have any difficulty re-enabling them after you have made the theme change.
Enable maintenance mode
If your website receives frequent visitors, then it is likely that one or more people will be visiting your website as you are making the theme switch and making any tweaks to how your new theme will be displayed.
It is recommended to enable maintenance mode so that your visitors won't see your website under construction.
We recommend the SeedProd plugin, which lets you quickly create a great looking website under construction pages.
Your visitors can also fill out a form so that they are notified when your site goes live again, which is a great way of capturing more leads.
This allows you to work comfortably on your website knowing that it's not going to have a negative effect on your visitors.
Installing a WordPress theme
After you've taken some precautions as outlined above, you're ready to make the switch.
If you know which theme you're going to switch to, then you're all set. Just install it and activate it.
However, if you're still looking for a great theme to switch to then see our post on the most popular themes for WordPress. You'll find some stunning themes which have great features and functionality.
Testing your WordPress theme before going live
When you've installed your theme, you can either make the switch right away or test how it will look first before making the change.
If your site is already attracting visitors, then it is advised to test how your new theme will look before changing it. You can do this using the live preview feature.
Within the themes area of your WordPress dashboard, you'll find the installed themes. Find the theme that you want to switch to and hover over it, and this should make a Live Preview button appear. Click the Live Preview button, which will open your theme within the WordPress theme customizer.
Now you can test your new theme to make sure it is working the way that you need before activating it.
Theme switching plugin
An alternative way of testing your new WordPress theme before making the change is to use a plugin such as Theme Switcha that will let you preview your theme without activating it.
This is great for testing out new themes on a live website.
Simply download, install and activate the Theme Switcha plugin, then go to the Settings > Theme Switcha link within the left-hand menu of your administrator page.
You can then enable the theme switching option and, once saved, will display all of your installed themes at the bottom. Pick the theme that you want to test by clicking on the theme thumbnail. This will open a new tab where you can preview the new theme.
How to change your theme on a live site
When you've tested your new theme and are happy to switch your theme, you can do this quite easily within your themes panel.
To do this, go to Appearances > Themes and hover your mouse over the theme you wish to switch to. This will display the Activate button, simply click this and your new theme will instantly be activated and will be live for the visitors of your website to see.
Things to take care of after changing your theme
Now that you've changed your theme, you'll need to make sure everything is working properly.
Firstly check to make sure that all areas of your site look correct, including your widgets. Ideally, test your site in a few different browsers, such as Chrome and Firefox.
You should also test your site using different devices, such as your phone and tablet.
When you're happy that everything looks like its in good working order, you can disable maintenance mode so that your site is now live for all visitors.
Conclusion
As you can see, changing your WordPress theme is just a click of a button, but several things need to be considered before doing so.
Making sure you take the necessary precautions and carry out the appropriate steps before making the change can help make sure that changing your WordPress theme goes as smoothly as possible.
We hope that this guide has helped you in changing your WordPress theme and that you can continue growing your WordPress website to success.