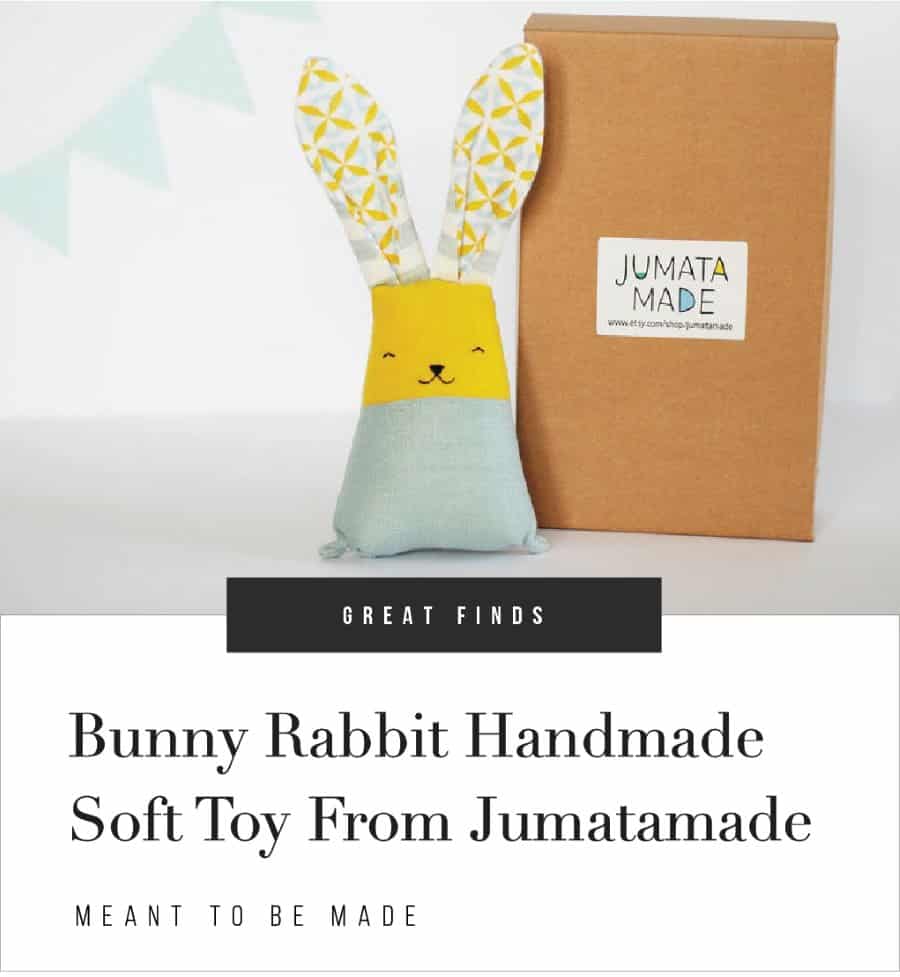 This product feature offers beautiful, soft, baby-friendly bunnies!
Welcome to our latest product feature, which are our regular posts on Meant to be Made!
Here, we feature really cool finds that are made by really cool makers and can even inspire those of you who want to make and sell your own crafts and products.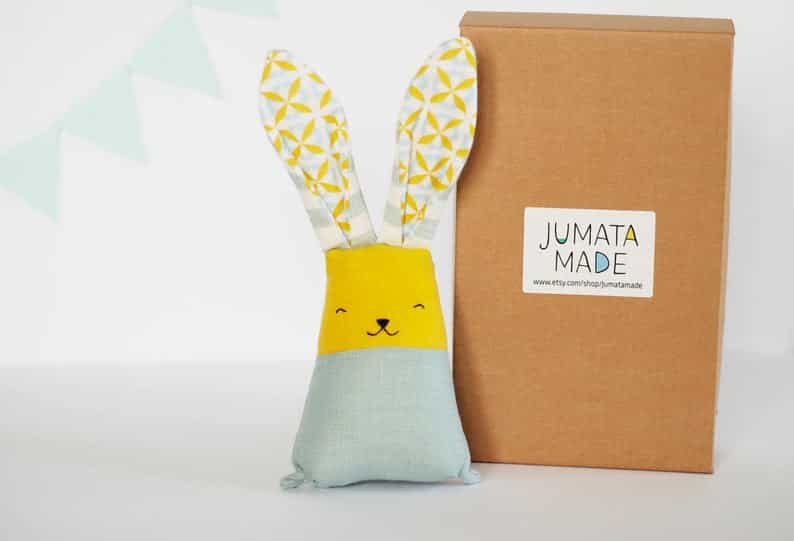 Today's featured product is this gorgeous colorful handmade bunny soft toy from Jumatamade, and it is such a perfect little toy. These bunnies come in a selection of colors, and they are all stunning. It was hard for us to pick just one to feature.
Bunny Rabbit Handmade Soft Toy
This lovely squishy bunny rabbit has been beautifully handmade with absolute love and care in a smoke and pet free environment. The rabbit is made with eco-friendly materials and hypoallergenic fiber stuffing making it perfect for little hands and constant cuddling.
Suitable from birth, these beautiful bunny rabbits are the perfect keepsake that will stay with your baby as it grows and develops. The colors of the rabbit are bright and stimulating, and the ears also move, keeping little ones entertained and curious.
What They're Used For
This bunny rabbit is such a lovely gift to give to a child. Whether it's as a birthday gift, Easter gift, or a gift for a newborn, it will be received with joy. This rabbit comes in three sizes with the smallest size being perfect for smaller children and are also safe for teething babies.
These bunnies are beautifully simple in design, with a basic shape for easiness to hold, bold colors, and a touch of pattern along with intricate hand-stitched facial details. This lovely little bunny can also be personalized with one or two words, which are also hand-stitched and come packaged with gift wrap included.
Let's take a look at some of the key features of this beautiful soft toy.
Key Features
Handmade
Made with 100% natural Lithuanian cotton
Safe for teething babies
Can be personalized
Gift packaged
From $16.26!
Interested to know more about who makes this amazing bunny? Read on!
JUMATAMADE
Based in Lithuania, Jumatamade is a small business created and run by doll maker, Jurate.
Jurate found the inspiration for her designs from nature and began learning the art of doll making when she became a mother. Jurate's designs are unique in their creation, giving them a distinctive character and soul, and she takes great pride in using only the highest quality, natural materials.
We can guarantee any soft toy purchased from Jumatamade will fill your child with love and happiness.
The Jumatamade Making Process
Jurate creates her products in her home studio, which is smoke-free and pet free. She uses only high-quality materials such as cotton, wool, linen, silk, and satin and uses her patterns to breathe life and uniqueness into her dolls and soft toys.
When it comes to creating her bunny rabbit soft toys, Jurate uses 100% Lithuanian linen, cotton, and a hypoallergenic stuffing making sure the toy is eco-friendly and baby safe. Jurate also hand stitches facial details and any other intricate details using embroidery thread. Because of the delicate nature of the bunny, Jurate recommends gently hand washing it to keep it clean.
Collective Customer Thoughts
With over 320+ Etsy reviews with an average 5-star rating and 1,300+ Etsy sales, Jumatamade is an up and coming store but what are the thoughts on this particular product?
In a nutshell, let's see what verified buyers have to say:
A lovely, well-made item
Lovely work
Great quality and craftsmanship.
Easy to work with and quick to respond
Fast shipping!
I love how well-made and finished in every way this cutie is!
Jumatamade is a favorite amongst her buyers, with many of them becoming loyal, repeat customers! It's easy to see that her beautiful, unique creations and stunning craftsmanship set her apart from her competition.
To buy these and other great items from this maker, visit Jumatamade store on Etsy.