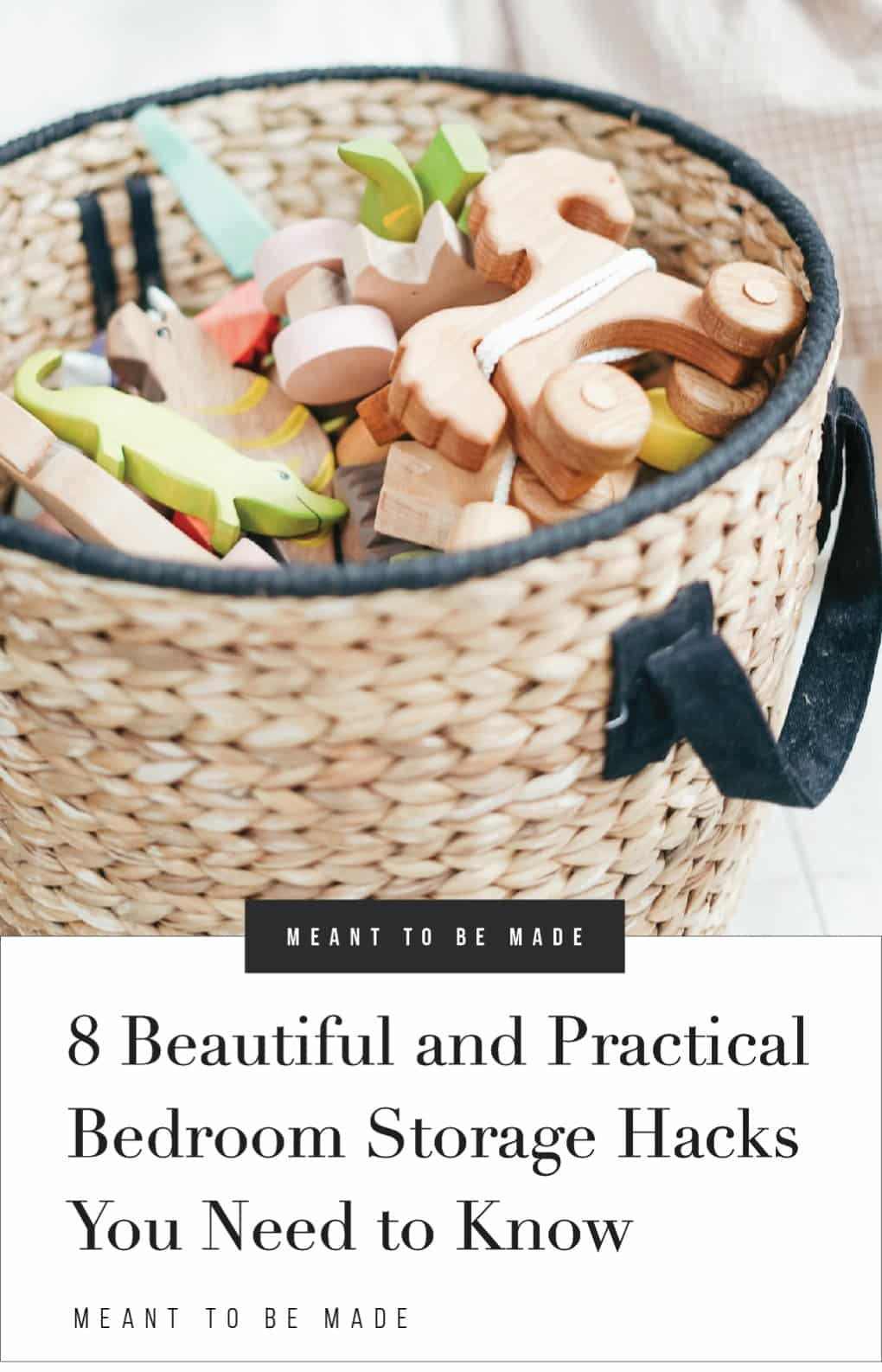 Take a look at our gorgeous storage hacks to improve your space!
If you struggle with space in your bedroom, then this post will be right up your street. In this post, we will cover eight incredibly beautiful and practical hacks to utilize your limited space for storage, along with keeping your items beautifully organized.
We've handpicked some of our absolute favorite hacks and DIYs to help you turn your small room into a desirable space you don't want to leave. P.s. These hacks can work for any room!
Our Handpicked Hacks And Tricks For Beautiful Bedroom Storage Solutions
Replace a Bedside Table With a Cart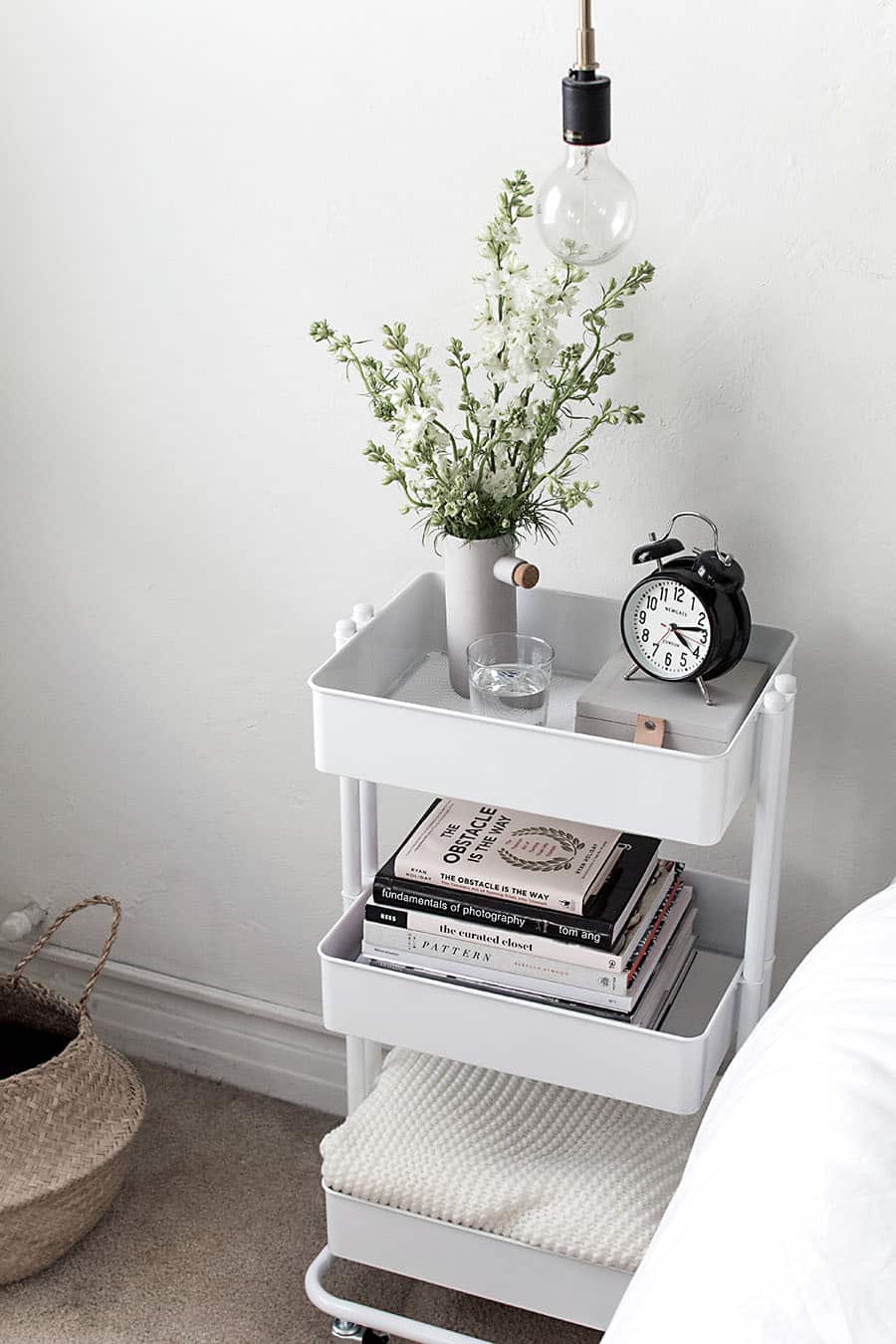 As found on Homey Oh My
Amy from Homey Oh My has created a brilliant post on 3 ways to use a cart in your home, and I must tell you now, she has killed it.
Today we are looking at using a cart in the bedroom, which can be used in place of a standard bedside table and still look modern, classy, and is also super practical!
You can roll it around the room and vacuum under it, and when you have grown tired of having it in your bedroom, you can restyle and roll into another room!
Copy this look –
Caxxa 3 Tier Rolling Metal Storage Organizer
Kingrack 3 Tier Rolling Metal Storage Organizer
Alvorog 3 Tier Rolling Metal Storage Organizer
Use a Pegboard For Vertical Storage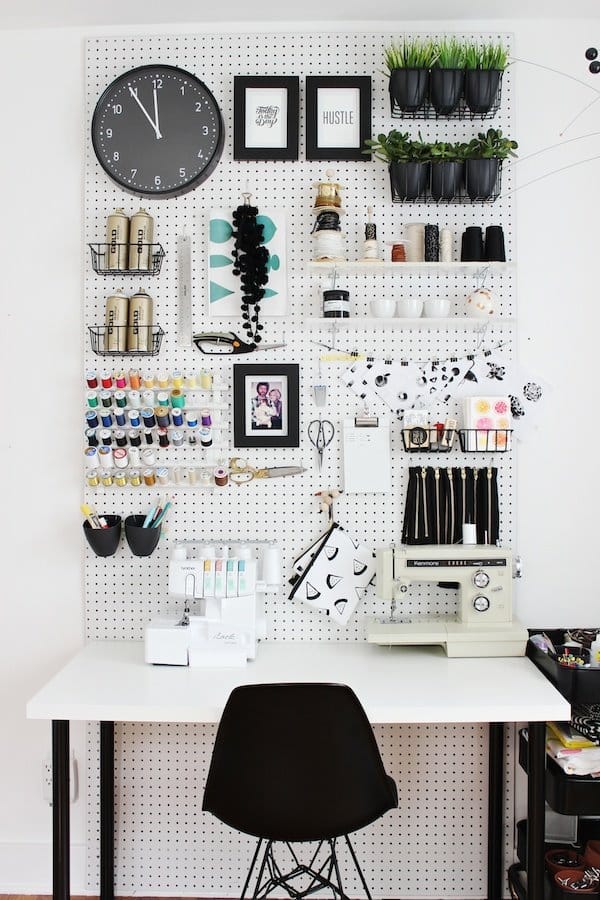 As found on Fabric Paper Glue
Fabric Paper Glue uses a pegboard to create a stunning storage wall for their office remodel.
You can create something similar for your bedroom and take advantage of the vertical space, which is particularly handy if you have a tiny bedroom.
Not only does the pegboard help you to organize, but it also looks stunning on the wall. I love it.
Copy this look –
HOMEFORT Metal Pegboard Organizer
Azar White Pegboard Room Organizer
Hang Your Laundry Bag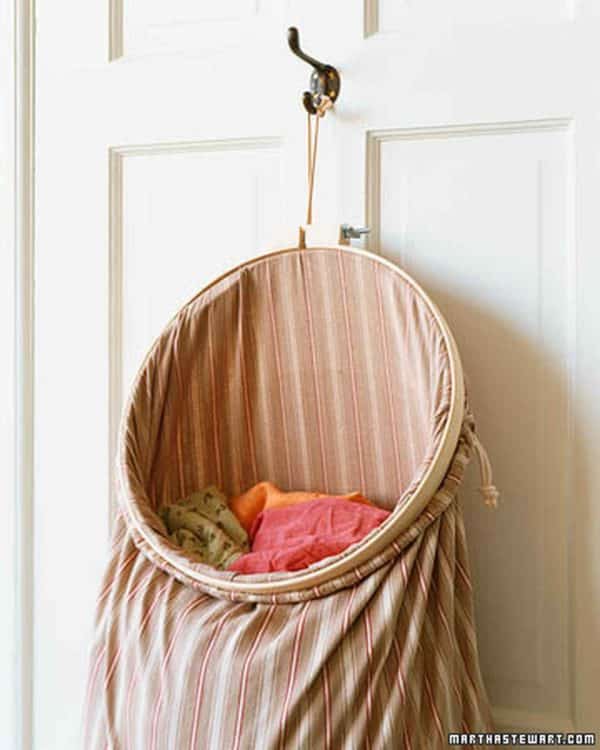 As found on Martha Stewart
If you're stuck on floor space, you can always hang your laundry basket in your wardrobe (if you have wardrobe space)!
Consider hanging your drawstring laundry bag on the inside of your wardrobe door using a mountable hook and an embroidery hoop (which will keep it open).
Copy this look –
Natural Cotton Laundry Bag + 14" Embroidery Hoop
Use Racks And Baskets Inside Your Closet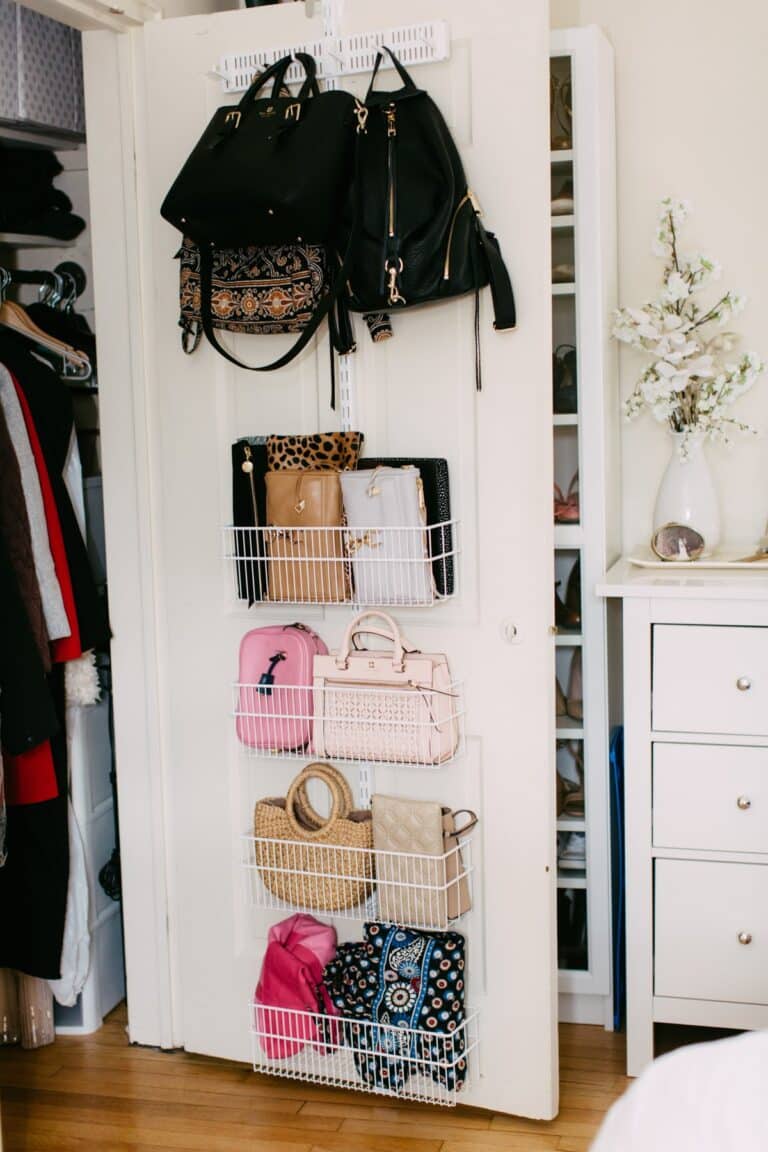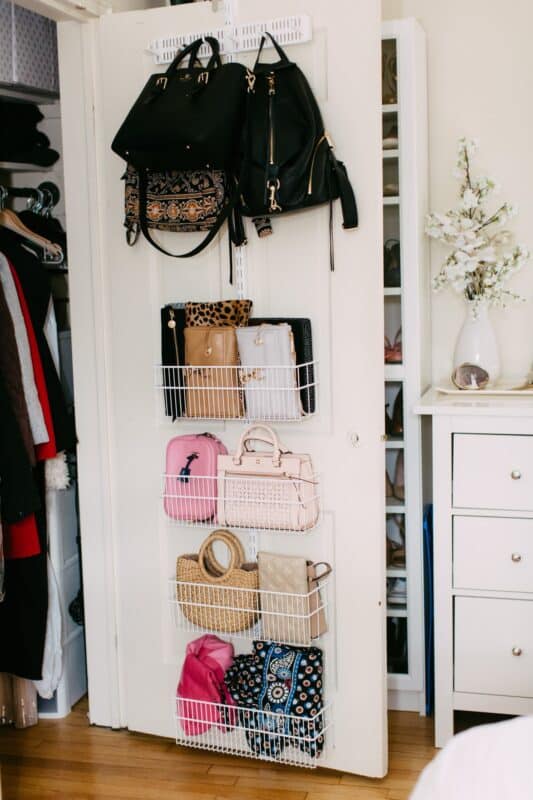 As found on Wellesley & King
This simple closet organization hack is such a great idea for those of you who lack space for all of those gorgeous bags you've collected.
Wellesley & King offer different solutions to closet organization using simple baskets, which allows you to keep your items neat but also see them at a glance.
Copy this look –
ClosetMaid 1233 Adjustable 8-Tier Wall and Door Rack
Utilize Wall Space To Hang Your Clothes With IKEA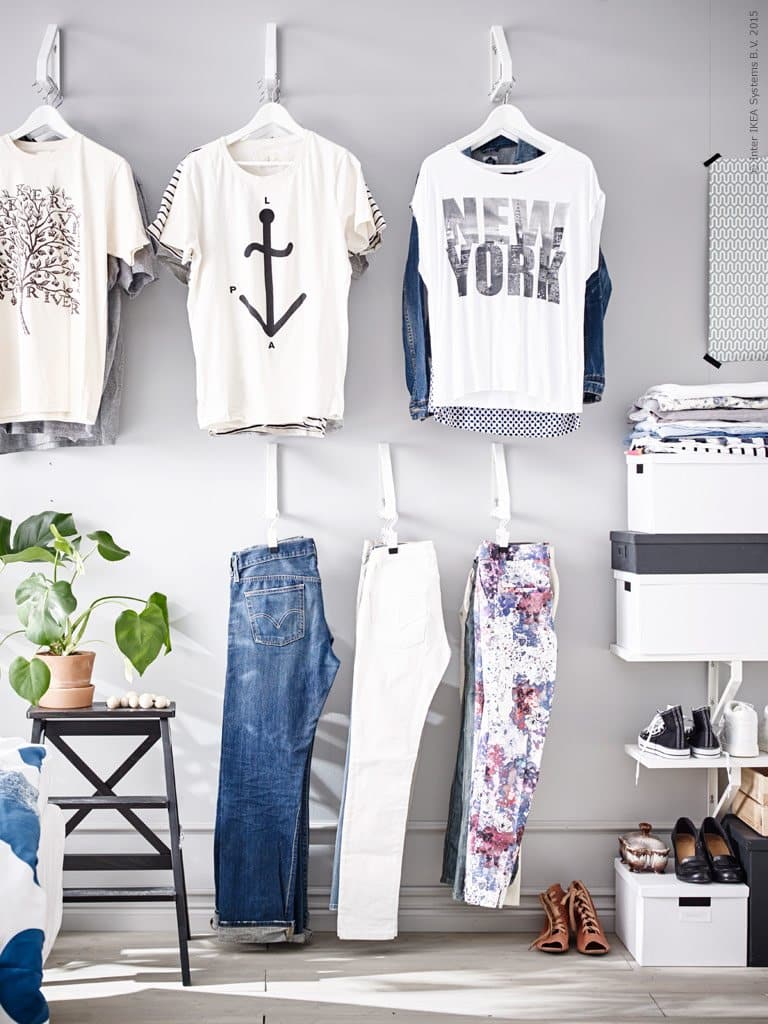 As found on IKEA
IKEA hacks are something we all live for, and it's even more special when the IKEA hack comes from IKEA itself, like this stunning way to use store wall brackets to organize and display your outfits.
This is a brilliant way to utilize your wall space if you don't have floor space for drawers or a closet, but it is also a great way to organize your closet if you have one.
This hack allows you to pick and match your outfit in minutes easily.
Copy this look –
Rustic State Set of 2 Wall Mount Wood Bracket + BEWISHOME Laundry Hook Boot Hanging Hold Clips
Store Items Under Your Bed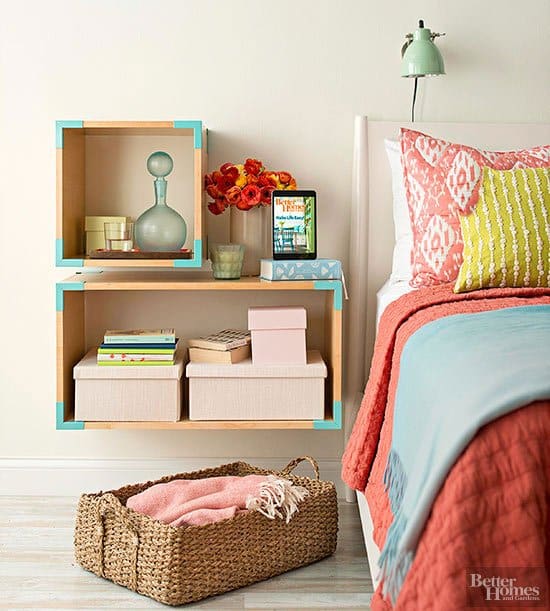 As found on Better Homes & Gardens
It might seem like a no brainer, but storing items under your bed can save you some space. Consider purchasing rolling containers to store some clothes, shoes, or books or lovely wicker baskets to store towels and blankets.
Whatever you decide to store under your bed, make sure your items are all organized in their relevant containers and nicely fitted so you can easily pull them out when needed.
Copy this look –
Whitmor Rolling White Wire Underbed Cart
Underbed Breathable Storage Bags Organizer Container [2Pack]
Sterilite Underbed Storage Box, Clear with White Lid, [6 Pack]
Ziz Home Under Bed Shoe Organizer, 12 Pairs [1-2 Pack]
Stunning DIY Hanging Hat Rack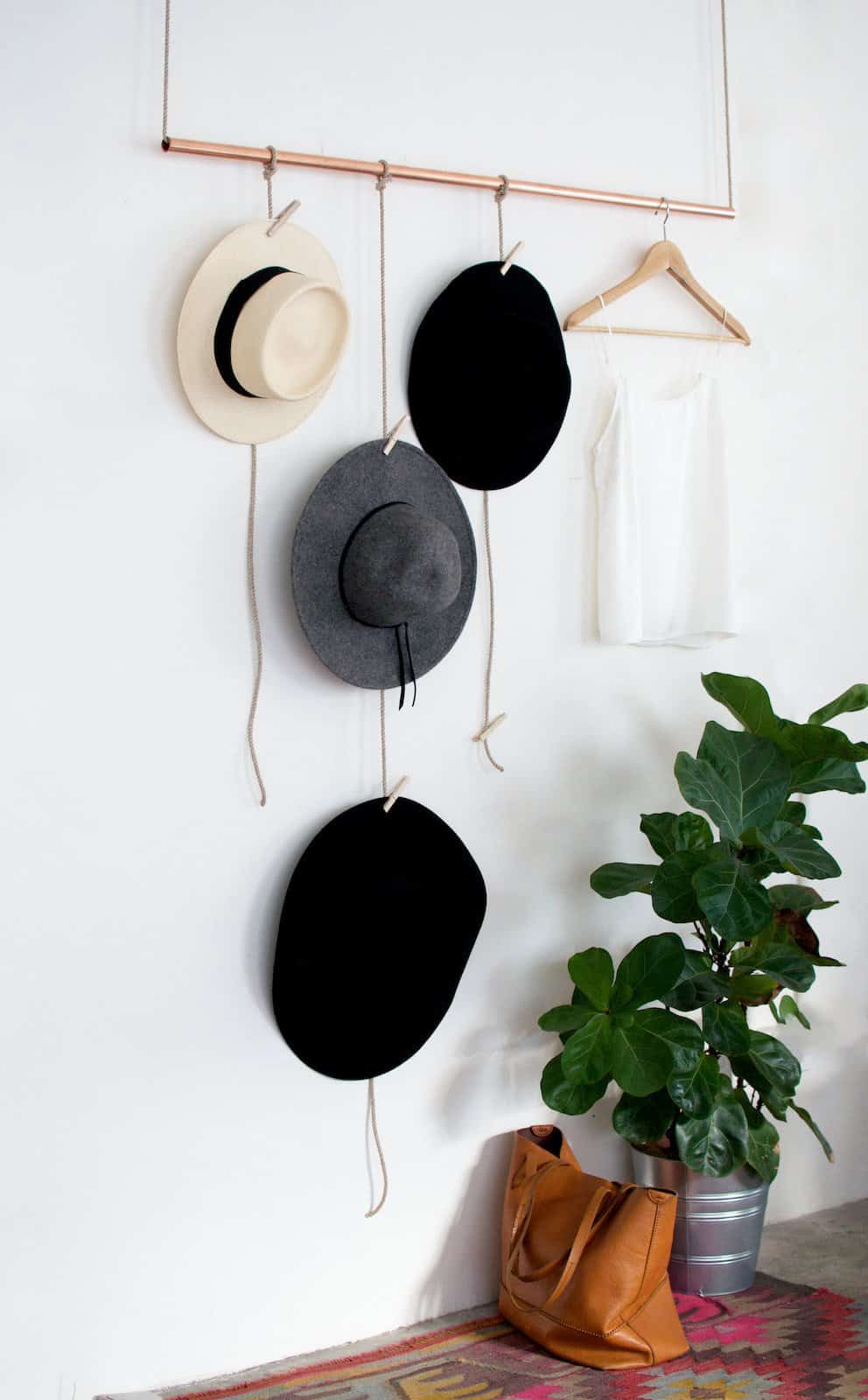 As found on Collective Gen
I adore this DIY hat rack from Collective Gen. Not only is it practical, but it looks divine and is ridiculously easy to make.
This DIY will hold lightweight hats on pegs, but you can always hang clothes from the pipe using coat hangers.
Copy this look –
Here is an industrial pipe rack ready to go:
Fill An Alcove With Floating Shelves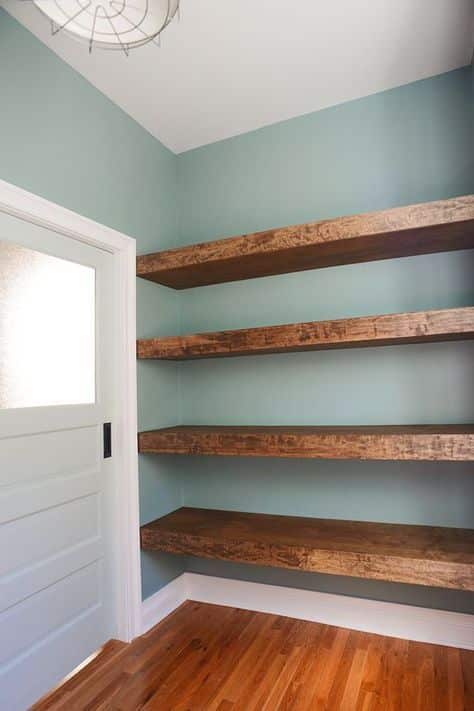 As found on Yellow Brick Home
So we all know that floating shelves are a great idea for being practical and aesthetically pleasing, but have you ever seen floating shelves like these?!
This gorgeous DIY from Yellow Brick Home shows you how to create large, rustic, and sturdy floating shelves that fit perfectly (and look impressive) in an alcove.
If I had a nook in my bedroom, I would be making the most of this DIY and storing my clothes and shoes on the shelves. These shelves are a beautiful and effective way of showcasing what you have.
Copy this look –
These are a smaller version:
Imperative Décor Floating Shelves Rustic Wood Wall Shelf
Conclusion
We know it's a lot easier to look at inspiration than make the changes, but these hacks and tricks are so simple that it is worth trying some of them out.
These ideas will help change your room around and give you that extra space you've been craving.
Go and take a look at your room, space is there, it just needs to be found.