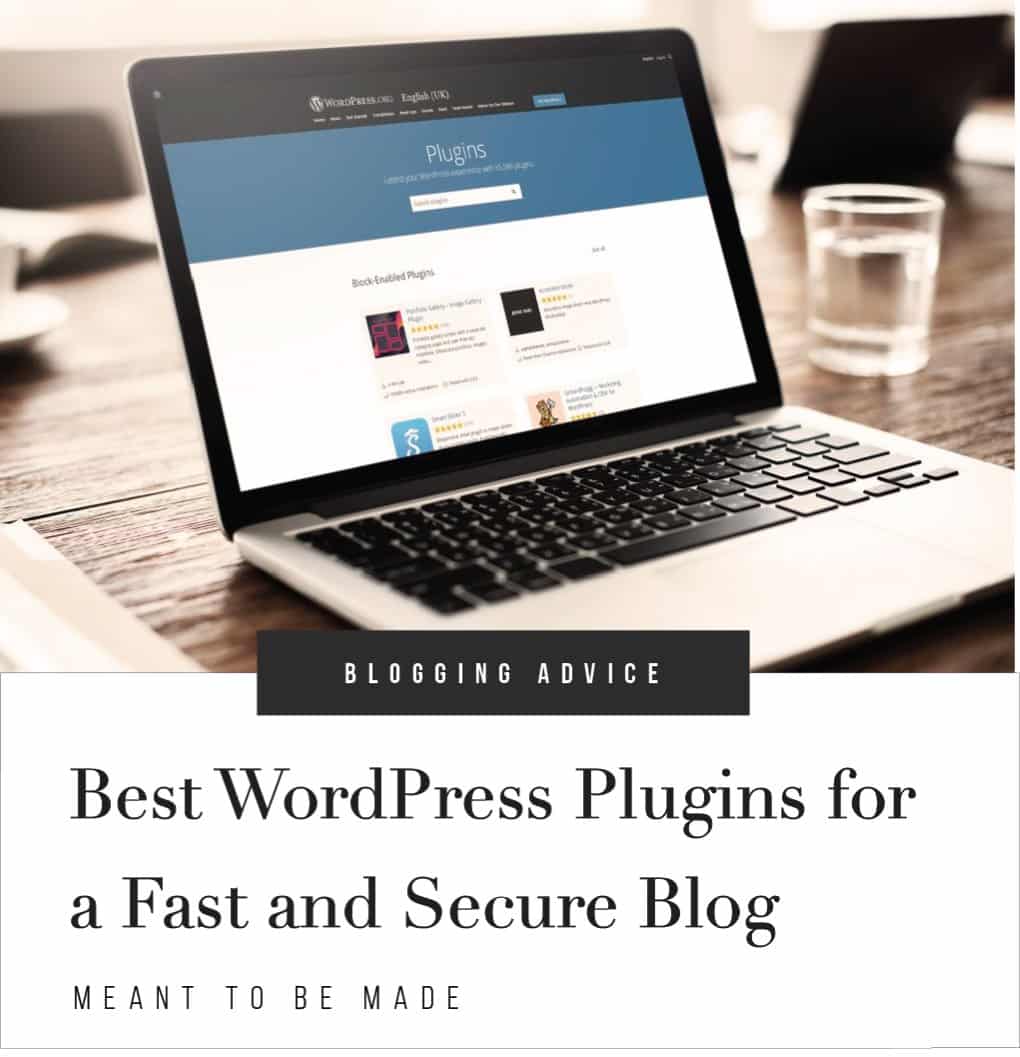 WordPress Plugins to help protect your blog from behind the scenes.
If you run a WordPress blog, you'll know that it is important to make sure your blog is fast and secure. We guide you to the best WordPress plugins that will speed up and secure your blog.
If you're new to WordPress, you may not know how important it is to have a fast blog. It not only helps provide a better experience for your readers, but it also helps rank you higher in search engine results like Google. Search engines use speed as a ranking factor.
More importantly, a secure blog helps protect both you and your readers from hackers and scammers. WordPress blogs are significantly easier to hack if they lack any additional forms of security.
WordPress runs over 35% of the world's websites, however, it is also the most hacked content management system in the world! Out of 8000 infected websites analyzed in a study, WordPress built 74% of them.
This can be because:
You are using out of date versions of WordPress that haven't been updated
Using weak passwords
Using vulnerable plugins, which are popular targets of hackers
Or poorly coded themes that have weaknesses.
Finding plugins that protect!
The day to day management of your blog, such as writing blog posts to promoting your blog on social media, can make things like performing updates or keeping tabs on security alerts quite boring.
Unfortunately, people often neglect these aspects. But managing the security and performance of your website is a task you shouldn't ignore.
Some tools can make this side of blogging much easier, almost to the point where you needn't spend much time managing this side of your blog.
With some simple plugins, you can significantly enhance the security of your blog while also reducing the load time.
As well as security and speed enhancements, some plugins can help protect your blog in the event of a failure or malicious damage. These plugins allow you to create backups of your site so that you can restore your blog to a previously working version in the worst-case scenarios.
To new or non-technical bloggers, this may all sound daunting. Most of us are non-techies, and so the thought of anything complex can be off-putting. But don't worry. WordPress plugins are easy to install and often easy to configure. The hard part is knowing which plugins to use for the functionality that you require. The WordPress plugins repository currently has over 55,000 different plugins available.
But we've done the hard part for you. We've found the best plugins to help secure and speed up your blog while giving you the added protection of keeping your website safe.
WordPress plugins for speed and security
Here we outline several easy to install WordPress plugins that are quick and easy to set up and will help give your blog a speed boost while enhancing its security.
WordPress is the world's most popular blogging platform, but its core functionality is focused on blogging and building basic websites. Plugins are a great way of adding extra functionality to your blog.
There's a massive catalog of plugins available for WordPress. They cover all types of functionality, allowing you to turn your blog into any type of website. The difficulty is in knowing which are the best plugins to use for the functionality that you require.
We've taken a great deal of time to research, find and test a significant amount of plugins so that you don't have to. We've found the very best WordPress plugins for boosting your blog's speed and security.
Firstly we need to highlight the importance of choosing a good web host who offers great security. This is a great solid starting point that you can then build on with the following plugins.
Additionally, we need to highlight the importance of installing a secure certificate on your blog. This shows that your website is secure and helps add trust to your blog visitors.
Really Simple SSL
Providing you have SSL installed on your blog, then the Really Simple SSL makes the job of running SSL on your website very easy with just a click of a button. Just simply install, activate, and enable SSL, and you're done.
Wordfence security
Wordfence is one of the most popular security plugins for WordPress. Featuring a firewall that helps protect your blog against unauthorized access by blocking malicious traffic.
Wordfence also features a malware scanner that checks core WordPress files, themes, and plugins for various types of malware that can commonly infect a website. It repairs any that it finds has been compromised by replacing them with the original versions or deleting them if they don't belong to your blog.
Wordfence also checks your website for any known vulnerabilities, alerting you to any issues.
You'll also benefit from enhanced login protection to help protect you from brute force login attempts by adding an extra login screen or a captcha.
UpdraftPlus – Backup & Restore
If you've been hacked, or updated a plugin that's broken your website, then protecting all of your hard work by taking backups is the most important thing you can do.
UpdraftPlus is a complete backup and restore plugin for WordPress. UpdraftPlus helps keep your website safe by allowing you to take backups that can restore your site with a single click in the event of something going wrong.
Backups can be performed manually from within the WordPress administration page, or you can schedule them to backup at regular times that suit you.
You can choose to download backups to your computer, or you can automatically save them to the cloud, such as dropbox or google drive. Doing this will make the restore process very simple and straightforward.
We recommend this plugin for anyone who values the work that they've put into their blog, as without a good backup plugin, the loss of your blog might be the end of it.
WP Super Cache
WP super cache is a plugin for WordPress that can greatly speed up your blog. Typically every time a visitor clicks on your posts or pages, WordPress has to generate the page before showing it to the visitor.
This takes time to generate and the longer it takes to generate, the more likely your visitors will abandon your website.
The WP super cache plugin generates static pages (HTML files) of your blog. It then serves these static pages almost instantaneously rather than generating pages every time a visitor opens a page. Everything is the same except that the processing of the page is done once. Then the processed version is served every time after that. If you ever update the page, it will be reprocessed, and then that version will be served every time.
Autoptimize
If you have a WordPress blog, chances are you'll be running a professional-looking theme rather than just the basic ones that come with WordPress.
Themes and plugins often add additional scripts such as CSS and Javascript, as well as visual enhancements like Google fonts.
All of these files typically add weight to the page files. With a plugin like Autoptimize, this added code weight can be condensed into a minified version, reducing the page file size and helping to serve the page quicker.
Combined with a caching plugin like WP Super Cache, these two plugins can make your blog pages appear super fast.
Enable Gzip Compression
Similar to plugins like Autoptimize that minify the code that makes your pages look pretty, Enable Gzip Compression takes your minified and cached pages and compresses them even further. Enable Gzip Compression drastically reducing the file sizes so that they are transferred quickly to the visitor's browser.
This plugin offers a simple one-click option to enable or disable Gzip compression.
EWWW Image Optimizer
EWWW Image Optimizer is a great plugin for WordPress that will automatically optimize the images that you upload to your blog, as well as optimizing any that have already been previously uploaded and can even convert the images to the best file format.
Images can be quite large in file size. When you have one or more images on a page, this can increase your page load times, and the longer it takes for pages to load, the more likely your readers will be to abandon the blog.
By having fast-loading images that have been highly optimized, your pages can load much quicker. This can result in a better experience for your visitors and better search engine rankings.
WP Rocket
We've discussed some plugins that can speed up your blog in different ways, each of which needs to be downloaded, configured, and tested. Still, the end result is a much faster website once they are all happily working together.
WP Rocket takes the same approach, but rather than downloading different plugins for different types of speed enhancements, this plugin does it all. It takes care of the caching. It minifies files, compresses, preloads, optimizes images, and so much more.
WP Rocket is a premium plugin, but for the small investment, you can receive peace of mind knowing that you're able to speed up your website with one control center and minimum effort and complexity.
If you're looking to maximize the speed of your blog, this plugin is certainly worth a look.
JetPack
JetPack is an all in one plugin that offers security, performance, and management enhancements. It is one of the most popular WordPress plugins and is developed by the same team who develop WordPress.
JetPack is a great tool for people who want to secure and speed up their blogs, with the added protection from automatic backups, all with minimal effort and fuss.
However, this plugin offers so much more than that, such as:
Visitor statistics
Hundreds of professional themes
Simple PayPal payment buttons for selling your products directly on your blog
Great tools for search engine optimization
An advertising program so that you can display ads and make money
Handy tools for letting you manage your blog from mobile devices.
Although they offer a free version, we recommend one of their paid plans for most of the best features.
The price is very competitive compared to installing and managing multiple different plugins which combined can do some of the same work. The beauty with JetPack is that it is an all in one plugin that is easy to manage and comes with great support.
Akismet Anti-Spam
If you have a blog, you're very likely to have comments left on your blog posts. Many of these comments are likely to be legitimate comments from the readers of your blog posts.
Occasionally there can be spam comments which can be advertisements, links to malicious websites, or simply just abusive or generally unwanted comments.
Protecting your blog and its readers from these spam comments is important and should form part of your website security.
Akismet is the number one most popular WordPress plugin ever made. It has been used on millions of websites quite simply because it does a great job of filtering out spam comments, so you don't have to do it manually.
Installation is quite simple, and it is often already installed in WordPress, so it is just a case of activating it and entering an API key which you can get from here.
Quick Tip: You can subscribe to Akismet for $5 per month for the best anti-spam for your blog, however, if you download the Jetpack plugin, you'll get the full Akismet anti-spam along with many other features for just $3.50 per month, it's a total steal! We rant about Jetpack often on this blog, it's one of the must-have plugins for every blog.
Conclusion
As you can see, running a blog does mean having responsibilities. But with these tools that we've detailed here, there are certainly ways that you can enhance your blog with added security and performance.
Running your own blog can be an enjoyable process, but don't skimp out on the important necessities. If anything, invest a little in some premium plugins, which can make your responsibilities so much easier.