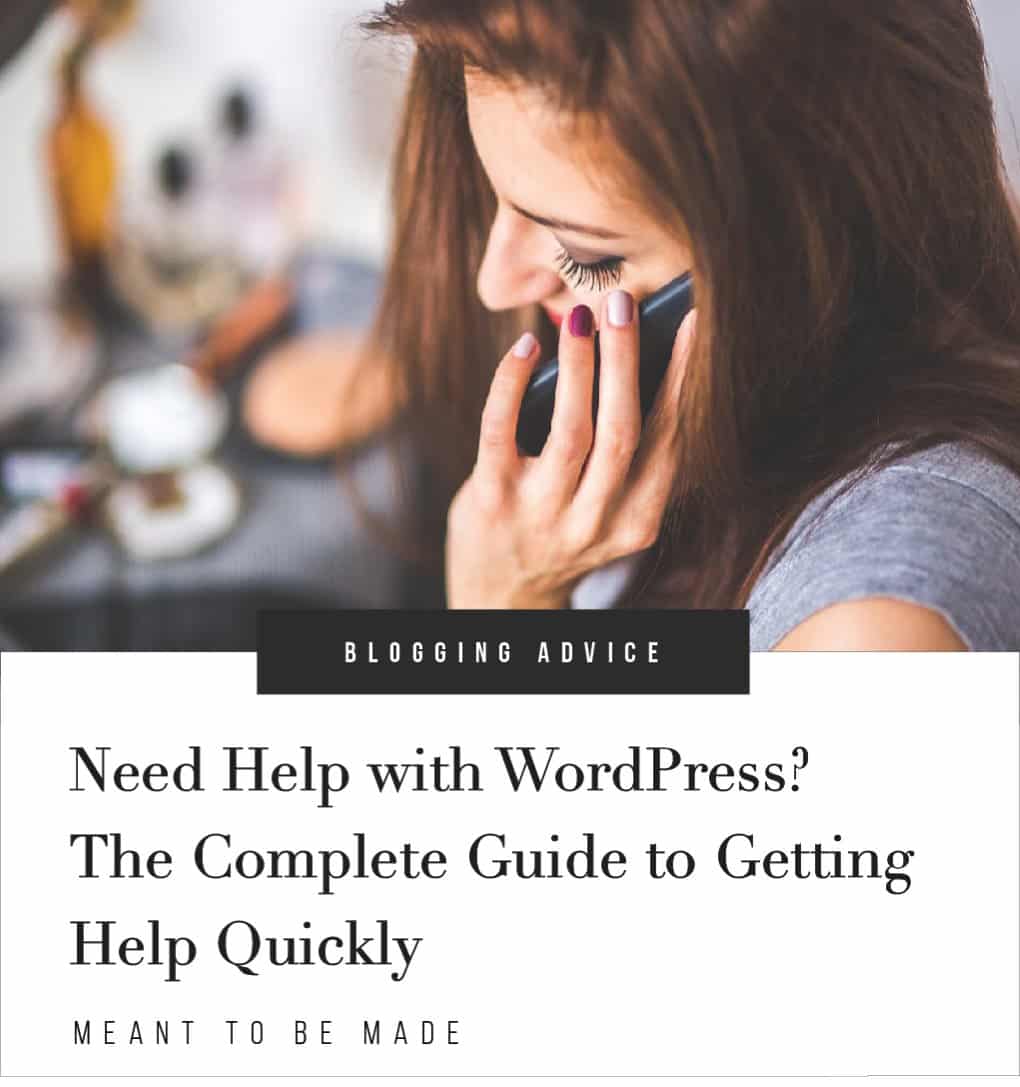 Our guide to the very best WordPress help when you need it.
If you're reading this, then the chances are that you've started your WordPress website, but you find yourself a little stuck.
Don't worry. It happens to us all!
It's great to start your blog or website, but most of us aren't experts with WordPress, or even know a thing about it!
And that includes us! We didn't know much about it, other than what it was capable of doing. We did a lot of reading, lots of trial and error, and eventually learned everything necessary for us to have a successful website.
But there were times we even had to reach out to others for help. There's certainly no shame in asking for help when you need it, and there's lots of advice available.
We only wish we asked for help sooner; it could have helped us make progress much quicker.
So if you find yourself in the same spot that we were in, then read on.
We're going to show you where to get help with WordPress when you need it and what type of support is available.
We'll also recommend some super amazing WordPress experts that will be happy to help you. Especially if you ever find yourself stuck like we were.
Here is some WordPress help that you can get:
What you need to know about WordPress
General WordPress usage support
Getting help with WordPress plugins
Getting help with WordPress themes
WordPress Hosting help and support
Getting help from WordPress experts
Where to find WordPress help when you need it
Running your WordPress blog or website can be an enjoyable experience and offers plenty of benefits such as:
Watching your website traffic grow
Generating passive income through advertising or affiliate marketing
Generating income through product sales
Simply enjoying writing about topics that you are passionate about
These are all great benefits of having your WordPress website.
However, occasionally, the day-to-day running of a WordPress website can become problematic with unforeseen issues that you might encounter. In those cases, you're often likely to require a form of WordPress support.
There are many ways of getting WordPress related support -whether that's general WordPress support, such as installing or setting up WordPress or support on themes and plugins. There is also more advanced support that includes help with security or maintenance.
You can find support by searching for answers online or by visiting support resources. You can also request assistance directly from theme or plugin developers.
Additionally, some experts can offer paid support. If you're stuck or need urgent help, there are options for getting quick solutions to your issues.
We help hundreds of people every day with their WordPress websites, from getting up and running with WordPress to what we love most, making money with WordPress!
We do this not just with the resources and courses on our site, but also via our contact form or social media channels.
But there are more ways of getting additional WordPress help. Here we detail the ways you can get the help that you need.
What you need to know about WordPress
It is important to remember that WordPress and many of the plugins that you'll use are free. As WordPress is an open-source platform, many developers in the community contribute their time to developing the platform, and this is often the same for themes and plugins.
We know that everyone prefers a freebie, but there can be some risks to settling for free rather than investing.
So what are the risks of free plugins or themes?
Some risks of using free or cheap plugins and themes are:
Plugins or themes may not be professionally developed
There may be bugs and configuration issues
Support is not guaranteed
Neither are updates
On the flip side, let's look at the support offered to premium plugins and themes.
The pros of using a premium plugin or theme
If you have purchased a premium theme or plugin, then it is likely that support is part of the purchase.
People often choose to buy premium plugins because:
They offer advanced features
They have immediate support available
You can contact them directly for help
They usually have dedicated support areas
For this guide, we will assume that you are seeking support for the free plugins or themes that you download.
Support for WordPress
Running a WordPress site will mean that there will often be times when you'll need to seek some help.
If you are a WordPress whizz, then it's unlikely that you'll be seeking an answer to a general query such as configuring a menu or categorizing posts.
You can quickly learn how to do this and understand how to fix complex issues by following the right course.
More complex issues can be quite common when installing or setting up WordPress.
These are problems like security issues, WordPress bugs, plugin issues (that can break your site), and much more.
For general WordPress issues, you can seek support on the official WordPress website via one of two ways.
WordPress support pages
The WordPress support pages are a great central resource of general WordPress information.
The knowledgebase contains guides on all aspects of day to day WordPress usage, from installation and setup to primary usage.
You'll also find guides on necessary administration, customization, and maintenance, with more advanced guides on security or troubleshooting.
WordPress support forums
The WordPress Support Forums are a great place to go when you're unable to find answers from the support pages.
The forum contains thousands of questions, including those that have previously been answered, meaning you can find solutions to your queries quickly.
If you can't find a fix to your problem, you can ask any WordPress related question on the forum. You'll likely receive some responses from others in the community.
Responses may not be quick, and depending on your issue, you may not even receive a response. This is more likely if it is not an issue that's has already been encountered.
The WordPress support forums are a great place to turn to when you need advice about WordPress.
Support for WordPress Plugins
If you need help with WordPress plugins, the best place to go to first is to the plugin page on the official WordPress repository.
There are two ways to do this:
You can either access this via the plugins page within your WordPress dashboard, searching for the plugin name then clicking the 'WordPress plugin page' link on the right
You can visit the repository directly, search for the plugin then click the support tab.
The plugin support tabs have a mini forum explicitly dedicated to that plugin. Users can ask questions or contribute answers to other items and generally help each other.
The plugin authors will also help by answering questions, providing that the questions haven't previously been asked.
It is best searching the plugin support forum for questions that have already been asked as you'll often find an answer to your queries quite quickly.
Often there is a FAQ tab on the plugins page, which will feature all of the most commonly asked questions. The FAQ tab is usually a quick way of seeing common problems and solutions.
If you need to ask a question that hasn't been asked before, then make sure your question is clear about the problem or query that you have.
Be sure to make sure that your question is polite. If you are rude, aggressive, or impatient when receiving support, then you'll likely receive no help.
Remember that it is a free plugin, and you are asking the developers to answer your support request for free. So be polite, be patient, and don't expect a reply or resolution to be quick.
Support for WordPress Themes
WordPress themes are generally less problematic than plugins. This is because they offer less functionality and are often just a skin for WordPress. The type of support that you're most likely to seek will be down to the styling, making things look right for your needs.
If the support you need is styling, then it might be that you need to learn some CSS or HTML. This can be quite daunting if you haven't learned anything about these languages.
But don't fret!
An alternative solution could be by using a page builder plugin for WordPress. These plugins can help you quickly lay your pages out by using drag and drop elements and requiring no coding.
But if the problem you are having is specifically theme-related, then you'll likely need support from the theme developer.
If you are using a free WordPress theme, chances are the theme can be found on the WordPress Themes Directory.
The WordPress Themes Directory has over a thousand themes of all styles, from minimal themes to modern themes.
Many of these themes are satisfactory for general small websites but lack many of the features that are available in the premium themes. These themes can develop problems over time as they are rarely updated once released, which is common when WordPress and your plugins are updated.
How to find support for a free WordPress theme
Support for free WordPress themes is quite limited. They are often used far less than free WordPress plugins and so don't have such a large community of users seeking support.
However, the support process is similar to how you obtain support for free WordPress plugins:
You can visit the themes directory, search for the theme you are using and click the 'View Support forum' button.
You can also use the Theme Homepage link which will take you to the theme developers website
Consider directly contacting the developer via their website
Support for Hosting
If you are using a good web host such as BlueHost, you'll be able to access support quickly via your hosting control panel.
The control panel will help you make changes or add upgrades that can cover most of the issues you are likely to encounter.
Often hosting companies have a dedicated support knowledge base. These are resource pages full of helpful guides on all aspects that relate to your hosting, from email to domain names, and often include help for WordPress.
However, if you require help with something that isn't covered within your control panel, then you can often access instant support via your host's support channels by telephone, email, or live chat.
Support is often provided 24/7, so you can be sure that you'll get the help that you need at any time of the day.
The better the host, the more likely the support will be better, helping you resolve your issues very quickly.
Paid Support from WordPress experts
If you're seeking solutions to WordPress problems that are outside of your knowledge level or if you're unable to get answers from free resources online, then there are paid support providers who will gladly help you resolve your issues quickly.
If you need help with your WordPress website, then Fixed.net offers expert WordPress support. They can provide you with quick one-time fixes or ongoing maintenance for your WordPress website.
They offer support for:
WordPress themes and plugins
WordPress bugs and errors
Recovery after hacks or malware infections
And much more
Services like fixed.net are available 24/7 to help you resolve your WordPress issues and typically solve problems within 2 hours of contact.
Fixed.net can be an ideal way of resolving problems as and when they occur, knowing that you have someone to turn to can give you the peace of mind you need.
What do you think about WordPress support?
There are lots of ways of getting support with your WordPress website, it's a great community of users, and you certainly aren't alone. Being able to make your website practically for free can be great, but it can also be challenging.
We recommend you look at an in-depth course on WordPress to help you become thoroughly familiar with all of the necessities. A comprehensive course will give you a solid foundation of knowledge to take forward as you grow your website.
Additionally, by investing in premium plugins, you'll not only maximize the capabilities of your site, but you'll also have access to rapid support, meaning you can access quick help to resolve any issues so that you can focus on other things.
All in all, enjoy your WordPress site!
The best time to experiment is in your early days and remember to take recommendations from others like ourselves.
We have been working with WordPress for many years and have become advanced users, and one day you will do the same and maybe help others too!