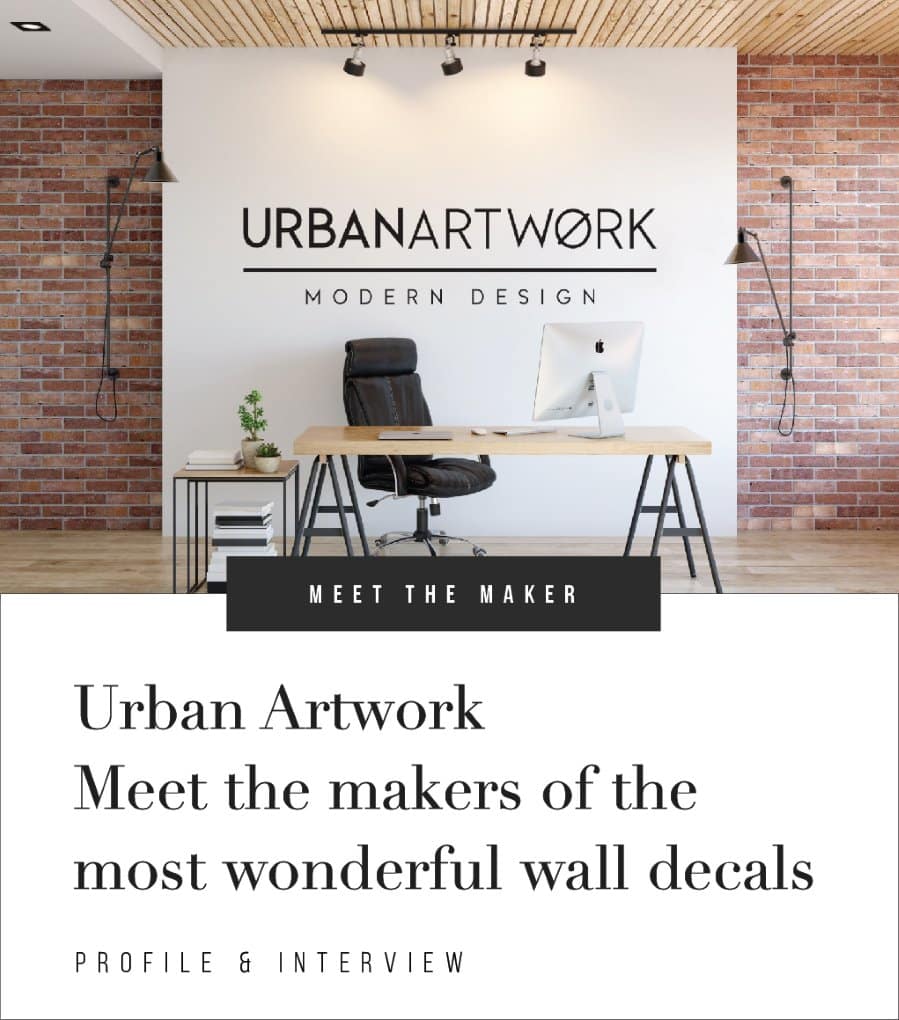 Welcome to our Meet the Maker interview! This is where we connect the passionate makers of incredible products with you, giving you insight into the daily runnings of their successful business.
Today we introduce Urban Artwork.
Tell us about yourself (who you are, where you are located, your company, when you started, how long)
We are Urban Artwork. It is a business run by two partners – a husband and wife team, we are located in Scotland, United Kingdom, and we started the business in 2016, although we began preparing for the business in 2015.
What is it you make/sell
We make a range of wall art, including wall stickers for homes and signage for businesses.
What made you decide to start making/selling/writing in this niche
I originally had the idea back in 2013. It spawned from watching a news item that year on Bansky, who was at the time doing a residency in New York. One of the gigs he pulled was placing an older gentleman with a stall on the busy streets of new york. The stall had a wad of stencil art, and passers-by were stopping and buying the artwork. They didn't know they were buying a Banksy painting which they did so for about $60 which would later become worth $30,000 each, they just saw the street art style canvases and liked them, so seeing how easy it was to sell I thought 'I could do that easily.'
So I put a little thought into the idea of creating street art and become quite interested in that genre of art and making a business from it.
I was working in a full-time job as a designer at the time. In the evenings, I was developing products that I intended to sell once I had enough of them. I was also researching equipment needed, where to sell, how to sell and so on.
Within a year and a half, I was almost ready to begin selling online and had a strategy and was making preparations to do so.
This was also around the point where my partner, who I also worked with at work, decided to join me, and she then also began developing products.
How did you start up? (side hustle?)
The original intention was to start up as a side hustle until the revenue was enough to allow us to quit our jobs and go full time with it. Fortunately, we saw the signs that the company that we were working for at the time wasn't doing well and made a plan to leave our jobs by a certain date and set that as our goal. We were anticipating the eventualities of business failure that we were working for and planning for it.
By the time we got the news from the company we were working for that, there would be layoffs, we were almost ready to hit the go button.
We began selling our products before we finished our jobs and so by the end of the employment we were already starting to bring in a sustainable income., enough to pay the bills at least.
Is what you do full time or a side hustle?
We work full time on our business. We have enough sales volume from various channels that keeps us very busy.
What's your typical workday like?
A typical day for us begins the evening before where we plan the following day's work. However, the day begins around 6 am, where we check our phones for orders and inquiries while still in bed, which is one of the great things about being a husband and wife team in that we can talk business from the minute we wake up! It sounds boring, but it's not always like that.
We'll then begin work fully around 7 am, preparing orders which involve customizing designs that our customers have purchased, replying to customers, providing quotes, and checking sales figures. The order preparation can take a couple of hours, and when they are ready, they will be sent to our equipment for producing.
We operate multiple equipment types, all at the same time, to help speed through the production of the orders for the day. We ideally like to have our custom orders produced within one business day of receiving them and where possible on the same day.
When our orders have been produced they need hand-finished which takes a couple of hours to do.
The orders are then sealed and packed, and we process the orders through our mail system, which generates labels for us on rolls, which we then apply to the packages and then bag up for collection by the courier, which typically happens by 4 pm.
In amongst all of that, we respond to inquiries as they come in, manage stock and where possible, prepare further orders where necessary for the day's dispatch.
From 4 pm, we generally take a break by heading out for an hour and grab a coffee, bits and bobs and a change of scenery. We come back, have dinner as a family, and in the evening, we work on developing the business. This can be developing new products, dealing with opportunities, or if we are very busy preparing orders in advance of the next day.
Lastly, we plan out the following day, what needs to be done, and timings to make sure it all goes to plan.
When we get finished around 10 pm, we are ready for bed.
But as we have a little one, we have to fit her in as much as we can, so we adapt our days where we can be based on the needs of our daughter. This can be mornings in the park, playgroup, visiting family, or just getting out for fresh air, in amongst the feedings, playtime, and housework!
The days are very, very busy, occasionally stressful, but we get to spend them together as a family, which is a plus point.
Can you describe your work process?
Our work process is:
planning
preparing orders which involve designing or customizing existing designs
preparing the job files for our equipment
producing the orders with the equipment
hand finishing the orders
packing the orders along with the invoices and instructions
and finally running our mailing for labeling and manifesting. That's the core job.
In addition to this, there is customer service, stock management, product development, website maintenance, research, and constant analysis of what we do so that we can always be more efficient, grow our business and plan for the future.
Where and how do you sell your products
We sell our products via multiple channels. We have two websites with different branding, which allows us to optimize for search engines in different ways. We also sell on marketplaces such as Amazon, Etsy, and in addition to this, we use print-on-demand services where we design products such as apparel, furniture, etc. which are sold on other marketplaces.
We don't sell our products locally. We focus on investing time into promoting our products online so that it becomes more of a passive form of promotion, via SEO, social media such as Pinterest. This is more valuable to us rather than putting constant time into
Do you remember your first sale?
Yes, our first customer was via Etsy. It was for a customized name wall sticker, and she was from the US. This was while we were still employed, but after we had received our redundancy notices in the last few weeks of our employment, The order was produced and packed and dropped off at the post office near work.
But we don't remember the 2nd or 3rd or the orders after that as this began a flurry of orders. We could tell that things were likely to work for us. So we were excited about leaving our jobs to get stuck into this full time and be our own bosses.
What challenges do you face?
The biggest challenge that we face is through our Amazon channel. Amazon is a different beast than other channels in that it's a purely metrics-based system. We put 100% into all of our orders regardless of the channel the order is received by, but Amazon's systems rank the sellers via several methods. When you understand the metrics system they operate, you tend to focus on making sure you excel with the system, Amazon expects that and their system doesn't necessarily reward you for excelling. Still, you do see declines in sales if you don't excel.
The customer service side is also very difficult, more so with Amazon then via our other channels. Amazon customers have expectations of fast shipping, high-quality products, and low prices. If their customers have an issue and they get in touch, you need to respond within a set timeframe. Still, one of the main problems that we see with their system is that the messages you send to their customers via their system don't always get through – the customer's email apps tend to send emails from Amazon to their spam boxes, which means that the customer assumes that you haven't replied. Then things can start to get a little messy, you could say. I would say about 50% of the messages we reply via Amazon don't reach the customers. So that's frustrating. We have to send out replacement items often, even though we know that the customer is having a user issue or that their package is waiting to be collected from a courier depot. They also expect replacements to be produced and sent out even if it's their fault, and some even know how to game the system – I won't go into details of this, but its a problem that likely many other sellers and we face with Amazon.
What are your most popular products
We have several popular products. Our children's name wall stickers, door name stickers, and our opening hours signs are very popular with businesses. Our premade things, such as manchester bee stickers, are also very popular.
Tell us about the highlights you've had
Being able to work for ourselves and the days when our sales are insane. It's more work but the earnings are great.
Tell us about the low points you've had
Being suspended from Etsy. It happened at a really bad time and was completely unexpected.
What are your future plans
We are considering selling the business or partnering with others as we have now developed a new unrelated business, which is doing very well.
What inspires you?
We have a general love of design anyway and always stop to admire the window signage when we are traveling. Great designs that people have a need for is what offer. Apart from design, we love working for ourselves so the thought of working for someone else again really drives us to work hard and keep going.
Any tips or advice for people starting out making and selling
Don't spend too long thinking about it, start making little steps towards it, whether that means starting a website, blog or business. Many people are too scared to take the leap and we can understand that so another option is to work on your business in the evening and only make the jump when you can project that the income will cover your bills.
Another tip is to be patient when waiting for your first sale. It can take days, weeks or months but it will come and once it does, the sales will keep coming.
Thank you to Urban Artwork for taking part in our Meet the Maker series.
If you want to learn more then you can check out their product feature here.
If you have any questions for Urban Artwork then get in touch below!
Please supply a picture of any of the following:
You
Your studio/workplace (this can simply even be a small area of your home where you work)
Business logo