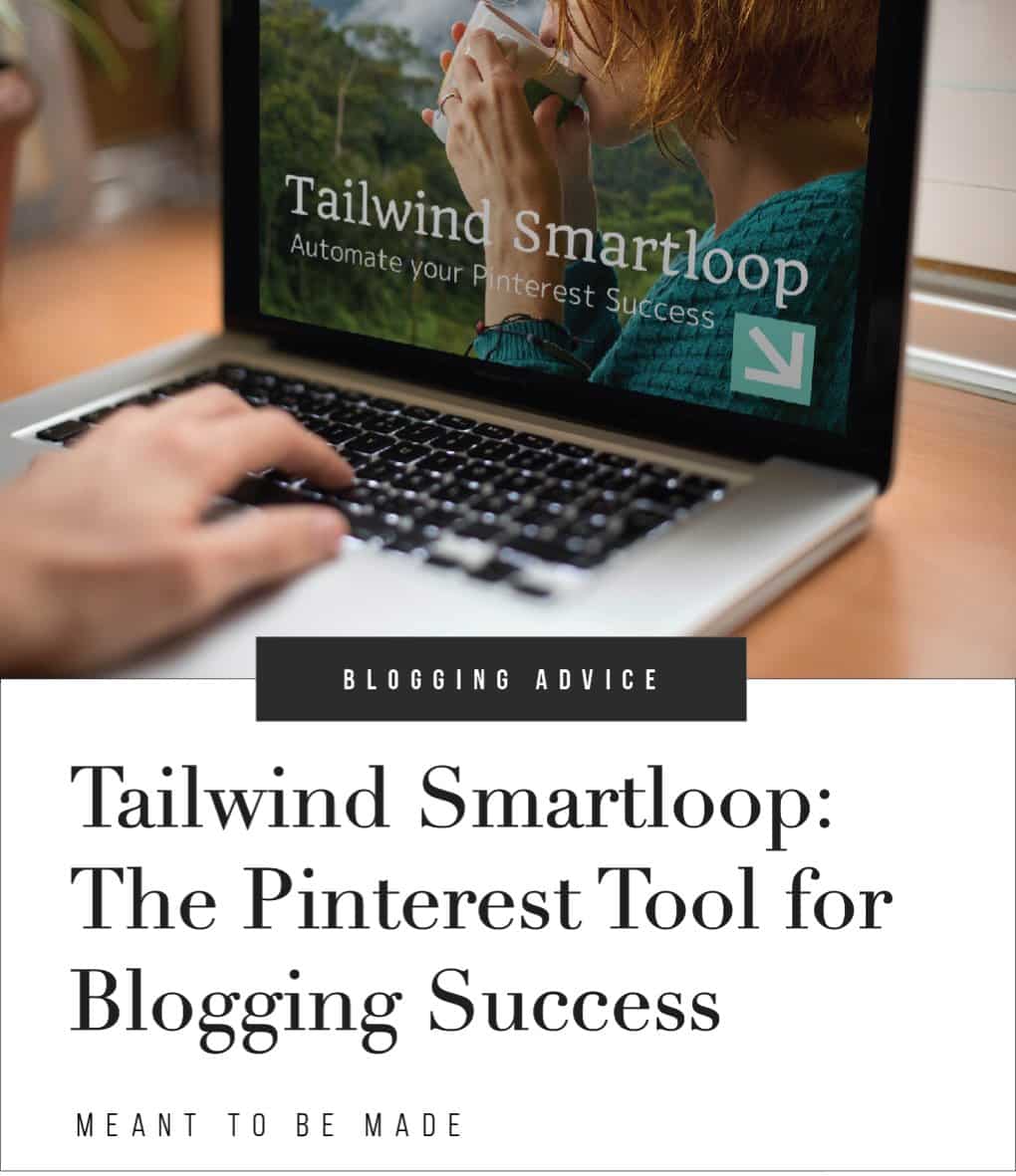 Why you need Tailwind SmartLoop in your life right now!
SmartLoop makes it easy to reshare your best Pinterest pins at the best times for engagement, continuously looping them throughout the year.
This means you can save a lot of time and stay consistently active on Pinterest by automatically repinning your best pins at the most active times for maximum engagement.
To loop your pins this way, you simply choose the pins that you want to schedule and pick the boards that they will be looped to. Once they have been posted to all boards selected, the cycle will repeat, and they will be posted again.
The great thing about this is that your pins will have many more chances of being found on Pinterest rather than pinning once and moving on.
You don't even need to keep track of which pins you're posting and you'll see everything within the SmartLoop calendar so you can see what you're pinning and when.
A great way of saving time
SmartLoops are a great way of saving time while boosting your blog or business. SmartLoop will even import your best-performing pins, so you'll easily know which pins to loop for maximum success.
SmartLoops are a great way to save time, meaning you don't have to manually look for pins to repost or keep track of what you've posted and what's coming up.
Once you've created a couple of dozen pins, you'll want to setup SmartLoops so that you can have them churning away in the background while you focus on other Pinterest work.
SmartLoops let you stay consistently active on Pinterest with the least amount of effort. As you already know, the Pinterest algorithm ranks users higher who are consistently using the platform.
With SmartLoops, you can customize the limits so that you can safely keep resharing the same pins without risking your Pinterest account or breaking group board rules.
You'll see detailed statistics on each of your looped pins so that you can make sure they are performing well or make changes to any that need a little tweaking. This helps you get the most from the pins, so you're always maximizing your pins for success.
Stay relevant with seasonal loops so that you are always serving timely content
The seasonal loops will help you to stay relevant by automatically resharing pins during the seasons that you set them to. This allows you to cycle the perfect seasonal pins every year at the right season.
If you have seasonal content or products on your website, then be sure to set up seasonal loops. This will maximize exposure and increase traffic to your website during those seasons. Not only great for the Christmas holiday season but also great for Valentine's, Mother's Day, Halloween, and much more!
When you create new seasonal content on your website, be sure to add them to your seasonal loops. That way people will keep seeing them at the right time each year, without you having to repeat the same work every season!
SmartLoop lets you set up a loop of pins from any of your boards, including group boards. There's even a quick add feature for importing an entire board.
SmartLoop analytics will show you how each loop is performing. You can even see the pins with the most engagement on any board, so you'll know if any should be improved.
SmartLoop FAQs
Who needs SmartLoop?
Anyone who wants to save a lot of time with their Pinterest marketing
Those who want to set pins to automate without having to remember when to pin them again
Pinners who have seasonal content and want their seasonal content to be pinned each year automatically
Those who are serious about their Pinterest strategy and want to grow their traffic from it
Anyone looking to increase their income from their blogs
Bloggers with a lot of great content
Bloggers who want to grow their email list
SmartLoops is a great investment.
It can keep you organized, save you a ton of time, grow your traffic (and in turn your email lists and passive income), and it will work in the background, leaving you to work on other things.
You really do need SmartLoop unlimited to maximize this, or you won't be able to loop all of your pins. You can only set pins to a certain amount of boards, so if you're not on the unlimited plan then choose your pins and boards wisely.
Setting up your board rules with SmartLoop
It's easy to set up group board rules with SmartLoop. The board rules feature will let you control how often your pins are posted to your boards, which is especially important for group boards, which limit the number of pins you can post to a board for sharing.
You simply select a board and choose the number of days that you would like to wait before posting another pin to the same board.
If you have multiple smart loops that post to the same boards, then having board rules set up will help prevent you from posting more than the limits imposed.
However, if you happen to post manually to the group boards, then you can go over the limits, so be careful mixing manual pinning and SmartLoop pinning to group boards.
To add new content to an existing SmartLoop:
You can simply visit your website post or page that you want to share
Click the Tailwind browser extension button
Click the image
Add a description
Choose to add to SmartLoop
Then finally select the loops that you want to add it to.
New pins added to SmartLoops will be prioritized over older pins in loops.
Sharing other pinners pins/content
When you're browsing blogs or sites and you pin content using the tailwind browser extension, the pins will go to your general tailwind queue and not to a SmartLoop.
Unlike some other Pinterest tools, Tailwind is an approved Pinterest partner.
This helps keep your account safe, so you don't have to worry about activities that might jeopardize your Pinterest account.
How much does Tailwind SmartLoop Cost?
Tailwind plus is $15 per month, although if you pay annually, this is only $119.88, so a $60 saving! That's equivalent to 4 months free.
With the Tailwind Plus, you can loop 250 pins as part of the plan. This is great for picking your best pins and having these loop to your best boards continuously.
If you want to loop more (and you really will when you see the results), then addon a SmartLoop powerup.
How are SmartLoops counted?
SmartLoops are counted based on the number of pins you have looping, not on how many times they loop in a month or year.
If you have 1 pin looping to 3 boards, that counts as 3 loops. 10 pins looping to 5 boards counts as 50 loops. 3 pins looping to 6 boards counts as 18 loops, you get the picture.
It doesn't matter how often you have the pins looping. It is the loops that you've set up that count.
So 1 pin looping to 3 boards means 3 loops, doesn't matter if they loop daily, or weekly, 50 times a month, it's still just 3 loops.
Tailwind Plus comes with 250 loops, with different levels of powerups providing more loops, such as SmartLoop Pro 500, Max 100, Unlimited.
The more content you have, the more loops you're likely to need, so the included 250 loops might not get you very far.
You'll need to think about the investment your willing to make in your loops, bearing in mind the time savings and the return that you see from the loops.
Generally, the more loops you have, the better results you will see.
SmartLoop Strategy
The best strategy is to prioritize looping your best-performing pins to your best performing boards.
Remember that SmartLoops will be on top of your normal pinning. So regular pinning either directly on Pinterest or Tailwind schedules, along with the daily pins from your loops all count.
Bear in mind the number of pins you wish to make per day. A good recommended amount is around 30. Count how many pins you have looping every day so you can manage your daily target.
A quick tip: Create board lists for the boards that are used for looping and board lists for the boards that you don't loop to.
This way, it's easy to separate the automated pinning from your regular pinning. When you find new pins that are working well, you can add them to your main evergreen loops.
Pinterest strategy
The key thing is getting started as quickly as possible, even if you don't have any pins yet, even if you're not making money from your website, even if you don't have a website yet.
Don't just leave your loops running. Always review your pins regularly to make sure you're continuing to loop the best pins to the best boards and optimize the pins that don't perform well. You could even remove them from the loops if they are poor, only loop your best pins.
Always tweak, test, review, and perfect.