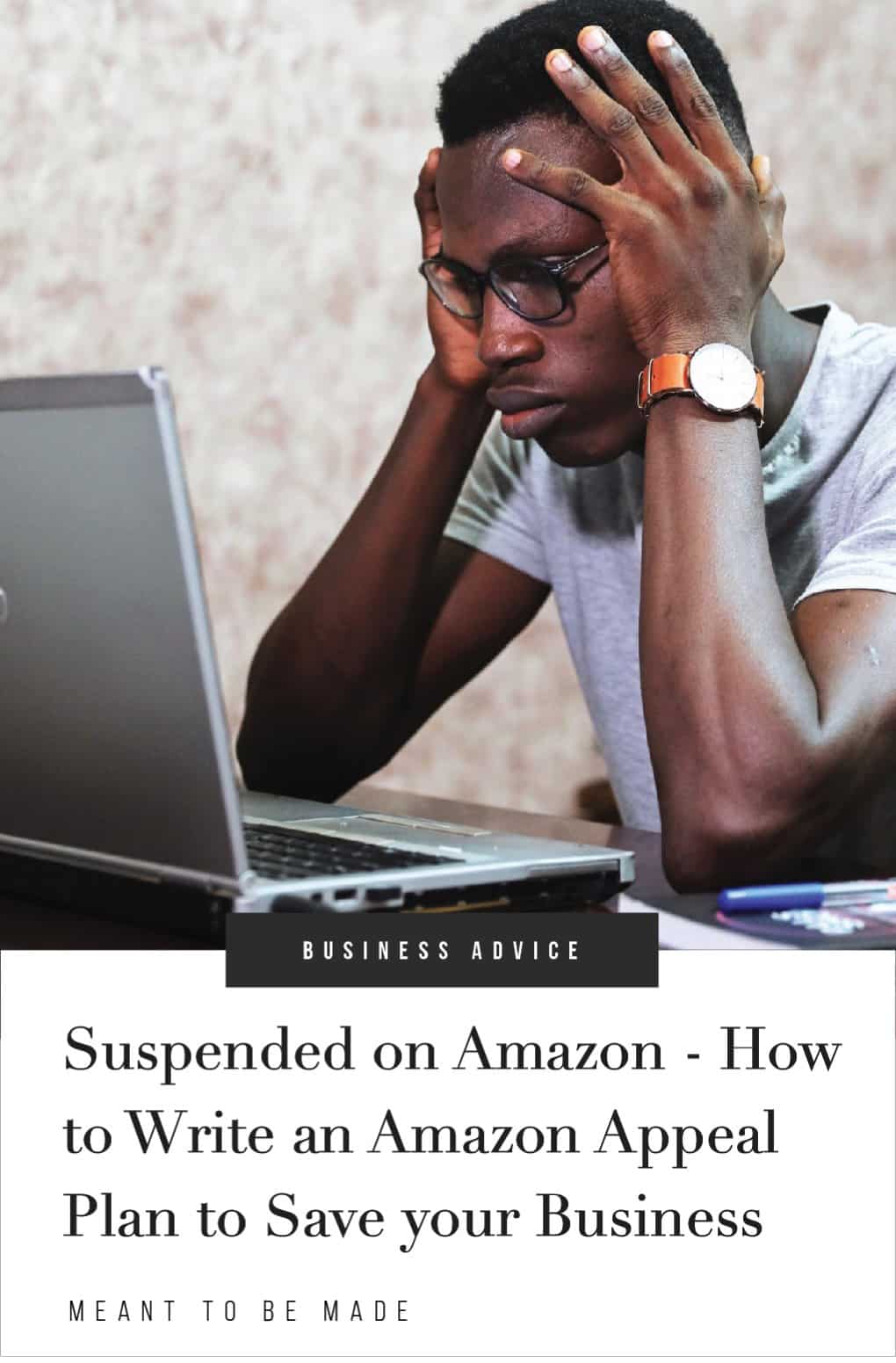 If you sell products on Amazon you'll likely know that it can bring in quite a good income. There's always someone somewhere looking for products like the ones that you sell and if you know how to work Amazon effectively you can make a very good income.
However, selling on Amazon isn't easy. Particularly because you must always maintain a high standard and make sure your Amazon customers are very happy.
However, like anything in life, keeping all of the customers happy all of the time is almost impossible.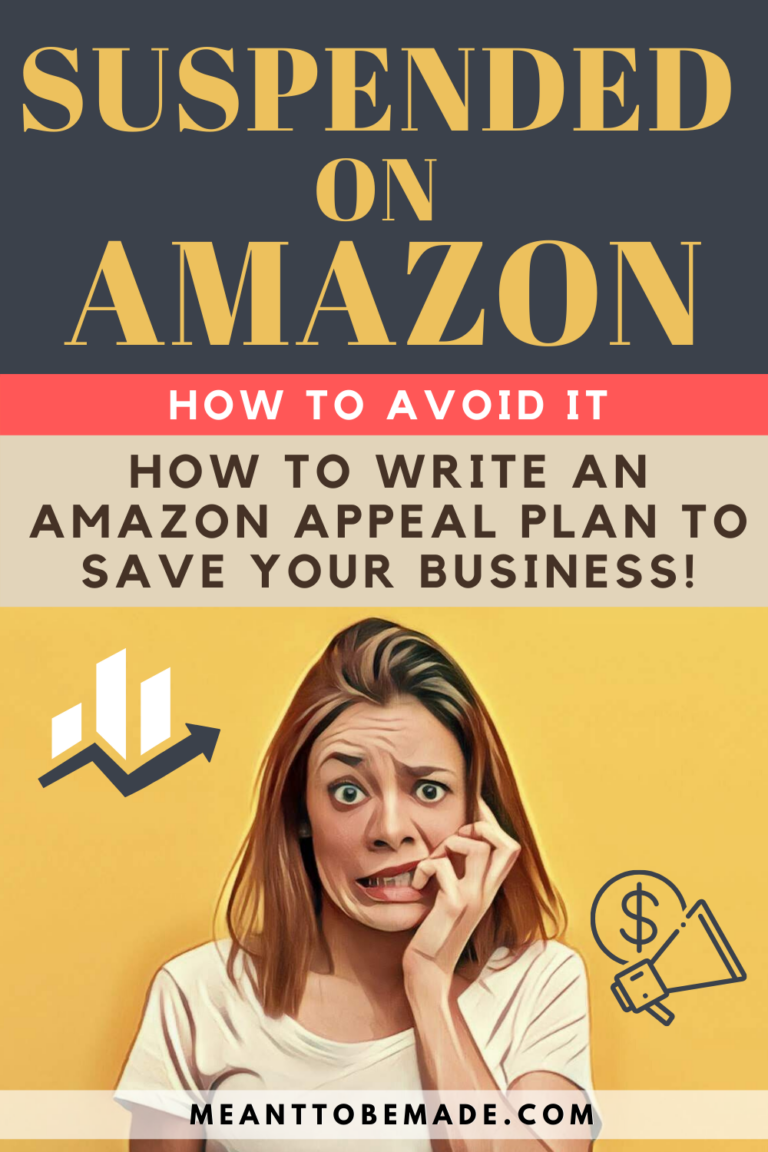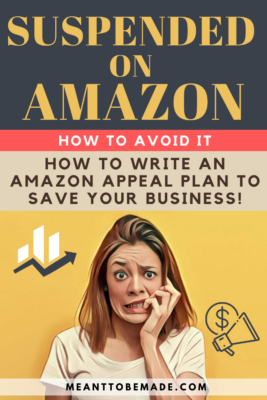 You only need a small handful of customers to not be happy for any reason, no matter how small, for you to end up being suspended.
For example: If your orders arrive late or If the customer makes an error (didn't read the product description, or didn't read the included instructions, etc).
If the customer complains, leaves negative feedback or reviews then this will affect your metrics and seller health. Negative feedback can affect your account for 60 days. Complaints can affect your seller health for 6 months.
Whatever the reason, it's likely that if you sell on Amazon, sooner or later you'll find that your selling privileges might be at risk from suspension.
If you do find that your account is at risk, your seller health has a warning, or you just instantly find that you've been suspended then you'll go from having an income to potentially having none, in an instant.
When this happens it can be very scary. If you haven't got any contingency plans for this happening, by having more than one selling channel then you'll be in big trouble.
This is why we recommend starting your own online store as your main focus and having Amazon as an additional income. If you put everything into your Amazon account and don't have another income stream you will sooner or later end up having financial difficulties.
So what do you do when you get suspended on Amazon?
If you do find that you're suddenly suspended on Amazon and don't know what to do, then don't worry, all is not lost.
I'm not going to tell you that getting your Amazon selling account reactivated is going to be quick and easy, it's not.
It might take as little as a few days, a week or two, or quite possibly even a few months.
If and when you do become suspended you'll find that in order to reactivate your selling privileges you'll need to submit a plan of action.
This is something that you might feel like you want to react quickly to. However, I would suggest that you take your time and make sure your plan of action is as good as possible and covers all aspects of the reason why you were suspended and how you will prevent this happening again.
It's no good telling Amazon that you're sorry for making a mistake, that's simply not good enough. As far as Amazon is concerned, the mistake shouldn't have happened in the first place.
The steps you need to take aren't going to be quick.
Firstly you need to read all of the Amazon Seller Policies. You may or may not have read them previously, you might have even just skimmed through them, but they are very important and are there to protect you as a seller and more importantly Amazon as a business. Customers must have a great experience when buying on Amazon. The items must be as described, in a new condition (unless you have stated that it is used, in which case it must be in a good usable condition).
The Amazon ecosystem comprises of Amazon selling directly to customers around the world. A significant percentage of the products available on Amazon are sold by independent sellers. Lastly, the ecosystem is completed by the customers. Amazon aims to make the experience great for both sellers and buyers.
But you must understand that the customer's lifetime worth is significant to Amazon. A typical customer may use Amazon for the rest of their life, which can result in quite a lot of spending on the marketplace. If a customer is dissatisfied with their experience on Amazon then there is a chance that Amazon could lose this customer and their lifetime spending.
Amazon wants to prevent this from happening. To do so it enforces policies that independent sellers must meet. If sellers meet these policies and provide good quality products and competitive prices, coupled with good customer service then they will be considered to be good sellers and can experience better sales rank and can potentially do well on Amazon for many years.
The value of a seller can be quite high, the fees that Amazon takes from sellers is typically around 15% of all sales, so a seller selling thousands of products per year can provide Amazon hundreds, thousands or even tens of thousands of dollars per year per seller.
However, there are lots of sellers on Amazon, many competing for the same or similar products. So understandably sellers may be more expendable.
But regardless of that, Amazon do claim to try to be equal in fairness when it comes to supporting both buyers and sellers.
The role of the buyer is much more simple. They browse for products, make a purchase and when the item is received they may or may not leave a review or seller feedback. Providing that the customer is honest, and most of them are then the process is very straightforward.
The role of the seller – the do's and don'ts.
The role of the seller is significantly more complex. Their role is to list products that meet a number of guidelines. The products must have titles and descriptions that accurately describe the product and are not misleading. The product photography must show the product that is for sale and nothing else, ideally on a white background.
The items must be in the correct category, must be new (unless otherwise specified), must be in good working order and not prone to defects.
Additionally, each order received must be shipped by their due ship by date, notifying the customer that the item has been shipped by confirming the shipment. The shipping must include a tracking number (unless you sell from a country that does not typically provide tracking numbers). The item must also arrive at the customers provided address by the due delivery date or sooner.
If you ship items later than the due ship date then you will be penalized.
You cannot cancel orders either. Your job is to list products that you can sell. If you cancel a customer's order without them requesting a cancellation then you will be penalized.
You must also provide invoices or receipts to any business customers. These can be uploaded to each order or can be done automatically if you are enrolled in their automatic invoicing system.
You also cannot overprice your products. The prices that you charge for the product and shipping must be reasonable and close to other similar products sold on Amazon.
You also shouldn't sell the products cheaper elsewhere, outside of Amazon.
Your aim as a seller is to meet the customer's expectations or ideally exceed them.
You must also provide the customer with good customer service. Be polite and professional and deal with any issues promptly.
Regardless of the issue or whether you believe the customer's claims, it is your responsibility to resolve any issues by asking the customer how they would like any problems rectified. Do this by either sending out a replacement, providing a partial or full refund or providing information that helps resolve the issue without the customer going through any trouble to do so.
You must not provide any personal details. You cannot contact the customer outside of the Amazon messaging system. You cannot call them, or write to their address.
Essentially you need to understand that the customers are not your customers. They are Amazons customers.
Similar to how dropshipping works. If you have a website that lists products that are supplied by manufacturers and if one of your customers buys a product on your website which is then shipped directly from the manufacturer to your customer, this is still your customer, not the manufacturers. You are the manufacturer's customer and the manufacturer is simply sending the item to your customer on your behalf.
Other important policies are making sure that the products that you sell are yours to sell or you have the rights to sell and they are not in violation of any other companies intellectual property.
The products must be safe to use and meet any necessary safety guidelines depending on the type of product, i.e. products aimed at children must be safe for children to use and must also meet any required certifications.
The items that buyers receive must not be defective. This can result in negative feedback, A-to-Z claims, or chargebacks.
Your job as a seller is to adhere to performance targets and policies.
Seller feedback is where buyers can leave feedback on your seller profile. This is based on customer service performance, shipping speed and so on. Your aim is to have positive or neutral feedback. Any negative feedback here will affect your account health. By having positive feedback on your seller profile you can encourage other potential buyers to feel assured that buying from you will be a good experience. Negative feedback will likely discourage customers from buying from you.
Product reviews, on the other hand, relate to a specific product. You will see reviews on each and every product sold on Amazon. This relates to the buyer experience of that specific product. The more positive reviews that you have on a product will help encourage other potential buyers to purchase that product also. All of this helps your product rank and sell better. So ideally you will sell high-quality products at competitive prices in order to receive positive reviews.
Negative product reviews will discourage buyers and can also result in the product being removed from Amazon.
This is an overview of your account health and the Amazon policies cover everything you need to know for correctly selling on Amazon in more detail.
By not meeting the policies or providing good products and customer service this can result in some of your products being suspended, or even the suspension of your Amazon seller account.
How rare is suspension on Amazon?
Actually it's not rare at all. If you visit the Amazon Seller Forums you will see many threads on the subject of suspension such as 'my account has been suspended, what do I do?'
Reading any of these is likely to scare you off.
So if you are selling on Amazon, or are about to, then please take a few hours out to read through the policies, carefully consider every aspect of them so that you are aware of any potential issues that your products or listings may have. If you find any, change them immediately.
How to write an Amazon appeal
So by now, you should be aware of the policies, what you did that was in violation of these policies and what measures you will take to prevent any violations from happening again.
When you have a plan you then need to write your appeal.
Below is an example appeal that has been well written and covers the violation and provides a plan of action.
We can't guarantee that writing a similar appeal will help you get your selling privileges reactivated, there are different factors that need consideration in every violation and suspension.
Simply use this as a guide. When you've written your suspension appeal get others to check it also before you submit it. Better yet, there are companies dedicated to helping you with your appeal.
When you're happy with your appeal, make sure you submit it along with any documents that support your appeal.
If you don't submit any documents or leave one missing, this will only cause a delay or may even prevent you from submitting a follow-up appeal.
So aim to get it right the first time.
Example Amazon Appeal and Plan of Action
Below is an example Amazon appeal, use it as guidance and tailor it to your own circumstances.
Dear Amazon UK product Quality team
With reference to the recent performance notification and listing removal for ASIN: ########## regarding a recent customer complaint.
The complaint in being that the item was sold as used instead of new, or damaged on arrival.
I wish to appeal the suspension of ASIN: ########## for the reason "complaint about a Used Item Sold as New".
All of the items that I sell on Amazon are products that I make.
I make each and every order to the customer's requirements as chosen in their customization options, from size, color and personalization details.
This item was made specifically for this order, as are all of the items that I make. Once a product has been used it cannot be reused.
I do not source items to sell on Amazon, everything that I sell on Amazon is made by myself and only me, using new materials that I source from a supplier. The supplier that I use is #### who are the UK's leading trusted supplier of the materials used to make my products, copies of invoices are attached. The materials consist of #### and these are the only materials required to make the products that I sell.
All items that I dispatch are accompanied with a set of instructions that explains the easy to follow steps on using the product. This essentially is to minimize any instances where the buyer doesn't know how to use the product. The instructions are very detailed and cover all types of potential questions and issues.
These items are packed in sturdy packaging to protect them from transportation and handling damage.
My action plan is below.
What caused the Issue?
Carefully examining the photograph supplied by the customer and their explanation as to what happened, the customer has explained that the item hadn't arrived damaged but rather that the damage occurred when they used the product. This could only happen if the customer didn't take due care.
The instructions that are provided cover the process of using the product in great detail, while covering potential issues that could prevent the product from working. However, the instructions did not cover the simple process of carefully unboxing the product with due care.
This is something that I have previously thought needs no explanation, as it was expected that customers take care of the items that they receive and would know how to carefully unpack a product.
However now in hindsight and with this happening I can see that it is important that I advise customers how to unpack the product, explaining that it must be done slowly, gently and with due care in order not to damage the item when using it.
What actions have I taken to resolve the issues that caused the complaint?
I provided the affected buyer with the option of a return for a refund or a replacement item and they chose to have a replacement item sent out, which was done as quickly as possible. Tracking shows that it was delivered the very next day after sending it. Furthermore, I have not required them to return the affected product.
I have checked all 439 orders for ASIN ########, I have never received a single negative or neutral product review and instead have a total of 8 full 5 star reviews for this product.
What actions have I taken to prevent further occurrences of this issue on any of my products?
Since opening my Amazon seller account and having sold around 20,000 units so far, this is the first case where a buyer has questioned the status of the item.
However, after some careful consideration and further testing of my products along with reading all reviews of my products and looking through buyer-seller communications, I have determined that I can prevent future customers from damaging any products that I make for sale on Amazon by way of two things.
Firstly, I have enhanced the included instructions further by mentioning that the item needs to be slowly and gently unpacked to avoid damage. It would seem like a natural thing to take care of something when handling it, but not everyone does, some people may be in a rush to use the items. Therefore having a clear notice of being gentle with the product can help prevent this from happening.
Secondly, to enhance this further (for those who may not read the included instructions) I have made an addition to my production processes.
As these are hand finished items, each item is now even easier to unpack for the customer, making their experience even better and potentially eliminating the potential issue for those who may not take due care.
I have implemented these changes immediately and will continue to make any improvements over time where I determine they can be made. My goal is to continue striving to make the products that I make very high quality so that the experience of our mutual customers is a very good one and one which encourages repeat sales.
I have also made an adjustment to the instructions that are supplied with all of my products.
As you can see from the attached instructions I have covered all possibilities for user error.
In addition to this, I am also including a wrapping notice, which is a label that covers the packaging of the item, this mentions to read the included instructions prior to using the item so that they can avoid user error and have a better end result and overall experience.
Each package includes:
The custom made item ordered by the customer
1 Amazon Packing Slip
1 Set of instructions
1 Wrapping Notice to mention to read the included instructions
I have included copies of the new instructions and wrapping notice. I have also included all invoices from my supplier for the past 365 days, which will show that I purchase the high-quality materials required to make all my products. The contact information for the supplier is on each invoice and you are welcome to contact them for verification.
I am confident with this plan of action and the additional steps I have immediately taken will prevent any further occurrences.
However, if you believe there are any further processes that would help me any further I would be more than happy to introduce these processes and comply with any request.
I hope this information covers the problem and that affected ASIN listing is no longer removed and good standing is returned to my Amazon seller account.
Kind regards
Conclusion
So there you have it. Now you know that all is not lost when you are penalized or suspended. But knowing how to write an appeal and plan of action can help you get back up and running as quickly as possible.
But the recommendation that we want to make most of all, don't put all of your eggs in one basket. Get your own online store up and running as quickly as possible and this way you'll have a safety net in the event that you suddenly lose your Amazon account.
You should put all of your effort into making your own online store the place that all of your promotions lead to. Because if you don't and you focus on Amazon then all of the work that you've done will be gone forever.