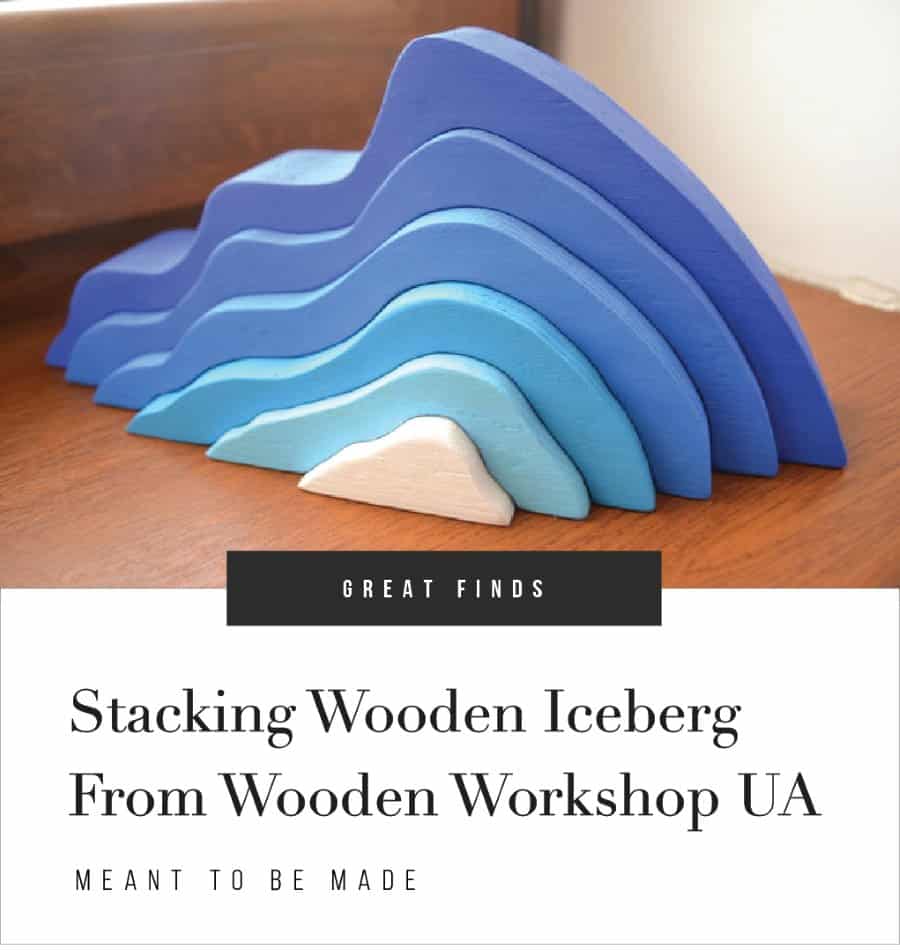 Enjoy the beautiful craftsmanship of these wooden toys and nursery decorations.
Welcome to our latest product feature, which are our regular posts on Meant to be Made!
Here, we feature really cool finds that are made by really cool makers and can even inspire those of you who want to make and sell your own crafts and products.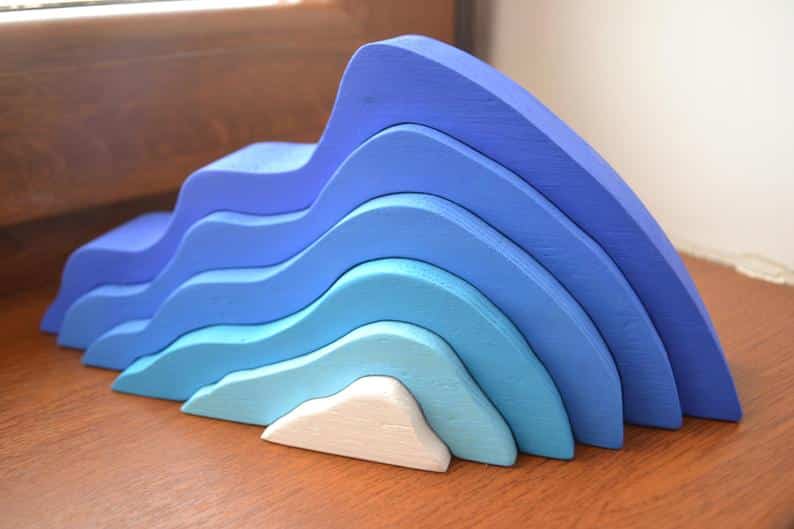 Today's featured product is this lovely stacking wooden iceberg from Wooden Workshop UA, and it is such a lovely twist on the traditional stackable rainbow (which you can also purchase from this store).
Stacking Wooden Iceberg
This stacking wooden iceberg is simply lovely and a great way for your child to play and learn. The design of this toy is simple and is such a lovely alternative to other stackable toys on Etsy.
The iceberg is completely handcrafted and comes in six parts so your child can play with the pieces individually and have fun learning how the iceberg comes together.
One thing I like about this product is the different options for finishing. You can either purchase the stackable iceberg fully finished, you can purchase it unpainted, or you can purchase it unpainted with non-toxic acrylic paint allowing your children to finish the toy themselves.
What They're Used For
This stackable iceberg toy is a perfect way for children to play and be creative. Made from natural eco-friendly elements and softly polished to be perfectly smooth, this toy is perfect for little and big hands to play with.
This toy is also a lovely decoration for the nursery and would make a lovely gift for a child you love.
Key Features
Handmade
Eco-friendly, natural wood, non-toxic paint
3 finishing options available
6 Individual pieces for learning and play
From $13.00!
Wanna know more about who makes this super cute stackable toy? Read on!
WOODEN WORKSHOP UA
Based in Kalush, Ukraine, Wooden Workshop UA is run by owner and creator, Volodymyr Komar, and team member, Yaryna Horyn.
Volodymyr uses eco-friendly practices when creating his products and finds enjoyment in working with wood and natural products. With a specialty in creating children's wooden toys, Volodymyr has created a business based on love, care, and happiness, and his products are beautiful.
The Wooden Workshop UA Making Process
Let's take a look at how Wooden Workshop UA makes these beautiful stacking wooden toys.
The stackable wooden iceberg is handcrafted using eco-friendly pine wood and beautifully hand-cut to the desired look and feel Volodymyr has envisioned.
Afterward, the wood is hand polished to a smooth, desirable surface, guaranteeing no rough edges or splinters before being hand-painted with non-toxic acrylic paint.
Alongside his lovely iceberg piece, Volodymyr shows off his brilliant craftsmanship with creations both big and small. I love this bunny toy as it makes me think of the love between my two children, and it's so darn cute.
Collective Customer Thoughts
With over 230+ Etsy reviews with an average 5-star rating and 1,000+ Etsy sales, Wooden Workshop UA is an up and coming store, but what are the thoughts on this particular product?
In a nutshell, let's see what verified buyers have to say:
Obsessed with the iceberg
Beautiful item
The kids love playing with it!
Love the colors
Fast shipping
Would purchase from this store again
To buy these and other great items from this maker, visit the Wooden Workshop UA store on Etsy.