The perfect gift for your favorite girls!
Welcome to our latest product feature, which are our regular posts on Meant to be Made!
Here, we feature really cool finds that are made by really cool makers and can even inspire those of you who want to make and sell your own crafts and products.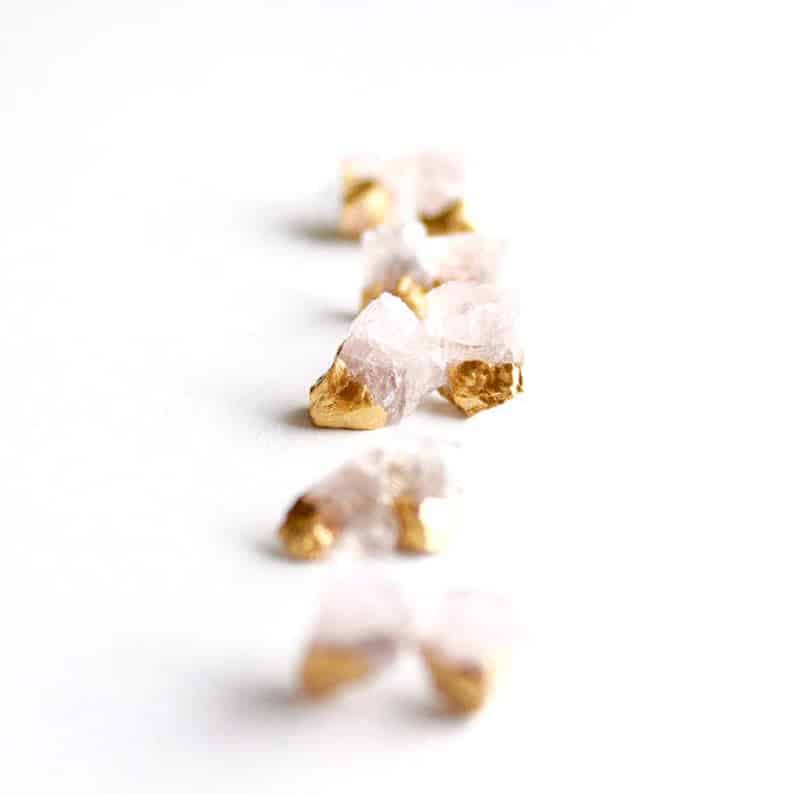 Today's featured product is these incredibly delicate and beautiful rose quartz earrings from Borcik, and I so love these right now.
Let's take a peek at what they are, who they're made by, how they're made, and where you can find them.
Rose Quartz Earrings
A number 1 bestseller, these stunningly unique raw natural stone earrings are so perfect for those special girls in your life.
These lovely earrings are cut from raw rose quartz (in its natural form and locally sourced) and delicately dipped in gold liquid gilding. Because of the raw stones, each set of earrings will be truly unique from any other and can vary in style and color!
All sets of earrings are hypoallergenic, lead, and nickel free – hoorah!
These delicate earrings exude love and beauty and would be the perfect gift for the bride, bridesmaids, or someone you truly care for.
They aren't even expensive either – they just look expensive!
What They're Used For
These stunning earrings look incredible and are a perfect fit for special occasions. Brides and bridesmaids love this accessory, but hey, if you want to feel like a queen every day, then feel free to wear these every dang day!
I love dainty jewelry, and I know there are a lot of our readers out there who feel the same, so I feel this product feature is one that you are going to love!
When you purchase a pair of these lovely earrings, you are also giving back. Borcik donates a portion of their sales to the charity 'To Write Love On Her Arms' which supports mental health and suicide prevention. This product is unique, special, and meaningful in more than one way.
Key Features
Natural Raw Blush Quartz
Hypoallergenic, lead and nickel free
Handcrafted
A portion of sales donated to charity
From $22.23
This item is so high on my hitlist it's unreal. But let's not stop there, Borcik offer other pieces of jewelry that are worth raving about.
Wanna know more about who makes this amazing jewelry? Read on!
BORCIK
Ariella and Kyle Borcik personally hand make each unique piece of jewelry in their Atlanta, Georgia studio. Borcik focuses on minimalistic, beautiful products using natural, raw gemstones and offers a huge range of jewelry such as:
Earrings
Necklaces
Rings
Bracelets
Jewelry sets
And even a subscription box!
The Borcik Making Process
Let's take a look at how Borcik makes these amazing rose quartz earrings!
Ariella and Kyle aim to source what they can locally and use their local 'rock shop' to get their natural stone in a big chunk! They then take their lovely stone and chip at it to create smaller cuts that they use for their jewelry.
Because the raw stone cuts they use have been hand chipped, the size and shape of the earrings are unique from any other pair.
Ariella then finishes the stone by dipping or gently brushing gold liquid gilding onto the bottom half of the rock.
The fact that these beautiful rose quartz earrings are unique for each buyer gives the product an extra special feeling. Combined with the dainty, elegant materials used and the fact that your sale contributes to a brilliant charity, this product is one of love, and it shows.
Collective Customer Thoughts
With over 4,000+ Etsy reviews with an average 5-star rating and 24,000+ Etsy sales, Borcik is an already established maker in the jewelry field, but what are the thoughts on this particular product?
In a nutshell, let's see what verified buyers have to say:
Barely feel like I'm wearing them
Absolutely beautiful
Shipped very quickly
Unique and flattering
Arrived just as pictured
Excellent customer service
Buyers seem to be liking this product, and it's nice to hear that Borcik cares about their customers and gives them brilliant customer service.
To buy these and other great items from this maker, visit the Borcik store on Etsy.