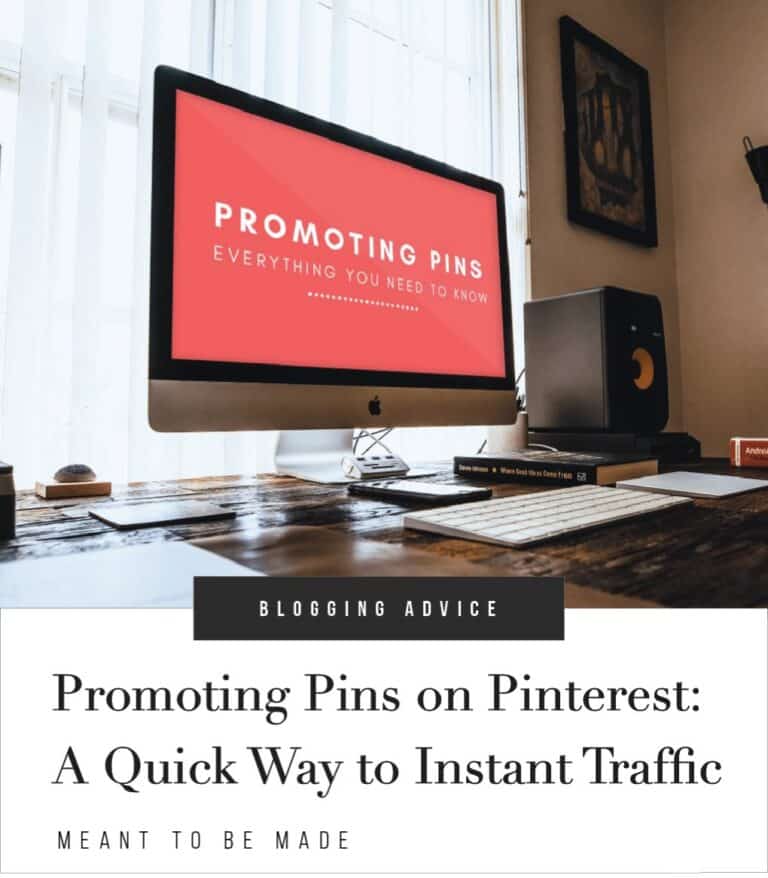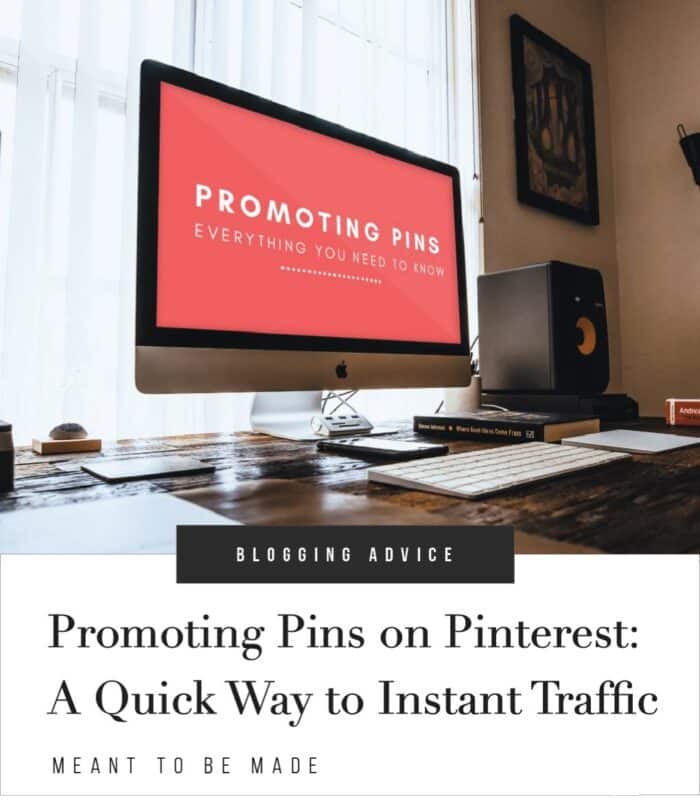 We discuss the benefits of promoted pins and how to successfully run them on your account
The Basics of Promoted Pins
Some businesses like to invest in promoted pins to help boost their traffic and conversions. This can be a good idea if you have the budget for it as it allows you to place your pin in a specific place for optimum impression. To promote pins on Pinterest, you need to have a business account first, which is a free upgrade or conversion.
What is a promoted pin?
A promoted pin is a standard pin, but you pay to have it placed in an area where most people will see it. Promoted pins are specifically targeted to your chosen demographics and will be visible in their feeds and search results.
Promoted pins use a cost-per-click (CPC) platform or auction-style system, so you are required to set a daily budget. According to fitsmallbusiness.com, you can expect to see an ROI of '$2 for every $1 spent on promoted pins,' and you only pay once someone clicks through the pin to your landing page.
Why use a promoted pin?
Other than having a good ROI, there are a couple of other reasons why using promoted pins is good for business.
Firstly, the competition is much smaller on Pinterest than on other platforms as it holds a much smaller amount of business advertisers.
This means your ad costs will be a lot smaller for better reach, and you won't be fighting so hard for prominence against other promoted pins.
Another great reason for using promoted pins on Pinterest? The evergreen content!
Look at it this way, when you post content on Pinterest, it is there to stay and can bring traffic to your blog years after it has even been published. That's amazing when you consider that ads on other platforms like Facebook and Instagram only have a short life span of a few hours. (Source: marketingsolved.com)
Placement and targets
I've mentioned that you will target your demographics when using a promoted pin, but it goes much deeper than that.
Let's take a look at the placement of your pin and who you can target.
Note: some options are not available in certain countries. You can see if your country qualifies here depending on different targets.
Placement
By default, Pinterest sets your pin to show on all placement options to maximize your pin reach. However, if you would rather be selective with this, you can choose to have your pin featured in pinner's home feeds or search results. Pinterest recommends you opt for all options for a maximum audience reach.
Age targeting
Age targeting allows you to target your ad to a specific age range using Pinterest's eight pre-defined age ranges.
Audience targeting
Audience targeting is taking the data from your Pinterest and allowing it to use this to target pinners.
Pinterest allows you to create four types of audiences:
customer lists
people who have visited your site
people who engage with your pins
and people similar to an existing audience list.
For more on audience targeting (as there is a lot to understand), you should definitely read Pinterest's guide.
Expanded targeting
Pinterest claims that promoted pins do much better when expanded targeting is on as it increases reach and improves CTR. Expanded targeting also works on both of the placement options – home feed and search.
Interest targeting
Pinterest uses interest targeting to target pinners who already have an interest in your chosen area by relating your targeting code to their pinning data.
For example, if you are promoting a pin on gluten-free cupcakes, then Pinterest will target pinners who have an interest in 'gluten-free desserts," 'gluten-free recipes', or 'cupcakes'.
When using interest targeting, you need to make sure any targeting codes are relevant to your pin and meet Pinterest policy. You can check codes here.
Keyword targeting
Keyword targeting targets people who search for any of the keywords you have included that relate to your ad.
You can be very specific with your keywords to narrow down to your ideal target audience. Alternatively, you can use broader terms to reach a larger audience.
Location, language, device and gender targeting
Location targeting can target your ad to specific areas. By default, your location target is the location where your business is based, but you can change this by setting the location via a metro area or postcode.
It is recommended that you set your target location to areas where your business can benefit the customer.
Language targeting allows you to specify a particular language to target, but by default, this is set to all languages.
Device targeting is set to all devices by default. If you want to target a particular device, then you can change these settings.
Gender targeting can be targeted to custom genders. The term 'unspecified' targets those who didn't choose a gender when creating their Pinterest account. By default, gender targeting is set to all genders.
Promoted Pin Requirements
Before you promote any pins with Pinterest, you should first look over their promoted pin requirements to make sure you are adhering to the rules.
One of the first requirements is using the pin ratio of 2:3 like with any standard pin to make sure your pin isn't cut short.
Other requirements are as follows:
Make sure your promoted pins are saved to your own business account
Make sure your pins are promoted to your public boards and not secret
Your pins have destination URLs and don't have broken links
Don't use link shorteners on your pins
Be sure your pins do not include third party videos or GIFs
Make sure your pins follow Pinterest's Ad Standards
(Source: Pinterest)
Creating a Promoted Pin
Now we've gone through the basics of a promoted pin, let's get to the creative stuff.
Creating a promotion pin is practically the same as creating a standard pin. Focus on pin ratio (2:3), high-quality images, and great keywords.
When creating any type of pin, we recommend using Canva, especially if you lack design skills. You can find out how to create a pin using Canva here, but let's discuss a couple of must-haves.
Great, high-quality images are one of the first things you must focus on when creating a pin, especially if you are advertising!
Pinterest is a visual platform, so to get noticed, you need to stand out with stunning, high-resolution images that are also relevant. We recommend looking at some stock photography websites.
The next thing you need to focus on is Pinterest SEO. Focus on relevant keywords in your title and description and hashtags. If you are using keyword targeting, make sure you choose the best-optimized keywords for this. You can use the Pinterest keyword section (found in the ad set up) or even the Pinterest search bar to find relevant keywords.
See our guide to Pinterest SEO here.
Setting up a promoted pin
To get started with promoted pins, the first thing you will need is a business account. You can either create one from fresh (which we recommend if you have multiple owners) or convert your personal one (which will give you a business one on top of your current personal one but under the same login details).
Next, you will need to go to the Ads Manager, or if you are on your business hub, simply click the Ads tab > billing.
At this point, you will receive a pop up welcoming you to the Ads manager along with a drop-down asking you to confirm the country you are billed in. You can't change this later on.
After this, you will find yourself on a dashboard that will show you your spend, impressions, link clicks and saves within the last 7, 14, 30 days, or all time. If you are brand new to this, then you will have no data yet.
There is also a section below this, which will give you insights into any promoted pins that are either pending, active, paused, need attention, or completed. Again, you won't have any of this data as of yet. You will also find the option to add a pin to promote here.
Let's click 'promote a pin'.
You will find that you are now on a page dedicated to helping you set up your first promoted pin campaign.
Promoted Pin Campaigns
The first thing you will notice when you land on the promoted pin campaign page is this question "What is your campaign objective?"
Pinterest offers you three options:
Build Awareness (to help people find your brand or product through various advertising formats such as image pin or video pin)
Brand awareness (help people discover your brand, products, and other services)
Video views (Drive views of your video content)
Drive Consideration (to get more traffic and app installs)
Traffic (Increase your traffic both on Pinterest and off it)
App install (get more app installs)
Get Conversions (Increase conversions for your product)
Conversions (drive action on your website)
Catalog sales (upload catalog to Pinterest to create product pins)
To use Conversions, you will need to have your Pinterest tag installed. To use Catalog, you will need to have a data source connected.
You can only choose one action per campaign, so choose wisely based on what you want to achieve with the campaign you plan on running.
After you have chosen your campaign goal, you can decide on the name of your campaign. By default, this is automatically set to the date and time you are creating your campaign. Next, you can set your daily spend limit and lifetime spend limit. These are put in place to protect you from overspending but are optional.
Your daily spend limit is your budget for the campaign every day. The lifetime spend limit is the overall amount of money you are willing to spend while your campaign runs.
Unless you have a set budget in mind for the campaign, Pinterest recommends you don't choose a lifetime spend budget on starting with as this can't be changed later on.
You don't have to put ANY budgets in at this point, meaning Pinterest will just continuously bill you based on how your campaign runs.
Setting ad group details and creating your audience
After you have decided on your budget (if you have), the next step is to finalize some finer details for your ad campaign.
The first step is to name your ad group and then choose your audience. If this is your first time creating a campaign, then you most likely won't have any audiences to choose from, so click 'create new'.
You will then be directed to another page to set your audience. You won't have any audiences or data here yet, so click 'create audience'.
Now, you will be given the choice of what type of people you want to target with your ad. The great thing here is that once you create one audience, you can create another based on a different target, meaning you can potentially have a further reach.
After you've created your audience targeting, it is time to set up any additional targeting.
By default, these are all set to 'all' rather than specific, but depending on your needs, to can customize these. The same applies to choose your ad placement, which comes next. Like we mentioned above, Pinterest recommends using all placements (browse + search) to reach a wider audience.
Choosing your interests and keywords
Pinterest offers over 3404 interests to help you be as specific as possible when selecting this. The interests you pick should be related to what you are advertising as these help Pinterest to reach the people who engage with similar pins.
When it comes to choosing the keywords to suit your brand or product, make sure you give it serious thought as you really need your keywords to be optimized for optimum reach.
Pinterest helps you out here by suggesting creative extended keywords, which will allow you to cover all your basis, leading to better visibility and placement.
For example, if you are promoting shoes for young girls, you could use keywords such as toddler girl shoes, baby girl shoes, little girls shoes, casual girl shoes, popular girl's shoes, etc.
Ad budget and bids
Now let's look at budgets again, but this time we are looking at the budget for your ad group. You can set a daily budget or a lifetime budget here, along with setting a maximum bid. The max bid is you essentially telling Pinterest that you are willing to spend up to this amount.
You next have to set your max bid for your promoted pins. This will be the max amount you are willing to spend per click through to your website. If you offer a higher bid, you're promoted pin is likely to show up more than other pins with a lower bid. The minimum bid spend to be more than $2.00. You can read more on pin bids here.
You are also required to set your pacing. Pacing is when your budget aligns with the duration of your campaign. For example, standard pacing will let Pinterest know that you want to spread your budget out consistently throughout your campaign.
In contrast, accelerated pacing tells Pinterest that you are happy to use your budget at a quicker rate resulting in higher impact campaigns. Pinterest recommends that you stick with standard pacing.
We are now finally finished with setting budgets! Yay. So what's next?
Choosing your pins for your campaign
So by this stage, you may have already created the pins you want to promote, so the next step is to upload these to your campaign.
Click 'Create pin' to start editing your pin details. Now you need to upload the pin you want to promote, and you can do this by dragging and dropping or directly clicking from the upload box. You will also need to give your pin a title, description, and add the destination URL. Remember to use keywords in your description, too, but don't stuff them. You can set your pin to publish now or at a later date.
Remember to make sure your promoted pins meet Pinterest's requirements, as stated above.
You have now successfully created your first Pinterest ad campaign, congrats! But we have one more teeny tiny step for you, and it's important.
Monitoring your progress
You should always monitor your progress on Pinterest, whether that's for your standard pins or boards, but definitely with your advertisements. You're paying good money for this, make sure it's worth it!
To monitor your campaign progress, you can use Pinterest analytics found in the Pinterest Ad Manager to check the campaign performance.
In this section, you will be able to see your click-through rates, the amount of money you're spending, and which campaigns you have running. You will also be able to see other stats such as:
Number of clicks
Number of impressions
How many saves your pins has
Your click-through rate (CTR)
Average CPM (cost per thousand impressions)
Your average CPC (cost per click)
Total ad spend
You should be aware that you can't guarantee what your audience will respond to, and so if your campaign doesn't seem to be performing as you hoped, you can always try again with a different technique. It's all about experimenting to get the right strategy that works for your audience.
Conclusion
There you have it! You now know how to create a pin specifically for promoting, how to set up an ad campaign and some insight into the best things to do to get it right!
Remember, stick to Pinterest's recommendations. This way you won't waste time creating something that you'll likely have to change later on.