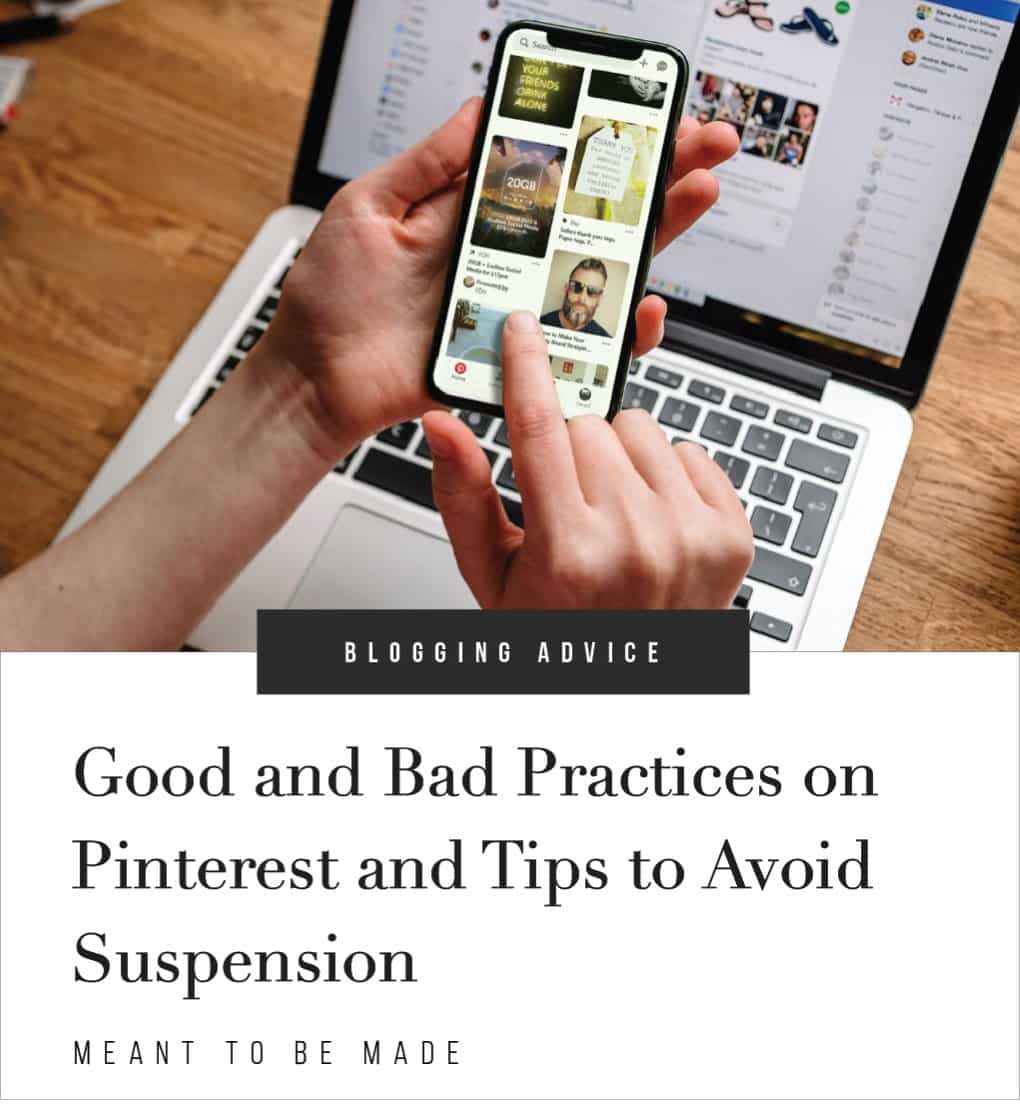 How to follow the good practices and avoid the bad for a seamless Pinterest experience.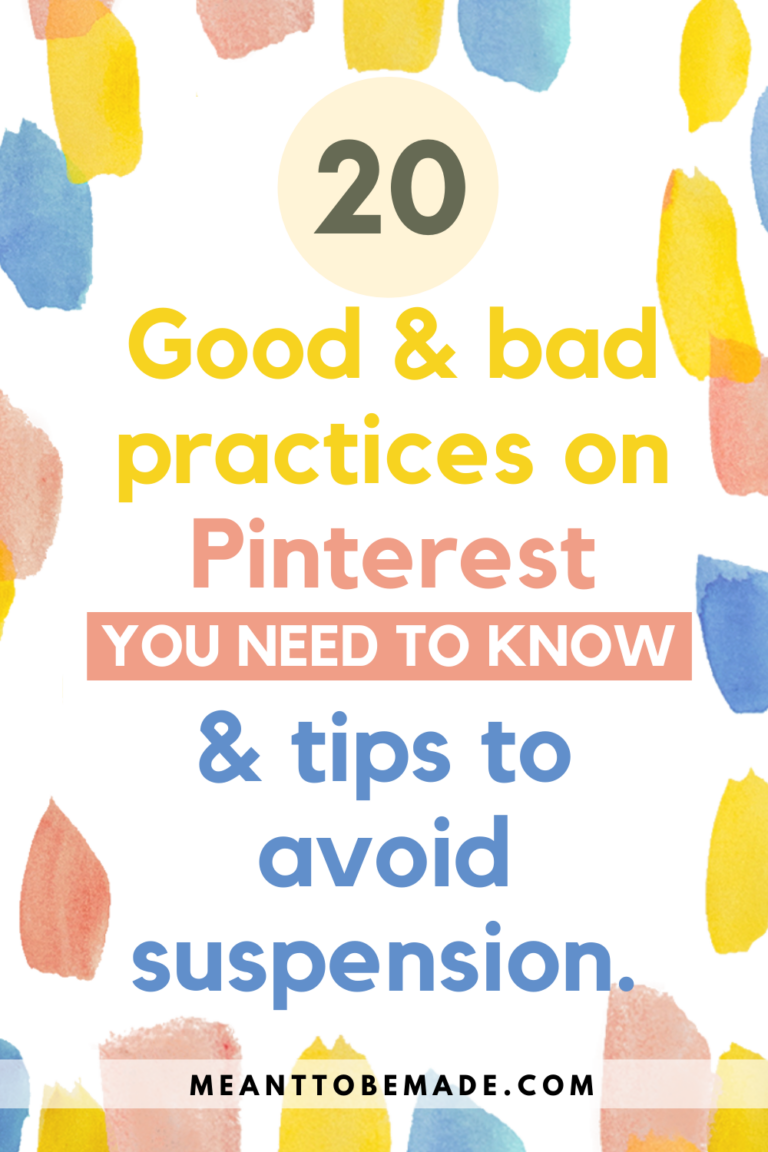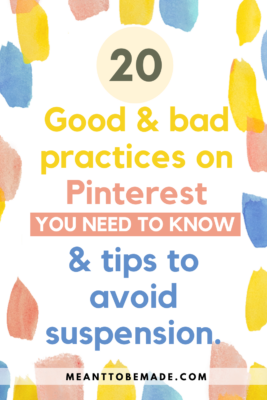 In this article we are going to cover the good and bad practices of Pinterest in detail.
If you plan on using Pinterest to promote your blog (which we recommend) then it is so important to be aware of the Pinterest guidelines. Actively following these guidelines will give you a better Pinterest experience and considerably increase your blog traffic.
Bad Pinterest Practices
There are some things you should do on Pinterest, and just as equally, there are some things you should avoid. We're going to look at some bad Pinterest practices, so you can stay out of trouble and improve your pinning experience.
Spamming
Spamming is a pretty broad term here and covers a few things which we will go over. According to Pinterest, spammy behavior is 'repetitive, irrelevant, or unwanted' behavior. But what does that mean?
Certain repetitive behavior will be flagged up as spam by Pinterest. This behavior can include:
Following an excessive number of pinners in a short period
Commenting on pins excessively in a short time
Posting a duplicate comment multiple times on different pins
Saving pins from one certain website excessively over a short time
Using link shorteners
Logging in and out of your account excessively (not sure why you'd do this).
If Pinterest penalizes you for any of these behaviors or a combination, you can expect your Pinterest account to be blocked for any time between 30 minutes to 24 hours.
Using copyrighted images
It is up to you to make sure you have obtained the rights to any images you have used. If you use copyrighted images, you can get flagged up. If Pinterest receives a DMCA notice, they will remove the pin and take any other action they deem necessary.
Keyword stuffing
Using relevant keywords is key for your Pinterest SEO. It can be placed in your title, description, and hashtags. However, stuffing these with keywords is frowned upon because it makes it difficult for users to read and ruins the experience. Pinterest also deems keyword stuffing as an unnecessary action.
Using unacceptable Pinterest phrases
In the Pinterest brand guidelines, the terms 'Trending on Pinterest' and 'Trending Pins' as unacceptable phrases to use. You also can't use the word 'pin' as a verb and recommend you use the word "save" instead.
Making it out like Pinterest endorses you
When using your brand on Pinterest, you must not make it look like you are being endorsed by Pinterest. You must also follow their branding guidelines properly, using the logo correctly and avoiding terms that Pinterest disapproves of.
Using the wrong ratios for pins
Pinterest has guidelines for the right ratio for pins for all formats and recommends you follow them, so they don't negatively impact your performance. Pinterest has always followed a 2:3 ratio and recommends vertical pins as these work best on the Pinterest platform.
Pins linking to irrelevant landing pages
All of the pins that you create must be relevant to the content that they are directing people to. Otherwise, you are misleading people and giving false information. When you are repinning someone else's pins, it might be helpful to test the link before you post.
Any landing pages you are linked to should be optimized and feel like a natural progression from the Pinterest page to the webpage. If you post a pin advertising a certain blog post, then the pin should take you directly to that blog post page.
Using hashtags for humor, memes or commentary
Hashtags are used on Pinterest as a search function to help people find relevant content, so they are required to be used properly. If a pin of a 21st birthday event has the hashtags #21stbirthdaydecor #birthdaypartyideas #coolbirthdayvenue, then this is an example of hashtags used as appropriate search terms.
Still, if the same pin has hashtags such as #yolo, #sorrynotsorry #drinkingfromthebottle #totallywasted, then these are irrelevant search terms and considered a complete waste of hashtags.
(Source: Pinterest)
It isn't hard to follow these principles, just behave yourself, play fair, and reap the benefits of Pinterest.
Pinterest Best Practices
So we've covered bad Pinterest practices, but what about the good ones? There are a few best practices you can follow to give you the best experience on Pinterest. Let's take a look.
Creative Best Practices
Pinterest offers a guide on their creative best practices for people to get the best start when creating pins to share.
The Pinterest guide covers all formats of pins from standard pins to video pins and is worth keeping an eye on to make sure you are following the best practices and creating Pinterest worthy pins.
Standard Pins
Eye-catching images with a brand focal point
Pinterest best appreciates high-quality images that strongly represent your product or service. These images should also be vertical and within the correct pin aspect ratio – 2:3.
Images with context
Make sure your images show context. How does your product work? What does your service provide? Try to show this with your image.
Subtle logo
Subtly add your logo to every pin you create but avoid the bottom right corner as this gets covered by Pinterest product icons.
Text Overlay
Use text overlay to convey your message. Many pinners use this to add their attention-grabbing titles over the top of their image to draw people in. Make sure your text is bold, so it is easily readable from a mobile device.
Video Pins
Strong and actionable
Create videos that show people how to achieve something or try something new. Also, make sure your video has a strong start by being attention-grabbing enough to draw people in.
Good length
Pinterest recommends trimming your video to between 6 – 15 seconds for promoted content, but non-promoted videos can be any length you like.
Use text and visuals
Many pinners don't have their audio-enabled when clicking through pins, so make sure you don't rely on audio to convey your message. Instead, use strong visuals and text to tell your story.
Strong cover image
Imagine your video pin was just a standard pin. What visual would you use to draw people in? Use that visual as your cover photo and make sure it gives a good idea as to what the pinner is about to see.
Optimized copy
Making sure your videos are optimized for search before you publish it is always good practice. Make sure you focus on the title, description, and hashtags to give your video the best chance of being found.
(source: Pinterest)
Other Good Pinterest Practices
Don't delete pins
Rather than deleting pins that you feel aren't performing well enough off the bat, keep them. Pins can take days, weeks, months, or years before they pick up traction, and they also don't hurt your account performance.
Change the description when you make duplicate content
When you save the same pin (pin going to the same URL) again, be sure to change the description as this will help with your SEO and won't register as spammy, repetitive behavior.
Pin your own content directly
When it comes to your own content, be sure to pin it rather than repin it. As the creator, you should be the person who pins the pin first before anyone else. Pinterest prioritizes pins created by the owner of the website and considers these as fresh pins.
Pin consistently every day
Pinterest prefers you to pin consistently rather than just simply adding or repinning a large volume of pins at once. Rather than pin 30 pins on Monday and do nothing until Friday, space those 30 pins out throughout the week. It's all about being consistently active.
Save to the most relevant board first
When pinning your pin, make sure you save it to the most relevant board first before you share it anywhere else.
This is because the pin picks up data from the first board that it is pinned to, letting Pinterest gather more information on the pin so it can be distributed more accurately.
Get active on group boards
Group boards are a good way to help you get your content distributed to a wider audience. You can keep an eye on how the group board is performing for you through your Tailwind insights.
Use fresh pins
Pinterest loves fresh pins. Rather than delete a pin, recreate it as fresh. Rather than edit old pins that aren't performing well, create fresh ones focusing on a better description, keywords, and hashtags. As soon as you create a new blog post, create the relevant pin, and PIN IT. Recent pins are a priority.
Prioritize your own content first, then pin others
Make sure to pin your own fresh content first before repinning other content. It would be more beneficial for you if you could post as much fresh content as possible and then fill in the gaps by repinning others content.
Resharing Content
Why you should reshare
There are a few reasons why you should reshare your content rather than posting once and forgetting about it. Resharing your content (creating it again as a fresh pin) offers plenty of benefits such as:
The chance to attract more engagement,
An opportunity to source new successful keywords
Being able to convert time and time again.
Resharing can ultimately double your engagement on some pins and bring in a new audience, so why wouldn't you?
Reshare not repin
The important thing to remember here is that we are talking about resharing – recreating a similar pin linking to the same content and pinning it fresh.
We're not talking about repinning. Repinning your own content has no benefit to you at all, as Pinterest is aware that this is your own content and will not boost your engagement.
As a creator, you should always focus on RESHARING YOUR OWN CONTENT and LEAVE THE REPINNING TO FOLLOWERS.
The pins you should reshare
Over time your analytics will gather enough data to tell you what pins are driving the most traffic and conversions, so these are the first pins you should focus on.
Focusing on the pins that are engaging and have a high conversion rate are the best to start with as they have obviously hit the mark with your audience and will likely be repinned further by people who may have missed it the first time.
It's all about finding what drives traffic and giving it more exposure to performing even better as the more people who engage with your pin, the more exposure it will receive, leading to more pinners seeing it.
Tailwind offers a tool called Smart Loop, which allows you to see what pins are performing well based on individual factors (along with other things). If you set your Smart loop to 'repins', then you will see what pins are performing well based on the repins it has.
Pin to your followers, again
According to Pinterest, the pins we share are shown first to our follows. Then the Pinterest algorithm determines where else to show it, meaning that the most engagement we get initially is from our followers and so we should focus on getting it in front of the first by pinning it fresh.
Another reason to pin fresh to your followers is because of the amount of content shared on Pinterest and the change in interests. Not all of your followers are going to catch your amazing content the first time around for various reasons, such as they might just simply 'miss' it, or they might be focusing on something else instead.
For example, let's say your follower 'Julie' has a massive interest in your cleaning pins and blog content, but she's going to Florida in three weeks for the October holidays, and that's all she can focus on. Suddenly she's pinning holiday outfits, Disney World hacks, and travel tips for the next three weeks, meaning she's going to miss your great content.
But what happens after her holiday and things get back to normal? She's going to want to know about those great cleaning tips to get her house sterilized during the flu season. This is why you pin again so you can engage with the followers who missed it the first time around.
When to pin again
When you don't have time for new content
We've mentioned pinning again to your followers to make sure you catch them the second time around, but when else should you create fresh pins?
Well, one idea is to create a fresh pin later down the line to boost a particularly popular post rather than creating a brand new blog post to pin. The reason for this is because it is a lot quicker to recreate a fresh pin than to write completely new content, and again, it can boost exposure.
You should remember not to sacrifice your blog by leaving it idle and focusing all of your energy on Pinterest. Your blog also needs fresh content to help it strive and keep your audience engaged.
Remember when you are creating a fresh pin to the same URL to make the appropriate changes such as description, hashtags, and a variation of the title.
The image doesn't need to be different, and hashtags only work with fresh pins, so don't go back and update old hashtags as it won't make a difference.
Tip: Consider using various keywords that are specific to your content when doing the SEO. Having different keywords for each variation of a pin will show you what keywords are working better for your content.
When seasonally appropriate
If your pin is relevant to a certain season, then you should reshare this content when the season rolls around again.
Don't worry if you posted it last year. There is no "that pin is so last year" when it comes to Pinterest. Think about it this way, between the years 2018 and 2019, how many more people have joined Pinterest? How many more people will want to know about what you have to offer?
If you have some incredible content that goes viral every time Halloween comes around, then reshare that content year after year. The truth is, if you don't pin again, you're missing some key engagement.
Spread it out
When resharing content, it's a good idea to spread it all out, so you don't come across as repetitive and spammy.
We recommend that before you start to loop with your content, you should go through all of your completely new content first before looping back on yourself. This gives you enough time to get your new content out there and let it mature before going back again for round two.
If you have a lot of pins to post, you should spread these out over some time, aiming to post roughly ten per day if your numbers allow you to.
If you have a really small amount of content to post, then do the same but lesser the amount of your own content you pin per day.
We've mentioned this before, but it's important to spread your own content out, so you don't come across as using spam behavior and then filling in the gaps with other people's content. The key is to be consistent, daily.
(Source: Pinterest + Tailwind)
Conclusion
Having read this post, you might be suprised at some of the bad practices noted. You may have even been unknowingly been doing some of these yourself. When it comes to using Pinterest for business, you must be aware of what you are contributing to the Pinterest community and how you contribute to it.
It's so clear to see that working Pinterest the right way and using tools such as Tailwind can drastically improve your blog traffic and change your blog for the better.