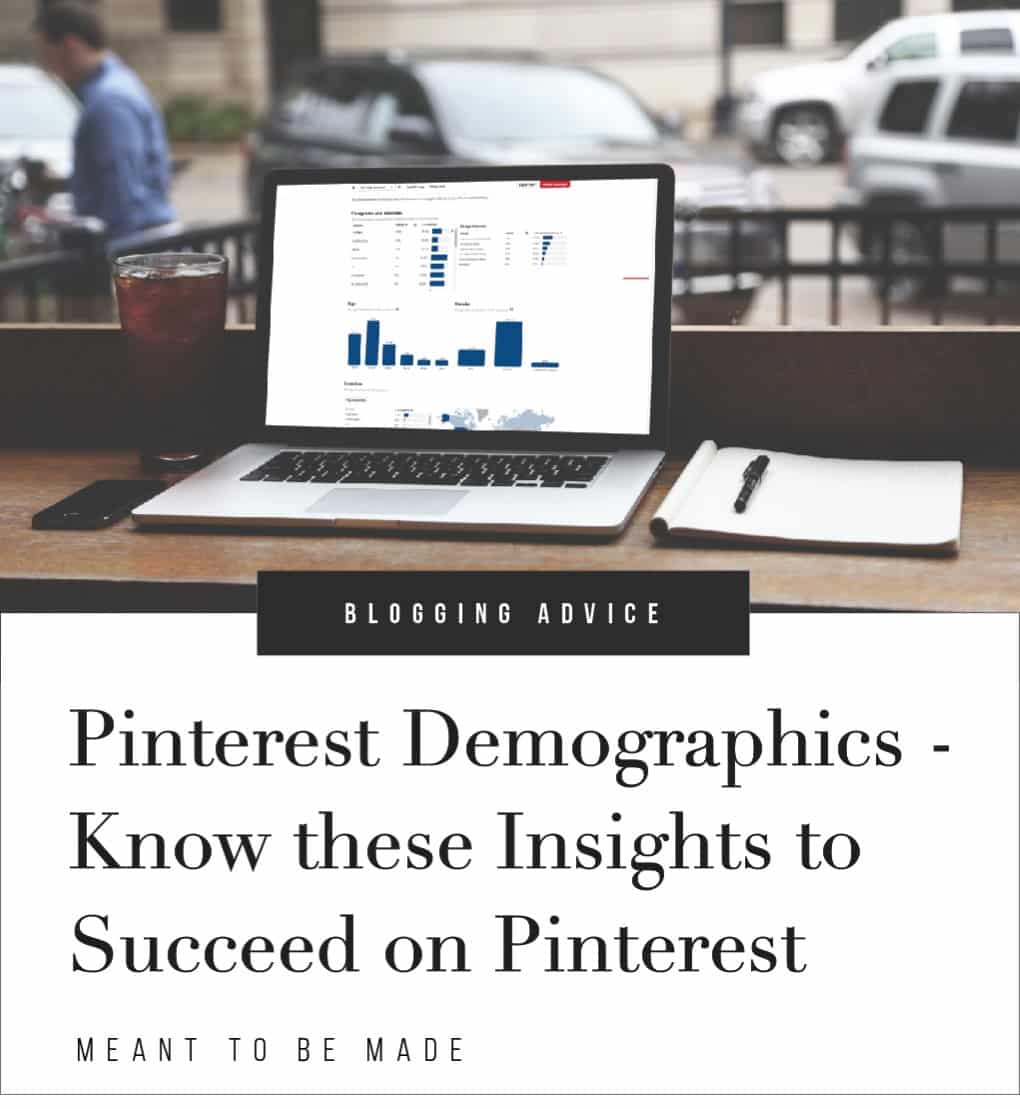 Pinterest knowledge worth knowing!
To know how to get the most out of Pinterest but, more importantly, how to succeed at Pinterest, it's important to know the demographics of the social network.
Understanding who it is, who will be seeing your pins, and potentially clicking through to your website will help you tailor things specifically towards them.
If you can make content that appeals to the target audience, your chances of succeeding at Pinterest will greatly increase.
Key Pinterest Statistics
Omnicoreagency has done a great job of curating the key Pinterest statistics and demographics worth knowing.
Here are some of the key Pinterest demographics that are worth knowing:
Number of active monthly users: 300+ million
Number of Pinterest users from the US: 85+ Million
Amount of Pinterest users outside the US: 215 million
Number of Pinterest pins: 200 Billion
Number of Pinterest Boards: 4 Billion
Key Pinterest Demographics
70% of Pinterest users are females
40% of new signups are men, 60% are women
Women post 92% of the pins
34% of Pinterest users are aged between 18-29
Pinterest is used by 42% of US adult women
80% of US mothers use Pinterest
Over 50% of Pinterest users earn over $50k per year, 10% of Pinterest households make over $125k per year
Each pin is worth around 78 cents in sales
(source: www.wiley.com)
Interesting Pinterest Facts
87% of Pinterest users have purchased a product because of Pinterest
72% of Pinterest users browse it to decide what to buy offline
5% of all website referral traffic comes from Pinterest
93% of active Pinterest users use it to plan purchases
2 million people pin product rich pins every day
50% of users have purchased after seeing a promoted pin
Promoted pins are repinned on average 11 times
14 Million+ articles are pinned every day
Average time spent on Pinterest is 14.2 minutes per visit
85% of Pinterest users use it when starting a new project
47% of social media users see Pinterest as a way of discovering and shopping for products
2 Billion+ searches are done on Pinterest every month
98% of Pinterest users have tried something new because of something they found on Pinterest
77% of Pinterest users have found a new brand or product
The top categories for pins are:
Food & Drink
DIY & Crafts
Home Décor
Holidays & Events
Hair & Beauty
Women's Fashion
Design
Kids
Art
Weddings
Travel
Gardening
Photography
Film, Music, & Books
Health & Fitness
Education
Humor
Products
Animals
Outdoors
(source: www.searchenginewatch.com)
Pinterest Tips and Guidance
Pin consistently – regular pinners see better growth
Schedule Pins & timing your pins effectively
Use Rich Pins where possible
Create Pin it for later links
Design images at the recommended size
Design eye-catching images
Create and pin images with text
Write keyword-rich descriptions and boards
Pinning often will yield better results
Using Pinterest regularly, ideally daily, and pinning a handful of things will yield better engagement than pinning less often. Consistency is the key.
The best engagement comes from pinning around 30 per day but spread out over the day.
Schedule Pins
Rather than pinning everything at once in bursts, spacing pins out works is better for your audience.
This is where scheduling works best. Finding batches of things worth pinning and then using tools like Tailwind or Buffer, you can schedule your pins so that they can be spread out over time, keeping things consistent and maximizing your engagement.
Timing your pins effectively
Whatever you post on any of the social networks will generally have a short shelf life. When you pin something on Pinterest, it will appear in your follower's pages.
However, the window of time where it's potential for going viral is around 30 minutes after you've pinned. Not long.
But there is a big difference between fresh new pins, which can potentially be seen by many people compared to your older, more stale pins, which might not be seen by very many people other than those who trawl through older pins.
Your pinned items will remain in your boards for your followers to find, so it will result in the occasional trickle of repins.
Knowing the best times to pin is very important, which is a combination of when most people are using Pinterest, between 6 am and 6 pm Eastern time. But also when you see the most amount of referrals from Pinterest is when you know your audience is most active on Pinterest.
Using tools like Tailwind will help schedule your pins for maximizing engagement during those times.
Enable your website for Rich Pins
Rich Pins enable you to show more details in the pins from your website. Typical pins might just show an image or even include a link to the website but a rich pin will include greater detail on the pins and depending on the type of pin will show:
Article Rich Pins will show Article Headline, Author, Article Description, Link
Product Rich Pins will show Product Title, Price, Availability, Link
Recipe Rich Pins will show Ingredients, Cooking time, Servings
App Rich Pins will show a link to install the app directly without leaving Pinterest (iOS only)
Design images at the recommended size
Where engagement is concerned, vertical pins performing perform best. This is likely because the Pinterest app is used as the predominant way of accessing Pinterest, and screens have a vertical orientation.
Pinterest shares great tips for making the most engaging images.
Pinterest recommended an aspect ratio of 2:3, such as 1000px width by 1500px height. Outside of this, the images may truncate, meaning parts of the image won't be seen when users are scrolling through Pinterest, which is likely to affect performance.
Creating pins at the recommended ratio can be done using Canva, which comes with premade templates for Pinterest.
Design eye-catching images with photos and text
The most visually compelling pins are those that have been designing using high-quality images that tell a story, using both photos and text.
When designing images, use photos that show context, showing people how they might use or benefit from the things that are seen in the image.
Write keyword-rich descriptions and boards
Pinterest pin descriptions are one of the most important parts that determine if a pin is successful or not.
Many people don't bother writing pin descriptions, instead simply focusing on pinning something just for the sake of getting it on to Pinterest quickly.
But without making the effort of writing a description for a pin, you're likely to be losing out on getting your pins more easily found.
It's simple! Pins with descriptions get more exposure than pins without descriptions.
Like any type of content produced for the web, the larger content items generally rank better and are found by more people than items that have less content.
This also applies to Pinterest and pins with descriptions of 300 words or more work best and receive more repins. (source: Danzarrella)
So when writing descriptions for your pins, aim to make the description useful and compelling. If it is a product, write about what the reader can use the product for, how they will benefit from using it, how much it costs, and where they can buy it.
The description is not only your chance to write a sales pitch to get the reader to click the link and follow through to your website, but it is the best way of getting your pin found in the first place, and that's what matters.
Quick Tip: Adding a link within the description is a good way of helping people click through to the page without having to click the image first to see the link.
Make it a call to action to make it more effective, such as "click the link to find out more."
This not only makes it easier but saves time for the reader and can result in more clicks.
Pinterest for Menu – popular male-orientated topics
Although women currently make up the majority of Pinterest users at around 70%. Men, on the other hand, are making up about 40% of the new signups, showing that the male audience is increasing slowly but surely.
Pinterest has more recently added new features to its search, so where before, if you searched for an item such as fashion, it may return a lot of women's fashion-related items. But now it understands its users, so a male searching for fashion should now start to see many more pins relating to men's fashion.
Popular topics for men on Pinterest are:
Men's Fashion – Including Hair, Beards, Accessories
Travel & Vacations
Hobbies
DIY & Home Improvement
Gift Ideas
Engagement Rings
Learning Cooking
Health & Fitness
Sports
Tattoos
Cars & Motorcycles
There are many things that men can find useful on Pinterest, and although they only account for a small share of total Pinterest users, it's still worth using Pinterest as a marketing platform if males are your target audience.
Conclusion
Knowing the Pinterest demographics can be very beneficial to your marketing strategy, helping you to solely target the right demographic for your niche. Knowing this, creating great pins and enabling rich pins will help your targeted traffic reach your site.