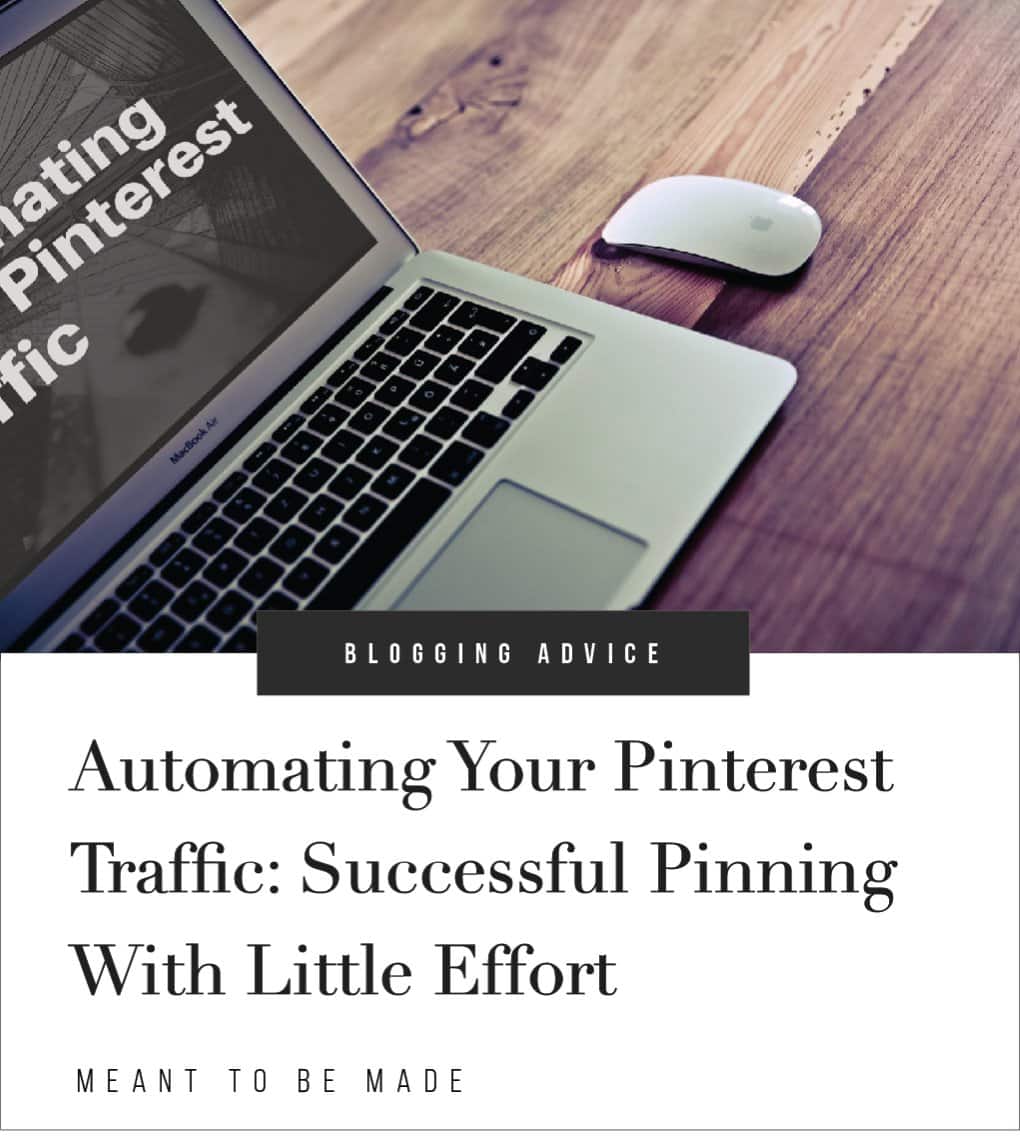 The number one Pinterest tool to skyrocket your traffic!
An Overview of Scheduling Pins
It is important to try to be as active as possible on Pinterest to increase your engagement and rankings. But rather than spending time on the platform in chunks, it is best to spread your activity out and be consistent daily.
But how can this be done without spending your whole life on Pinterest? If you want to succeed with your Pinterest account but still have plenty of time to do other things, then you need to start scheduling your pins.
Pin scheduling will automatically send out your pins on the days and times that you've set that will suit you.
By scheduling your pins, you can still spend time on Pinterest in chunks as before, but rather than posting everything at once; you can set a schedule so that Pinterest will post your pins over time.
This not only keeps your activity consistent, but it also helps you reach audiences at times that work best.
There are two main different ways of scheduling your pins. The first way is a free and straightforward way that you can do right now. The second is using a Pin scheduler app, which we will discuss later.
Scheduling Pins with the Pinterest Scheduler
If you have a Pinterest business account, you can easily opt to schedule your pins rather than pinning immediately.
When creating a pin, Pinterest allows you to set a schedule for up to two weeks in advance for when the pin would be published.
To do this on the Pinterest website
tap the plus + symbol to create a new pin.
Choose whether the pin will be an image or a video
Write your title, description and add the destination URL
Choose to Publish at a later date
Choose your date and time
You can schedule up to 30 pins, one at a time using this simple scheduler that's available right within Pinterest.
You can even update the pins that are scheduled before they are published, by publishing them immediately or deleting them if they are no longer needed. However, you won't be able to edit them other than publishing or deleting.
You can also schedule pins from within the Pinterest app on ios devices, using the same process as outlined above.
You can see all of your scheduled pins within the Pins tab of your profile.
Update your game strategy
The free Pinterest scheduler is a great way to avoid manually pinning throughout the day. However, to stay consistent and to maximize your success it's recommended to take your pin scheduling even further.
Pinterest is used by people throughout the day, but there are times throughout the day where your pins could potentially get much more engagement. Knowing those times and scheduling your pins to be published during these busier times can significantly contribute to the success of your Pinterest strategy.
Go pro with Tailwind
This is where Pinterest scheduling tools come in. The most popular of which is Tailwind. Tailwind is a tool used by almost every blogger and online shop owner who is serious about their Pinterest success.
Unlike the basic Pinterest scheduler that limits you to 30 pins at a time, Tailwind lets you schedule an unlimited amount of pins for days, weeks, months, and even years in advance.
What's more, it will show you the best times to pin based on your audience and will help you automatically schedule your pins into these best times.
You can schedule pins from anywhere, from within Pinterest or even when you browse websites. The Tailwind website also lets you add and schedule pins directly. Simply drag and drop photos or videos and create pins in bulk for scheduling.
Tailwind partners with Pinterest and are one of a few verified tools that Pinterest has agreed to work with. You can be sure that your pinning efforts will be safe without having a negative impact on your performance.
There are many great benefits of using Tailwind, especially if you use Pinterest to market your blog or business.
Let's take a look at the advantages of using Tailwind
Analytics
Tailwind offers great analytics, which provide you with a great insight into how effective your pins are, along with your repins, followers, clicks, boards, and more.
You can track the latest trends for your Pinterest profile, with easy to read charts letting you see how you progress over time.
By knowing which pins work best, you can build on your success with recommendations for similar content that your audience might also like.
Google Analytics Integration
Tailwind can integrate with your Google Analytics account so that you can see Pinterest information that relates to your website right from within Tailwind. Track the pins that come from your website and see your website's most popular pins.
Content Curation
Knowing which pins and repins work well with your audience is a great way of getting the insight you need into creating similar pins that you know will be similarly effective.
Group Boards Insights
If you use the group boards feature of Pinterest, Tailwind will give you very helpful insights into which boards are effective and which aren't.
With the Virality and Engagement scores, you'll see how much reach your pins are getting from specific group boards. More importantly, you'll be able to see if people are actually engaging with your content.
This helps you evaluate your group boards and make better decisions about which boards to focus more on.
Tailwind Tribes
Tribes is a very powerful feature of Tailwind. It is similar to Pinterest group boards, letting you collaborate with fellow pinners on topics of the same interest, sharing relevant content and helping each other grow.
Unlike Pinterest groups, Tailwind Tribes are free of spam so you can focus on sharing great content, chat with other tribemates, and even collaborate on projects together.
With Tribes, you can find a supply of fresh, relevant content from others in the tribe group that you can share. This makes it very easy to find quality content and a great time saver too.
Best of all, you're not only sharing other tribemates content, but they are sharing your content too.
Tribemates are often serious Pinterest users who are using it as part of their marketing strategy, so they have a great reach.
All of these features, combined with the great scheduling that Tailwind provides, will help you take your Pinterest success to new levels.
How to Schedule Pins Using Tailwind
Tailwind is by far the best Pinterest scheduling tool. It is used by thousands of bloggers and businesses around the world who are serious about their Pinterest strategy and see great results from their activities.
Being consistent on Pinterest and pinning every day is one of the leading factors to seeing success on Pinterest.
Scheduling your pins not only helps you succeed but helps free up valuable time so that you can work on other aspects of your business.
So to schedule pins on Pinterest using Tailwind, you have three ways of doing this.
Schedule via Pinterest
Schedule via your website
Upload pins directing into Tailwind
Schedule via Pinterest
To schedule pins using Tailwind via the Pinterest website, you will need to install the Tailwind Publisher extension for your browser.
Then within Pinterest, when you find the content you want to pin, you can simply click the tailwind icon that appears over the pin.
This will open up a new pop up window showing you the pin you have just clicked to upload. If you are multiple pinning then ignore this box, it will pop up with every pin you select.

Once you have chosen your pins to add to tailwind, go to your Tailwind schedule. From here you can choose the Pinterest board you want to schedule the pin to, edit any descriptions and add any additional tags.
Once you approve the pins, Tailwind will automatically put them in the schedule calender. You can then shuffle this calendar so pins are randomly posted at the scheduled times rather than be posted in the order you clicked the pins. Randomizing your pins allows you to post more of a variety over the day rather than pins of the same topic.
Schedule via your website
Scheduling via your website is very similar to scheduling via Pinterest. When you hover over any image on your website, you'll see the tailwind icon appear. Click it to follow through the steps to schedule the pin.
Upload pins directly into Tailwind
Rather than scheduling your pins via another platform, you can directly upload your pins to Tailwind. To do this, simply log into your Tailwind account and go to the schedule section. Under your scheduled pins, you should see a 'create new pin' option. Click this and then upload your images.
As you can see, there are multiple ways of scheduling your pins via Tailwind. It's down to your preference, but the result will be the same.
Understanding and using the Smart Schedule
Your pins are more effective when users engage with them. The more engagement your pins receive, the better you will rank overall.
It is important that your pins get seen by as many people as possible, and the best time to do that is when people are using Pinterest.
Enter Smart Schedule, a great feature of Tailwind that analyses your Pinterest audience and recommends the best times to post new content for maximum engagement.
If you post content during times when people are not engaged, then Pinterest will see this as an indication that people are not interested in your content or it isn't of high quality, which means you will lose ranking.
Also, it's not just the content that you post at the wrong time that could rank lower as low engagement on new content can affect the engagement of other content that you have already posted or plan to post on Pinterest.
You'll see recommendations for the best time to schedule pins based on your industry, your audience data and the type of pin you are sharing.
This means that everybody's smart schedule will be different as it is unique to you and adapts over time to reflect changes and new data from your pin performance.
As Tailwind serves hundreds of thousands of businesses, they can spot trends that work for each industry, so you can be sure that the times they recommend are likely to be the most effective.
Growing Your Traffic with Tailwind
Blogging takes time, but as it is the foundation for your business, it is something that you need to devote time to.
Posting on social media can also take time, but using tools like Tailwind can shave a lot of the time off while still getting the same results.
Tailwind is the number one Pinterest tool for helping you maximize traffic while minimizing the time you spend using it.
The small investment you make in Tailwind will pay for itself with the success you see and the time you save.
With Tailwind we schedule a week's worth of content in advance in around 30 minutes. Amazing huh?!
How to be more efficient with Tailwind for maximum success
If you haven't learned to be efficient with Tailwind's features, then you'll likely be wasting a lot of time which could be better used elsewhere.
Learn to schedule to more than one board at a time
Tailwind has a great time-saving feature called board lists, which lets you group boards that have similar types of content into lists.
This is great because, at a click of a button, you can schedule pins to go into all of the boards in a list, rather than scheduling pins for one board at a time.
Use interval scheduling
You should never post the same pin to too many boards at once. This is likely to be flagged as spam and can have a detrimental effect on your account, or possibly even get you suspended.
Enter interval scheduling, which lets you spread the pinning out over several days or weeks. This is ideal as it keeps the content consistent, so rather than one spike of promotion, your pins will see new fresh pinners.
If your account is new or you don't pin often, then it is recommended that you use the interval scheduling option.
Add content in batches
Are you someone who keeps going back to Tailwind or Pinterest to do a little pinning here and there? Maybe you're addicted? Either way, it's not a great habit when you've got a million other things to be doing as far as developing and growing your business is concerned.
Tailwind has some great batch features, so you don't have to spend that much time using the tool.
Simply load up the pins you want to pin:
You can use the tailwind browser extension when browsing Pinterest
Or use the batch upload option within the Publisher section of Tailwind
Then, upload multiple photos or videos at once to quickly create pins in bulk.
Batch pinning like this means you can spend an hour or two each week on Pinterest but remain very consistent with the automation that Tailwind provides.
Never let your schedule queue run empty
Always keep your Tailwind schedule full, never let it run dry. Ideally, you want to fill your schedule up with a few days worth of content, which means you only need to do your Tailwind work once every few days.
Avoid wasting time with poor performing group boards
Pinterest group boards can be powerful. But on the other hand, they can be very poor or even detrimental to your ranking performance.
With Pinterest, there is no way of knowing how good a board group is. With Tailwind, you can see which are the best boards by using the Pin Inspector feature within the Insights area of Tailwind and sorting by boards to see the order of best to worst.
Focus on the ones that work best and stop wasting so much time with poor performing boards.
Make the best use of Tribes
Many people try to promote their pins via Pinterest group boards, or even outside of Pinterest with Facebook pin sharing groups.
To be honest, we wouldn't recommend these to you. We don't use them ourselves, not because they are a waste of time but more that they don't provide a great level of return for the time that you need to invest in them.
Tailwind Tribes are a far better way of sharing your content for other tribemates to share for you.
You're not forced to share things you don't want to share, nor are your tribemates. You all contribute great content of the same topic and choose the content items that you want to share among your followers.
But it's important to make the most of tribes which you can do by following some of these tips:
Don't share your pin into multiple tribes at once.
The main reason for this is because tribemates might be in some of the other tribes that you are posting to. Meaning they're likely only to share one of your posts, whereas if you had different posts going into different tribes, then the chances of them sharing your other content increases.
So mix things up. Post the same pin to 2 or 3 tribes over a few days mixed with other pins. You get the picture.
But that doesn't mean that you add a heap of different content to a tribe at once. The other tribemates are likely to get a little annoyed and are less likely to share. So just spread things out, a couple of different pins at a time to each board.
On top of this, you don't want to just simply change the images up for the same content, as that way, you are competing with your own pins. Have different pins for different content going out and keep mixing things up for the best likelihood of success.
Always keep on topic with the sharing that you do with tribes. Don't be tempted to try to promote content that doesn't stick to the topic. This is one of the reasons why Pinterest group boards go downhill because they quickly fill up with spam or unrelated content.
Use SmartLoop
If you ever feel the need to repost older content to give them a new traffic bump, then try using the Tailwind SmartLoop feature.
SmartLoop will republish older pins to different boards automatically based on your choices of boards and schedule. You can even republish pins every year.
All of this helps save time. You don't have to manually repost pins or keep track of the pins you post with unnecessary and messy spreadsheets. These only add even more complexity and waste time.
SmartLoops are a great way of getting traffic to old posts in the most efficient way possible.
Conclusion
All in all, you can see that using Tailwind efficiently will save you a great deal of time while maximizing your Pinterest success.
If you use Pinterest to market your blog or business and are serious about seeing results, then sign up for Tailwind!