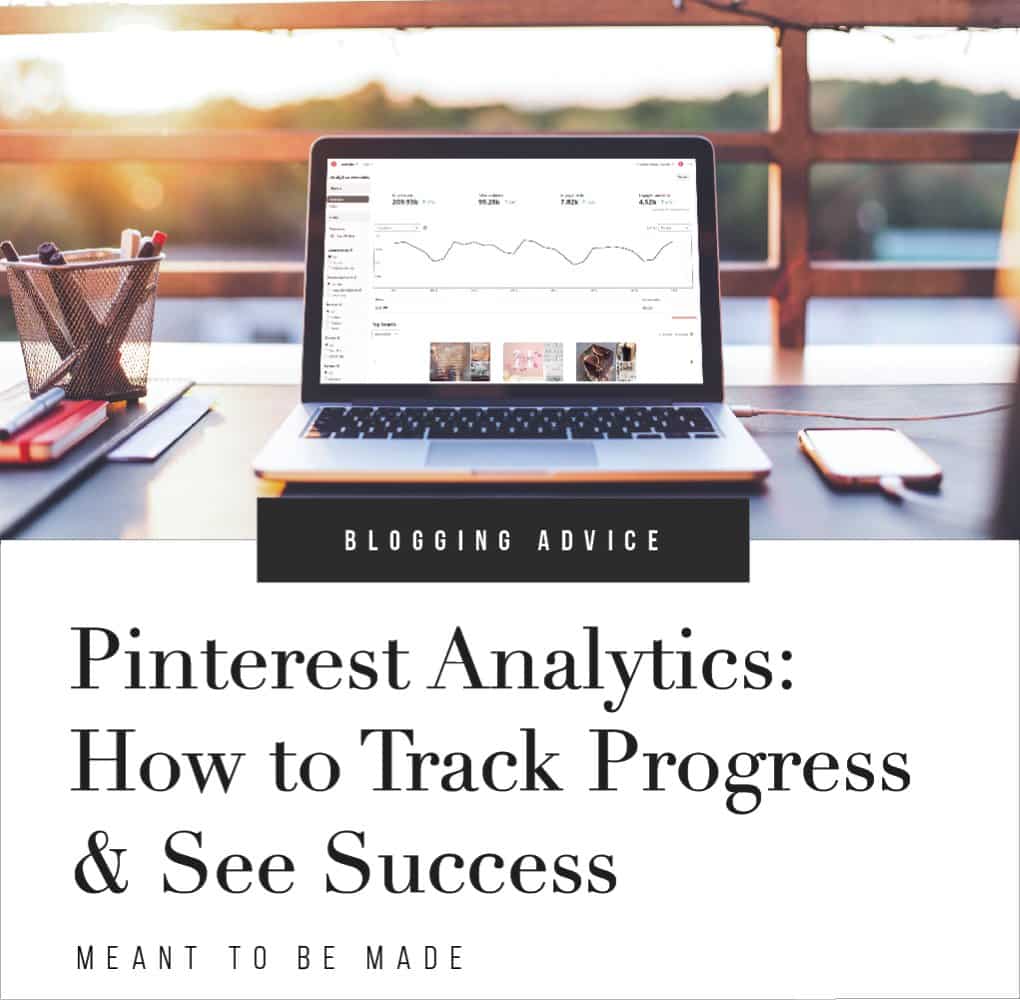 A detailed breakdown of how to use analytics to track your Pinterest progress.
It's important to measure your efforts to see how people are engaging with the content you pin on Pinterest.
Knowing what works means you can double down on more effective strategies. Knowing what hasn't been effective means you can avoid making investments in areas that are less effective.
Pinterest Business Tools
If you're running a Pinterest business account and have claimed your website, you'll have access to a suite of tools that can help you be more effective on Pinterest.
The tools include Rich Pins, Pinterest Analytics, and add-ons for your website.
Pin Engagement
A Pinterest business account lets you look more closely at your pins stats directly within each pin, and these stats are only visible to you.
Do this by clicking on your profile within Pinterest, click Pins, then click on any Pin to view the stats.
When you click on any of your pins, you'll be able to see how much engagement the pins have had from the last 30 days. This is updated in real-time, including:
Impressions – how often the pin has appeared on Pinterest)
Saves – the number of times people have saved the pin to a board
Clicks – the amount of clicks the pin has had that's gone to a destination such as your website
Close-ups – the number of times the pin has been clicked for a close-up view.
Video Pins also show stats, including video views, average watch time, saves, and link clicks, amongst other things.
You can also toggle between different date periods, showing the last 30 days, the last 7 days, or the last 24 hours.
You can also see the boards that people are saving your pins to. This is a great way of seeing how people view and organize your pins. It can give you interesting feedback and ideas for things you haven't yet thought of.
This is a great way of gaining insight into how well each of your pins are performing.
It's important to be aware that the stats for each pin are the total stats for that specific content, whether you have pinned it or other people have from your website.
This is great as you get a better overview of how effective the content item is. Also, Pinterest can match pins that share the same image and the URL and aggregate this data.
Pinterest Analytics
Pinterest Analytics is a free tool available to all business accounts and can be accessed right within your Pinterest account.
Click Analytics on the top left corner, then click Overview.
This is where you will find important information on how much engagement your pins and boards receive, including likes, repins, and comments.
The information includes data on your audience, such as:
gender
location
the devices used to view your content along with the topics and businesses that they are most interested in.
Pinterest Analytics is the ideal way of seeing your overall presence on Pinterest, giving you great insight into what content works best.
Within the Pinterest Analytics overview, there are various filters to be found on the left-hand side. You can filter by:
date range
organic or paid
claimed accounts
devices
source (your pins or other pins)
and format (standard pins, video pins, story, and more).
Top Pins
This will display the top pins depending on the filter applied. The top pins are arranged by impressions that are viewed the most. However, you can choose to organize the view of your top pins by Engagements, Close-ups, Link Clicks, or Saves.
Impressions
Impressions are the number of times your pins have appeared when viewers interact with Pinterest. This can be from their home feed, searches, or browsing boards.
Look for your pins with the most impressions. This will give you an idea of how effective your content is and also what people are looking for. It will also help you create more similar pins that could be just as effective.
Close-ups
The Close-up metric shows you how many times the pin has been clicked for a close up look. This shows you that pins with lots of close-ups have something eye-catching, or the designs you are creating are interesting at first glance.
Repins
Repins are when users have found your pin interesting and have pinned them to their boards. You ideally want to see as many repins as possible. The aim is for people to spread your pins out so that you can increase the possibilities of clicks to your website.
Clicks
Clicks are quite simply the number of clicks through to your website from your pins.
If your goal with Pinterest is to drive traffic to your website to sell products, get sign-ups, or just to increase your traffic, then clicks are one of the most important metrics you'll want to see high numbers from.
High click rates show you that your pins are interesting and that people want to see more about the content. It also tells you that your call to action is effective.
Pinterest Audience Insights
The audience insights area of Pinterest analytics will tell you a great deal of information about the type of people who are interested in and interacting with your pins.
To access Audience Insights, click the Analytics link, then click Audience Insights.
Various demographics can be seen here which relate to the audience who have interacted with your pins and their behavior on Pinterest over the past 30 days.
The data is powered by the Pinterest Taste Graph and collates information from their activities such as searches and saves.
You can also view the data from all of Pinterest's audience and compare that with your audience.
The data is broken down with Affinities and Demographics.
Pinterest Affinities
The Affinities section of the Audience Insights will display the most popular categories and interests for your audience.
You will see the strength of your audience's interest in each of the categories shown. This is in comparison to the average Pinterest user, and the bigger the affinity amount, the more likely your audience is to engage with the content of this specific type of interest.
Your Pinterest Audience Demographics
The demographics area of the Audience Insights is where you will find data on the Age, Gender, Location, and Devices used by your Pinterest audience.
It is important to understand that the overall Pinterest audience is made up of around 70% Female users and that the majority of users are under the age of 49. So your specific audience demographics will only apply to Pinterest and not how effective your content would be overall throughout all mediums outside of Pinterest.
Age
This shows the age groups of your audience. The age groups with the most audience will be those whom your pins have been most engaging. The stronger age groups may or may not be your target audience, but you will at least have an insight into who finds your current pins most appealing.
Gender
This shows you the percentage of views from each gender. However, it is important to be aware that the majority of all Pinterest users are female.
Location
This shows the top countries for your audience. However, this will likely be higher in the United States as that is where the bulk of the overall Pinterest audience currently resides.
Device
The devices used by your audience. Pinterest is used significantly more on the mobile app, so you are likely to see strong numbers for certain mobile phone types such as iPhones and Android devices.
Understanding your Pinterest demographics will give you an insight into the type of content to create that will target your audience more effectively.
Making Pins that are most effective on mobile devices (tall graphics with big punchy text) with multiple colors that appeal to a female audience is sure to help make your efforts more successful.
Tools to Track Website Stats
As well as Pinterest Analytics, which is available to all Pinterest business accounts, you can also track statistics using other tools.
Google Analytics
Google Analytics is one of the most powerful and free analytics tools for monitoring websites. It can also help you easily track your pin referrals.
If you have not already linked your website to Google Analytics (why not?!), then follow our guide on how to do this here.
There are two quick and easy ways of viewing referrals from Pinterest within Google Analytics.
The first is within the Acquisition menu Acquisition > Social
Now find Pinterest on the list and click it.
Within the Pinterest results, you will find a list of pages or posts which have been visited from Pinterest, with the most visited at the top working down to least visited.
The time range can be chosen from the options on the top left, choose a period of time to analyze. This is great if you are looking to see how effective your pages have been at converting Pinterest visitors into sales for any given period, especially if you make regular changes to your posts or pages, you'll be able to track the effectiveness of those changes.
To see each individual pin referral, click Acquisition > All Traffic > Referrals
Now click Pinterest.
Now you will see all of the pins that have been referring traffic to your website in order of most referrals.
Bounce Rate
You will also see the bounce rate, which refers to a visitor that has not progressed past the page that they were referred to from Pinterest. Higher bounce rates mean that nothing is enticing them to browse through your site further or progress through to a sale or sign-up.
If your visitors are not progressing further, then you must make changes to the pages or your offers on those pages. Getting an insight at this level is very useful for understanding your visitors, and if you don't make changes to your site to lower the bounce rate, then your efforts on Pinterest will not be as beneficial.
Pages/Session
Within the Pages/Session column, you can see the average number of pages that your visitors have viewed for each pin. If this number is higher than 1 then your visitors are viewing more pages, but as is the case with a high bounce rate, if the number is only 1 then your visitors are not compelled to progress through your site and have left the site after reading the page.
Average Session Duration
The session duration gives you the average amount of time a visitor stays on your website after visiting via Pinterest. Ideally, this should show that your visitors have spent time reading the page or other related pages, but if the duration is low, then the visitors have been quickly bored or have not found anything of value on the pages.
E-commerce Conversion Rate / Transactions / Revenue
If you are selling products directly on your website and have configured e-commerce tracking within Analytics, then you will find the average percentage of visits that have resulted in an e-commerce transaction. You will also see the number of transactions and revenue that each pin has generated.
This is valuable information as you can see the pins that compel Pinterest users to click through to your site and how effective your landing page was at guiding the user into making a purchase.
Even more information
There is a simple way to expand further on the information provided on this screen, by way of the Secondary dimension dropdown.
The Secondary dimension dropdown will show further information. For example, clicking behavior> Next Page Path, you will see the pages that your visitors have clicked through to from the page that they landed on.
This is great as it will let you see how users progress through your site.
If you select one of the pins in the referral path under Acquisition > All traffic > Referrals and then select a secondary dimension, you'll get even more information about how effective your pins and pages are together.
There are many great tools under the Secondary dimension dropdown, including social interaction (did they share your pages?). The key here is exploring what is available and finding the information that matters most to you.
When you begin analyzing the visitors both from Pinterest analytics and from within Google Analytics, you'll be able to really see what's effective and working for you. You'll be able to track individual pins from types of engagement right through to visits to your website and how they interacted with your site. This will show you which pins do best. You'll know if the images, style, colors, or text is most effective and be able to replicate this further to really benefit your business.
Pinterest Tag
The Pinterest business account also provides you with code that you can add to your website, which helps you track visitors from Pinterest and how they interact with your website.
Essentially the Pinterest tag will help show which ads help drive conversions.
If you are using Promoted Pins to attract visitors to your website, then you must use this feature so that you can measure how effective your advertising campaigns are on Pinterest and make adjustments to improve the effectiveness.
Tracking conversions with the Pinterest Tag
With the Pinterest Tag running on your website, you can track several types of conversions when your visitors take action on your website, such as buying a product or signing up for something that you offer on your site.
The types of activity that you can see reports on are:
Page Visit – the views of the pages of your site, such as product pages or blog articles.
View Category – the views of your website categories
Search – The searches they performed on your website
Add To Cart – when items were added to baskets
Checkout – see completed transactions
Watch Video – video views
Sign-up – the sign-ups for your products or services
Lead – interest in your product or services
Custom – this can be used to track a special event that you want to see in your conversion reports
Setting up the tag/pixel
Unless you're proficient with WordPress and have a good understanding of how to add code to various areas of your website for tracking purposes, then you'll probably shy away from the technical aspects.
However, the PixelYourSite WordPress plugin and Pinterest Tag add-on do the job of adding the Pinterest tag to your website very quickly and easily.
No technical knowledge is needed to install the plugin, other than knowing how to install WordPress plugins which you should already know if you run a WordPress website.
There are two methods of installing the Pixel Your Site plugin.
You can download the plugin from the WordPress plugin repository, searching for Pixel Your Site. Once you find and download the plugin, you can then upload and install it via the plugin section of your WordPress administrator dashboard.
Alternatively, the easiest way to install the plugin is directly from within the Plugins section of your WordPress administrator dashboard. When logged in to your Administrator panel, using the left menu, select Plugins > Add New. Then search for Pixel Your Site, and once found, simply click Install. Once installed, click Activate.
You'll now need to download and install the free Pinterest Tag add-on from here.
Note that you'll also be given a free license that needs activated after installing the add on.
Once you have downloaded the Pinterest Tag add-on, you can install it from within your Administrator Panel Plugins > Add New. Then click the Upload Plugin button, browse your computer for the plugin you just downloaded then follow the installation steps on the screen to finish the installation.
When the Pinterest Tag add-on has been installed and activated, add the license into the Pixel Your Site plugin settings and click activate.
Within the Pixel Your Site settings page under the general tab, you can now add the Pinterest Tag ID, which you will be able to get from the Pinterest Ad Manager area of your Pinterest account:
Pinterest Ads Manager – hover your mouse over the Ads top menu link, then click Conversion Tracking.
Any tags that you have will be listed here. If there are no tags and you haven't already generated one, then you can do so here by clicking the "Create Tag" button, then give your tag a name and click "Generate".
You can now copy the ID from here to your Pixel Your Site settings. The key thing is just to copy the ID, not the whole code.
Conclusion
Pinterest Analytics will show you the engagement of your Pins and Boards within Pinterest. Still, when those users click through to your website, Google Analytics can provide much more information on how much traffic your pins are generating.