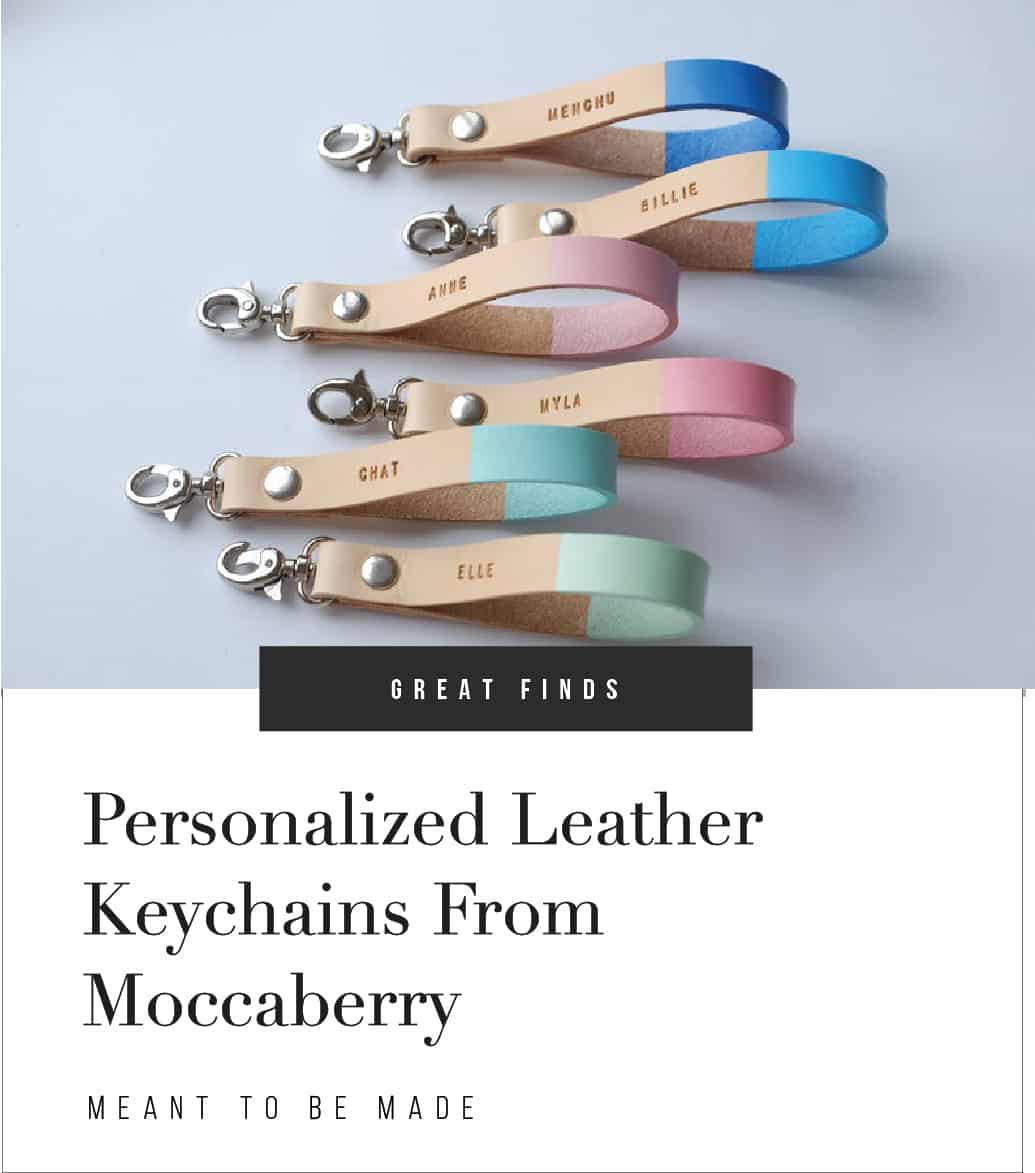 This beautiful product feature offers unique, personalized gifts perfect for everyone!
Welcome to our latest product feature, which are our regular posts on Meant to be Made!
Here, we feature really cool finds that are made by really cool makers and can even inspire those of you who want to make and sell your own crafts and products.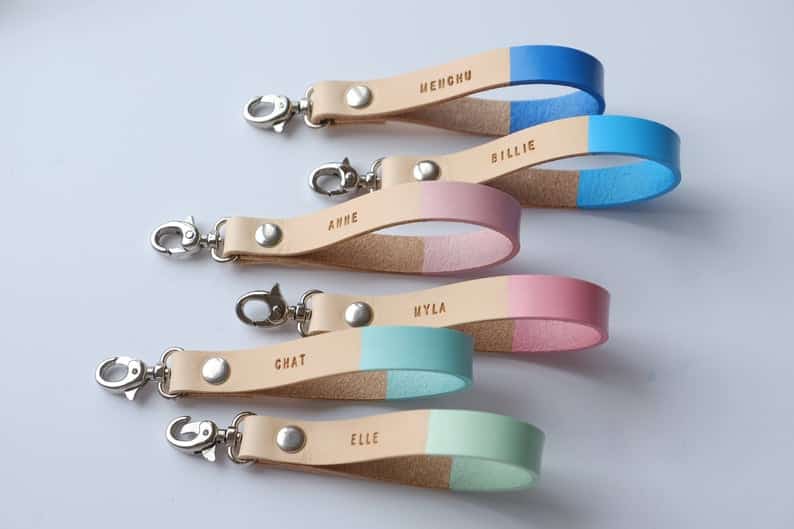 Today's featured product is these beautiful handcrafted personalized leather keychains from Moccaberry.
Personalized Leather Keychain
These beautiful customized leather keychains use genuine natural leather, which helps make them strong and sturdy.
The keychain has a mild tan color base and a cute colored tip that you can have in a choice of colors from blush or rose pink, blue, pastel blue, mint, aqua, red, or even Christmas green – gotta love these colors right?!
We all love handmade items, and these cuties will make the perfect gift!
Aren't they lovely?!
What They're Used For
These personalized keychains make perfect gifts for friends. People just love these, and the reviews speak for themselves! Mothers are gifting these to their daughters, brides are giving these as sassy gifts for their bridesmaids, daughters are buying these as the perfect Mother's Day gifts, and people are even giving these to their clients as cute little unique gifts.
The great thing about these keychains is that not only are they cute, but the personalization is great, especially if your name is unusual or impossible to find on products.
Key Features
Handmade
Genuine natural leather
Eight colors to choose from
Personalized
From $16.45!
We just love the unique style of these keychains, along with the other products made by Moccaberry.
Wanna know more about who makes these keychains? Read on!
MOCCABERRY
Husband and wife team, Emil and Maya run Moccaberry from Dublin, Ireland. With a focus on high-quality handmade items, these keychains are perfect for personalizing and making a statement.
Moccaberry is proud to use genuine Italian leather for their colorful and playful leather items such as those gorgeous leather keychains, stunning custom leather bookmarks, and unique leather earrings.
In addition to their leather items, Moccaberry offers beautiful custom birthstone jewelry perfect for friends, mums, and sisters, and we love them.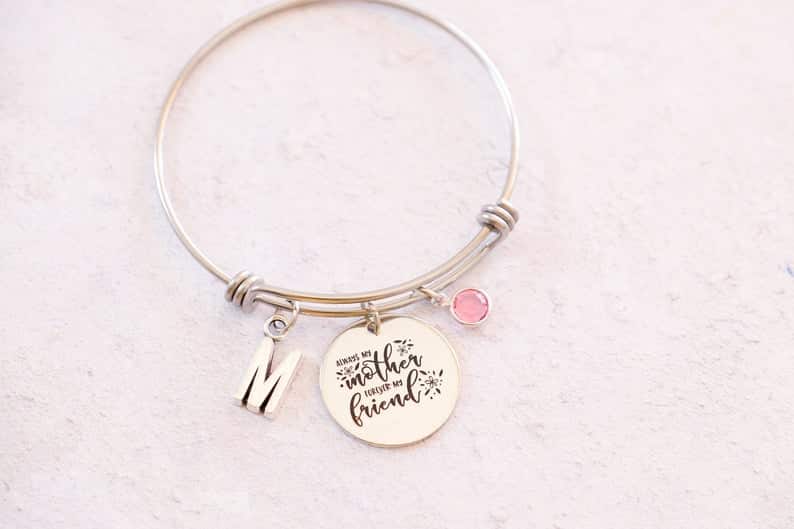 The Moccaberry Making Process
Let's take a look at how Moccaberry makes these amazing custom keychains!
Engineer Emil focuses on the technical aspects of the business, whilst Maya focuses on the design of the items and the process of handcrafting them.
The couple's love of genuine leather, along with beautiful modern colors mix perfectly to create unique, custom, and simply stunning leather crafts, which are a real talking point amongst buyers around the world. Maya and Emil have managed to turn typical 'boring' leather into something fresh, exciting, and fun by creating two-tone products using bright pastel artisan leather paint to complement the traditional Italian leather.
The fact that these stunning leather items are customizable, kicks these products up a notch. We all love personalized products as they offer a genuine 'care' factor, a thoughtfulness. Combine this with a stunning artisan product and you're onto a winner.
Collective Customer Thoughts
With over 200+ Etsy reviews with an average 5 star rating and 2,000+ Etsy sales, Moccaberry is an up and coming reliable maker who you can trust, but what are the thoughts on this particular product?
In a nutshell, let's see what verified buyers have to say:
Great quality
Super cute
Well crafted
Fast shipping
Lettering is on point
Will order again
As you can see from customer feedback, these items are incredible.
To buy these and other great items from this maker, visit Moccaberrys store on Etsy.