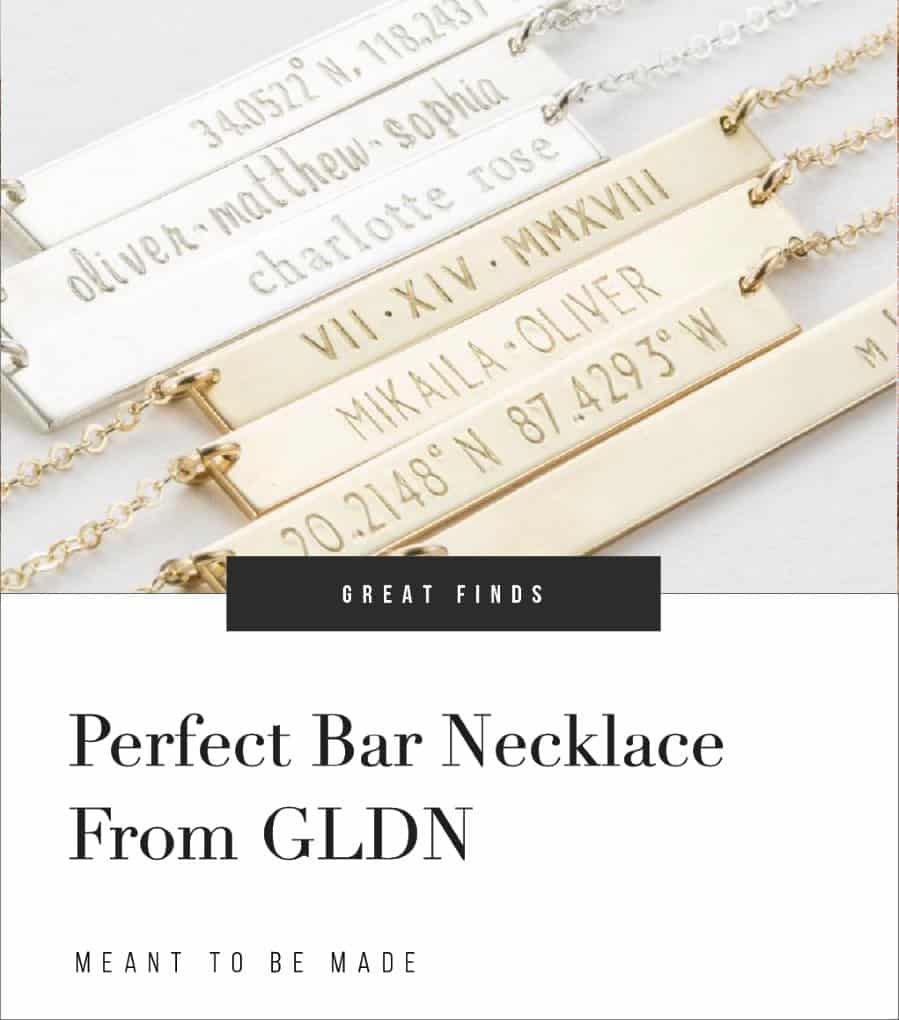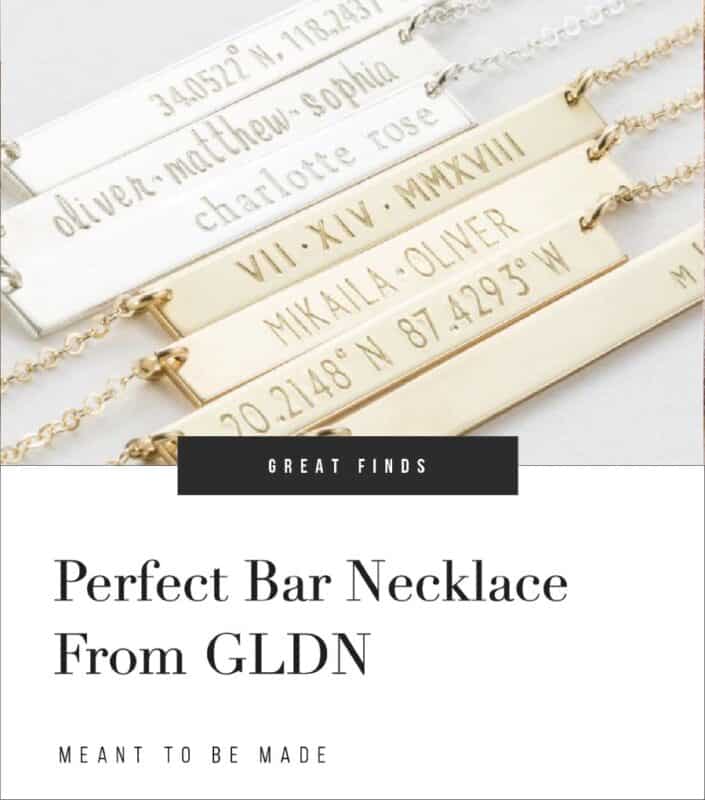 Perfect ethically sourced jewelry from the USA.
Welcome to our latest product feature, which are our regular posts on Meant to be Made!
Here, we feature really cool finds that are made by really cool makers and can even inspire those of you who want to make and sell your own crafts and products.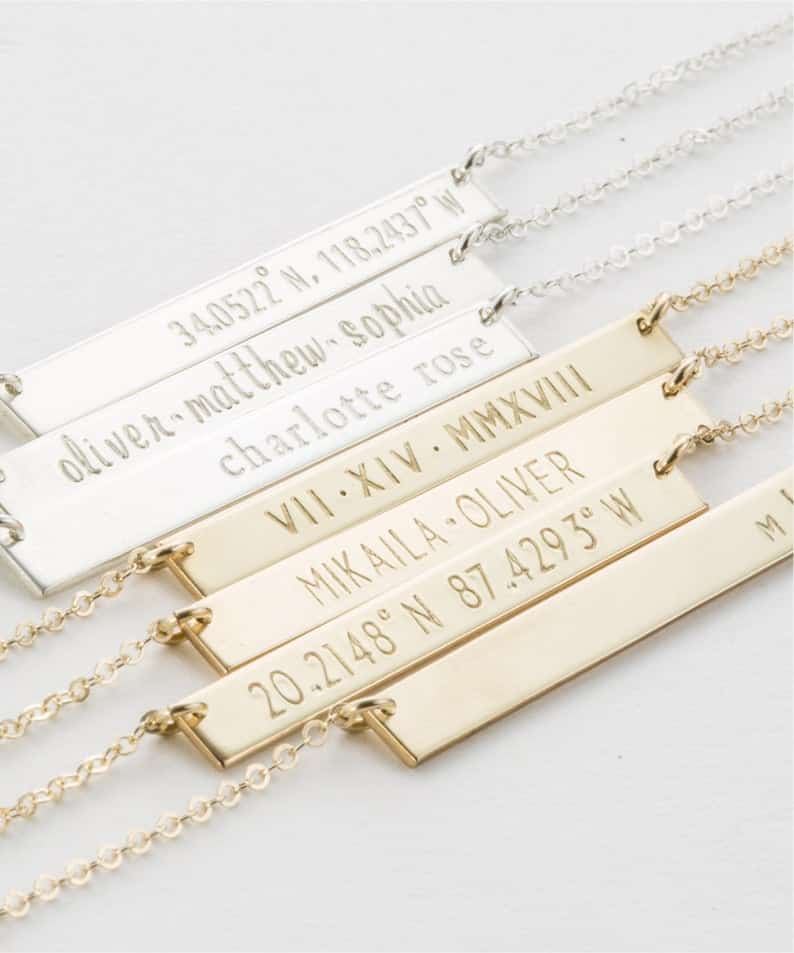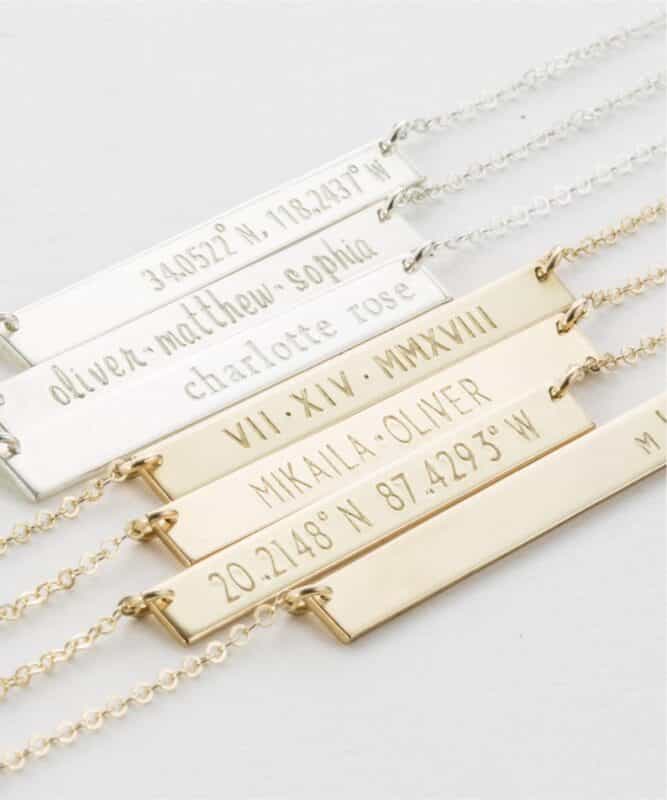 Today's featured product is this beautiful, personalized bar necklace from GLDN. Let's take a look in more detail.
Perfect Bar Necklace
This beautiful necklace is such a lovely consideration if you like dainty and delicate but with a statement touch. The Perfect Bar necklace can be personalized with:
Initials
Names
Roman numerals
Symbols, and more.
There is also a selection of lovely font styles.
This necklace hangs just right when worn and is perfect for the signature chain it comes on. One thing we love about this product is how customizable it really is. You can choose your desired font (from the options), your preferred alignment, and your finish.
You are involved in creating a necklace that is perfect for you.
What They're Used For
This necklace is such a perfect sentimental and meaningful piece used for marking special dates or times. This beautiful necklace is dainty but can still be considered a statement piece through its beautiful design.
The Perfect Bar necklace is a perfect everyday option and remains elegant and classy paired with any outfit, and we believe it really is the perfect gift for friends and family but also for yourself.
Let's take a look at some of the key features of this item:
Key Features
Handmade (including the packaging)
Available in 14k Gold Filled, 14k Rose Gold Filled or Sterling Silver
All materials are from the USA
Gift Boxing
From $39.00
Wanna know more about who makes this stunning jewelry? Read on!
GLDN
GLDN is a small business run by a team of lovely people and headed by founder Chrissy. Based in La Conner, Washington, GLDN is a business built from the ground up and run by a team of hardworking, caring, and passionate people. It focuses on integrity, genuine customer care, and a love of creating handcrafted products.
GLDN is an honest company and has its own set of rules and values which they follow to guarantee each piece is the best quality and the best experience for every single person involved.
GLDN also has a giving back initiative, meaning that every time you purchase from GLDN, they donate 10% of their profits to important causes that matter to them and make the world a better place.
The GLDN Making Process
Let's take a look at how GLDN makes its beautiful Perfect Bar Necklace.
One thing we like about GLDN is that they keep things domestic. The raw material used for this necklace has been ethically sourced in the USA, meaning the journey of your necklace begins right at home.
The Perfect Bar Necklace comes in three metal options – 14k Gold Filled, 14K Rose Gold Filled or Sterling Silver and each of the bars are 35x4mm with the option to choose the length of your necklace and purchase an extender if necessary.
Each custom piece is beautifully hand-stamped, and the packaging is letterpressed by Chrissy's dad. GLDN also offers a few other options to help make your item more personal such as an additional gemstone or a personalized tag at the clasp (perfect for a hidden surprise).
Each necklace comes with their signature finish "Satin Brushed" however, if you require a hand-hammered finish, then all you need to do is ask!
This personalized necklace is all about you, and GLDN goes out of their way to make it as personal for you as possible.
Collective Customer Thoughts
With over 62,000+ Etsy reviews with an average 5-star rating and 428,000+ Etsy sales, GLDN has earned its place on the handmade jewelry scene, but what are the thoughts on this particular product?
In a nutshell, let's see what verified buyers have to say:
The company is wonderful
Fantastic and super responsive customer service
Great quality, gorgeous jewelry
More beautiful than I could ever imagine
Super quick turnaround
Speedy delivery
GLDN offers more than just jewelry, they offer experience, and that is why people keep coming back. They use precision, love, and care in every little detail, making sure they get it perfect just for you.
To buy these and other great items from this maker, visit the GLDN store on Etsy.