Learn about baby toys that encourage personal development and self-directed learning!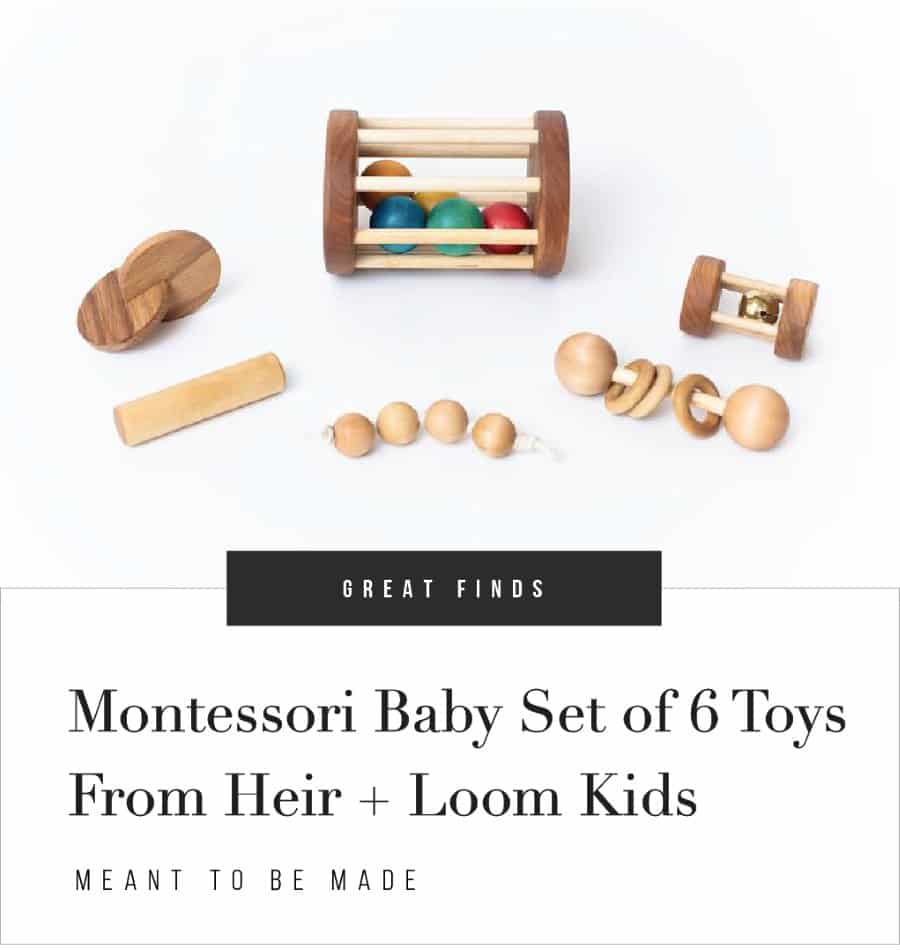 Welcome to our latest product feature, which are our regular posts on Meant to be Made!
Here, we feature really cool finds that are made by really cool makers and can even inspire those of you who want to make and sell your own crafts and products.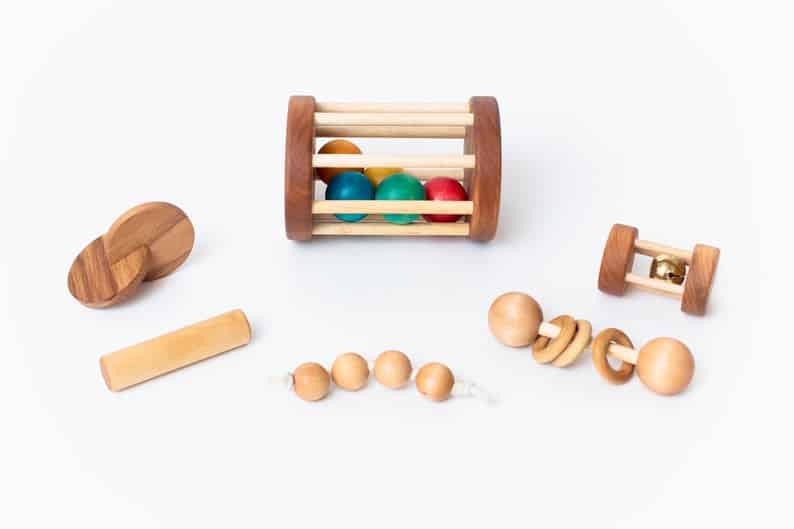 Today's featured product is this wonderful collection of wooden infant toys from Heir + Loom Kids, and these toys are a safe and great choice for encouraging fine and gross motor development skills. These toys are perfect for two months onwards when your baby is learning to grab and reach for things.
Montessori Baby Set of 6 Toys
This beautiful handmade toy collection includes:
Ball cylinder
Bell cylinder
Ring rattle
Stick rattle
Interlocking disks
Grasping beads
All of these toys are made with non-toxic materials so babies can enjoy them no matter what stage they are at.
These toys are simple and safe, using natural woods and non-toxic materials. This makes them a great alternative to plastic toys and perfect for little teeth.
What They're Used For
This collection of toys makes the perfect gift for new babies and additions to the family. Perfect as a baby shower gift or even a 'push present', parents will be pleased to receive such a lovely gift, which is also unique to what others may be buying (baby clothes, blankets, booties).
The toys in this collection are suitable for two months onwards, and the ball cylinder is great for 6+ months meaning there is a toy option for whatever stage your baby is at.
When the time comes where you feel you need to upgrade your toys, you can purchase the next set Montessori 9-12 Month Set of 9 Toys, which are created with the same quality, love, and care.
Let's take a look at some of the key features of the baby collection of toys:
Key Features
Handmade
6 toys made with natural and non-toxic materials
Safe for teething babies
Free shipping to USA
Lifetime guarantee for USA customers
From $59.99
Interested to know more about who makes these wonderful toys? Read on!
HEIR + LOOM KIDS
Based in Monroe, Louisiana, Heir + Loom Kids is the brainchild of mother and entrepreneur, Janishi Hightower, and focuses on providing toys inspired by the Montessori philosophy.
Janishi ensures all of her products are safe and well designed, giving your child the freedom to explore and learn fearlessly. The toys that Janishi creates allows your child to truly concentrate and develop their skills without being distracted by mass-produced flashy, plastic toys that generally take over the house and are left unwanted.
The Heir + Loom Kids Making Process
When it comes to creating her toys, Janishi first has to understand what the child needs and how she can provide for those needs simply and effectively. Inspired by the Montessori philosophy of self-directed learning and individual growth, Janishi is sure to incorporate these aspects into her designs and final products.
Each product Janishi makes is created from natural wood sourced in the USA, along with non-toxic materials such as non-toxic glue and non-toxic watercolor paints (for colored components).
If you are a customer purchasing in the USA, you receive a lifetime guarantee on these products due to the natural nature of the toys and natural wear and tear that may occur. USA residents also receive free shipping.
Collective Customer Thoughts
With over 1,050+ Etsy reviews with an average 5-star rating and 7,400+ Etsy sales, Heir + Look Kids is a well-established store focusing on premium handmade baby products but what are the thoughts on this particular product?
In a nutshell, let's see what verified buyers have to say:
Our 6 months old's most loved toys
A beautiful set of toys and a wonderful gift
The quality of the materials is perfect!
Craftsmanship is excellent.
Shipping was fast
These toys will last forever and have much more meaning than our $5 toys I got from Amazon.
Heir + Loom Kids has captured the hearts of parents and babies around the world, and it's easy to see why. With their brilliant craftsmanship, high-quality materials, and fast shipping, this business is one of the favorites!
To buy these and other great items from this maker, visit Heir + Loom Kids store on Etsy.