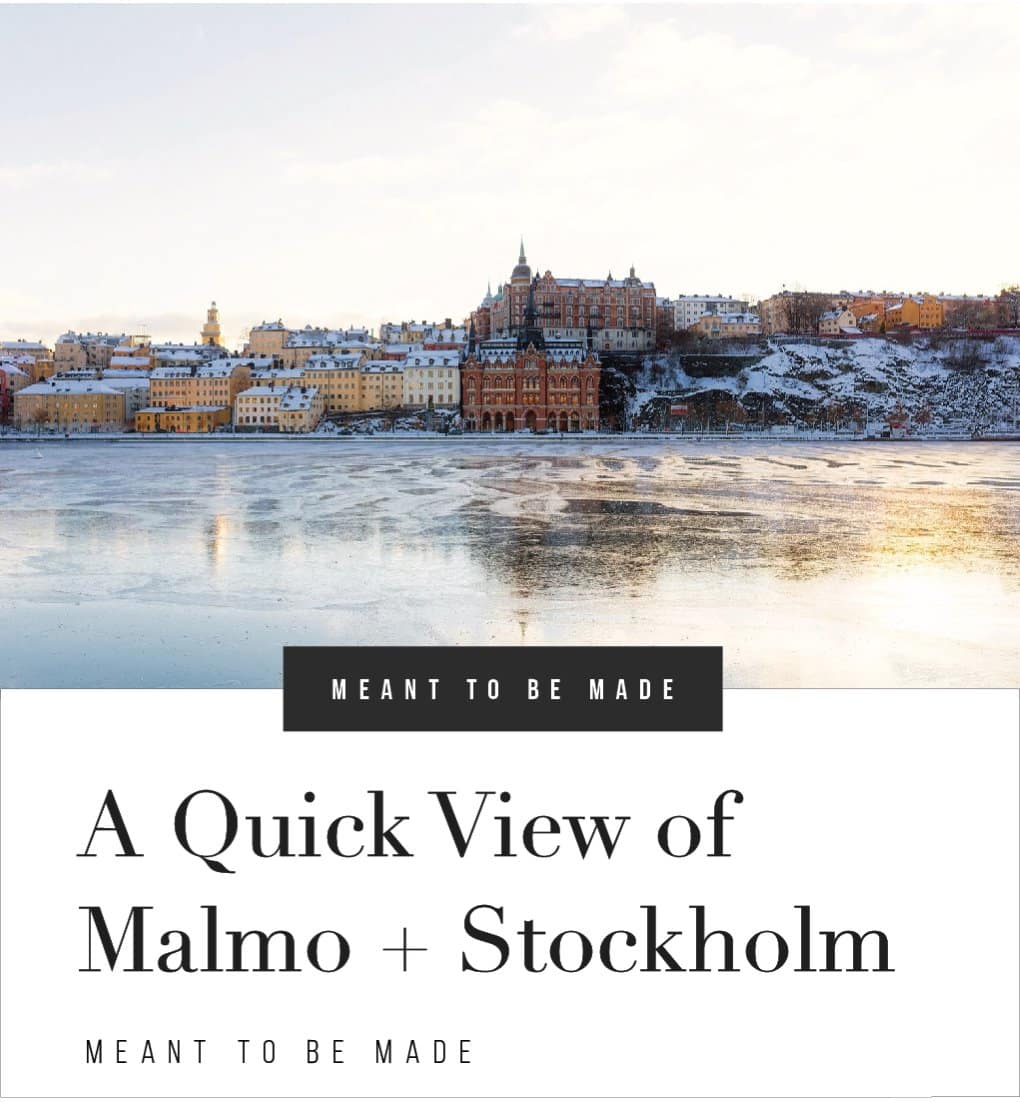 An insight into traveling, prices, hotels and sightseeing.
As an addition to our trip to Copenhagen, Don and I decided to further our travels by taking a trip to Sweden. You can get to Malmo from Copenhagen via a bridge (which is very popular due to the TV crime drama 'The Bridge'), and you can access this via train or car.
The journey from Copenhagen to Malmo takes around 40 minutes and will cost only about £9.10 pp (110SEK/79DKK).
MALMÖ
We spent one day in Malmö as a stopover before heading on a long journey to Stockholm. We booked into Moments hotel, which is right opposite the train station so very convenient for us as we were to leave early the next morning.
The room we booked turned out to be very small for the three of us, but it would have been fine for a couple. It was essentially a bed, a wetroom, and a TV, but we didn't mind as we were only there for one night.
We had taken our firestick on our travels with us so we could keep up with 'The Bodyguard' (a popular British tv series) and just relax.
For us, there wasn't much to experience in Malmö, so we were glad we only stayed for a stopover.
ALCOHOL LAW IN SWEDEN
If you're someone who likes to buy some alcohol for your room, then there are a few alcohol laws that you will need to be mindful of when visiting Sweden.
1 – You cannot buy alcohol with a strength of over 3.5% by volume in any grocery store or convenience store, so you will be limited to weak beers.
2 – If you want to buy any alcohol stronger than this, then you will have to purchase it from a Systembolaget, and you will have to be 20 years of age or older. The Systembolaget is open on Monday – Friday between 10:00 – 18:00 and Saturday between 10:00 – 13:00. It is closed on a Sunday.
You can purchase stronger drinks in restaurants and bars, but you have to be 18 years of age or older.
TRAVELING TO STOCKHOLM + STOCKHOLM
We chose to travel to Stockholm by train. There are two options for this – the fast train (SJ Snabbtåg – 4hr45) and the slower train (Snälltåget – 5hr45).
I would recommend purchasing your tickets in advance to get the best option for you. Prices can range from £50/604SEK to £93/1124SEK pp.
We stupidly chose to buy the day before and were left with the only available seats on the slower train, and we were lucky to get them. You can buy your tickets in advance at the train station or online.
We decided to stay in a hotel in outer Stockholm to save money, so we had a bit of navigating to do. We used Google maps to navigate – what's new? And the journey took us about 25 minutes. Our stress levels were hitting 100 as we were trying to push a buggy and tow two suitcases, which would not stop flipping over.
We chose to stay at the Hotell Aldoria. We were a bit dubious at first as the hotel lacked serious curb appeal. Once inside and in our room, it was spacious enough, and they even put a cot in there for Emma. I wish Emma slept in a cot. She prefers sleeping in our bed, diagonally with her feet in my face.
Checking out Stockholm
The next day we decided to tour Stockholm. Stockholm has some major beauty spots, such as the harbor and the aged streets of Gamla Stan. We were so lucky it was such a spectacular day. We were able to take some stunning photos as we took a long stroll around Stockholm.
Something to keep in mind when in Stockholm is some cafes favor card over cash. If you only carry cash, then it may be near impossible to get a drink and relax.
When we next visit Stockholm (without baby), then I think we will explore some of the bars and museums. There's so much to see in Stockholm, and unfortunately, we only managed to scratch the surface.
Getting to Stockholm airport
If you are flying from Stockholm, you will need to get a train directly to the airport. This is called Arlanda Express and takes 18 minutes to get from Central Stockholm to the airport.
You can get a single adult ticket for £24.40/295SEK pp (if you are over 26 and need one way). Two adult tickets cost £29/350SEK.
If you are 25 or under, a single ticket will cost you £14/165SEKpp. Children who are accompanied by an adult and are between the ages of 0 – 17 years travel free.
Conclusion
If you haven't been to Stockholm then we highly recommend it. Although we didn't manage to do much during our limited time there, it is definitely a place to visit and if you can, spend the time to explore and admire.