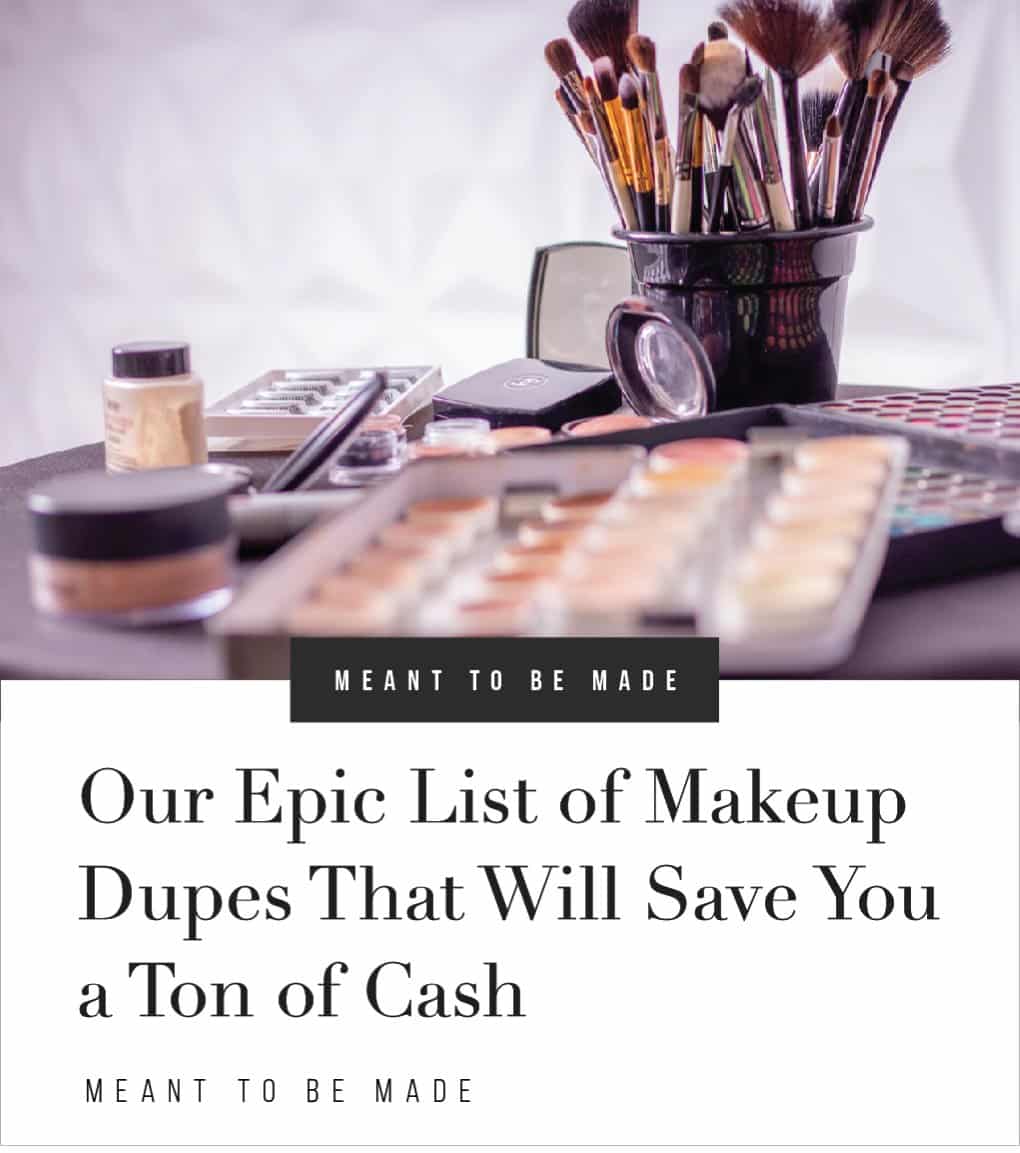 Save money by using some of the best alternatives to your favorite makeup items!
This is the ultimate article for makeup dupes covering everything from skincare to the final finishing powder or setting spray!
We are excited to share this article with all of you makeup lovers out there because we know how crazy expensive our makeup habits are!
Now we can get the best dupes for a fraction of the price! Hoorah!
If you want to save this article for later (it's pretty thorough and amazing!), then remember to pin this post, and don't forget to share it with a friend. They'll thank you for it!
Ready to save a ton of cash and still look as flawless as ever? Me too, let's go!
SKINCARE DUPES
Kylie Skin Review + Dupes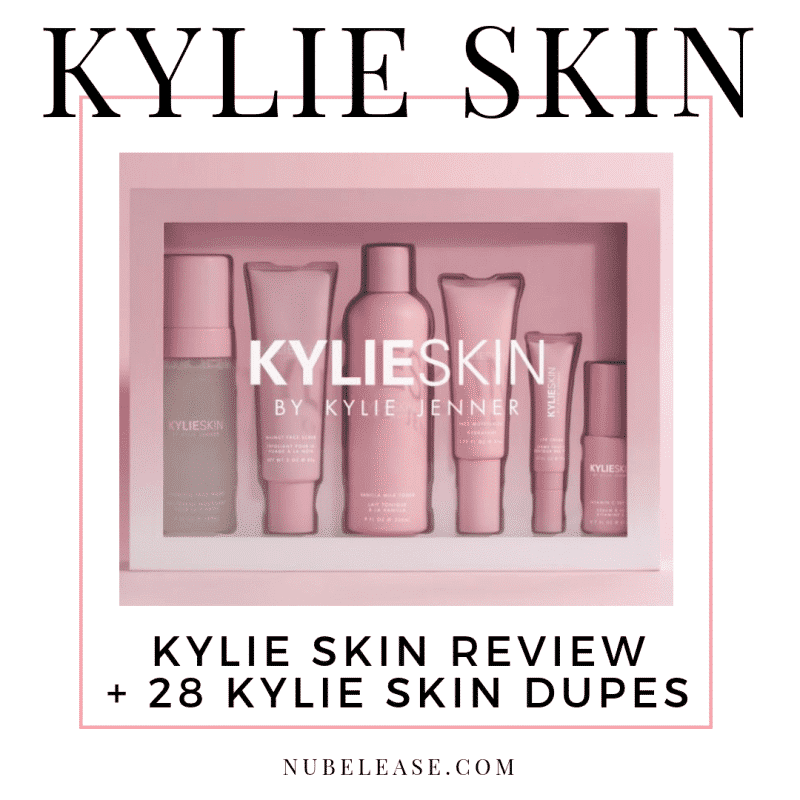 As found on Nubelease
We are starting this article strong today with this killer post from Nubelease. The post covers the controversy around Kylie Jenner's skincare range and breaks down the ingredients she includes in the items. After reading this, you will soon realize that the ingredients don't offer much to what she is promoting, and you are best using cheaper and more accurate alternatives.
These are a couple of the dupes that caught my eye:
Kylie Vanilla Milk Toner vs. The Ordinary 100% Plant-Derived Squalane
Kylie Skin Eye Cream vs. Derma E Advanced Peptides & Collagen Eye Cream
Popular Skincare Dupes (2019)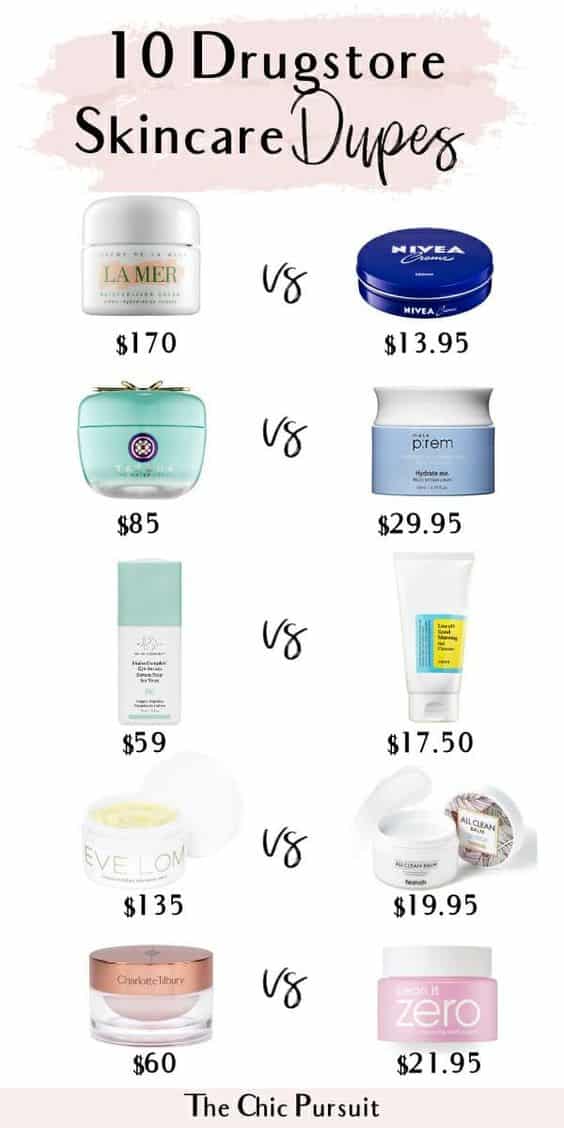 As found on Chic Pursuit
I really like this article by Maria. Not only does it tell you about the best highstreet comparisons, but it also gives you tips on how to combine certain products to get the best results, which is a bonus.
These are my ultimate favorite dupes from Maria's list:
La Mer Crème de la Mer vs. NIVEA Crème + The Ordinary Lactic Acid 5% + Ha 2%
(for an added bonus add The Ordinary Resveratrol 3% + Ferulic Acid 3%)
Tatcha The Water Cream vs. MAKEP: REM Hydrate Me Micro Tension Cream
The Ordinary Ultimate Dupe List

As found on Makeup Savvy
For an ultimate end to this skincare section, we are showing you this ultimate dupe list from Makeup Savvy, which focuses on the popular skincare brand The Ordinary. You've probably noticed a few references and comparisons to The Ordinary, so it's exciting for us to share a post based solely on their skincare range.
Here are a few of our favorites from the list:
Pixi Glow Tonic vs. The Ordinary Glycolic Acid 7% Toning Solution
Drunk Elephant TLC. Sukari Babyfacial vs. The Ordinary Peeling Solution AHA 30% + BHA 2%
Drunk Elephant Virgin Marula Luxury Facial Oil vs. The Ordinary 100% Cold-pressed Virgin Marula Oil
PRIMER DUPES
Gold Fleck Primer Dupe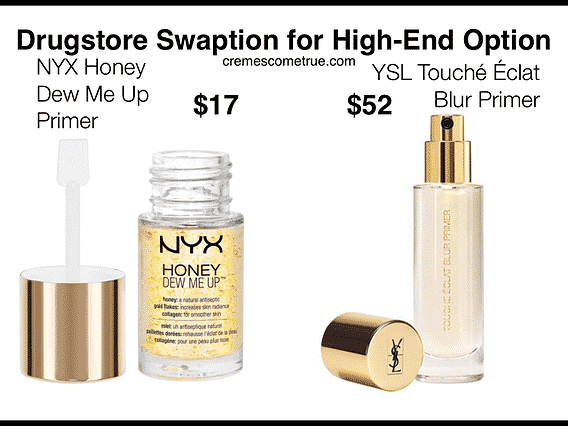 As found on Cremes Come True
First, let's take a look at this super cute primer comparison where both primers include gold flecks for a bit of glam and sparkle. Audrey has tested both of the primers and feels that they are both practically the same. It's nice to have some glitz without having to blitz your wallet:
YSL Touche Eclat Blur Primer vs. NYX Professional Makeup Honey Dew Me Up Primer
SPF 30 Primer Dupe
As found on Cremes Come True
Here's another one from Audrey, and this time the focus is on SPF! Like many women in the world, on an average day, Audrey will get her sun protection from her makeup rather than consistently splodging suncream on her face, and in this post, she compares two primers which both offer SPF 30:
Murad Invisiblur Perfecting Shield Broad Spectrum SPF 30 PA+++ Serum vs. Maybelline Master Prime Primer Makeup, Blur + Defend
A Collection of Four Primer Dupes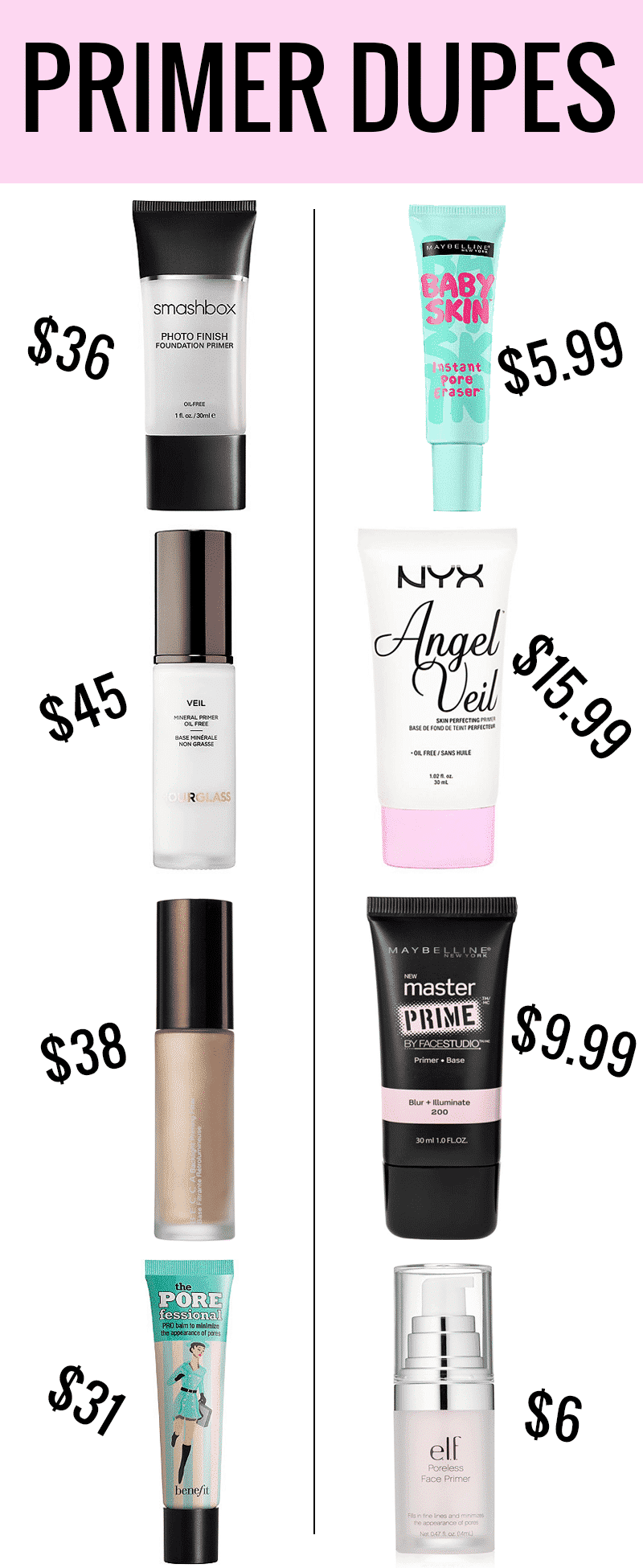 As found on Mego On The Go
The final post for our primer dupes focuses on a collection of four dupes for different types of primers. Included in this post are two popular high-end brands I'm sure you've heard of – Smashbox and Benefit, and I've used both, so it's exciting to see some cheaper alternatives. Let's take a look:
Smashbox Photo Finish Foundation Primer vs. Maybelline Baby Skin Instant Pore Eraser Primer
Hourglass Veil Mineral Primer vs. NYX PROFESSIONAL MAKEUP Angel Veil Skin Perfecting Primer
BECCA Backlight Priming Filter vs. Maybelline Master Prime Primer, Blur + Illuminate
Benefit POREfessional Primer vs. e.l.f. Poreless Face Primer
FOUNDATION DUPES
Drugstore Foundation Dupes (2018)

As found on Creativity Jar
Kelsie is a dupe queen, no kidding! This article is from her drugstore dupe foundation series and features some really nice comparisons. Her list offers a selection of foundations from light coverage to full-on matte, so take a look and see what you can find.
In the meantime, these are some of our favorites from the list:
Fenty Beauty by Rhianna Pro Filt'r Soft Matte Longwear Foundation vs. No 7 Beautifully Matte Foundation
IT Cosmetics Your Skin But Better CC+ Cream vs. Covergirl Vitalist Healthy Elixir Foundation
The Ultimate Guide to The Best Foundation Dupes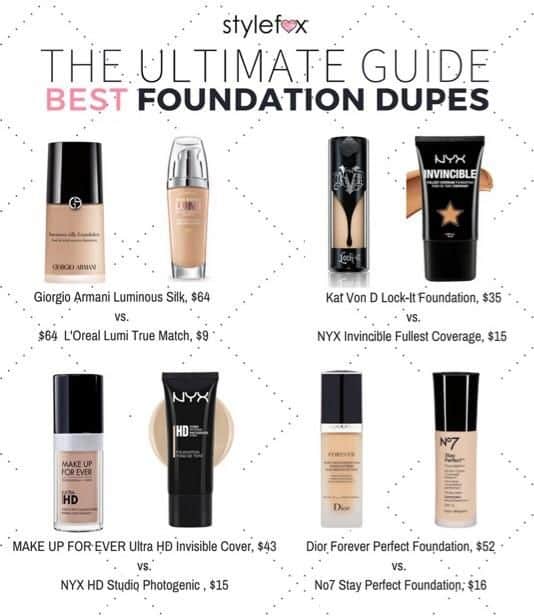 As found on Style Fox
Style Fox boasts that this is their biggest and best foundation dupe guide yet, and I'll admit it is pretty good! With prices ranging from $5 to $95, there are some great comparisons, and below you can find our top choices from this post:
MAC Studio Fix Fluid Foundation vs. Revlon Colorstay Liquid Foundation vs. Revlon PhotoReady Airbrush Effect Foundation
MAKE UP FOR EVER HD Invisible Cover Foundation vs. NYX HD Studio Photogenic Foundation
Yves Saint Laurent All Hours Foundation vs. Maybelline Super Stay Full Coverage Liquid Foundation
Estee Lauder Double Wear Foundation Dupes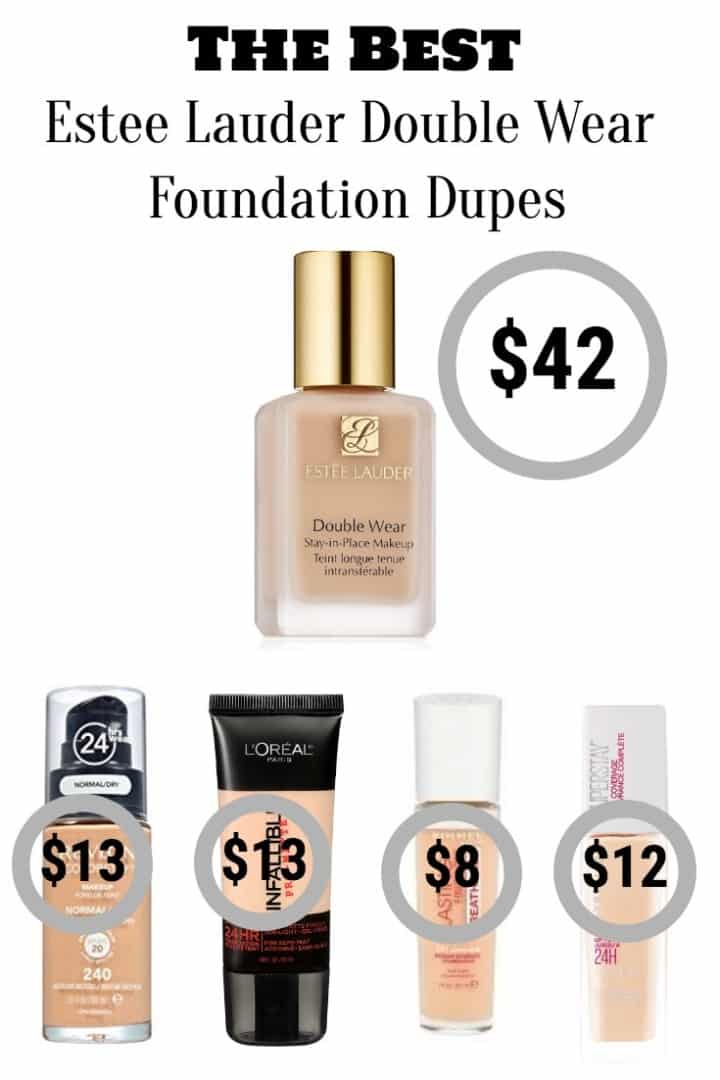 As found on Hat on The Map
I've chosen to feature this post on a specific foundation because I seriously had a bad experience with it a few years back.
Long story short, I finished my job at five, rushed next door to Debenhams, spoke to a lady (who I think just wanted me out of the door so she could close shop) about a great foundation perfect for my skin, she recommended Estee Lauder Double Wear foundation, I paid big bucks, went home, put it on, cried.
Ok, so I didn't cry, but I was severely disappointed. The foundation dried my face out, so it looked like clogged up powder sitting on my skin, and it also made my face two shades lighter than it should be. I was gutted because I trusted the woman's expertise, and I paid quite a bit for it.
As you can see on Heather's blog, there is a photo of her wearing this foundation, and it looks flawless, so I'm genuinely gutted to have had such a bad experience, however, seeing that there are some high street dupes really gives me hope as I can try these out without splurging on a foundation that might not work for me.
Heather's favorite high street dupe for the Estee Lauder foundation is the Revlon Colorstay, and she was even complimented on how lovely it was. We've mentioned this product in comparison with MAC Studio Fix Fluid Foundation!
CONCEALER DUPES
High-End Concealer Dupes

As found on Creativity Jar
Here is another one from Kelsie, and this time she is comparing concealers! So if you've got those dark circles under your eyes (hear, hear), you've come to the right place. In this post, Kelsie covers concealers from $38 to $6 and even covers one of my favorites (which I'm so happy about)!
YSL Touche Eclat Radiant Touch vs. Maybelline Dream Lumi Touch Highlighting Concealer (Radiant)
Urban Decay Naked Skin Weightless Complete Coverage Concealer vs. Maybelline Superstay Better Skin Concealer
NARS Radiant Creamy Concealer vs. Maybelline Fit Me Liquid Concealer
Here's a couple of other dupes for the NARS Radiant Creamy Concealer as found on She Finds:
NARS Radiant Creamy Concealer vs. NYX Cosmetics Concealer Wand vs. SEPHORA Bright Future Gel Serum Concealer
BLUSH / BRONZE / HIGHLIGHT DUPES
Blush –
Benefit Dandelion Blush Dupe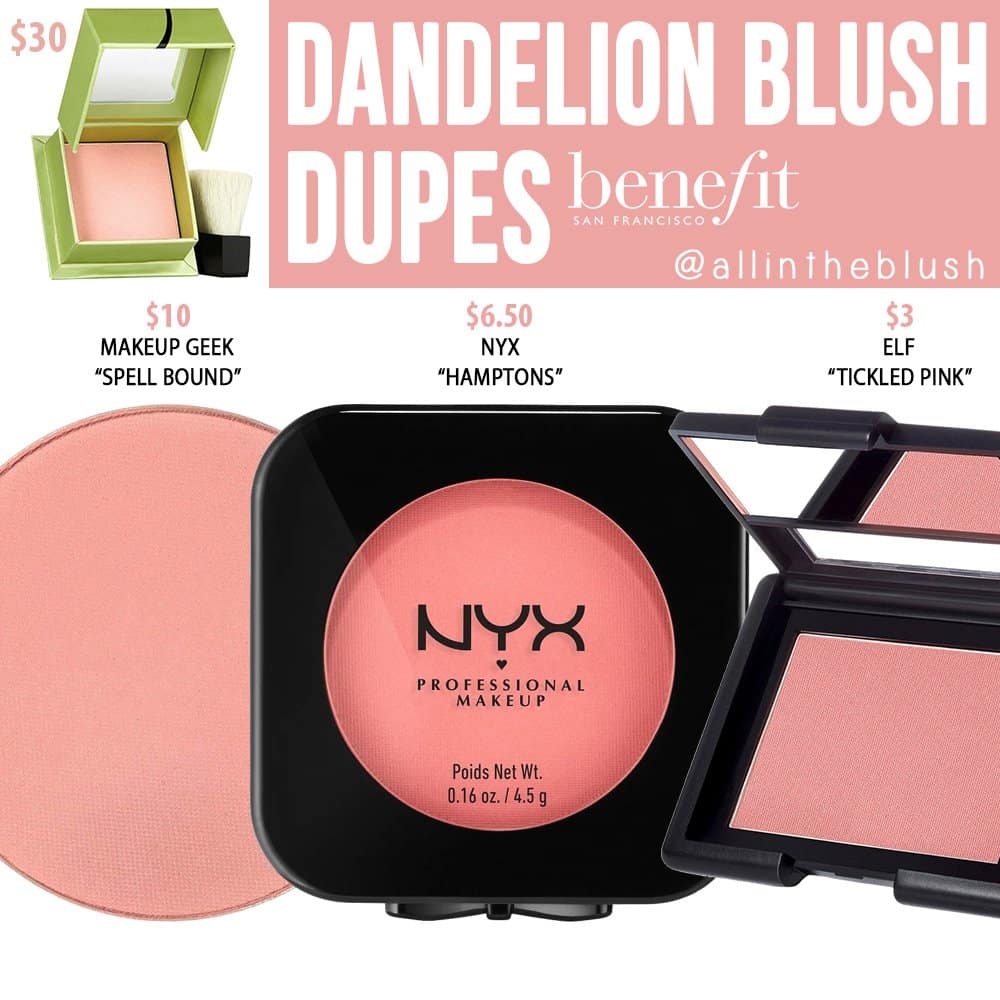 As found on All In The Blush
If you've ever wanted a delicate powder blush for fair skin, then Dandelion by Benefit has always been a brilliant option, but it can be a bit taxing on the wallet to keep purchasing a blush with a higher price tag. That's where these dupes come into play. If you're a fan of Benefit, then you will be impressed with these cheaper options.
Benefit Dandelion Blush vs. NYX PROFESSIONAL MAKEUP High Definition Blush, Hamptons vs. e.l.f. Blush, Twinkle Pink
5 Nars Blush Dupes
https://beautyreviews.ca/wp-content/uploads/2018/08/NARS-BLUSH-DUPES-FOR-LESS.jpg
As found on Beauty Reviews Canada
This blush review focuses on 5 Nars powder blush shades and finds high street alternatives at a fraction of the price. If you're a fan of Nars, then I recommend at least trying out a couple of the high street options because you never know, you might be pleasantly surprised. This is our favorite from the list:
Nars Blush – Orgasm vs. Milani Baked Blush – Luminoso
Bronze –
Too Faced Chocolate Soleil Dupe
As found on All In The Blush
Katy has found three cheaper alternatives to 'Too Faced Chocolate Soleil' bronzer, which comes with a pricier tag. Katy offers us two options, one for $10 and under and one which is approximately $17 but let's take a look at our favorite dupe from her list:
Too Faced Chocolate Soleil Bronzer vs. Sephora 4 Fiji Bronzer Powder
Here is a dupe for the popular Benefit Hoola bronzer:
Benefit Hoola Bronzing Powder vs. NYC. New York Color Smooth Skin Bronzer, Sunny
Highlight –
10 Highlighter Dupes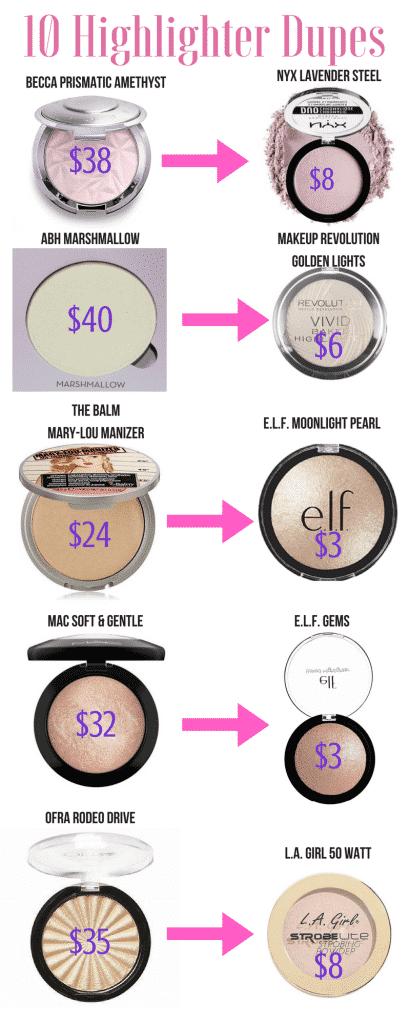 As found on Magnolia Monday
Magnolia Monday has given us ten great highlighter dupes comparing high-end brands with high street brands. There is no breakdown on this post, but you can see at a glance from the image what the dupes are. These are some of our favorites from the image:
MAC Mineralize Skinfinish Powder Soft and Gentle vs. e.l.f. Baked Highlighter Gems
Fenty Killawatt Freestyle Highlighter – Trophy Wife vs. LA Girl Strobing Powder – 60 Watt
EYESHADOW DUPES
Urban Decay Naked Heat Palette Dupes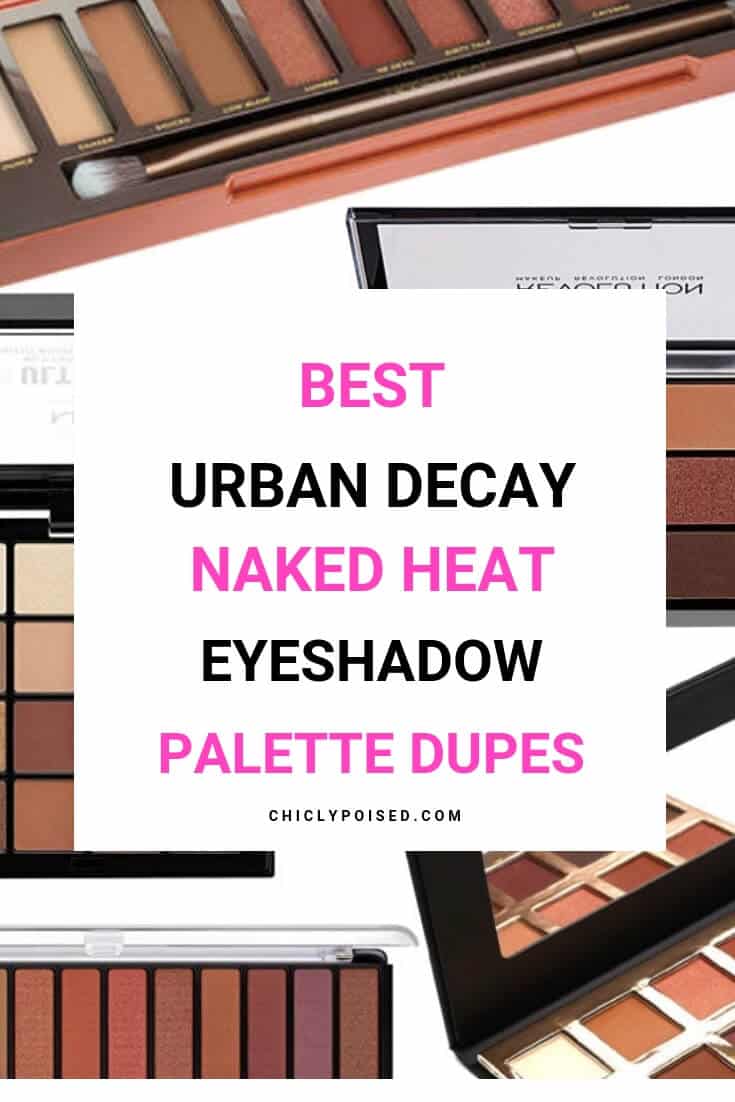 As found on Chicly Poised
This is an exciting one for those of you who love Urban Decay palettes (but not the price). This article covers the Urban Decay Naked Heat palette and mentions how you can buy the original palette cheaper than usual and some super cheap dupes to save serious dollars.
Urban Decay Naked Heat Eyeshadow Palette vs. NYX Ultimate Shadow Palette, Warm Neutrals vs. e.l.f. Rose Gold Eyeshadow Palette – Sunset
Chicly Poised also have a brilliant dupe comparison on the Urban Decay Naked Cherry Eye Palette and these are some of my favs from her list:
Urban Decay Naked Cherry Eye Palette vs. Colourpop – Give It To Me Straight vs. Makeup Revolution Re-Loaded Palette Newtrals 2
MASCARA DUPES
Too Faced Better Than Sex Mascara Review + Dupe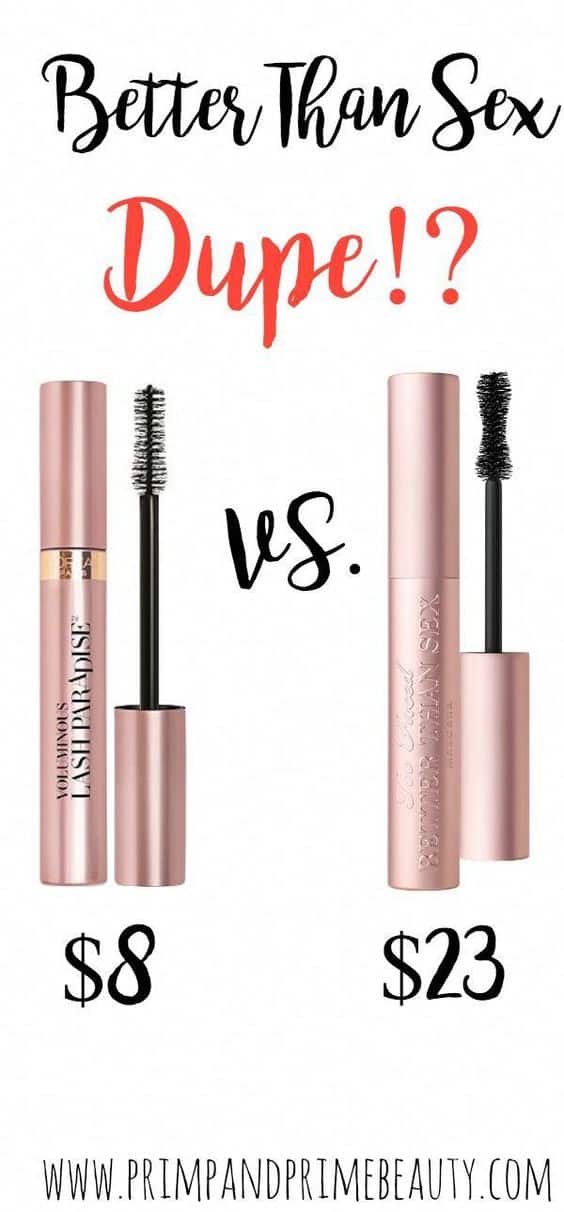 As found on Primp And Prime Beauty
Melissa gives us a full overview of both of the mascaras she is comparing, along with a full review, comparison in facts, and her overall verdict. In this review, she compares one of the most popular and best-selling mascaras against a high street mascara, and you might be surprised to know that the cheaper dupe is actually better!
If you're a fan of the Better Than Sex mascara, then why not give the dupe a try and let us know your thoughts!
Too Faced Better Than Sex Mascara vs. L'Oreal Voluminous Lash Paradise Mascara
Here are a few other mascara dupes we have discovered:
Benefit BADgal BANG Volumizing Mascara vs. essence Lash Princess False Lash Effect Mascara
Lancome Monsieur Big Volume Mascara vs. essence Get BIG! Lashes 3 Triple Black Mascara
BROW DUPES
Anastasia Beverly Hills Brow Dupes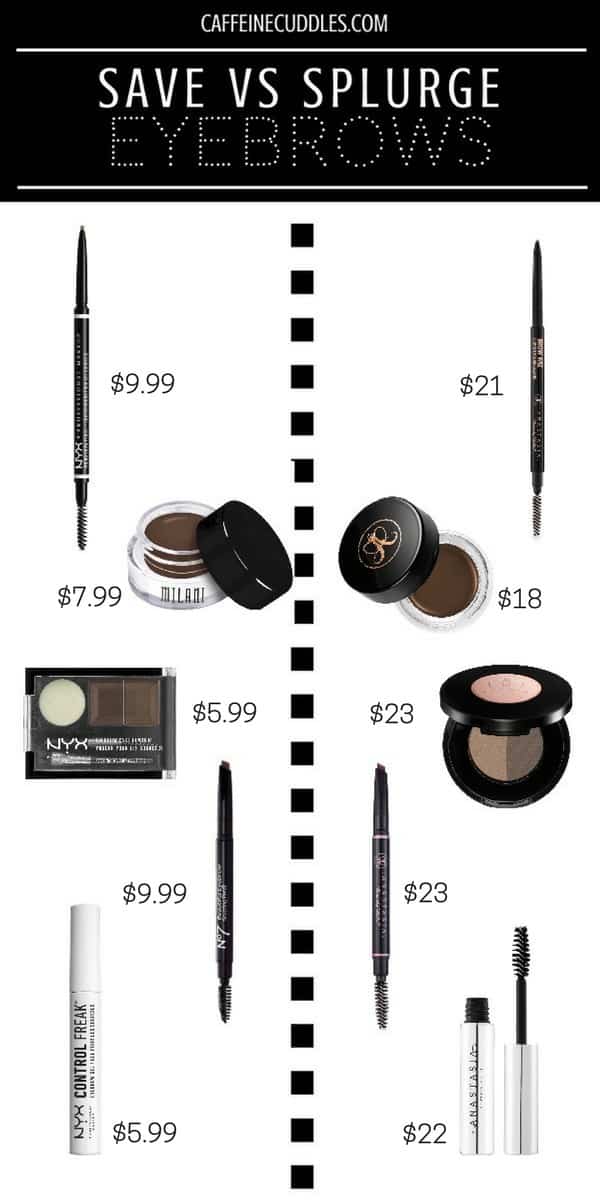 As found on Caffeine & Cuddles
In this article, Erin covers one of her favorite brands for brow perfection and shares with us some of the dupes she uses for everyday wear. Although Erin swears by ABH products, she suggests saving them for special occasions, which we agree with so we don't splash out too much too often. Here are a few of our favs from the post:
Anastasia Beverly Hills Brow Wiz vs. NYX Micro Brow Pencil
Anastasia Beverly Hills DIPBROW Pomade vs. Milani Stay Put Brow Color
Anastasia Beverly Hills Brow Powder Duo vs. NYX Eyebrow Cake Powder
Anastasia Beverly Hills Brow Gel vs. NYX Control Freak Eyebrow Gel
Here is another brow dupe we've found for the popular Benefit Gimme Brow:
Benefit Gimme Brow + Volumizing Fiber Gel vs. NYX Tinted Brow Mascara
vs. essence make me brow vs. Maybelline Brow Drama Sculpting Eyebrow Mascara
LIP LINER + LIPSTICK DUPES
Lip Liner –
MAC Whirl Lip Liner Dupes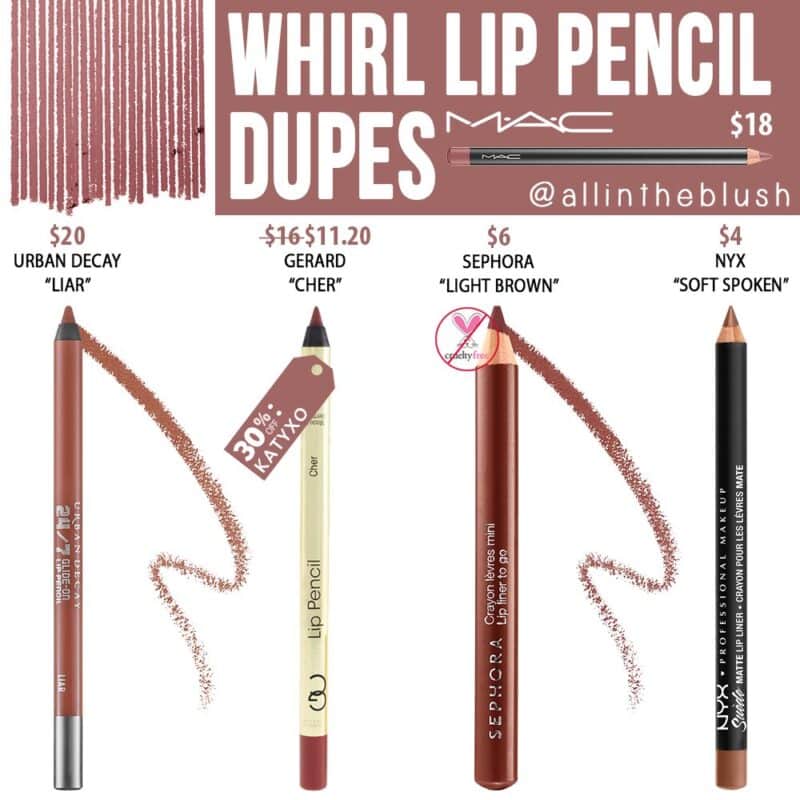 As found on All In The Blush
It seems that Katy is becoming my go-to gal for makeup dupes, and in this post, she gives us 4 alternatives to the popular MAC lip liner 'Whirl'. I love this lip liner in combo with MAC Cremesheen Modesty, so I'll be looking out for a Modesty dupe too! This is my favorite liner dupe from the list:
MAC Lip Pencil – Whirl vs. NYX Suede Matte Lip Liner – Soft Spoken
Another lip liner dupe from All In The Blush is the MAC Spice Lip Liner Dupe:
MAC Spice Lip Liner vs. Milani Color Statement Lipliner – Spice vs. Maybelline ColorSensational Lip Liner, Nude
Lipstick –
MAC Modesty Lipstick Dupes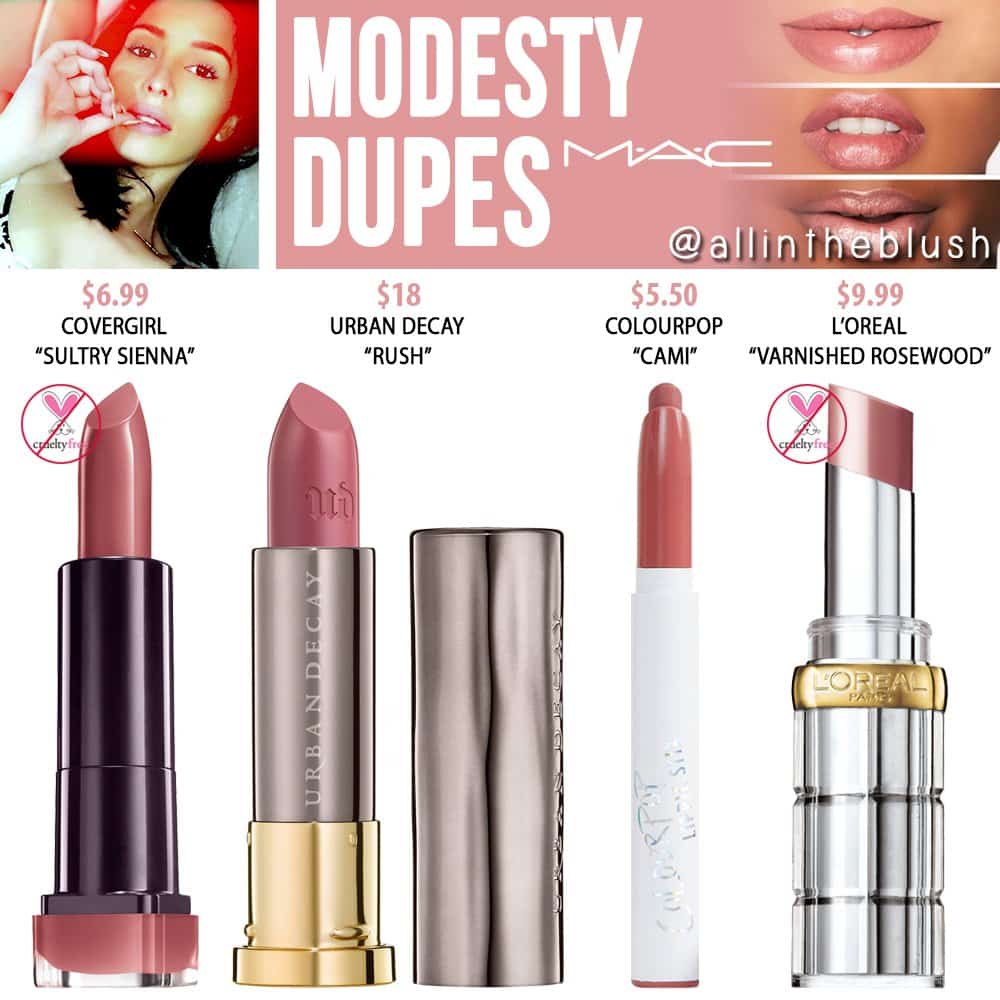 As found on All In The Blush
Ok, so I said I would source a Modesty dupe, and I did, thanks Katy! For those of you who aren't aware, Modesty is essentially the cremesheen version of the matte Mac 'Teddy' lipstick, and it truly is stunning. One thing I have noticed is online, the images look fairly pink, but I have to say that when wearing it, it's more of a beige with subtle pink hues.
Anyway, I always get compliments on this lipstick, and I wear it every day terrified of the day when it will run out, but when it does, I'm trying a dupe instead!
MAC Cremesheen Modesty vs. COVERGIRL Exhibitionist Lipstick Cream, Sultry Sienna
vs. L'Oréal Colour Riche Shine Lipstick, Varnished Rosewood
MAC Velvet Teddy Lipstick Dupes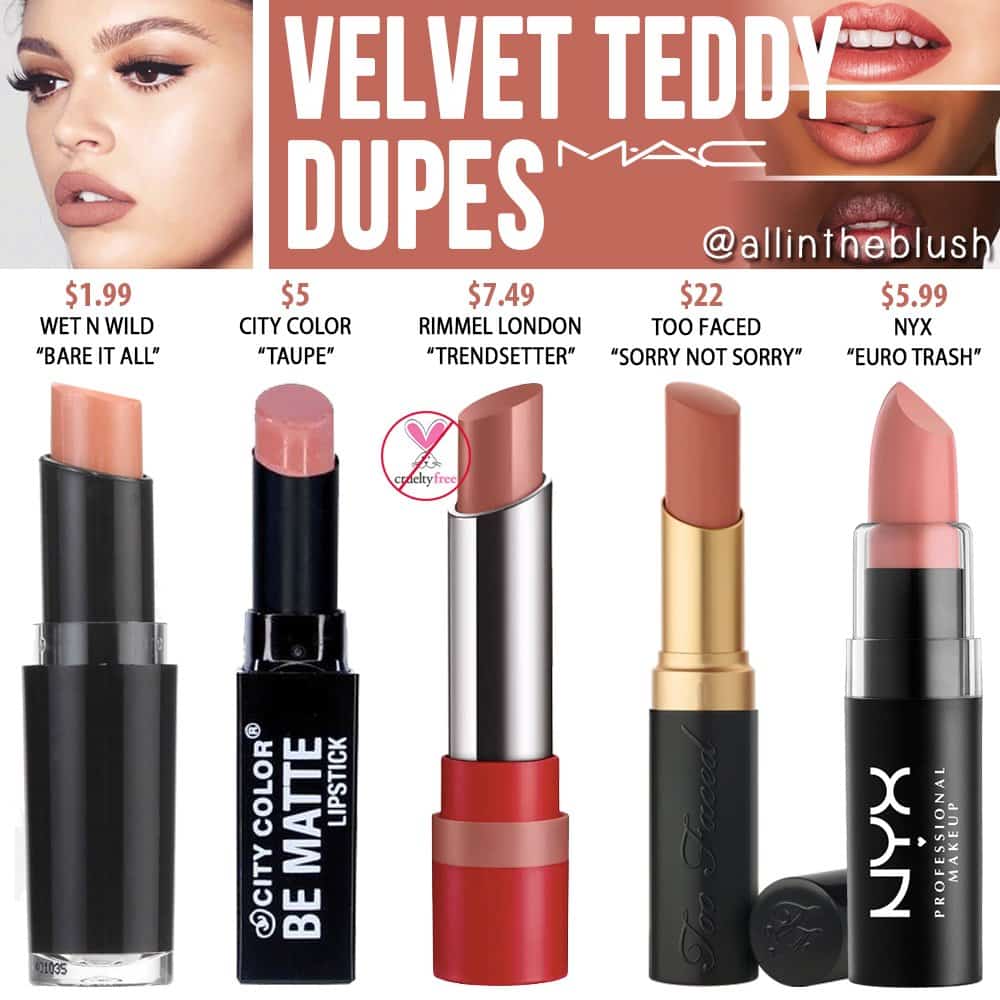 As found on All In The Blush
Seeing as we just aced the MAC Modesty lipstick, let's stick to the vibe and take a look at the MAC Velvet Teddy lipstick dupes as found by Katy. You can see by now how much I have referred to the expertise of Katy and her blog, and I really do recommend keeping an eye on it for updated dupes. Now, back to the teddy!
MAC Velvet Teddy Matte Lipstick vs. wet n wild MegaLast Lip Color, Bare It All vs. NYX Matte Lipstick, Euro Trash
SETTING POWDER + SPRAY DUPES
MAKE UP FOR EVER HD Powder Dupe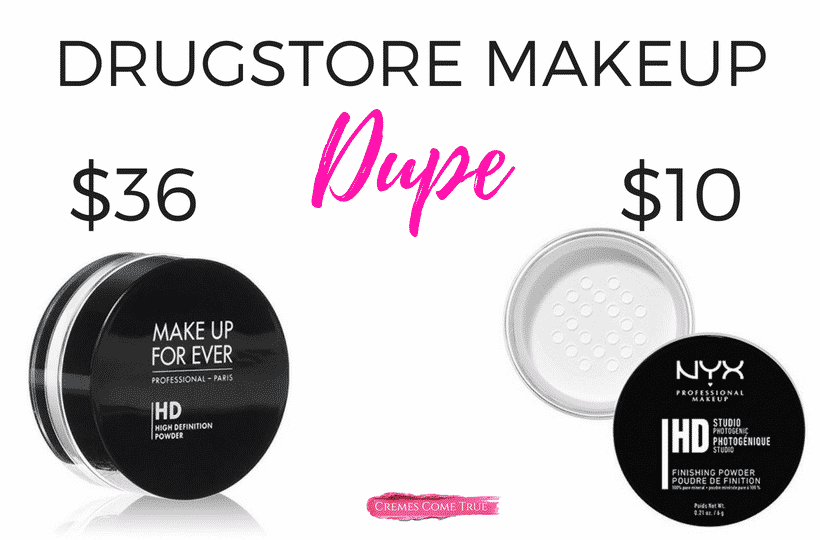 As found on Cremes Come True
Audrey brings you a great post on help for those with bigger pores. She covers the MAKE UP FOR EVER HD powder, its relevant dupe, and how she applies finishing powders for the best coverage for her.
MAKE UP FOR EVER HD Microfinish Powder vs. NYX Professional Makeup Studio Finishing Powder
MAC Fix+ Setting Spray Dupe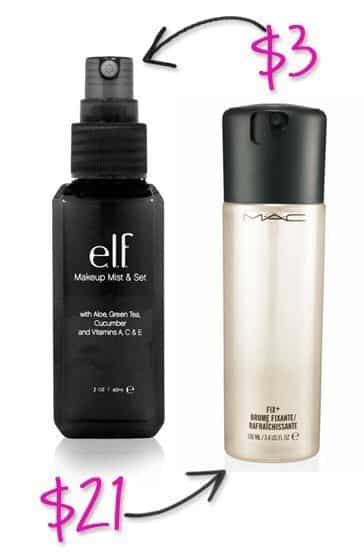 As found on Musely
This page shows numerous different dupes, but we are focusing on the MAC Fix+ setting spray dupe.
MAC Prep + Prime Fix+ vs e.l.f. Mist & Set Setting Spray
Now let's take a look at some more amazing dupes for other high-end brands!
Urban Decay All Nighter Makeup Setting Spray vs. Milani Make It Last 3-in-1 Setting Spray
Too Faced Dew You Setting Spray vs. e.l.f Dewy Setting Mist
Conclusion
That brings us to the end of our epic makeup dupe list! Hopefully, you've found something useful here, I am personally excited to try out a few of the MAC dupes, especially seeing as I've found a few of my favs. Please let us know if you try any of the dupes and how you got on with them!
If you want to save all of these amazing dupes for later, then remember to pin this pin and share it with a friend!