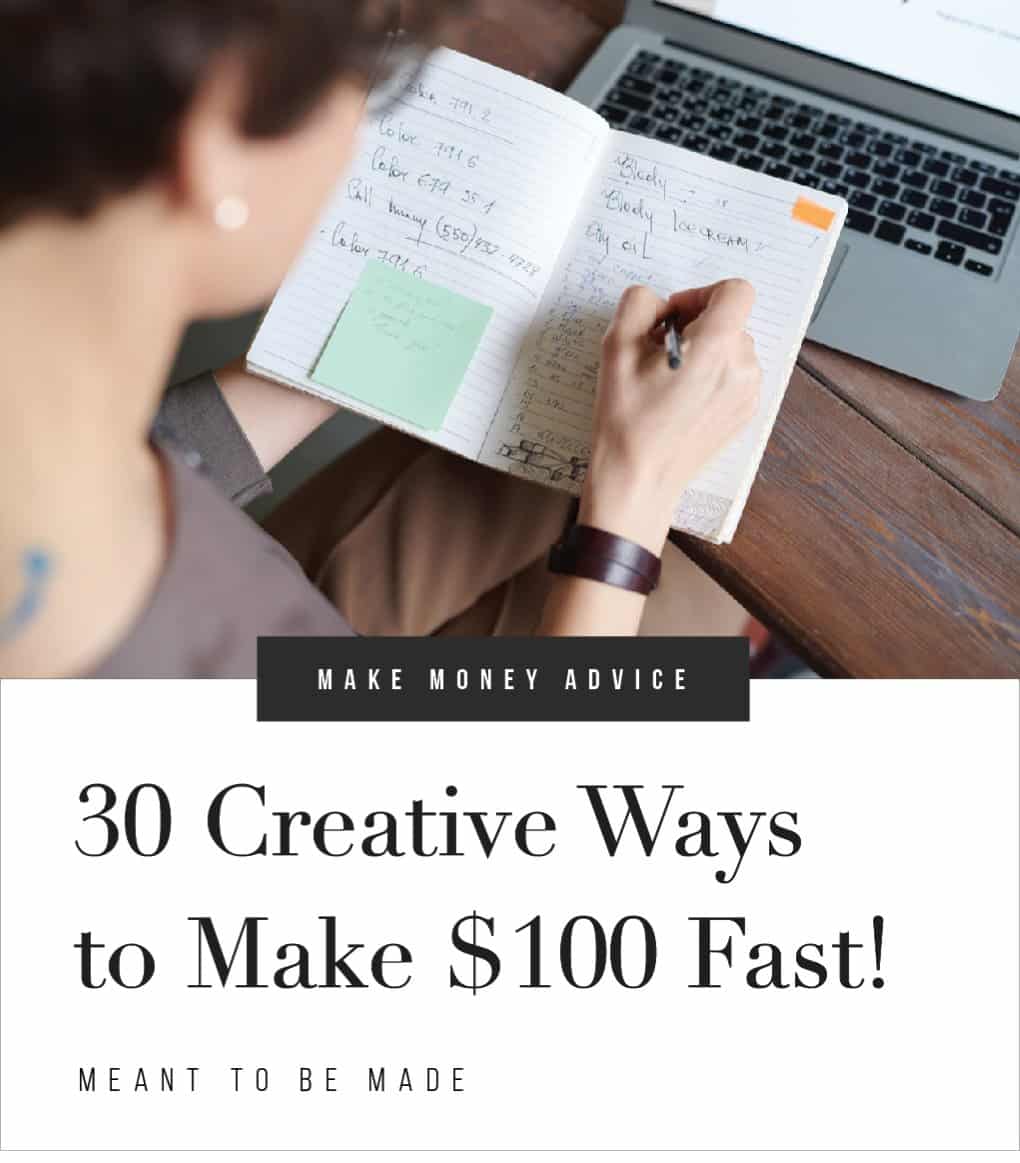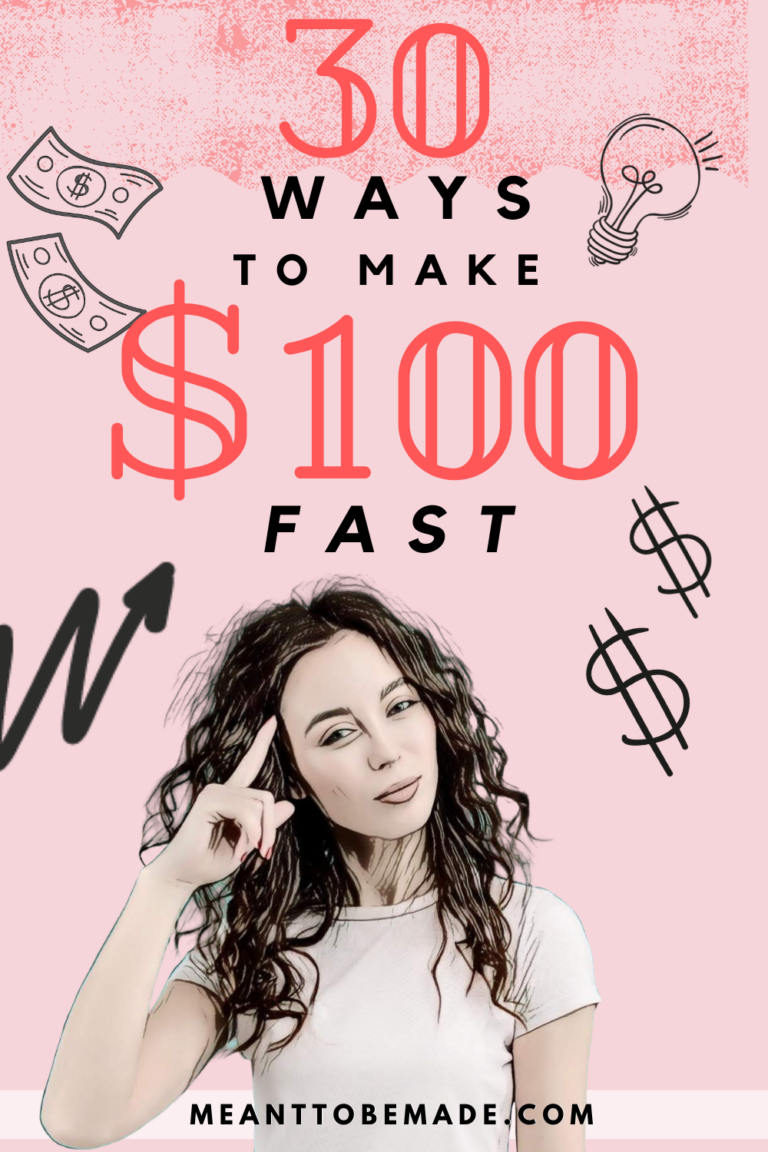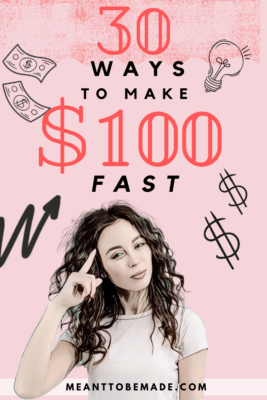 So you want to make $100 fast?
The best way to do this is to sell, sell, sell or work, work, work. Here we will cover quick ways to make a hundred bucks, and we offer so many creative ideas you've probably never even considered some of them.
A quick $100 in your pocket can get you out of a tricky situation or help towards an unexpected cost, so let's see what we can do to earn that cash.
Our top 30 ways to earn up to $100 fast
Surveys: Some surveys can be a bit hit and miss, but if you use one of the most popular companies such as Swagbucks and Survey Junkie, then you can easily earn up to $100 from answering surveys.


Direct selling: Direct selling with companies such as Avon are also a great way of making money and in your own time. You are paid on a commission basis meaning the more products you sell, the more you get paid. It's all in your hands, so work work work to earn earn earn!


Walk it out: There is an app out there that pays you to walk. Sweatcoin is a number one app that converts your steps into a digital currency. You can use your earnings on a wide variety of brands and products from Skullcandy to Apple.


Sell books: Selling your old books can quickly bring in some money. Consider selling your textbooks as soon as you're finished with them so other students can purchase them. If you do this before they lose their value, you'll get a good price for them. Also, consider using a website such as Amazon or the Bookcounter app.


Fiverr: Fiverr is an excellent way of making money, especially if you have a skill or service that people need. For example, if you're great at writing, you could offer your writing skills, or if you're good at drawing, you could create custom portraits.

With Fiverr, you can offer any of your skills to anyone, providing it is a service that you can provide via the internet.


TaskRabbit: TaskRabbit is a platform that allows you to offer your time and effort to helping others in your community and the local area.

With TaskRabbit, you can be partnered up with individuals who are looking for help with chores, moving home, gardening, and other manual labor jobs.


Dog walking: If you have free time in the mornings, lunchtimes and evenings, then dog walking could be a perfect way to make some money. Depending on your location and experience, you can expect to get paid between $15 – $30 per 30-minute walk! That adds up if you are walking multiple dogs multiple times a day!


Inbox Dollars: Inbox Dollars allows you to make money from taking surveys, reading emails, watching TV, and playing games. It's a simple way to earn some money, and you even receive a $5 bonus when you sign up.


Become a taxi: Sign up for services such as Uber and Lyft to become a driver. Doing this can earn some serious money, but remember you have to pay for your gas and use your vehicle.

Alternatively, you can make a post on social media offering to do lifts for friends, family, and neighbors in the local area for a small fee. Make them aware it will be cheaper than a taxi but remember to make sure it covers your petrol and makes a profit.


Sell your clothes: Selling your old clothes is another excellent way to make $100 pretty quickly. You could sell them on Etsy (if they're unique) or use sites and apps like Poshmark, thredUP, Kidizen (perfect for kids clothes and hand me downs), and Tradesy.


Rent out your car: Did you know you can rent out your car for a specific amount of time? This is great for if you're not using it, such as when you're on vacation. Getaround.com allows you to rent your car out by the hour, day, or longer and covers you for liability insurance too!


Rent out your parking space: If you live in an area that is within walking distance to the city center or business district, then renting your parking space is an excellent way of making some extra money.

If you have a drive or parking space that you don't use, then rent it out on CurbFlip or Pavemint. Some busy professionals would rather drive to work but avoid extortionate parking fees. Help them out and earn money from it!


Work additional hours: It might sound more straightforward than it is, but depending on your contract and options, you could always put in a few extra hours of work to earn any additional money. Doing this might be easier for you than trying to start something on the side.


Babysitting: Babysitting can be a nice little earner and can easily make you up to $100. You can babysit neighbors, friends, family, or even offer your services on a website or through an ad.


Deliver food: You can deliver food for your local takeaway or for the popular food franchises. The bigger fast-food chains may require a more rigid contract from you whereas local takeaways might offer flexible hours.


Hand out flyers: Handing out flyers can easily earn you some quick bucks. You can hand out leaflets for local businesses or clubs and sports teams and earn between $100 – $300 per month.


Take part in a craft market: If you are a dab hand at creating lovely crafted items, then consider selling at a craft market.

Everybody loves unique, handmade items, and you can sell them at a premium because they have been 'handcrafted and made with love.'

You will probably have to pay a fee for being involved in the market, but you could easily cover this and have a higher profit with the sales you generate.


Hold a yard sale: If you've got a ton of unwanted items, then you could always hold a yard sale. Your second-hand items will be priced low, but if you sell enough things, you could easily make up to $100 or more.


Test Websites: UserTesting is a site that pays you to review the different aspects of websites, and you can earn $10 per test. Just make sure you are comfortable creating a video review to send back to the researchers.


Sell edibles: If you like to bake or make delicious food, then you could always sell at a local food market or street food stalls.


Do chores for others: Doing chores for those around you doesn't only help others but can also put some cash in your pocket. These chores can be anything from cleaning homes, doing shopping, running errands, garden work, or anything! You can print flyers and post them around or offer your services online.


Advertise on your car: To earn some money, you can always become a driving advertisement. Many businesses are looking for creative ways to advertise, and car wraps are one of them. You might be offered more money if your car is in operation as a delivery vehicle or taxi as it will have a more significant audience reach.


Sell unwanted gift cards: You could easily make up to $100 selling your unused and unwanted gift cards. The catch with this is to make sure you have enough to sell quickly to reach your $100 target.

Remember, you will most likely be selling your gift cards at a slightly lower price than their worth, and they must still have a long time before they expire. Take a look at cardpool.com for more information.


Farm work: Putting in a few shifts on a farm is another great way to make up to $100 as long as you don't mind the hard work.


Wash Cars: Washing cars is a great way to earn some extra money.
You can get hours at an established carwash or offer your own services.


Mow lawns: Mowing lawns is a throwback to the good old days but still a relevant way of making money. Many people simply don't have the time to mow their lawn, or the conditions aren't right for them. This is where you can step in and offer your services with a friendly smile. Who knows, you might become a regular go-to and friend.


Become a fixer-upper: Another way to make some money is to help others out with any DIY or labor-intensive chores. Many people can't do simple tasks like putting up shelves or fixing cupboard doors, so step in and help out.


Sell your hair: This is an interesting one and great for those of you who have luscious locks. Companies specializing in hair extensions are always on the lookout for human hair for their products. There are restrictions when selling your hair (such as dyed hair), but these will vary depending on the company.


Use Izea: If you have a superb social media or blog following, you can always advertise with Izea.

Izea is an influencer marketplace that pays you to create custom content for high-value brands like Fender and Burt's Bees.


Use Swagbucks: Swagbucks is an online platform that rewards you for completing simple tasks with them. These can be anything from searching online using their search tool, answering surveys, and watching videos.

You get paid in Swagbucks currency, which can get converted into gift cards with top brands. Doing this won't give you cash, but it can save you money when it comes to buying gift cards.

Alternatively, you can try your hand at Swagbucks Live, where you play trivia against other players to earn cash and gift cards.
Are you ready to get creative and earn some side money?
There we have it, 30 creative and different ways to earn some extra money fast. Some of them you may have tried before, some you might not have even considered! If you have any more creative ways to earn $100 fast, then let us know!
Need to make $100 fast? Save this post for whenever you need it! Pin or Share!
Some of our favorite ways of making up to $10,000 per month!
We have shared with you 30 creative ways to make $100, but now we want to share with you our favorite ways of making money that can earn you a life-changing sum of money. Seriously, with hard work, you can earn up to $10,000 per month and then some.
Remember to save this post, work through some of our money-making ways, and read through our resources to earn a great side income.