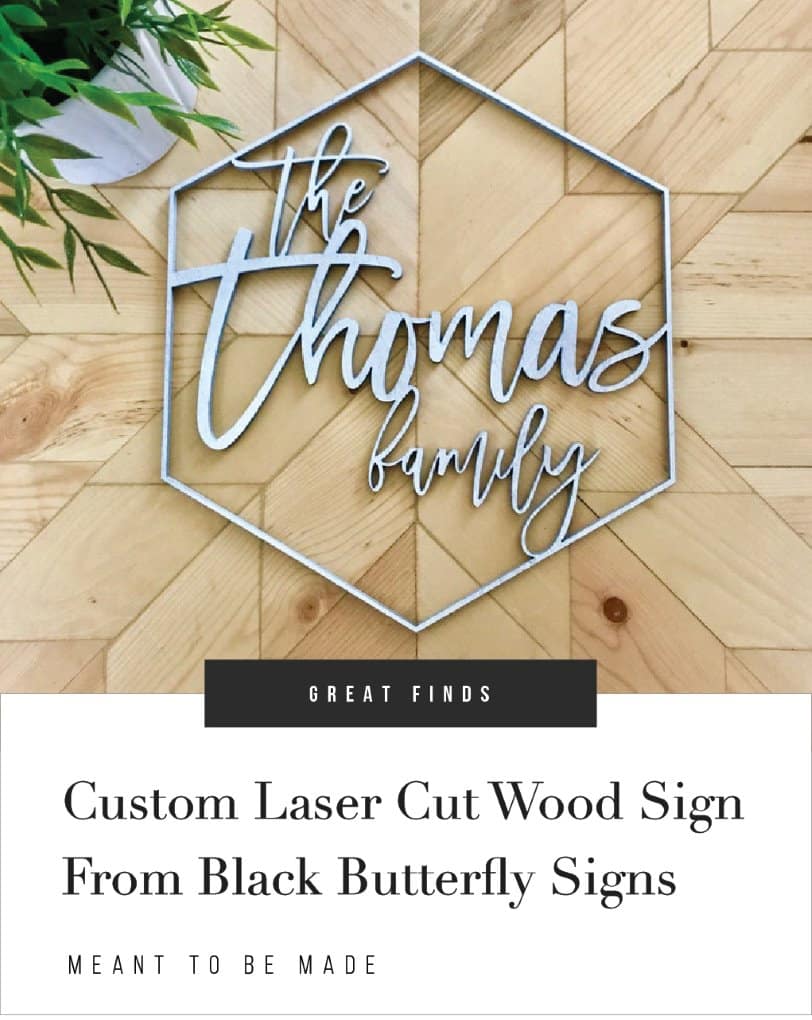 Beautiful home decor perfect for any style
Welcome to our latest product feature, which are our regular posts on Meant to be Made!
Here, we feature really cool finds that are made by really cool makers and can even inspire those of you who want to make and sell your own crafts and products.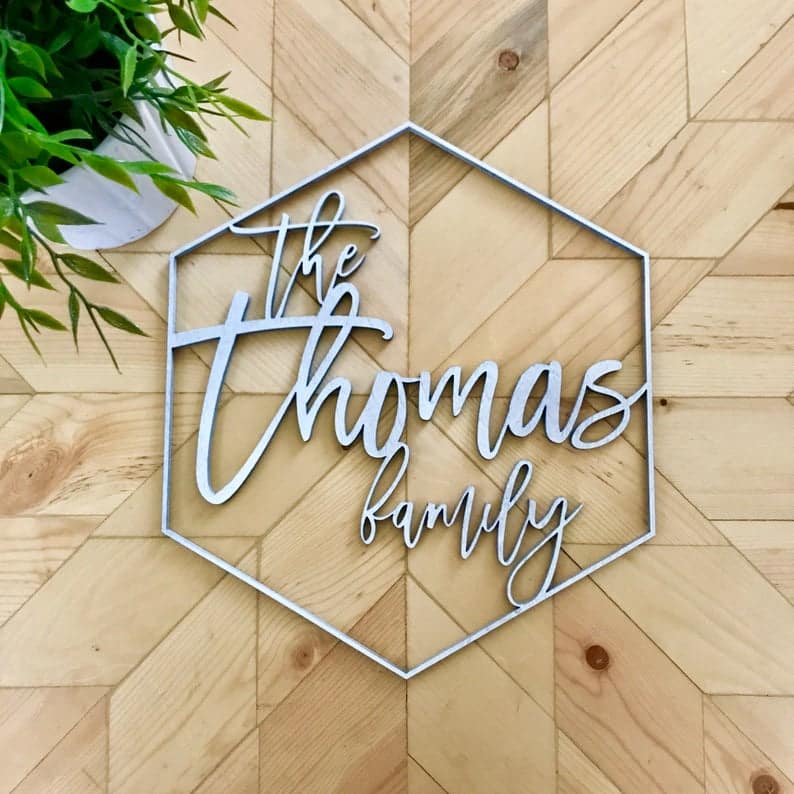 Today's featured product is this wonderfully stylish personalized laser cut wood sign from Black Butterfly Signs, and it looks amazing hanging on the front door (try it with a seasonal wreath).
Custom Laser Cut Wood Sign
This chic laser cut wood sign is simple, stunning, and makes a perfect addition to any home decor. It looks perfect hanging on the front door and is a lovely way to welcome people to your home.
What we love about this product is how modern and chic it looks. You really can't go wrong with such a stunning item and it looks more expensive than it is.
This sign comes in either white, black, or unpainted, so you can make it work to your preferred style. If you choose an unpainted version, you might even be able to paint it a custom color when you receive it.
What They're Used For
This beautiful sign is the perfect way of showcasing your family name with a modern and clean approach. Perfect for the home, this product can be an addition to your own decor or given as a gift to someone who has recently moved, married, or would just really like it!
The sign is durable, high quality and beautiful. It can be used day after day, year after year, and it will never go out of style. It works perfectly with any home style, whether that's modern, chic, or even farmhouse vibes, and we guarantee you will receive plenty of compliments on it.
Let's take a look at some of the key features of this item:
Key Features
Handmade
Available in 3 color options (including unpainted) + 3 sizes
Personalized
Shipping is fast and affordable
From $22.50
Interested to know more about who makes these amazing signs? Read on!
Black Butterfly Signs
Based in Denver, Colorado, Black Butterfly Signs is a small business operated by Judi Thomas, her husband Mark, and their nephew, Christian.
Judi loves to focus on the designs of her products and enjoys getting her hands dirty with reclaimed wood and paint. In contrast, Mark operates the laser cutter and ensures everybody works in a safe but fun environment.
In his free time from college, Christian helps to finish the product and professionally pack and ship them to their new homes.
Black Butterfly Signs has an unusual, touching story behind the name and really does send a message to everyone. It can show you that when things seem hard, you can always pull through and find inspiration and hope around the corner.
Read Judi and Mark's story here.
The Black Butterfly Signs Making Process
Let's take a look at how Judi, Mark, and Christian make this beautiful laser cut sign.
This sign is custom made with your surname and is available in three different sizes – 10", 15" or 20". It is made with 1⁄4" MDF, so it is thin and delicate but still sturdy enough to hold its own. The lightweight nature of this product makes it affordable to ship, so you don't need to worry about high shipping costs – yay!
Because this is a custom product, you can expect to wait 1-2 weeks for production, but it is so worth it. I'm in love.
Collective Customer Thoughts
With over 2,400+ Etsy reviews with an average 5-star rating and 15,500+ Etsy sales, Black Butterfly Signs is a go-to company for beautiful home decor, but what are the thoughts on this particular product?
In a nutshell, let's see what verified buyers have to say:
Great quality
I will definitely be ordering again
Absolutely love it!
More than I had hoped for
Arrived so quickly
Wonderful craftsmanship
Black Butterfly Signs has impressed buyers with their brilliant craftsmanship and stunning products. We reckon they will be one to keep your eye on going forward.
To buy these and other great items from this maker, visit Black Butterfly Signs store on Etsy.