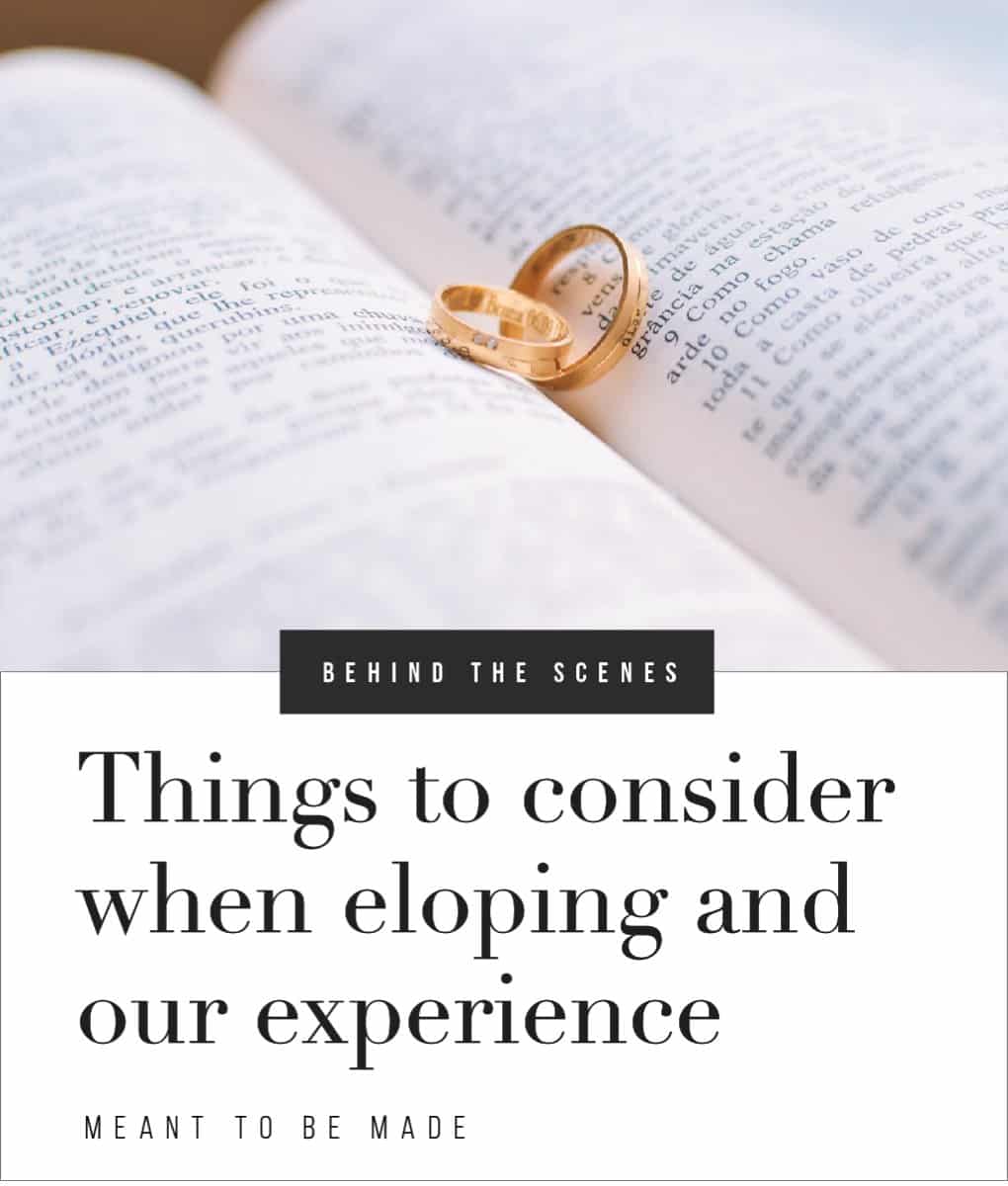 How to prepare for a wedding for two in only a month!
Don and I are a pretty spontaneous couple. For a few years, we had bounced through multiple wedding ideas, viewing two venues locally, enquiring about a few venues abroad before finally saying, "let's just get married next month."
We decided to marry in Gretna Green with just the two of us, which allowed us to cut major costs, marry quickly, and experience something different.
There's a lot of things to consider when eloping quickly (and on a budget) from paperwork, packages, and family to attire and money. Let me run you through our experience, showing you intimate details into our choices, and hopefully, we can aid and advise you if you are considering eloping like us.
The Stages of Eloping
The reality
Eloping is short and sweet. Your ceremony will last about 20 – 30 minutes, and then you will spend about 20 minutes with your photographer.
After that, you are on your own, so you can go ahead and do anything you want. We decided to go to the shop (in our wedding gear), get some wine for the hotel room and then go to dinner. We were in bed for half nine!
Family
I'll admit that family played a huge part in our decision to elope, but it was also a nerve-wracking experience having to tell them we were getting married, but we were inviting nobody.
Before we decided to elope, we had planned to get married in Santorini, Greece, with only our immediate family as our guests. However, it seemed that whenever we mentioned our wedding to our family, the guest list seemed to want to creep ever so higher.
Aunts were to be invited, uncles, cousins ("they can make their own way there and pay for their own accommodation"), but that wasn't what we wanted, and it began to feel like our plans were getting made for us.
The benefit of an elopement is just that. It's an elopement of two people and no more. However, the hard part now was telling our family that we were getting married alone, and that was scary.
When telling family, I think the best thing to do is to make it absolutely clear that no other person will be attending and be honest with it, don't secretly invite your sister or best friend to be a witness.
We also suggested that in the future, we might have a renewal of our vows, which we would be inviting guests to.
Have your reasons
Have your reasons for why you are eloping and make them clear to your family.
Your reasons could be:
wanting to avoid family politics (this was one of ours)
doing it on a budget
you just don't want to wait
you want a very intimate affair
or on the other hand, maybe you do invite your parents alone as witnesses and call the line at that.
Whatever the reasons, whatever your choices, this is your marriage and your life, and your family should respect that.
Packages
We chose to look into a package wedding as everything is in one tidy bundle, and each package varies depending on your budget.
You can simply search online or take a look at sites like Groupon and Itison – they are always advertising wedding packages. Let me show you our package below:
Anvil Runaway Package at £650.00
Your intimate wedding ceremony at either the Gretna Green Famous Blacksmiths Shop Saddlery Room or Rennison Room, Gretna Hall Historic Marriage House, the Water Gardens at Greens, or the Old Toll Bar.
Upgrade to the Famous Blacksmiths Shop Original Marriage Room for £100.00 fee
Photography package consisting of 16 (8×6) photographs presented in an album selected for you (Delivered to you before leaving Gretna Green).
Two nights stay for the bridal couple in a Double Room in one of our three hotels: Smiths at Gretna Green, Gretna Hall or Greens at Gretna
(Upgrades to suites available at extra cost**). Although we were upgraded for free, it was amazing.
Full Scottish Breakfast
Ceremony cost
£650 sounds like a pretty good deal, right? Well, not included in this package is the 'ceremony' cost, which varies between which kind of ceremony you want.
This cost might also vary from venue to venue. The venue will then book your registrar or minister for you.
A civil ceremony
A Registrar will carry out this ceremony, and this is a non-religious ceremony. Fees – Monday-Friday £315.00, Saturday £422.00 (this was us – ouch) and Sunday and Bank Holidays £476.50.
Religious ceremony
A Minister will carry out this ceremony. Upon booking your venue, they may supply you with a list of ministers.
Fees
Minister guide price £170, Marriage Schedule fee £70.
Our package total is now £1072
Paperwork
As we decided to elope in Scotland, we both needed to complete an M10 form each. You have to submit these no sooner than 3 months before your chosen wedding date but no later than 29 days before.
Your chosen registry office or wedding venue, will provide you with all of the information you need, including these forms and where to send them to upon enquiring.
Wedding Attire
As we were having a very small two-person wedding, I wasn't sure whether to wear a full-on wedding dress or just a simple dress from a high street store.
I looked on every site going and ordered a couple of simple white dresses for under £80, but I wasn't happy with any of them, and I was starting to get a little deflated.
After talking with Don, we decided to go for it and buy a wedding dress, but we were adamant about doing it on a budget.
Luckily for us, there is a charity bridal shop locally, so we went in for a couple of hours, and I found the perfect dress.
The dress was brand new and cost £380, and I found some beautiful soft light grey heels from a high street store for about £30.
Consider shopping around for your dress, it's not about labels, and if it is, no one needs to know the details. Besides, a lot of second-hand dresses are designer but at a fraction of the price — total for the Mrs £410.
Don's attire
Don isn't into traditional Scottish wedding attire, so a kilt was out. We focused our attention on finding him a nice suit, but I swear I've never met a man so picky.
We spent a few days trying to find him a slim fit suit with skinny trousers but the right color, modern and stylish but not too young, and the list could seriously go on and on. It was hard work, and in the end, Don opted for smart but casual. Black skinny jeans, a gorgeous white shirt, and a couple of sexy suit jackets with tan boots.
It was budget-friendly, and you know, he looked gorgeous (you can probably tell I fancy my husband). Don's attire came up to about £260, and he bought clothes he could wear again and feel comfortable in. Total for Mr £260.
Wedding rings
Don was so desperate for me to find the perfect wedding ring to compliment my engagement ring, but we both agreed not to go crazy. Besides, the ring is just a token, being together and complete is what is important.
We chose a simple white gold band with small stones that fit beautifully. Don chose a matte band which wasn't too shiny and compliments his engagement ring (Don and I both wear engagement rings).
We had considered buying handmade rings off Etsy, but as we were pushed for time, we couldn't wait. Handmade rings add a personal touch and are lovely. Mila Kunis bought her wedding ring from Etsy for $90 – that's a budget. Ring total of £370.
Extras
This includes hair, makeup, and bouquet. I booked my hair and makeup with a salon situated in Gretna Green, and it was one of the salons recommended by our 'wedding planner' (aka package provider). I chose a natural look for our wedding, light makeup, and simple wavy hair with a cost of around £90.
For my bouquet, I initially wanted wildflowers or baby's breath. However, as I was rushed for time and money, I chose a simple white faux bouquet (which would last as I hoped to place it on my brother's grave), and this only cost about £3.75. Total approx £93.75.
Things to do
As it was just the two of us, we were pretty open with what we could do before and after we wed. The only thing we had to consider was an early drive home the next morning and then a flight to Nice straight after so we couldn't go too wild.
We booked dinner for after we wed, which was lovely. We ate in the restaurant where we were staying, and they provided us with a private(ish) space, with a free glass of champagne, a lovely dinner, and a traditional token (a five pence wedged into the champagne cork and bound by silver wire). It was all very nice and cost around £70.
After dinner, we went to our room, listened to music, had a drink, spoke to family, and took advantage of the massive bed we had. When I say I took advantage, I mean serious sleep, perks of being a parent — total approx £70.
Our total
In total, our elopement for two cost us £2,275.75.
I do consider this a budget wedding, and it was perfect for us. The average wedding cost in the UK is £30,355* and in the USA $35,329*
Conclusion
Our tiny wedding for two was a day to remember, I got married to my best friend and partner in crime on my 26th birthday and I love him more and more each day.
If you have eloped or are planning to elope, then let us know your experience in the comments below, and also, have any of you wedded in Gretna Green?
*UK (2018, Bridebook.co.uk's National Wedding Survey 2018) USA(2018, The Knot)