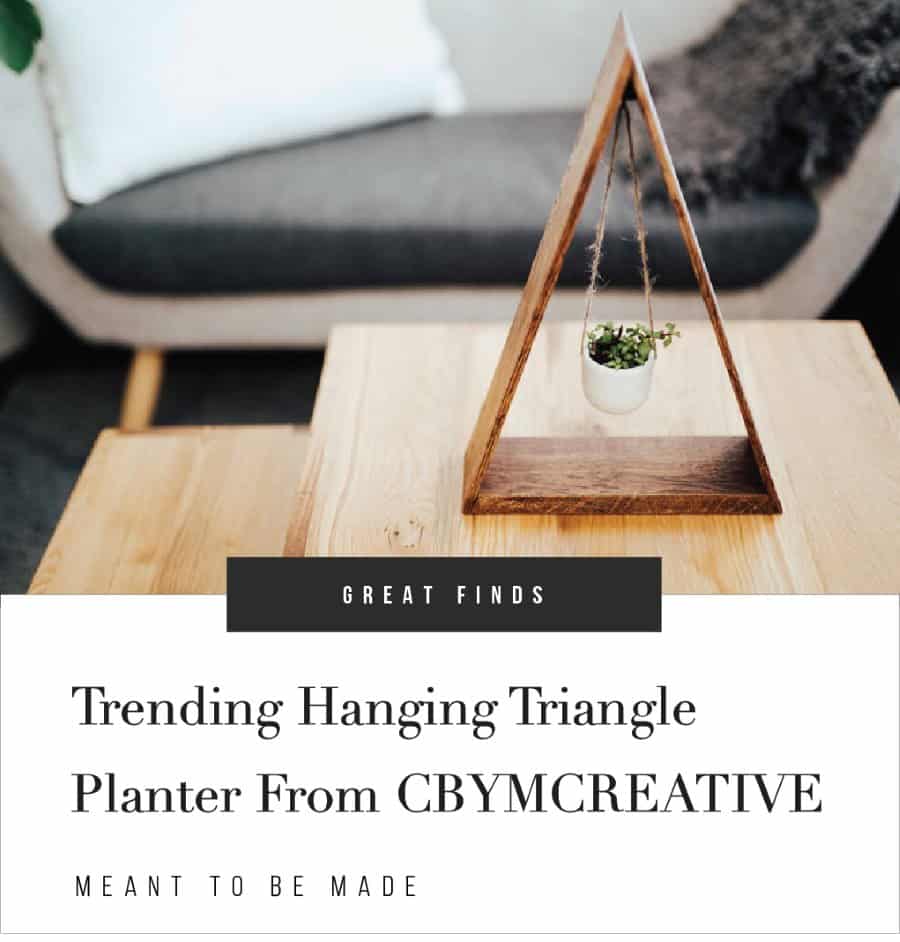 A product feature focusing on sustainability and clever design.
Welcome to our latest product feature, which are our regular posts on Meant to be Made!
Here, we feature really cool finds that are made by really cool makers and can even inspire those of you who want to make and sell your own crafts and products.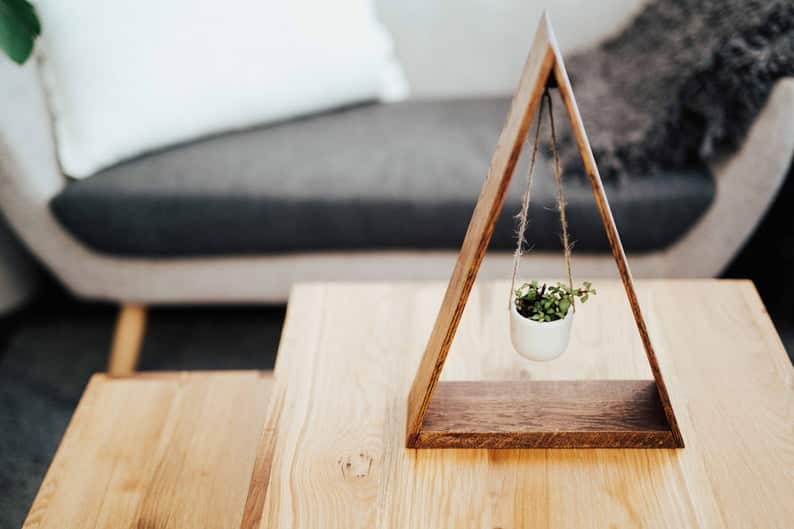 Today's featured product is this sustainably sourced modern hanging planter from CBYMCREATIVE. It is a gorgeous alternative for those of you who don't have shelves to store your plants and can be used as a stand-alone hanger on a table or desk. It can also be attached to the wall (with powerful glue) and act as a hanger and shelf combi.
Trending Hanging Triangle Planter
This beautiful, trending planter is simple and perfect for small plants such as succulents and is a unique way to display some greenery in your home or office.
This planter comes in 5 different types of wood, and there is also a dark stained oak option to choose from, with all of the wood sustainably sourced from their property. This beautiful handcrafted item also comes with a handmade ceramic planter, which is the perfect size for succulents and small plants.
One of the most appealing aspects of this product is how good it is for the environment. Sustainability is a key focus on the production process right from the start until the very end.
What They're Used For
This stunning hanging planter is the perfect piece of home decor if you prefer a modern and contemporary vibe. It is also the perfect gift for someone who has recently moved – just be sure it's their kind of thing first!
The planter is sturdy, well designed, and of incredibly high quality and is handcrafted from start to finish, ensuring a beautifully perfect product made with love and care.
Let's take a look at some of the key features of this item:
Key Features
Handmade
Locally harvested and sustainable
Multiple wood options
Shipping is fast and affordable
From $74.99
Interested to know more about who makes these incredible planters? Read on!
CBYMCREATIVE
Located in Siloam Springs, Arkansas, CBYMCREATIVE is a small business founded by businesswoman turned entrepreneur, Mary Kim.
Mary runs a small artisan woodworking boutique with her team. Ten miles away, she sources her wood and crafts her items at her family home. She keeps her business close to home with a carefully selected team of people who share the same love, passion, and care for natural and eco-friendly products as she does.
CBYMCREATIVE focuses on sustainability right from the start. They practice eco-friendly techniques throughout the making process, using solar-powered kilns and recycling any scrap wood.
Mary's business practices and care for the world we live in is such an inspiration to many and is an objective we hope many businesses will try to follow.
The CBYMCREATIVE Making Process
Let's take a look at how Mary makes her beautiful hanging planters.
The journey for this gorgeous planter starts on the family farm, where mary carefully selects the trees which she will use to create the item. Mary and her team make sure to only select fallen or mature trees to preserve the forest ecosystem. Because of this, sometimes certain woods may be temporarily unavailable.
After harvesting the trees, they mill, solar dry, and plane the wood on location. Then they beautifully handcraft them into the gorgeous products you see online.
The love and care put into every product make you feel proud to purchase from this company, and knowing that you are also showing your devotion to the environment makes a purchase so worthwhile.
Collective Customer Thoughts
CBYMCREATIVE may only have 26+ Etsy reviews with an average 5-star rating and 146+ Etsy sales, but this is a business that deserves your attention. Let's take a look at the thoughts on this particular product.
In a nutshell, let's see what verified buyers have to say:
An unusual piece, very unique
Beautiful workmanship
The shop owner was very communicative, kind and helpful
Beautiful piece!
I love the design!
CBYMCREATIVE have impressed their buyers with their unique, unusual, but beautiful work.
To buy these and other great items from this maker, visit the CBYMCREATIVE store on Etsy.