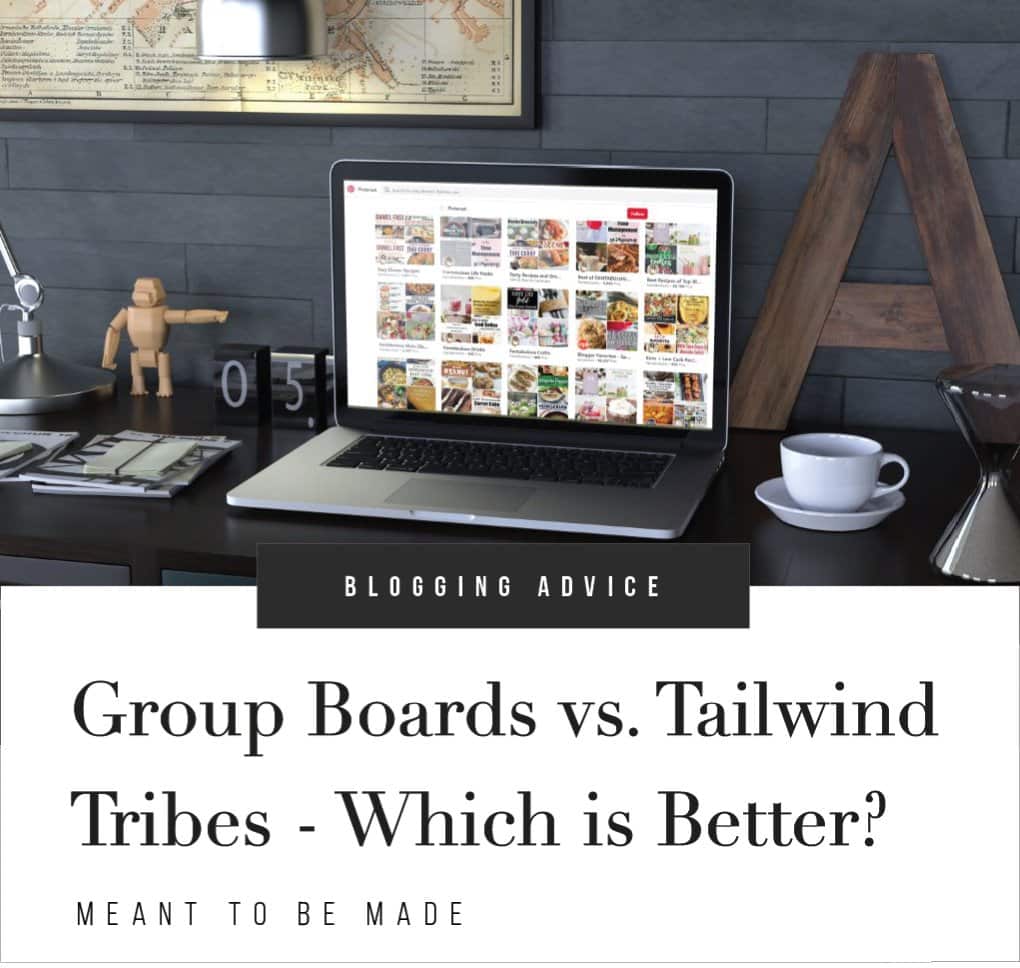 A quick look into Pinterest group boards and Tailwind Tribes
You've learned about Pinterest Group Boards and Tailwind Tribes, but which is better?
Is one better than the other? Are they good to use in combination? Let's give you an insight so that you can decide on what will work best for you.
We hear more and more from bloggers saying that Pinterest group boards are not as effective as they used to be. We often hear that leaving group boards has resulted in a significant boost in their Pinterest engagement.
Many bloggers are leaving the group boards that they are members of in favor of focusing on their own boards or tailwind tribes. However, there are also still many bloggers that also use them in tandem.
Pinterest Group Boards
We need to address several negatives to using Pinterest group boards.
Group boards can often be abused by group members and become filled with spam. Some group boards are even abandoned, especially once they become filled with spam.
The idea behind group boards is that all members share each other's pins. However, as there's no way to check if this is happening, then the boards tend to get filled with spam.
Pinterest group boards can be a very effective way of improving your Pinterest ranking and engagements. Still, they can also be very detrimental to your Pinterest marketing success, reducing your Pinterest rank.
If your reach drops, then so will the traffic you receive from Pinterest.
Basically, whatever short term benefits that you received from joining group boards will slowly start to diminish as nobody shares your pins.
When your ranking starts to drop, your pins will be shown to fewer people because nobody has been repinning them.
Tailwind Tribes
Tailwind Tribes is Tailwind's version of Pinterest group boards. Similar to group boards, tailwind tribe members share content to a large audience. As well as sharing your content, in return, you have to share other members' content too.
Tailwind tribes can give you some of the best exposure. The biggest Pinterest users are often tailwind users, so a repin from them can result in thousands of people looking at your content.
Tailwind tribemates are accountable for what they share, so they should only be sharing pins that relate and appeal to them. That applies to you too. So only share content that is safe, relevant, and would appeal to your followers.
If you have a tailwind account, you can get access to up to 5 tribes in your niche, so use it!
Just remember Tailwind doesn't replace using the actual Pinterest website or app. It is important to remain active directly on Pinterest for best results.
Pinterest group boards are only good if other members repin other members pins, whereas Tailwind makes this a requirement. Moderators help keep the tribes working well as they can easily see who isn't collaborating and can have them removed from the tribe.
Good Pinterest Group boards can be difficult to find and join. When you find a relevant one you need to email a board administrator (ideally outside of Pinterest to avoid suspension), with a request to join. Bear in mind that many don't reply, and the process can take some time.
Tailwind tribes are very easy to join, you request to join, and most give you access instantly.
With Tailwind tribes, other members will schedule your pins so that they will be posted on their boards. When you post to a large tribe, the other tribe members can schedule your pin to be posted to their feed resulting in a potentially massive amount of repins. This leads to a better ranking on Pinterest meaning more click-throughs and traffic to your website.
When you contribute to tailwind tribes, your pins can be seen by many tailwind users. If they choose to share your pin to their scheduler, it can mean thousands or tens of thousands of people seeing your content, especially if it is a big tailwind user who shares your content.
Make sure you follow the rules
Distribute your pins to as many relevant tribes as possible but remember you have to contribute to the sharing of other tribe members' content. Set aside time to do this as it forms part of your marketing.
Marketing other people's content will mean other people will market your content, so everybody wins with a little bit of effort.
Conclusion
Tailwind Tribes is definitely a tool that will significantly boost your blog traffic and boost your Pinterest account. Pinterest group boards are still a valid option, and definitely one to consider working with if you don't want to invest in Tailwind right now, but we genuinely believe that Tribes is the best way forward for maximum reach.