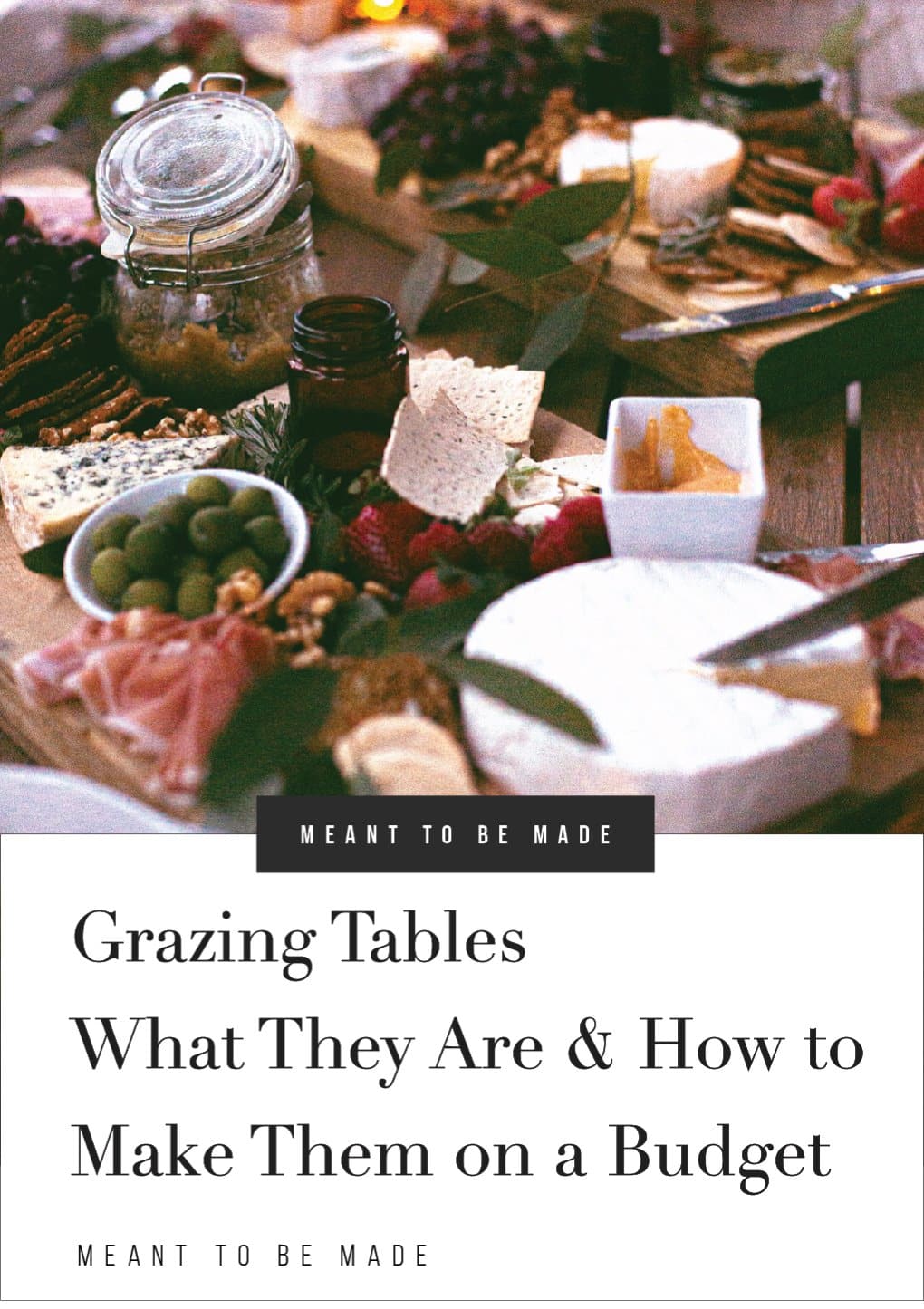 Hosting an event or a cozy get together? Read on!
The graze craze has taken over! From small(ish) tables at home to bridal showers and weddings, Grazing tables are the thing. Tables are filled to the brim with an array of foods to suit everyone from fresh fruit and vegetables to sushi, bread, desserts, and gorgeous cheeses and meats.
It's not 'go big or go home' with the grazing trend. In fact, if a grazing table is just a bit too much for your needs or budget, then consider a grazing platter.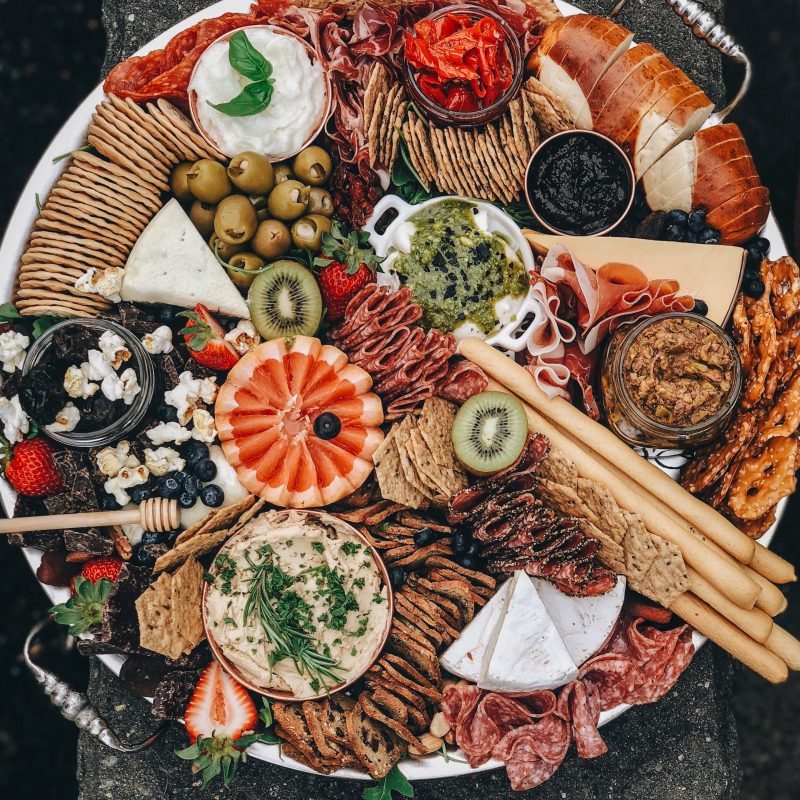 Where Can I Find a Grazing Table?
If you're hosting an event and looking for a grazing table or platter, then look no further. We have created a list of companies that cater to such needs in both the UK and the USA.
UK
Amazing Graze
Grape & Fig
Full of Zing
The Barn Bakery
Platter
USA
Savour & Graze
The Cheese & Cracker Co.
Sugar Mountain Catering
Brie & Banquet
REST OF THE WORLD
Lush Platters (SINGAPORE)
How to Make a Budget-Friendly Grazing Table or Platter
Grazing tables are a lovely idea. They look good, they taste good and they bring us together. The only thing that might not be good is the cost.
We've gathered some simple tips to hopefully help you put together a grazing table or platter on a budget.
Consider where you shop
Budget supermarkets such as Aldi and Lidl are becoming increasingly more popular amongst consumers as more great quality and luxurious items are added to the shelves. You can find a fine selection of fancy cheeses, lovely meats, nice bread and, when the special events are on, some nice Greek, French or Italian traditional bites.
A helping hand
You should never be embarrassed to ask for help and in this case, it would be a great idea to get your friends or family involved in the making of your grazing table. Delegating food groups to different people i.e. – cheeses for your parents, antipasti for your bestie, deli meats for your inlaws is a great way to get people involved.
Compromise
So if you don't want to fully DIY your grazing table, then consider compromising. A lot of companies are really willing to help cater to your budget and may offer you a cheaper option so you could always choose a smaller option from your supplier and then add your own elements in.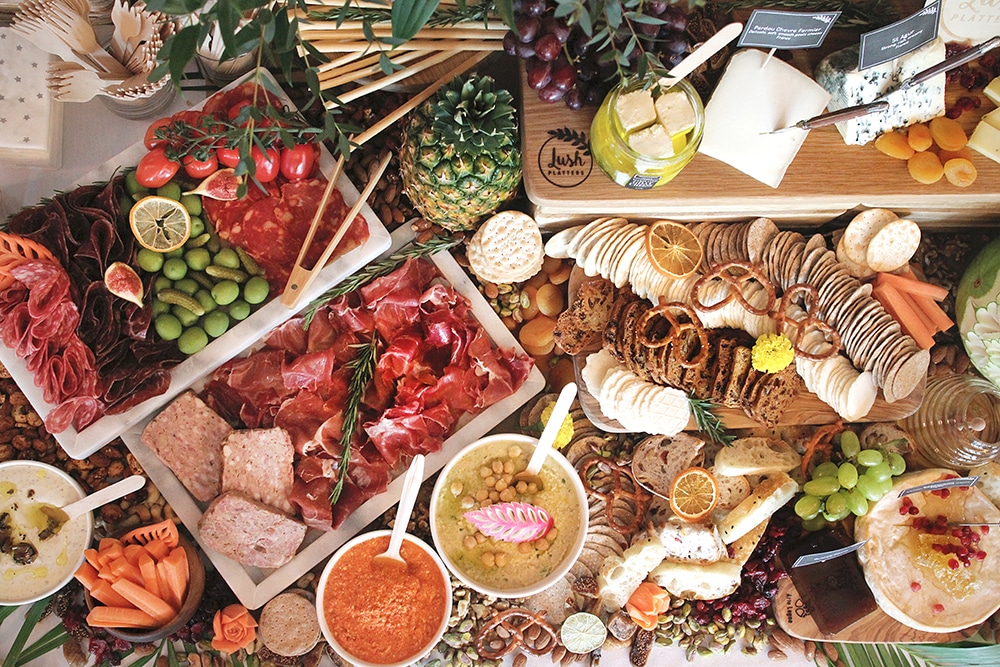 Grazing Table & Platter Ingredients
Olives, Herbs, Dried Fruits, Sundried Tomatoes, Vine Leaves, Artichoke, Pickles
Nuts, Bread Sticks, Crisp Bread, Artisan Bread, Pretzels, Oat Cakes, Crackers
Humus, Dips, Pate
Green Salad, Tomatoes, Avocado, Celery, Roasted Corn, Sweet Onions
Honey, Chutney, Jams, Quince Jelly
Cheese – Brie, Cheddar, Mozzarella, Stilton
Grapes, Strawberries, Figs, Kiwi, Blueberries, Pomegranate, Passion Fruit, Oranges, Coconuts, Raspberries, Cherries, Dates, Melon, Pineapple, Watermelon, Apples, Mango, Pear
Charcuterie – Salami, Cured Bacon, Ham, Sausages, Chorizo
Chocolate, Sweets, Honeycomb, Popcorn, Nougat
Donuts, Pastries, Wafers, Cupcakes, Cake
Olive Oil, Balsamic Vinegar
Conclusion
The list is endless when it comes to creating your own grazing table and the wow factor is really worth the time invested. I hope this post has helped you if you are thinking of joining the graze craze and I would love to hear any thoughts from you.