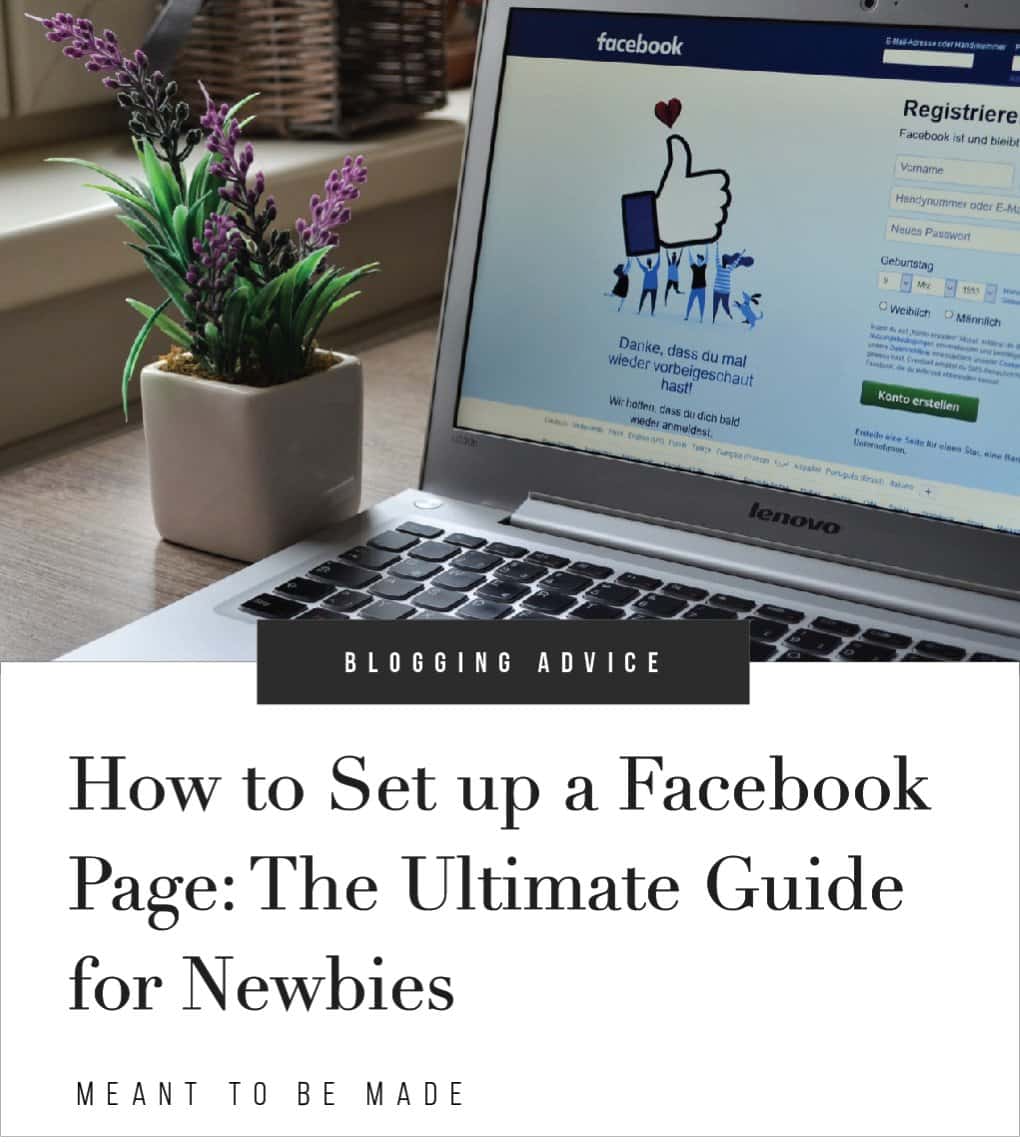 Using Facebook for business and optimizing your profile for ultimate reach
Facebook is a social media giant and one of the most popular platforms in the world, so it's no wonder you're looking into using Facebook for your business.
There are many misconceptions about using Facebook for business with many people saying it's 'dead'. However, if you know how to work it properly, then it can really benefit you.
Why should you use Facebook for business
Facebook offers many pros for business marketing, along with tools to compliment your business strategy. Let's take a look:
Increase your brand awareness
Having a Facebook page for your brand will help boost your brand awareness.
Facebook has a free e-course to help you optimize your campaign for this specific goal!
Direct communication with your audience
One of the most recognizable aspects of Facebook is the ease of communicating with your audience. Facebook users can leave comments, reviews, send messages, and you can even integrate Whatsapp for chatting.
Direct Facebook traffic to your website
Unlike other social media platforms, you are not limited to URLs with Facebook. You can easily include your website or blog link on your profile, along with linking it numerous times on each piece of content you publish.
Sponsored posts and targeted ads
When a user creates their Facebook profile, they have to add some basic information such as their age, gender, location, and interests. When you create an ad, Facebook will use this information to find an audience that is relevant to what you are promoting.
Facebook Insights
Facebook also offers insights into your content, letting you know what is performing best and how the quality of your content coincides with your audience.
Marketing on Facebook – Organic or paid?
There are two types of marketing approaches on Facebook, organic or paid.
Organic marketing on Facebook is free and is generated by creating a Facebook business page and sharing regular engaging and useful content to its users.
Paid marketing is where you use sponsored ads and paid advertising to help you reach higher engagement and paying customers.
If you decide to use paid marketing, you will be given access to a Business Manager dashboard. This allows you to track your performance and progress of each ad along with helping you to build relevant advertisements.
Creating a Facebook business page
So we've looked at why you should use Facebook for your business, now let's look at how to create a Facebook business page.
One of the biggest gripes with businesses is that to create a business page, you need to have a personal account first and create it from there. Don't worry, it's not a big deal as you will be keeping them completely separate.
Let's assume you currently have a personal Facebook page and you're ready to create a business page:
First, you need to go to Facebook to create a page, and you will be prompted to log in to your personal Facebook account.
Next, you have to choose what type of business you own. Facebook gives you multiple options here, but if you feel that your business falls into more than one category, then choose the one which customers are more likely to connect your business to.
You will be asked to add some of your business details next, such as the business name, the address (if relevant), and a subcategory. Once you've finalized this part, you can read Facebook's terms and click 'Get Started'.
Those were the three main steps to creating a Facebook business page. The next steps are setting your page up visually.
Add a profile photo and a cover photo
Your next step is to upload a profile picture to your new page. Make sure the photo you use is relevant to your business, for example, if you are a public figure, then use a picture of yourself, but if you are a big brand, then you should use your logo.
Make sure your picture is clear and of good quality, and remember, Facebook will crop your photo into a circle, so make sure anything important is in the center of your image.
After you've uploaded your profile picture, you can also upload a cover photo. The cover photo is essentially the big banner/image at the top of your page, so make sure it's relatable and high quality. Your cover image has to be at least 400 pixels wide and up to 150 pixels tall.
Explore the features
Facebook will prompt you at this point with guides on the different features of your new page. We suggest you take a quick look through them to get yourself accustomed to your new surroundings and how things work.
Add a description
Now it's time to add some words! Facebook will ask you to provide a short description for your business page, roughly 1-2 sentences (max 155 characters) describing what your business is about.
Create a Facebook username
Your Facebook username will be your Facebook handle, but it will also create your Facebook vanity URL too. For example, @123abc will also be fb.me/123abc, and these are the two ways people can find your page.
Complete your about section
You can edit your about section by clicking 'About' in the top left-hand menu of your page. From here, you can add any opening hours, your story, your email, website, and team members.
It's important to fill your about section now rather than later, so when users visit your page, they find all the relevant information they are looking for rather than moving on to find it somewhere else.
And that's it! You've now successfully created your first business page! So what's next?
How to optimize your Facebook business page
Next, we need to look at how to optimize your Facebook page so you can hit your marketing goals and have great audience engagement.
Call To Action
Let's take a look at CTA's (Call To Actions). A CTA is something that encourages a user to take action on your page just like you would have on your website or blog.
First, you should add a CTA to your Facebook page.
You can do this by clicking 'add a button' on your cover photo and choosing the preferred CTA for your business along with a link to where the user will be directed to.
Once you've set it up, you can test it to make sure it is working correctly. You can also add a call to action to each ad you create.
Facebook offers a simple guide on how to create a CTA ad along with how to edit them here.
You can also pin a post to the top of your Facebook page. This can be handy if there is something you are keen to get traction on and don't want your audience to miss, such as a current campaign or competition you are running.
To pin a post, simply create a new post or go to an existing post and click the three dots > Pin to Top of Page.
Facebook Business Manager
Facebook Business Manager is a platform that is ideal for businesses that have more than one person with access to the Facebook page.
This platform allows you to have control over all aspects of your business page, including the partners or employees who have access to your account as well as being able to manage your campaigns and advertisements.
The Facebook Business Manager isn't for everyone, but if you are interested in learning more and setting one up, you can do so here.
Optimize your content
Ok, so I'm not going to insult you here and give you a step by step on how to write your first post as the chances are you already know, but I will give you some tips on how to optimize it!
Use hashtags (but don't spam them, less is more)
Using hashtags on Facebook is very different from using them on other social media platforms. On Facebook, you should use hashtags as a way to navigate your audience to your campaigns, series, or grouped content.
If you use custom hashtags for your content, your audience will be able to see all the content under this hashtag grouped together – this is particularly great if you use video footage.
Post at the best times
The scheduling tool CoSchedule can advise you on the best targeted times to reach your audience based on niche, demographics, location, etc. But let us give you an insight into this right now.
CoSchedule suggests that the best time for B2C (Business to Consumer) posting is between 9 am – 5 pm. In particular, from 9 am – 10 am, 12 pm – 1 pm and 4 pm – 5 pm being the optimum times to post.
They also suggest that the best time for B2B (Business to Business) posting is between 9 am – 4 pm, with 9 am and 3 pm – 4 pm being the optimum times to post.
These results are taken from internal research by CoSchedule and aren't targeted to your own insights.
To get the best results for your own business, you need to look at your insights on Facebook and preferably your CoSchedule insights if you have an account.
Post native video
It's always good to mix your content up to keep things fresh and engaging for your audience, but there is another reason why posting videos natively to Facebook is a good way to optimize your profile.
According to the Search Engine Journal, native videos on Facebook perform much better than 3rd party embedded videos from platforms such as Youtube.
In a study by SEJ, native videos showed to have 2x more reach, 2x more likes, 3x more shares, and 7x more comments than those embedded from Youtube.
Trying different formats of content will also allow you to see what type of content your audience responds better to. Keeping an eye on the insights of each format will allow you to better shape your strategy and give you a better chance at optimizing your Facebook profile going forward.
Following others and socializing
When it comes to following other businesses from your own business profile, you should be looking to do this with relationship building in mind.
It's a good idea to like other business pages of those people who you admire, who are in your niche, or have worked within the past.
It's also a great idea to engage with other business posts as this will allow you to engage with their audience (through comments) and keep an eye on what they're doing.
You might learn from simply observing their page what posts tend to resonate better with their audience (who can potentially be your audience too) and working their tricks into your own strategy.
You should also consider following businesses that you want your brand to align with in the future. If you start to network with these businesses sooner, you can work up a relationship before approaching them to partner up or collaborate.
Inviting others to follow you
Now, rather than you doing all the chasing, you can simply invite people to follow you. A few ways to do this is through your email list, social buttons on your website or blog, or by dishing out your Facebook username in other ways.
If you want to keep your personal and business profiles separate, I wouldn't suggest inviting hundreds of your personal Facebook 'friends' to follow your profile. You might be thinking of the numbers, but you should really be focusing on a genuinely engaged audience instead.
Engage with your audience
Engaging with your audience is something you can easily do on Facebook, especially with the openness of comments and messenger. Make sure you respond to people's queries, answer their questions, and give them great customer service. You can also run competitions and giveaways.
Whichever way you plan to engage with your audience, make sure to use Facebook's best practices. Remember, people can leave reviews on your Facebook profile, so you want them to be positive.
The benefits of Facebook Groups
A Facebook group is a page where people of the same interests come together and participate in conversations, posting, polls, etc.
There are many Facebook groups out there dedicated to hundreds of different things from TV shows, even down to specific TV channels and hobbies.
Facebook groups can be created by anyone, and there is probably already an existing Facebook group that covers your industry or niche. If not, well, you can easily create one!
Using Facebook groups allows you to engage with other people in your niche and reach out to a bigger audience.
How to find and join Facebook groups
First, let's look at how to find relevant Facebook groups for you to join.
It's important to note here that the majority of the time you might only be able to join a Facebook group as an individual through your personal profile. However, there is the option to join as a business page if the administrator or creator of the page has enabled the option to do so.
Let me tell you how it works when trying to join a Facebook group as a business page.
The creator or admin of the Facebook page has the option to enable their settings to allow Facebook "pages to request to join as group members".
If they have enabled this setting, then you see the option when you request to join. If you don't see this option, then the admin has not allowed these requests.
Now, let me tell you how to join a Facebook group as an individual (same rules apply for a page).
First, log in to your personal account and go to the left-hand column. From here, you will see an 'Explore' tab, click this and go to 'Groups'.
At this point, you will see two things, the groups you are currently a part of (if you are) and a 'Discover' tab. Click on the discover tab to view group options filtered by topics.
Now you can scroll through the groups that seem relevant to you and simply view the public content or request to join! Easy.
Alternatively, If you want to search for a particular group or search by keyword, you can do this too.
All you need to do is log into your Facebook profile, find the search bar in the top left-hand corner, and search for the name of the group or a relevant keyword to see related groups.
How to create your own Facebook group
If you are interested in creating your own Facebook group, then follow the next steps.
First, log into your business profile, click the three dots under the cover photo and choose 'Create Group'
Next, you need to choose a name for your group. Your name should be relatable to your business but also allow members to see what it's all about at a glance.
You can also create multiple groups to hone down on specific parts of your business, so you don't have to create one group to cover everything if you don't want to.
The next stage is to get some members! The easiest way to start is to invite some key people to get the ball rolling, such as other people in your niche, employees, or people in your inner circle.
Once you start getting some traction on your group, people will probably request to join.
There are three privacy options for your Facebook group – Public, Closed, and Secret.
A public group is open to everyone, and there is no approval needed from you for them to join.
A closed group can be seen by anyone, but only members can see any posts of content and have to be approved by a current member to join.
A secret group offers complete privacy and cannot be seen at all, including in searches. The only way someone can join this group is if they are personally invited by a member.
After choosing your privacy, simply click 'create'.
Next, you need to customize your Facebook group, in the same manner as you customize your profile. You will need to add a cover photo, description, tags, location (if you have one, if not mark it as 'global'), and some group rules.
You could also pin your group rules (as a post) to the top of your page so they can be easily seen by current and new members.
Now that's it! Get posting!
Conclusion
Now we have concluded the article, and I really hope it has helped you with the process of starting a business Facebook page and answered some of your questions.