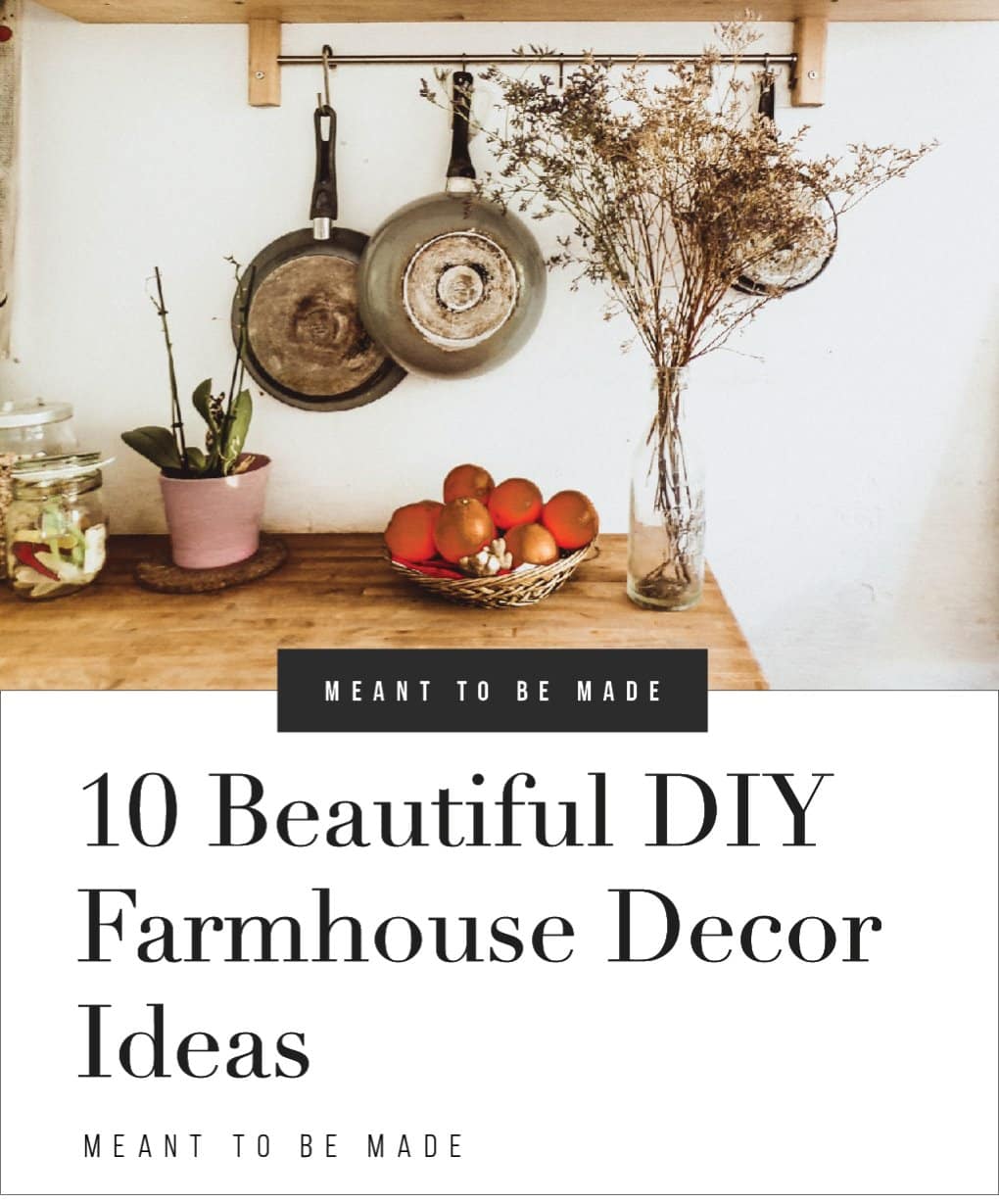 Look at these gorgeous decor ideas to spruce up your home!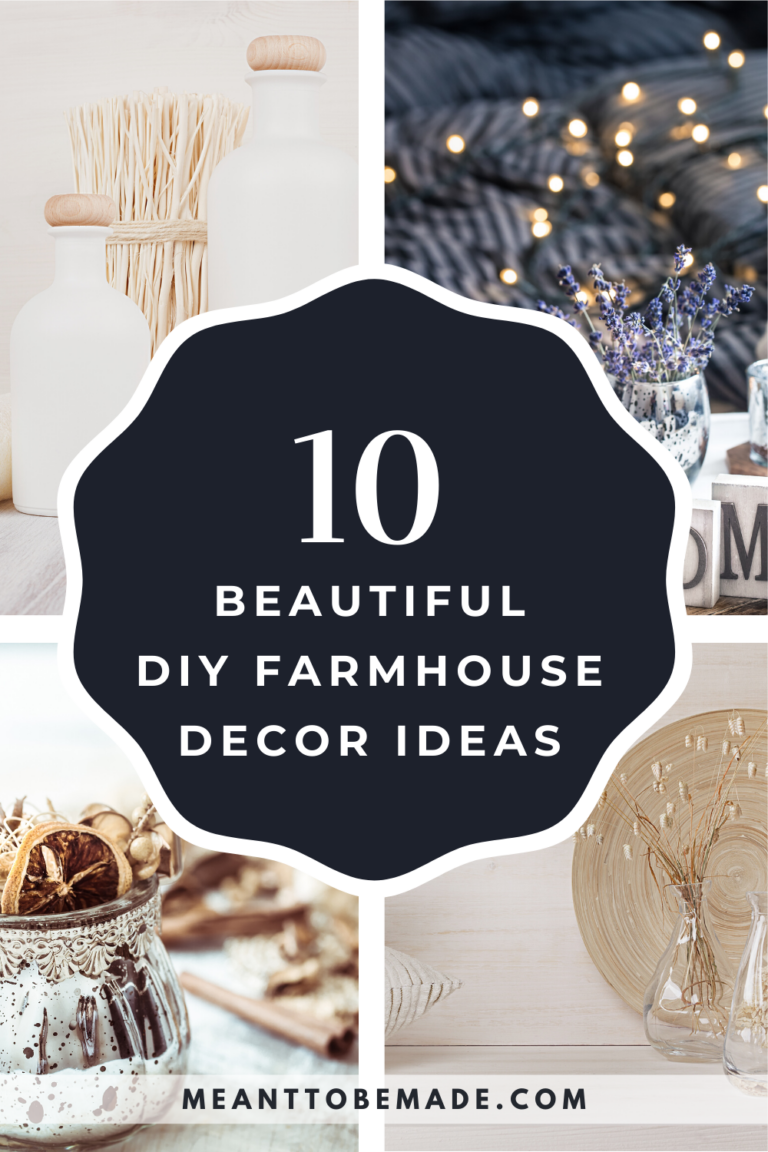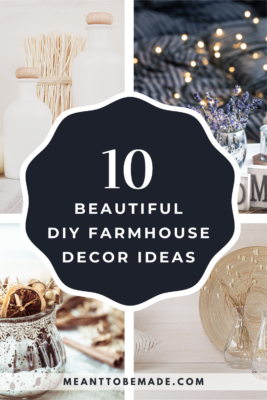 If you have a love for the modern yet cozy vibes of Farmhouse style, then I'm sure you will enjoy this post.
We've gathered 10 of our favorite farmhouse DIY projects, which are budget-friendly and gorgeous so that you can breathe a bit of farmhouse charm into your home.
We cover some of the best finds and buys to furnish your house on the cheap beautifully.
WHAT IS FARMHOUSE DECOR?
The Farmhouse style is clean, homely, and charming yet full of character with light colors and a solid feel. These days farmhouse style has a more modern feeling and doesn't delve into the country style of the past.
Although farmhouse decor is classed as modern, it still carries elements of shabby chic and distressed touches. These elements help to add character and a lived-in appearance.
ARE THESE PROJECTS BEGINNER FRIENDLY?
Yes! Some of these projects are small and relatively straight forward, others have more steps to follow using more advanced tools, but these come with full guides and plans.
We recommend getting a friend or partner involved with some of the furniture projects as it's more fun and can make it easier when dealing with heavier materials.
OUR 10 (BUDGET FRIENDLY) FAVORITE FARMHOUSE DIY PROJECTS!
DIY Farmhouse Coffee Table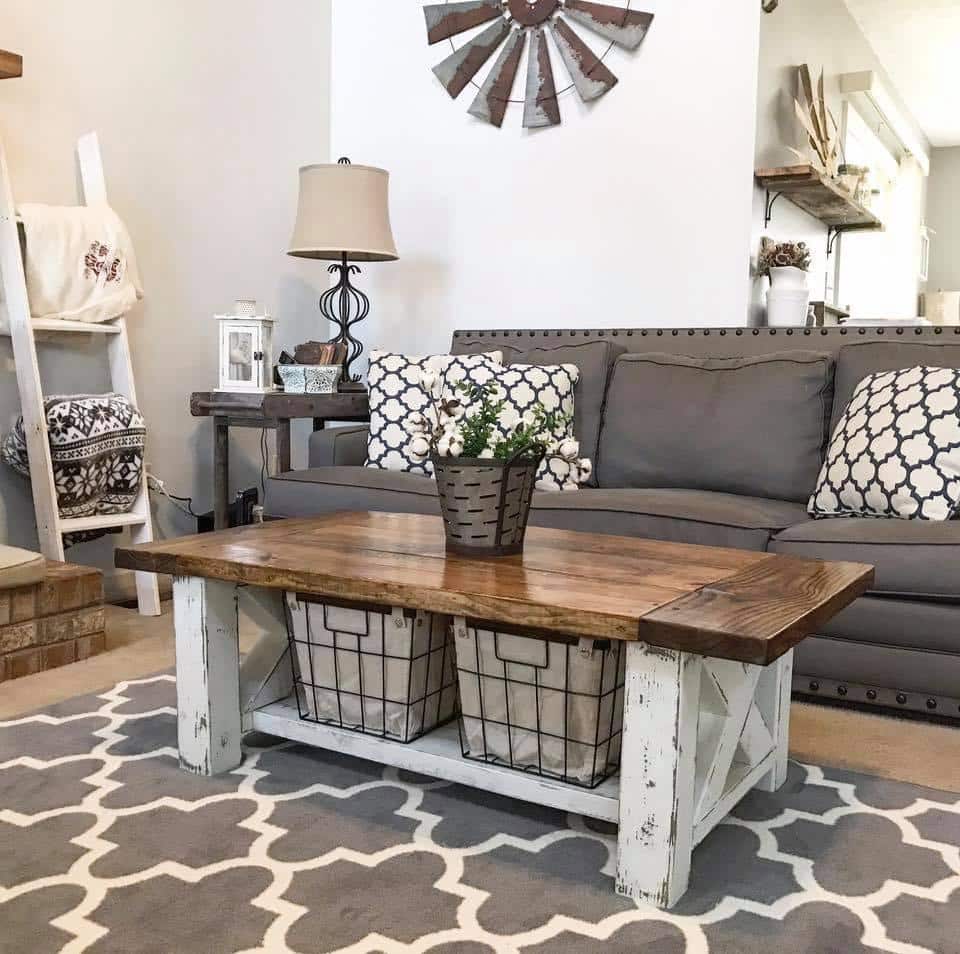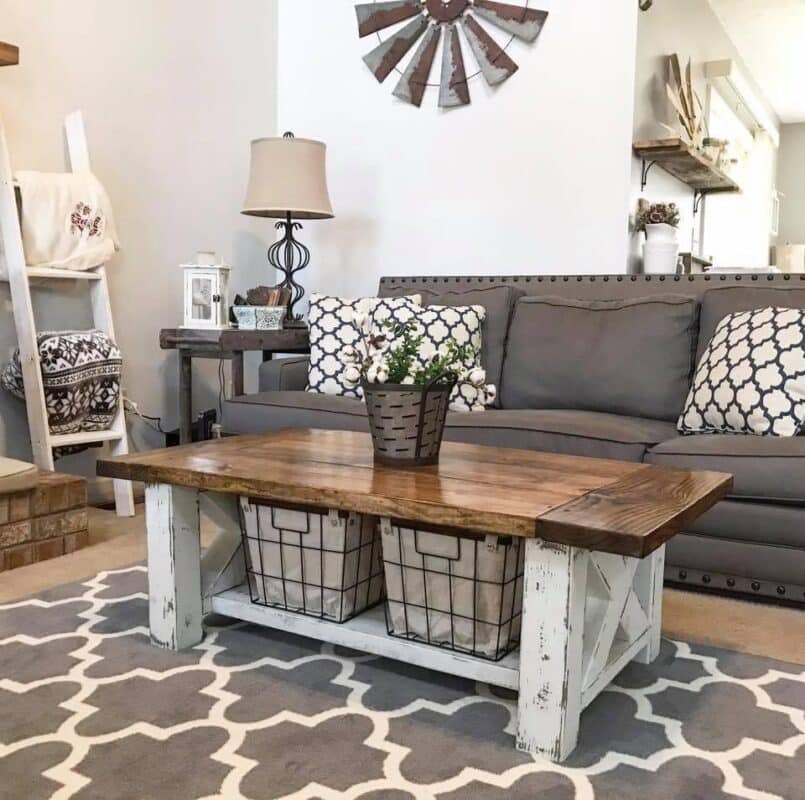 As found on Handmade Haven
Don't you just love this DIY farmhouse style coffee table? This stunning chunky table can completely transform your living room or any other space! I love its sleek wooden top and the distressed paintwork on its body.
Your table can be all wood, chalk white, or even black – there are some great examples in Handmade Haven's project gallery. You will find easy to follow tutorials and 3D plans to help guide you through the project, so why not give it a try this weekend?
DIY Cathedral Window Frame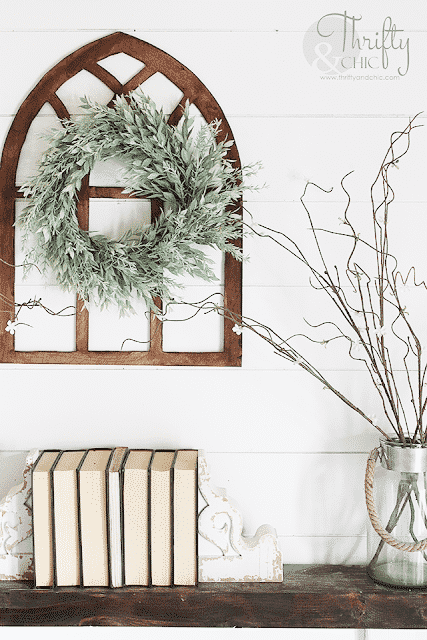 As found on Thrifty and Chic
Alicia from Thrifty and Chic has come up with an amazing way to create stunning cathedral window frames all for under $5! These cathedral window frames are ridiculously easy to make, and you only need a handful of basic tools and materials to manage this project.
The frames can be painted or left in their original condition. Any option will look stunning, and you can also decorate them. Alicia decorates hers with a gorgeous wreath that dresses it up. You could also decorate it with fine wire fairy lights and berries – great for winter vibes!
DIY Blanket Storage Chest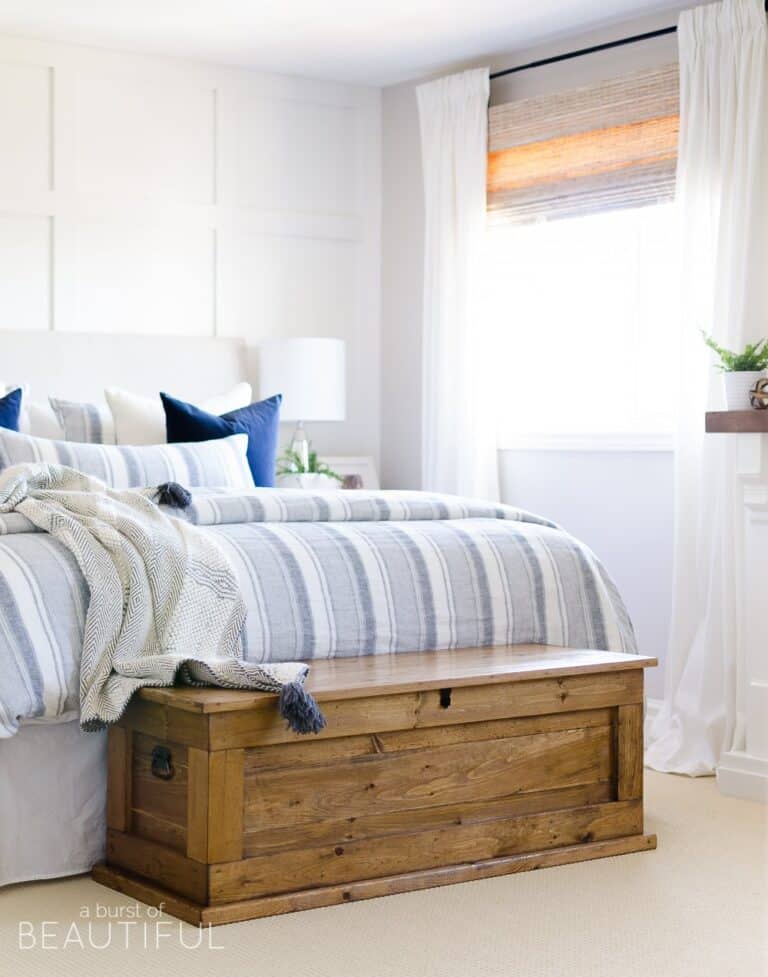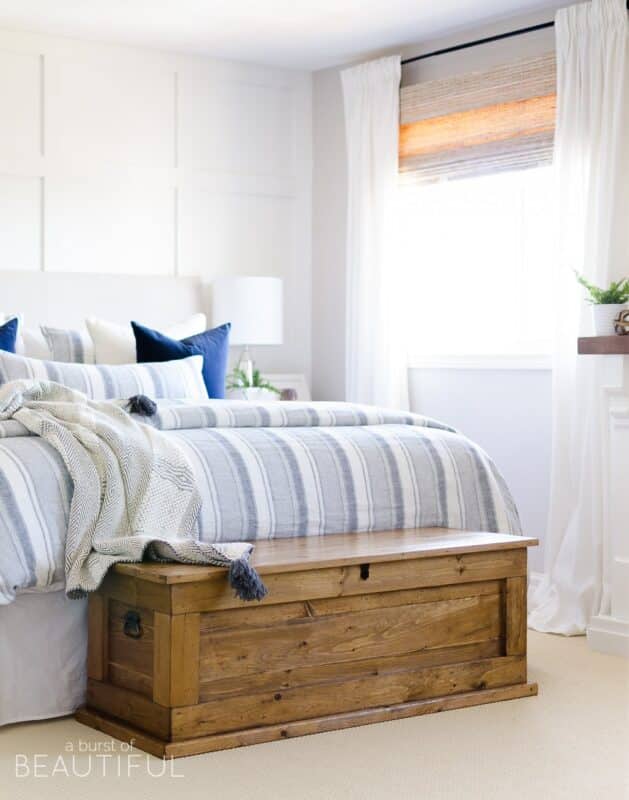 As found on Nick + Alicia
Ok, so I'm not going to lie, I am totally in love with this blanket storage chest! It looks incredible, and it's practical and a DIY project!
This storage chest looks beautiful in Nick and Alicia's bedroom. It can also be used in the living room as a table or even in the porch or mudroom as a storage bench. Just dress it up with some rustic cushions and throw!
DIY Painted Terracotta Pot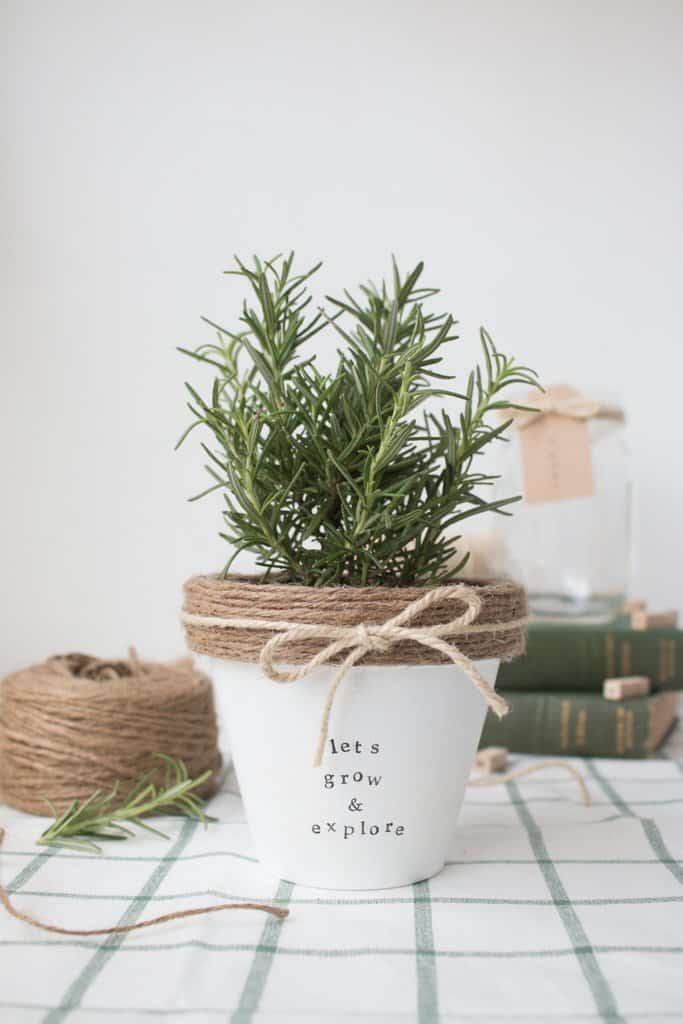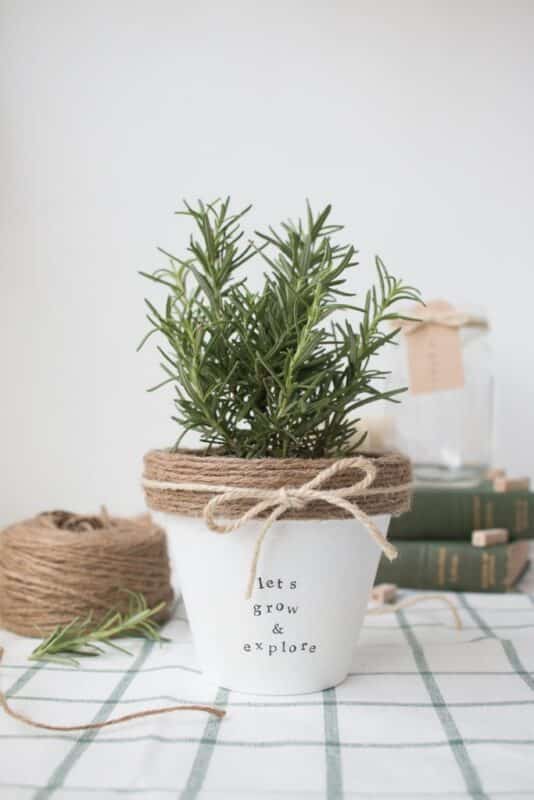 As found on The Beauty Dojo
If you're looking for something small and simple to create for your next DIY project, then I seriously recommend these stunning painted terracotta pots! These pots are beautifully finished with twine, and you would find it hard to believe these are basic terracotta pots from the dollar store.
You can personalize these pots with beautiful quotes using either stamps or vinyl transfer. They also make beautiful gifts or herb pots for the kitchen!
DIY Blanket Ladder (for under $5)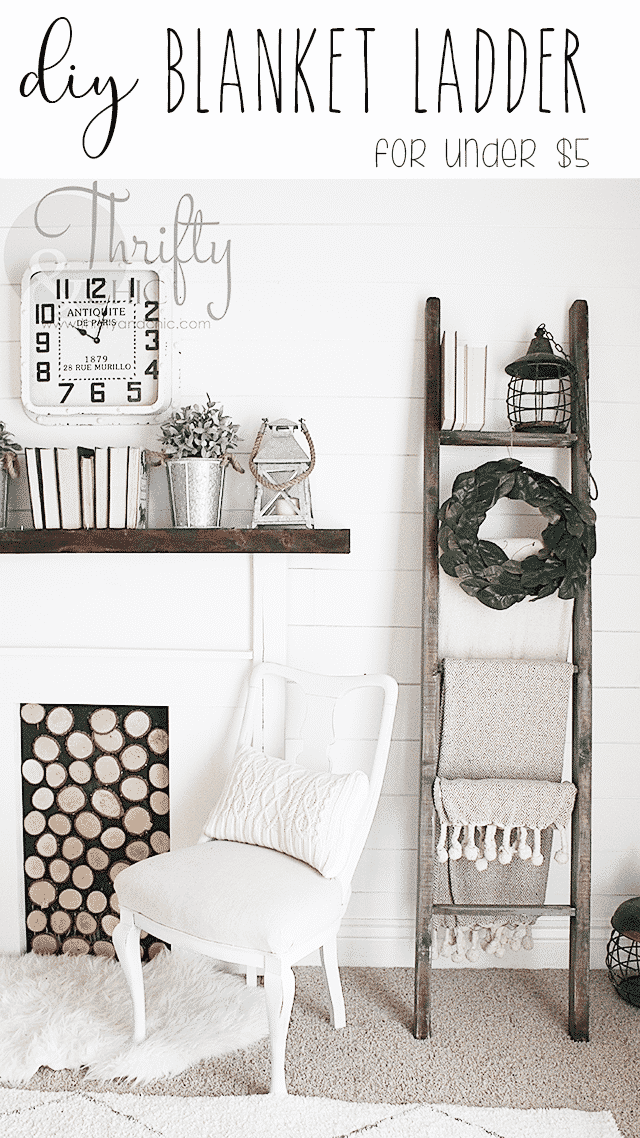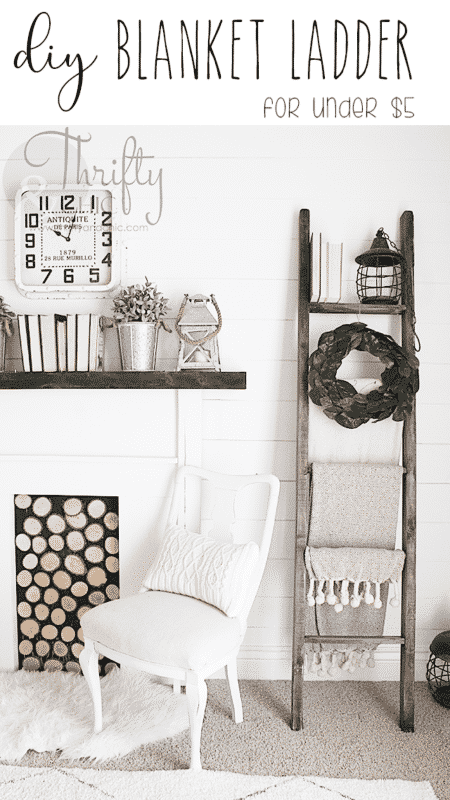 As found on Thrifty and Chic
Another DIY bargain from Thrifty and Chic is this simple yet beautiful DIY blanket ladder. If you already have wood stain and paint on hand, then this easy DIY will cost you less than $5 to make, what a bargain. And if you do have to invest a little more for these items, well one, it will be worth it and two, you will have stain and paint for other awesome DIY projects!
This blanket ladder looks beautiful anywhere in the house, especially the living room and even the bathroom!
You can hang beautiful blankets and stack rustic ornaments for a farmhouse living room vibe. For the bathroom, hang plush towels and rest a little basket of bath treats for a cozy and relaxing touch.
DIY Galvanized Bucket Makeover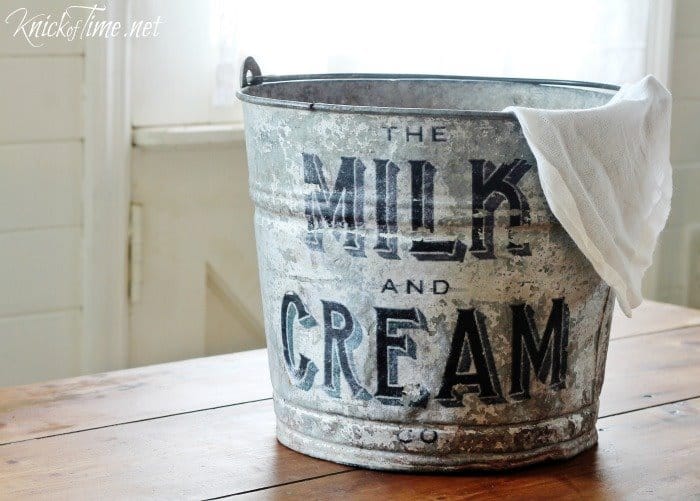 As found on Knick of Time
This simple Galvanized bucket makeover is beautiful for adding a touch of authentic farmhouse decor to your home. Angie uses a cheap galvanized bucket and a simple image transfer process to transform this bucket from bleak to chic! If you want to skip the process of making an image transfer, you can always purchase a vinyl transfer instead.
I think this bucket would look great on the porch or in a mudroom.
It could even be a cute storage bucket for dog accessories or to display some fall decor.
DIY Wood Framed Mirror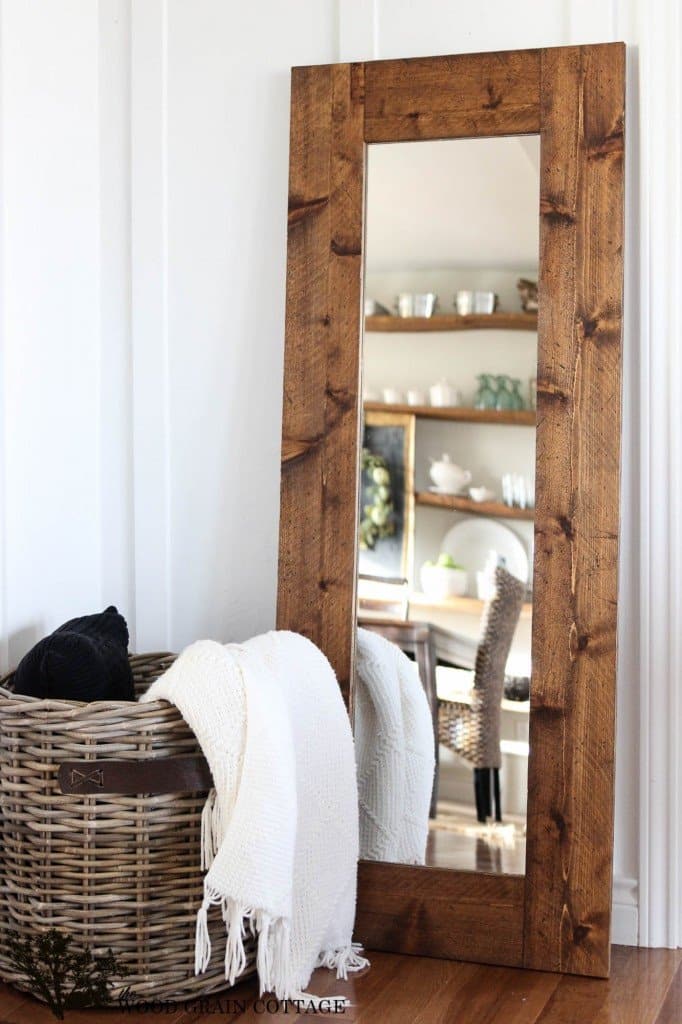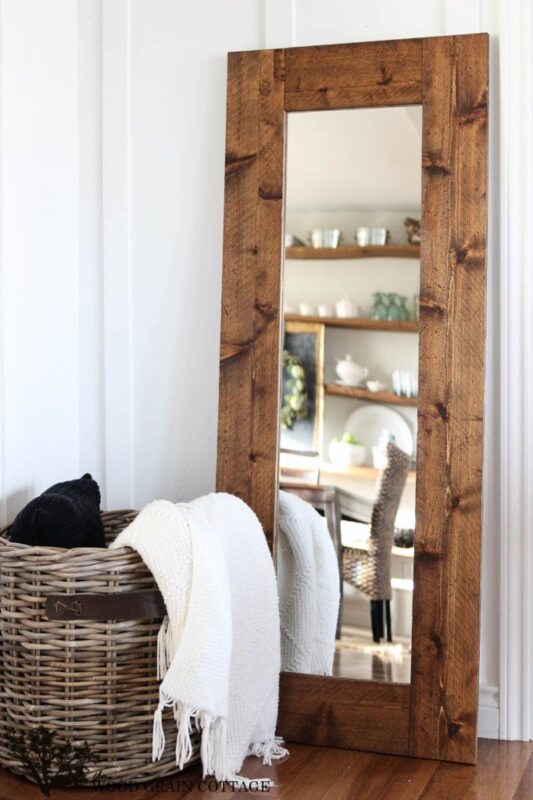 As found on The Wood Grain Cottage
So once upon a time, I owned a fairly expensive mirror similar to this DIY one, and I loved it but had to leave it behind. Fortunately, I've come across this stunning DIY project from The Wood Grain Cottage, and I can say I am seriously giddy with glee.
The outcome from this project is truly gorgeous, rustic, and a fraction of the price of one you will find in a home store.
All you need to create this stunning wood framed mirror is a cheap mirror and some cheap fence pickets (along with your relevant tools and glue etc).
DIY Entryway Coat Rack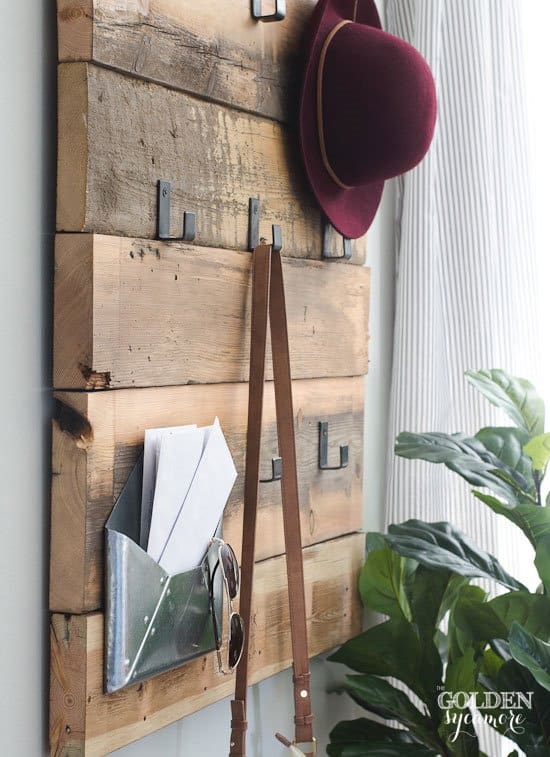 As found on The Golden Sycamore
If you find that you are dumping things on countertops, chairs, and tables, then this entryway coat rack is a great project idea for you.
Made with wood and some beautiful coat hooks, this coat rack sits beautifully on the wall and makes the perfect drop zone for mail, bags, and hats. What I love about this project is that it is practical and yet feels like a piece of art in itself.
If over time, you feel you need to spruce it up, you can dress it up to match the seasons. For Christmas time, you could hang a stocking, festive ornaments and even your wooly scarf and hat!
DIY Farmhouse Style Hanging Wire Baskets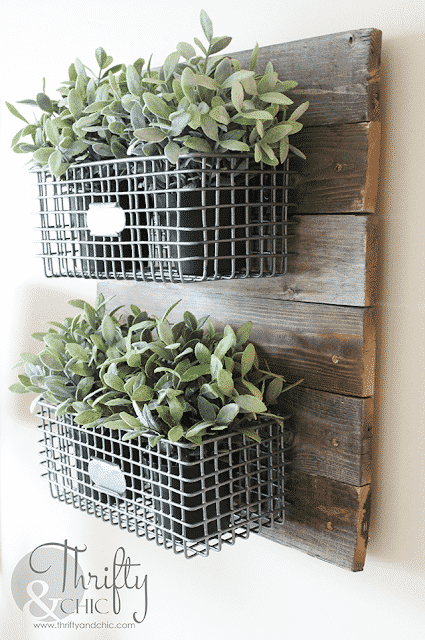 As found on Thrifty and Chic
These DIY hanging wire baskets on reclaimed wood are a beautiful addition to any home. Use in the kitchen to hold fruit, herbs, or vegetables or add beautiful plants to breathe life into a living room or bedroom. The options are endless with this simple, beautiful DIY project.
These baskets are also a great way of using vertical space in your home, freeing up counters, tables, and window ledges, and you can use any style of wire basket to suit.
DIY Farmhouse Bench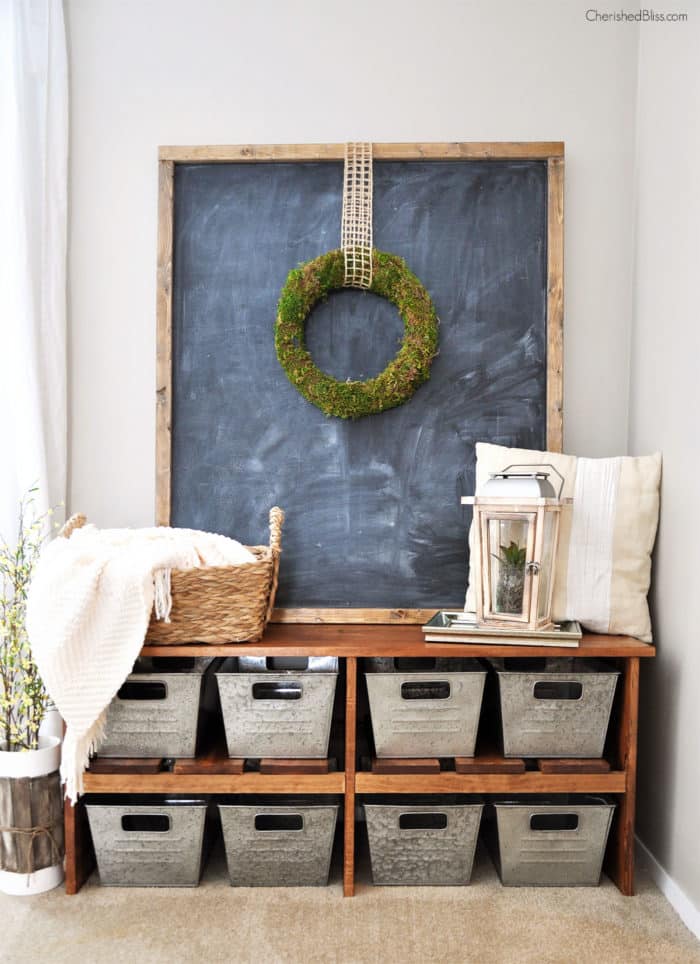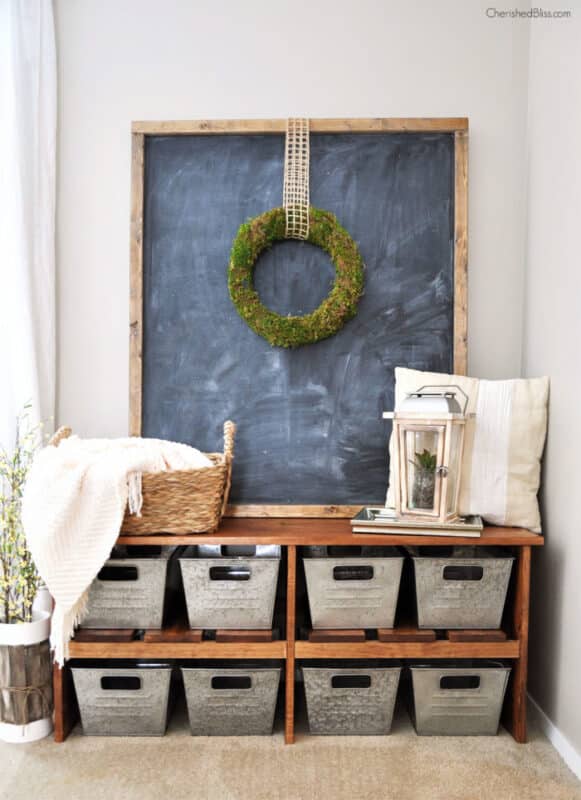 As found on Cherished Bliss
Storage space is a big deal in our home, and it always has been. I drool over beautiful DIY's which are a combination of great looking decor and storage. I mean, space is a precious thing, especially in my home with two little ones and a spoiled cat.
So as you can imagine, when I found this DIY Farmhouse Bench that incorporates beautiful galvanized bins into the design, I was sold. This project is great for the weekend and a wonderful beginner project too, so don't feel intimidated by its size.
I think this bench would look great in any room, and I'd love to have it in my daughter's room. I would style it with some cute cushions so she can sit on it and read.
Conclusion
There's nothing better than finding the perfect DIY project to tackle, and we hope you've found something on our list. Each of these projects can help transform any room in your house, so whether you find something small or something big, it's worth giving a project a go this weekend.
Found something you like? Remember to share the love and pin this post!