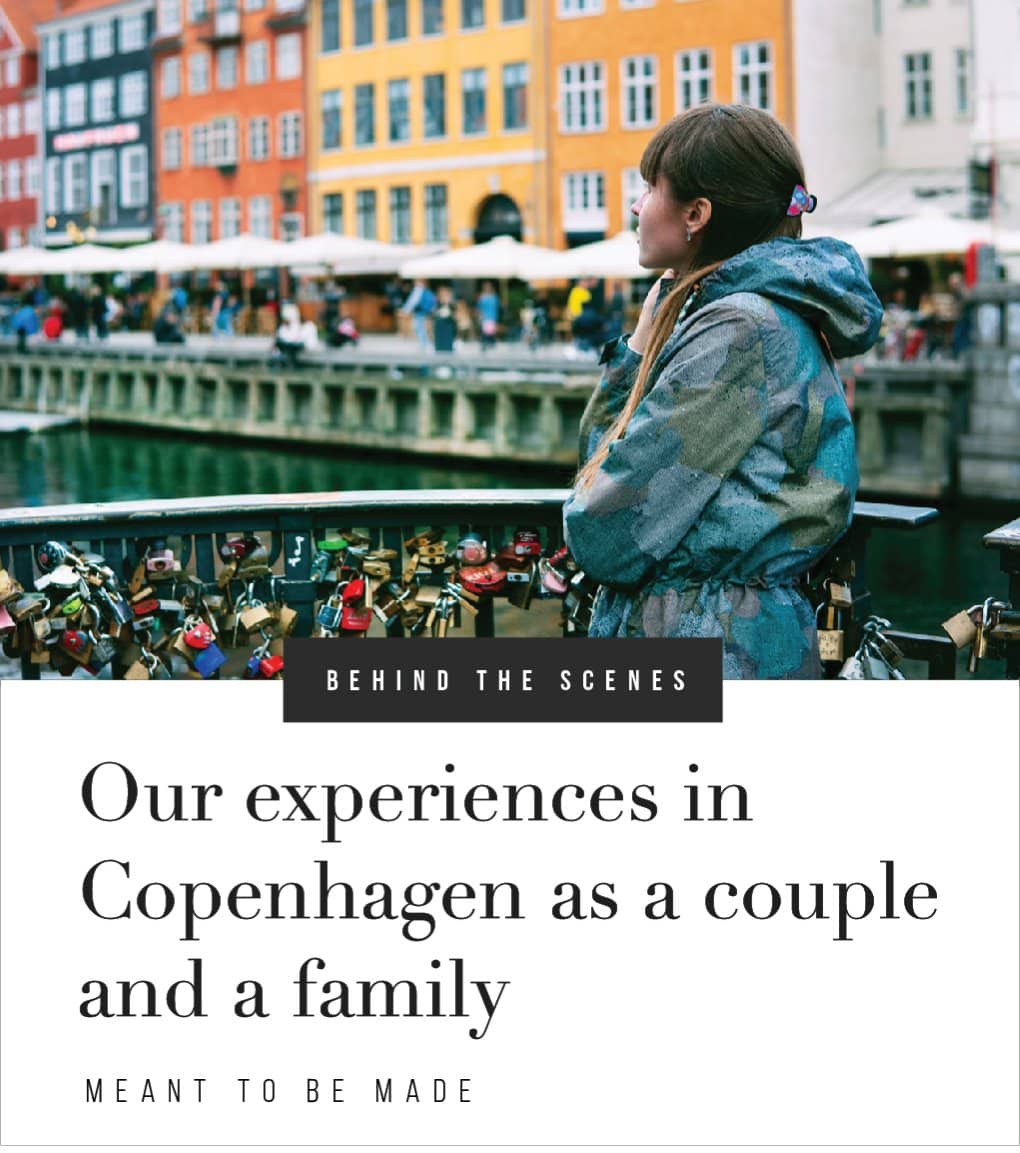 Exploring Copenhagen with (or without) a little one in tow.
Once upon a time, Don and I decided to play roulette with our next trip. We opened up our travel app, closed our eyes, and spun the 'destination' drop-down menu.
It landed on Copenhagen, Denmark. Since then, we have been to Copenhagen as a couple and as a family. Copenhagen was an instant hit with us, and I would love to share everything we have learned with you.
Couples Copenhagen vs. Family Copenhagen
As with a lot of things, it tends to be better when it's just the two of you, but it's also wonderful in different ways when you do something as a family.
In 2016, Don and I went to Copenhagen as a couple for a weekend, and it was so fun. As we only went for a weekend, we didn't manage to experience all Copenhagen had to offer, but we did tick off a few key goals.
Couples Copenhagen
Take a bike
You will notice straight away that Copenhagen has beautifully managed to incorporate a biking system around the city. There are roads specifically dedicated to cyclists – I'm not talking about the odd bicycle lane, bikes are the next car in this city.
There is a bike rental or repair shop on almost every corner, along with electric bike rentals and bike parking everywhere. It is such a sight to behold. Don and I had so much fun cycling around Copenhagen, and the electric bikes have satnav on them.
Top tip: If you get a flat tire on your buggy or pram, a bike repair shop will happily fix this for you!
Free Tours
When walking around, you may notice tours going on. The majority of these tours are free; however, the tour guide will ask for a small donation at the end. It is such a good idea to join a tour if you see one, you can jump in at any time and discover so many quirky little things like hidden (and creepy) statues underwater and the 'Freetown Christiania.'
Freetown Christiania
Ok, if you've not heard of this place, then google it, and please be open-minded. When we went on our free tour, it ended at the very interesting town of Christiania, and as it was late, we only managed to see a little bit of it. Christiania has two sides to it – the retro style town, which is situated around a lovely lake and surrounded by unique and characteristic homes and 'Pusher Street.'
Pusher Street
Pusher Street is an area that is typically run by 'organized criminal groups' who sell various strains of cannabis and pot at stalls. It sounds pretty dodgy, I know, but it was a very relaxed and friendly environment. There is a set of rules which must be followed by both citizens and visitors which mainly consist of no photography, no talking on phones and no running when in the area and if you follow these rules then you shouldn't have a problem.
Mikstattoo & Copenhagen Cooking & Food Festival
The great thing about having a weekend away with your beau? You get to do spontaneous and wild things! As Don and I were exploring one day, we came across Mikstattoo, who happily took walk-ins and decided to get 'matching' tattoos on our wrists.
You can find Mikstattoo in the Vesterbro area but be aware that this area has sometimes been referred to as 'seedy'. We spotted a few sex shops and a couple of people scoring drugs in a corner but you shouldn't let this put you off exploring. There are hidden gems everywhere.
We then snuck into a cooking and food festival just over the road by entering through the staff/guest door. Don gets a thrill from doing risky things like this, I just get the shakes, but we both get exciting experiences.
Family Copenhagen
In 2018, Don, Emma and I took a family trip around Copenhagen (Stockholm and Berlin). The experience was much different as we spent eight days in a family home and tried to experience our trip like locals. Let me sum up for you some tips for family fun in Copenhagen.
Find Netto
From our trips to Copenhagen, we have come to understand that it is about ⅓ more expensive than the UK – advice to us from locals was to find your nearest Netto and shop there. Netto in Copenhagen will be catering to the people of Copenhagen, so coffee, romkugler, and typical Danish bites are plentiful; breakfast tea, on the other hand, not so much.
The Copenhagen Card
If you are planning on doing a whole bunch of touristy things while in Copenhagen, then consider investing in a Copenhagen Card. The card can be on the pricey side, but you can seriously save money if you are planning on visiting attractions and using public transport within a certain period.
The Copenhagen Card website has a handy calculator, which allows you to see how much you will save based on where you want to visit and also has a really handy app to download. We used our card for transport, visiting Tivoli, and taking Emma to tons of cool places.
Fun places with children
Tivoli
Europes oldest amusement park is simply stunning. It has rides, stalls, a food market, and is beautifully themed depending on the time of year. We decided to visit later afternoon, so we could experience Tivoli in the daylight and as it got darker. I would recommend Tivoli to anyone.
Copenhagen Zoo
We took a visit to the Copenhagen Zoo, which was pretty cool. There is a variety of animals and children can feed the giraffes. There is also outdoor dining areas for woodfired pizzas and some lovely cafe/restaurants which serve beautiful brunches (see our replicate at home here).
Den Blå Planet
This was Emma's first trip to an aquarium, and it was impressive. The aquarium has five 'arms' to it so you can experience it in any way you choose; however, you can go around these very quickly. There is floor to ceiling viewing windows with some of these being as big as cinema screens to view sharks, stingrays, and plenty of exotic fish.
Den Blå Planet is in the suburb (Kastrup) just outside of Copenhagen, and you can get there via the metro. Once you get off at Kastrup, you can walk to the aquarium. Just follow the other people or use google maps (recommended always).
Conclusion
I had fun both times we visited Copenhagen. Doing things as a couple was really good, we went out for a few drinks and explored, but seeing Emma smile and experience things were equally rewarding. I loved being able to stay in a family home and feel like we were locals going through everyday life.
Have you ever been to Copenhagen? What are your thoughts? Let us know below!