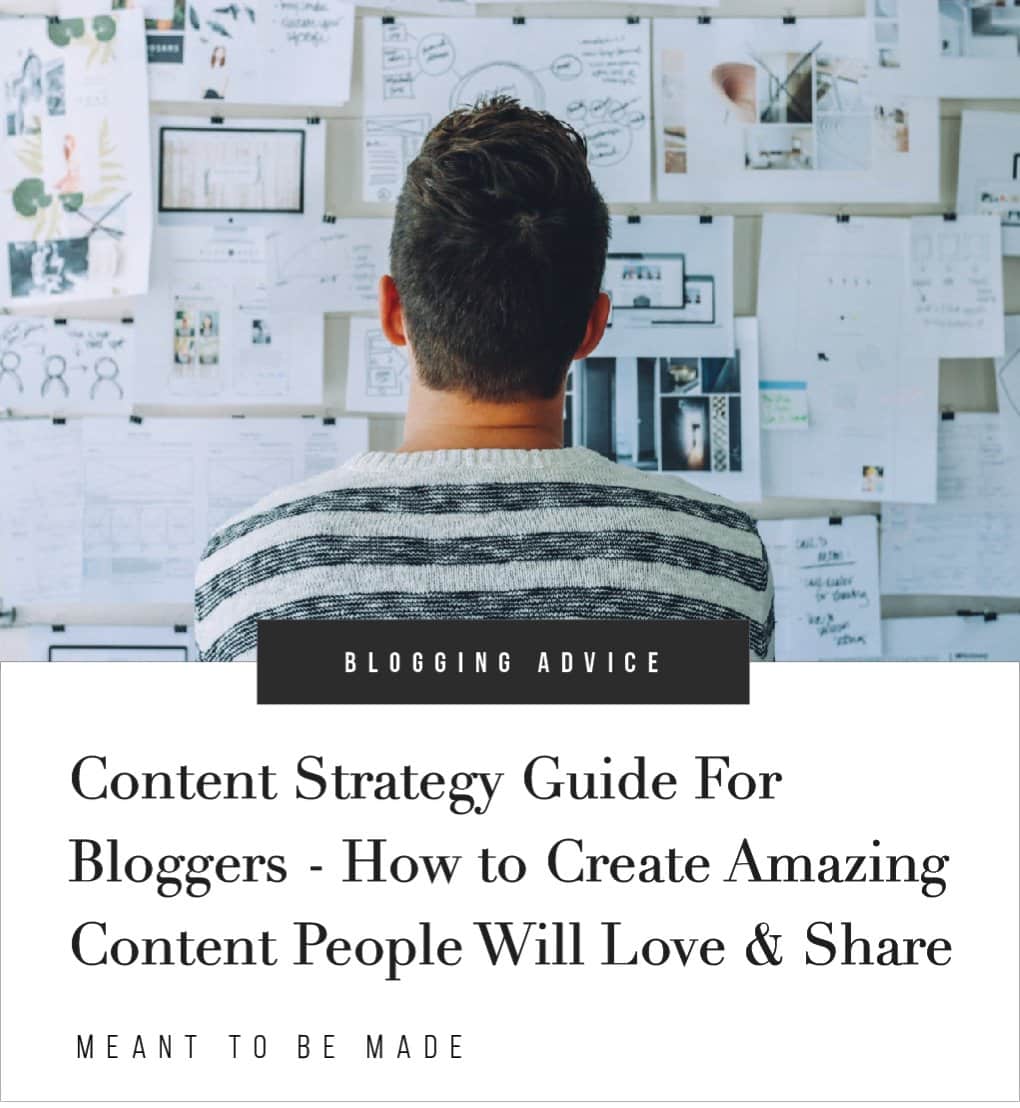 Helping you understand a content strategy and working it into your blog.
What is content strategy?
Content strategy is a relatively new discipline in the world of web and online marketing. It focuses on the planning and creation and, to some degree, delivery of content.
This guide focuses on the leading ways that content strategy work on the web and how forming your own content strategy can help you with your blog or business.
Content strategy is about planning and managing just about any media such as:
pages
blog posts
graphics
video
ebooks
courses
documents
resources
Creating the right content that is well structured and will attract and grow your audience requires planning.
We all have our own goals for what we want to achieve from the content that we create and share, however, the ultimate goal of content strategy is to create content that is both meaningful, engaging and sustainable.
We aim to give you an overview of what content strategy is, the benefits of having one, and how to create your own.
Even if you're relatively new to blogging, you'll still know that content creation is significant to the growth of your blog or business.
Don't just try to knock content up just for the sake of it. Try to think of what would make for great quality content, that your users will not only engage with, but the search engines will reward you for.
Why do you need a content strategy?
When you develop your content strategy, these are the main factors that you'll be considering:
What do you wish to gain?
Are you looking to:
improve your search ranking results
build your audience
generate leads
convert customers
provide better customer service, or something else?
When you know what you wish to gain, it'll help you determine the type of content that you need to create. You'll understand who you'll be creating the content for, and where you will publish it.
Know who you are creating the content for / know your audience
Whos your target audience?
Knowing who your target audience is will help you to determine the type of content to create that would be most effective and engaging.
Knowing the type of sites that your potential audience visits, the type of content that they interact with, and share will help you gain insights into what content you need to create.
Some tools can help not only determine the audience, but also the content you should create and help with creating great content. We outline some of these tools below.
Staying focused on your niche gives you the best chances of reaching your goals, obtaining the results that you set out for, and potentially even becoming an authority in your field.
What makes you different?
What makes your blog different from the many other blogs out there that share the same niche? Is your content more:
in-depth
factual
humorous
simple
understandable
knowing what it is that makes you different is what you can focus on to help make your content a success.
The content formats that you'll develop/ work on / create
What types of content will you plan on creating? Will it simply be text-only content for your blog? Will you be adding photos or creating graphics, videos, infographics, or even a combination of several types of content?
Knowing what the topics are that you will be focusing on will allow you to know what other types of content are likely to be required to support them.
The channels that your content will be published to
Along with the different forms of content that you'll be creating, there will also be different channels that you can publish the content to. This can simply be your own blog, or it can be social media channels such as Instagram or Youtube. Whatever the content, you'll have different options for publishing and promoting.
How you will manage and schedule your content creation and publishing
So knowing what you'll create and what channels you will publish to are just two parts to your content strategy. Creating a content schedule so that you'll have an idea of when you'll create the content will help give you some clear ideas of milestones and realistic timeframes for when you'll finally be publishing the content.
See our guide on how a content schedule can benefit your blogging progress.
How to develop your own content strategy and create content that people will love and share (rework)
Firstly, you may already have a list of ideas for content that you wish to create. That's a good start. But if you know that you need to be creating content but aren't sure what to create, some tools can help with the process.
These tools vary from being able to give you content ideas, to be able to see how popular a specific piece of content is, giving you an insight into seeing how well you could do if you were to create similar content. These tools are:
Brainstorm content ideas
Hubspot blog ideas generator
A search tool that aims to "give you a year's worth of blog posts in a matter of seconds." Simply enter a handful of topics/nouns then hit the 'Give me blog ideas' button, and it'll quickly return these ideas. Enter your email address, and it'll give you 250 ideas instantly.
Buzzsumo
Buzzsumo is an online tool that lets you discover popular content and ideas by topic or on any website, showing how popular content is based on social media shares.
Just simply enter a search term, and you'll instantly find out what is working well in your field and will save you significant time from doing manual research.
Ubersuggest
Ubersuggest is an amazing free tool from Neil Patel. It can help you find many search terms along with their search volume, SEO difficulty, info on competitors for those search terms, and their most popular pages with stats on social media shares. It even helps provide content ideas. We love this tool.
BlogAbout
BlogAbout is a quick and easy tool that shows common headlines with blanks that you need to fill in with your own words to help generate ideas for blog titles. You can even save any titles you come up with to an onscreen notebook.
BlogAbout a great little tool that could help when you've got writer's block and stumbling for ideas for things to write about.
Feedly
Feedly is great for keeping up to date with topics in your industry, and which may also help spawn new ideas for content.
Blog post headline analyzer
A search tool that lets you analyze content titles that you come up with, giving valuable feedback on strengths and weaknesses along with potential improvements that you can make to make them stronger.
After using these tools, you should now have a good list of some content ideas. Now determine the type of content you are going to create from these ideas. Some may require more than one type of content, i.e., a blog post with supporting images and a downloadable pdf document.
Here is a list of the most common content types:
Blog Posts / News / guides / reviews / book summaries
Giveaways / Q&A session / interview / lists / opinions / survey / press releases
Pages / FAQs /
Ebooks
Courses / webinars
Templates
Graphics / infographics / Slideshare /
Videos / vlog /
Photos / gallery / collage
Podcasts
Social Media
Newsletter
Documents / white papers / resources
Finally, once you have compiled a list of all of the content that you would like to create, listing the titles of each type of content and the goal that you are aiming for with each, you can then order these by priority or by topic type.
You can add notes on the channels that they will be published and promoted on, and you're almost there with your general content strategy.
Add in a content schedule to let you know when you plan on publishing this content, and you'll have a solid first content strategy that you can work from going forward.
Publish your content
Developing a content strategy combined with a content schedule will help ensure that you have a lot of well-planned content to create that is scheduled to publish when it suits you.
Conclusion
Deciding what type of content to create and being able to create great content is not an easy task, but it is something that we can all do with a little planning and effort.
It is a fluid process that may even change to some degree along the way, but once you figure it all out and get the ball rolling, it'll begin to flow well.
You'll likely rarely ever create content that wasn't pre-planned to some degree, but the results of your efforts will be rewarding as you reach your goals and more.
Blog posts are what we're all about. They're one of the easiest and most effective ways of sharing content. You're likely to browse several each day as you search for things of interest.
Read 'How to Write the Perfect Blog Post that Readers Will Love & Share' to help you write amazing posts going forward.