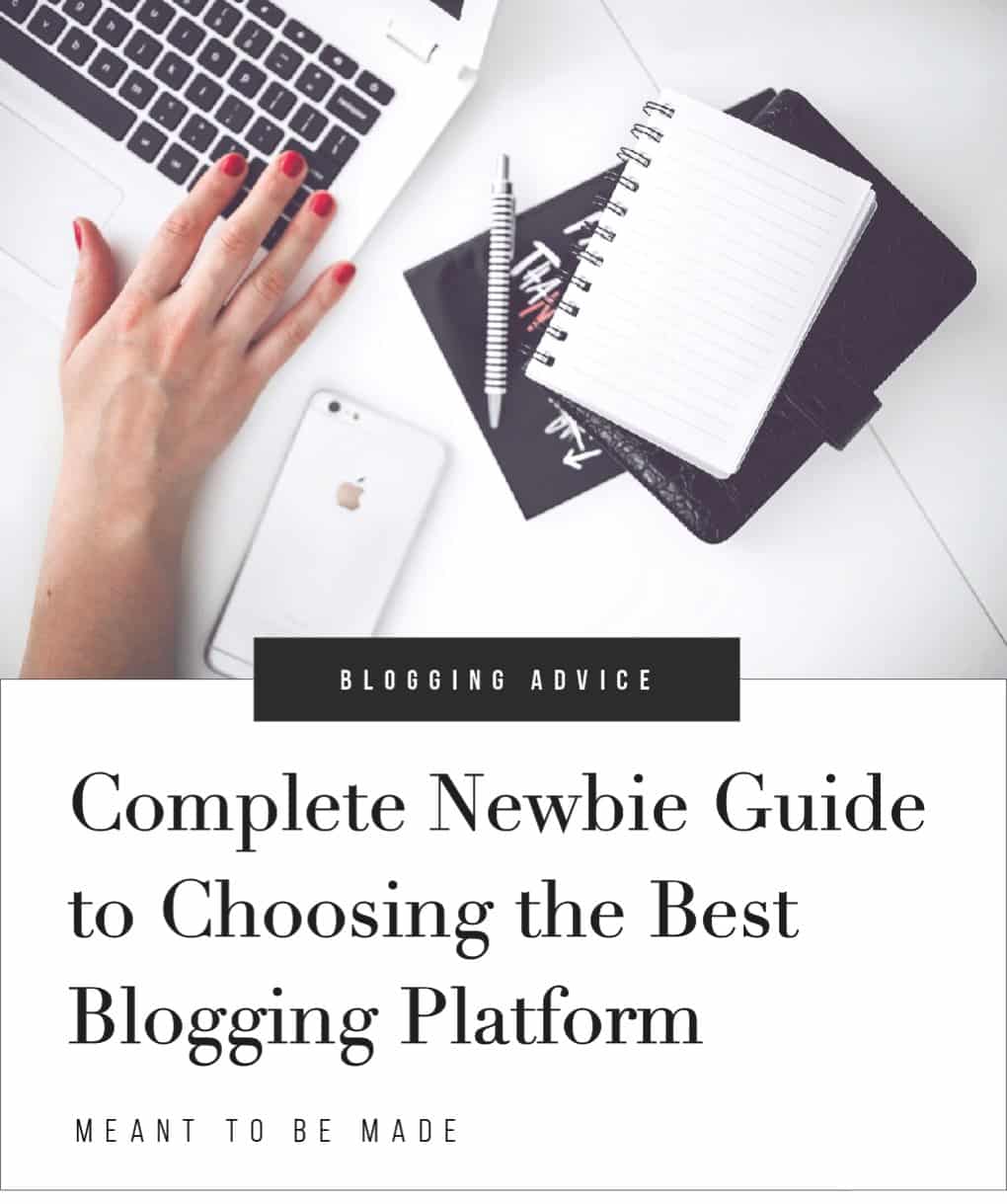 We talk you through the most prominent blogging platforms so you can make an informed decision.
So you're thinking about blogging, but not sure which blogging platform to use?
So many of them out there, some free, some paid – how do you choose?!
It's certainly a confusing and overwhelming question that most new bloggers face, we certainly did when we were starting.
But let us help you with this. We spent a lot of time researching and even trying out different blogging platforms, so why waste your time in doing the same when we can give you an overview of what we found?
There are many blogging platforms. Some have been on the go for a very long time and have a large number of resources available but are becoming a little old-fashioned. Others are newer to the market and are more modern but with less extensibility.
Deciding which blogging platform to use can be a tricky decision. It certainly was for us and it's not something to commit to without great thought.
We take a look at the most popular blogging platforms to help you make a decision, although if you want to save some time, our clear choice is WordPress.
WordPress
We start with WordPress, which is the most popular blogging platform on the web, and the majority of blogs are built using the platform. WordPress essentially offers two platforms –WordPress.com and WordPress.org.
Although these are both similar, there are important differences between the two platforms, which we will briefly touch on.
WordPress.com
WordPress.com allows you to have a blog for free, which is stored on their services. However, the version of WordPress is limited and requires additional purchases for upgrades and features or premium services. Although this might not be an issue for hobby bloggers, anyone who wishes to have a more serious or professional blog or may wish to begin making money from their blog may not wish to go down the free route.
Pros:
Initially free (no set-up costs)
Easy to use – no technical skills required
Lots of starter themes to choose from
Cons:
You do not own your blog, so making money from your blog is difficult. Additionally, WordPress.com show their ads on your site (which is why they offer it to you for free)
It is less professional-looking, and you cannot use custom themes to make it look more professional
Features are limited unless you purchase upgrades
Your blog domain name will have .wordpress
You can be suspended at any time for violating their terms of service and may lose the content that you created
WordPress.org
WordPress.org is also free; however, you do need to self-host it. A self-hosted WordPress blog uses the full-featured WordPress software but on your own choice of host.
(see our How to Start a Blog (and Make Money) in 2020 guide for details on how to start your own WordPress blog with very little hosting fee and a free domain name).
A self-hosted WordPress blog is a more preferred choice for professional bloggers, professional business owners, and big brand builders. Still, it is equally a great choice for those starting out blogging.
WordPress.org is the most popular blogging platform and used by over 30% of the internet. You can extend it with easy to add plugins, have a greater choice of professional themes to switch to, and you can even display your own ads to make money from it and more. It is a great choice if you want to have full control over your blog both now and in the future.
Pros:
As a WordPress.org blog is your own, you have full control without any risk of being suspended
It's user-friendly and designed with the user in mind
Customizing your blog is quick and easy, with thousands of free professional themes to choose from. You can also purchase themes later on if you want to
You get access to thousands of plugins which add beneficial features to your blog, which can be added at the touch of a button
It's search engine friendly – helping you to get your content found more easily
Cons:
You will need to manage your own security and backups (see our easy to follow guide on managing your WordPress blog)
It does cost to self-host, but it isn't significant (and you can even self-host for just $2.75 per month – see below)
It can be confusing to new bloggers to know the differences between the two, especially since they share very similar names, but when bloggers see the limitations of wordpress.com, they often want to move to the more fuller featured self-hosted version.
Pricing
Although WordPress.org is free, you need to use a host to self-host it.
Our readers can get started for only $2.75 per month with Bluehost, who are offering our readers 60% off on web hosting and a free domain name.
Blogger
Blogger is a free blogging platform from Google and is a great place to start for non-tech-savvy users to create a blog. It comes with features such as Analytics (which shows you all kinds of data about your visitors) and Adsense (which lets you make some money from displaying ads).
It's easy to set up a Blogger account, which you can do simply from signing up with your Google account. For new bloggers starting, this could be a great choice.
However, it is very limited, and you'll likely find that you'll quickly want to move to something more powerful and more professional looking as it lacks many of the features that you'll want as your blog grows. In our opinion, Blogger really only is for small startup blogs due to its basic features and templates, and we've yet to see any big blogs running on it.
Pros:
It's free and easy to start with
Uses Google's secure platform and reliability
Benefits from Google's features such as Adsense and Analytics
Cons:
Few themes, many of which are often low quality
Your site will have .blogspot in its address
You cannot self-host, so you will never own your website
You cannot add new features and functionality as and when you require them
Blogging tools and features are basic and are not frequently updated
TypePad
TypePad is another blogging platform that some say is slightly easier to use than WordPress but does have a monthly fee to use. TypePad does offer more features than many of the free blogging platforms, and the themes do look more professional.
However, as your blog is hosted on their servers, you don't fully own your own blog. The TypePad basic plan starts at around $8.95 per month, rising to around $14.95 as you require more features or to around $49.95 for all features and priority support, so it can work out quite costly in comparison to other blogging platforms.
TypePad does allow commercial content, so you can make money with your blog. Often people will still recommend a self-hosted WordPress blog for the full control and advantages listed earlier.
Pros:
Great community for support
The service provider takes care of security
Easy for beginners who want to create simple blogs
Cons:
Users can't back up all of their content
Lacks plugins and design features for customizing including plugins which allow your blog to run faster
$49.95 p/m if you want full control over themes CSS and HTML (not suitable for beginners)
Wix
You may have seen the television ads for Wix, which is marketed as a simple do-it-yourself website building platform. Wix offers a very basic free account which displays ads, but also offer paid plans with more features and no ads. Wix is a good option for creating blogs on the cheap and is a great solution for small businesses starting.
Wix is renowned for its easiness when customizing and creating your blog due to its drag and drop tools and requires no coding skills, so it is a popular choice amongst beginners.
Pros:
Easy to use
Lots of professional-looking themes
Unlimited Bandwidth
You can display advertising to make money
You can buy a domain to give you a professional address
Cons:
A Wix free account is limited and will show Wix branding and ads on your blog
If you plan to sell on your blog, you can only add limited Ecommerce features if you are on a paid plan
More expensive than self-hosting a WordPress blog
Limited customization
Difficult to switch themes without losing content
You will have a Wix subdomain if you are on a free account
Squarespace
Squarespace is a simple and easy website building service that uses drag and drop tools to create your blog. Squarespace has a focus on small businesses that require a quick and easy way to create an online presence. Starting from around $16 per month (or $12 per month if you pay a year in advance) for a personal plan, or $26 per month for a business plan, this platform isn't the cheapest option here.
Pros:
Perfect for beginners who aren't tech-savvy
Great blogging features
Over 100 professional and attractive templates, also optimized for small screens
Good support team
Apps that allow you to edit and update your website on your phone
Cons:
Limited integration of services and tools
A limited set of features built into the Squarespace platform
Users often switch from Squarespace to WordPress to minimize expenses
Some SEO flaws, such as editing page titles or page speed which can affect search engine rankings
Conclusion
We've outlined some of the most popular current blogging platforms. In our opinion, a self-hosted WordPress blog is by far the best all-round platform offering all the flexible features you need both now and as you grow, is easy to use, and also very affordable using a good low-cost hosting plan.
To help you get started with your own WordPress blog, we have created a complete guide on how to start a blog and have a special offer for our readers who can get started for only $2.75 per month with Bluehost, which is 60% off the regular price and also includes a free domain name (worth $15!).
We hope that we've helped you choose the best blogging platform for your needs and look forward to hearing how you get on with starting your blog.