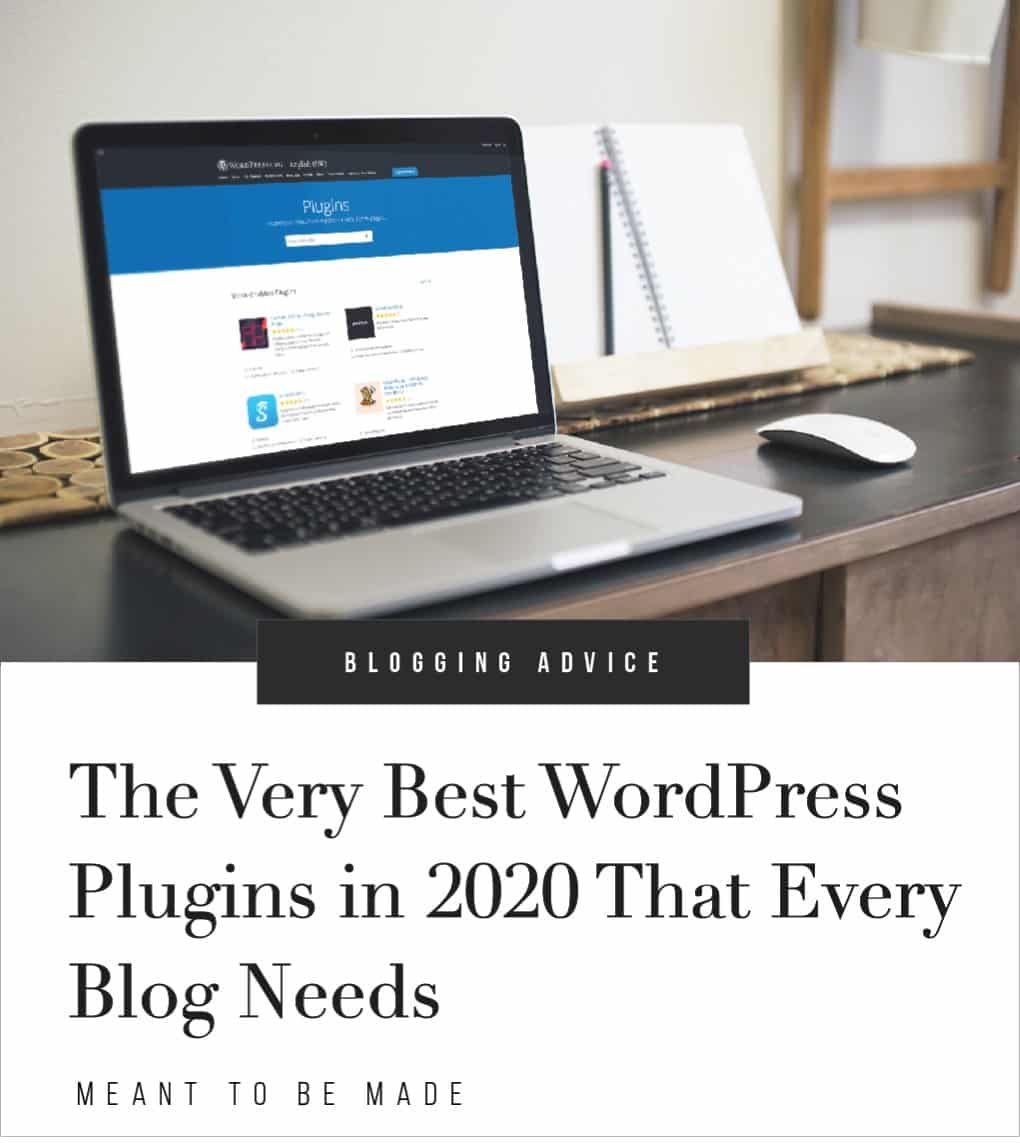 The top WordPress plugins to secure and boost your blog to the next level
What are WordPress plugins?
WordPress plugins are like little apps that are easily installed into your WordPress blog to extend the functionality of WordPress.
Look at it this way. When you unbox a new phone, it has some basic features applied. When you install apps, it opens up the potential for what you can now do and makes your phone so much more useful and exciting.
This is the same with Plugins. Plugins can turn a basic blog into an amazing, full-featured website. With great features such as add to cart buttons, photo galleries, contact forms — anything you can imagine.
However, plugins aren't just for making your blog more useful and exciting. There are also recommended essential plugins to install on your WordPress blog to improve the speed and security of it.
The official plugins repository is where you can find most WordPress plugins. The repository currently has over 55,000 plugins available, which cover all the types of functionality that you would ever require.
By knowing which plugins to install and for what purpose can be difficult, especially if you don't know the ins and outs of WordPress.
To help you save time, we have narrowed down the very best WordPress plugins for different uses. From essential plugins that every WordPress blog should have installed, such as plugins for security and speed, to plugins that can help you view your visitor numbers statistics. We've taken the time to research, test, and recommend the very best and essential WordPress plugins so that you don't have to.
Understanding plugins
As you may already know, WordPress is a blogging platform that is primarily built by a community of open source developers who contribute code to its development.
The same can be said about many of the available plugins. However, most of the best plugins are developed by companies who have invested a great deal of time into developing their plugins to excel at what they do.
This typically means that you have plugins that are free and are quite good at what they do and also plugins that are paid for, which are generally great at what they do.
Often you'll have a free cut down version of a plugin that can offer most of the features you require for its specific use. But if you need more features, you can opt to buy the premium version to enable all of the premium features. These plugins are called freemium plugins.
With the right set of plugins installed on your blog, you can significantly improve the overall experience for your readers. This will also make the day-to-day management of your blog far easier than the manual, difficult tasks that would otherwise be required to maintain a healthy and secure blog.
So let's look at the various categories and dive into the very best plugins for WordPress in 2020.
The Best WordPress Security Plugins
There are many plugins for WordPress that cover various aspects of security. We detail several of the best in great detail in our best WordPress plugins for a fast and secure blog post.
A good web host can offer a solid foundation for your website security, such as providing a free SSL certificate.
But you should still boost your WordPress security by installing these security plugins. They will help protect your blog from unauthorized access and protect your readers from malicious activities.
Really Simple SSL
If you've got a good web host, you should have SSL included as part of your hosting plan.
Make sure this is enabled within your hosting control panel then install the Really Simple SSL WordPress plugin. This will activate SSL on your website very easily with just a click of a button.
Just simply install the plugin, activate, and enable SSL, and you're done.
Really Simple SSL features include:
Automatically detects your settings and configures your website to run over https
The site URL is changed to https
Lightweight and minimal options
Wordfence security + Securi
Wordfence is one of the most popular security plugins for WordPress, providing features such as firewall, malware scanner, and alerts.
You can also benefit from protection against brute force login attempts. These are a common method that hackers use to hack into WordPress blogs.
WordFence features include:
Firewall identifies and blocks malicious traffic
Real-time Blacklist blocks all requests from the most malicious IPs
Integrated malware scanner blocks requests that include malicious code or content.
Protection from brute force attacks
Securi WordPress security plugin offers all of these features and much more, including help restoring your site to full health in the event of an attack or infection.
MiniOrange 2-Factor Security
When you log in to your WordPress administrator pages, you'll sign in with a typical username and password screen.
This is a basic form of security and is not a strong way of preventing hackers or others from gaining access to your blog.
Adding an additional layer of security to the login screen can significantly boost the security of your WordPress website.
Miniorange 2-factor security is a free plugin that offers 2-factor authentication. You'll enter your WordPress username and password as normal, but the next screen will ask for a security code, which you'll be given by the Google Authenticator app, which can be installed on most phones.
The set up is quite straightforward, and the plugin will guide you through the process.
This added layer of security for your login screen can greatly boost the security of your site.
The Best WordPress Speed and Performance Plugins
These days, the speed of your website is one of the main factors in determining the success of your website.
Fast websites provide better user experience, rank better on the search engines, and can help reduce the bounce rate from visitors who wait too long for the pages to load.
It is especially important if you use your website for monetization. Studies show that a website that takes more than 2 seconds to load will lose around 47% of its visitors as they immediately leave to go elsewhere. That could mean losing a lot of visitors by simply not making sure your site loads as quickly as possible.
A quick tip is in choosing a reliable host (Bluehost) that gives you a speedy platform to run your WordPress site.
WP Rocket
WP Rocket is recognized as the most powerful caching plugin by experts.
This plugin is what we use on our site, and we can't recommend it enough. Within minutes of installing, it transforms the average website into a blazing fast site with minimal configuration.
Don't waste time with endless complex configurations of your website striving for whatever little speed boost you can find. This plugin provides the majority of the features that you would need all in one suite.
This all in one plugin includes:
Caching, which creates pre-generated versions of your pages so that they don't have to generate each time.
Static file compression, which reduces the sizes of the CSS, Javascript, and other files on your site
Image loading efficiencies so that images are only loaded as your visitors scroll down a page.
WP Smush it
WP Smush is a WordPress plugin that can greatly optimize the images on your website by reducing the file sizes without reducing the quality.
Images can significantly slow your pages down. They are often the most bulkiest parts due to the large file sizes, so adding a plugin like WP Smush along with a good solid caching plugin can often make the majority of speed savings that you'll be able to make with your site, with only minimal savings being able to be made elsewhere.
The Best WordPress Backup Plugins
Many of us don't think about taking backups of our blogs and websites. But your blog is just like any form of data. It contains valuable information that you have worked hard on. Not to mention the whole structure and configuration that you've done to it over time.
For many, if a website was ever hacked or you updated a plugin that broke the whole site, it could often be the end of a blog as most people wouldn't know how to go about getting it back to how it was, let alone recovering your data.
This is why it is very important to take precautions if anything were to happen. By installing a backup plugin, this could help you quickly recover your blog back to the way it was before the unforeseen event.
Protecting all of your hard work by taking backups is the single most important thing you can do.
UpdraftPlus – Backup & Restore
UpdraftPlus is a complete backup and restore plugin for WordPress. It helps to keep your website safe by backing up the complete website and storing it safely should you ever need to restore it.
Backups can be scheduled to run automatically so that you don't have to remember to manually take them and can be safely stored in the cloud or downloaded to your computer.
In the event of an issue such as a hack, malware infection, or faulty plugin, backups can be restored with a single click.
If you value the work that you've put into your blog, then a good backup plugin such as UpdraftPlus is highly recommended.
The Best WordPress SEO Plugins
Running your WordPress blog on a good host such as BlueHost will help speed it up. This is great for SEO, but there are specific plugins that you can install that are great for helping to boost your SEO rankings.
Integrating keywords into your titles, headers, and content is important for ranking well, and these are often done when you are writing your blog posts.
Using SEO plugins for WordPress can make the task easier, making sure you are utilizing the keywords correctly, not just in the content but on your images and links.
These plugins also help make sure your content is readable while checking that the keywords are not being overused and spammy. This can result in penalization.
Several SEO plugins are great for giving your blog the much-needed SEO boost. They can certainly help make the job easier.
Yoast SEO
When it comes to running a website, SEO plays one of the most significant factors in determining its success.
Yoast SEO is one of the most downloaded plugins for WordPress. It helps you to get the most from your SEO on your pages and content.
Yoast analyses your titles and content and recommends ways to increase the SEO for any given keyphrase that you want to focus the page on.
It not only works on pages and posts but also on categories too. Additionally, if you have added functionality to your WordPress site, such as an e-commerce store, you'll be able to improve the SEO on those pages also.
The feature list is extensive, as it covers the majority of SEO, including:
Keyword optimization
Content readability check
Internal linking suggestions
Content insights
and much more.
In our opinion, Yoast is the best SEO plugin for WordPress. This is why we also use it on all of our sites too.
Broken Link Checker
Managing your own website means taking care of the obvious tasks. From carrying out updates, checking spam, monitoring security and backups, and more.
But some tasks are not so obvious, such as checking for broken links.
Broken links can happen if you delete a post or page, or change the URL of any item on your site.
Broken links create a bad experience for your visitors and can result in them leaving your site. They can also adversely affect your SEO, so it is important to monitor and manage them, correcting them when notified.
Broken link checker is a very handy plugin for WordPress and completely free.
Bonus tip: SEO is a mix of both technical and non-technical SEO. So those plugins, coupled with speed improvement plugins, which we've detailed earlier, can provide you with all-round, well-balanced SEO.
The best WordPress Spam plugins
As your WordPress blog gains popularity, along with the increase in traffic, often comes an increase in spam comments.
If you have comments enabled (which is the default setting), then it is almost certain that you will begin seeing spam comments fill up your blog.
These normally require manual sorting. Moderating comments is part of the management that you'll need to do when running a WordPress site. However, this job can be made so much easier by using an antispam plugin, which will take care of the filtering
Here we detail the most popular anti-spam plugins you can use with your WordPress blog.
Akismet
The Official WordPress repository has over 55,000 plugins, Akismet is in the top 5. Developed by the same team that brings you WordPress, Akismet will scan all comments submitted to your site and filter the good from the bad. This makes the moderation of your blog comments significantly quicker and easier.
Simply install and activate the plugin, enter your API key (which you get when you sign up), and job done.
If only everything was that simple!
Akismet is free for personal blogs provided that you don't make money from your blog. If your blog shows ads or has affiliate links then you must subscribe to the plus plan at $5 per month.
Quick Tip: Akismet is the best Anti-spam plugin for blog comments, it pays for itself in the time you save from moderating comment spam, however, Jetpack comes with Akismet as part of their Personal plan.
At $3.50 you'll save $1.50 and you'll also have lots of additional features that Jetpack provides! We love Jetpack, it's one of the must-have plugins and will make your blog faster, more secure and easier to manage. Go get it!!
The Best WordPress Page Builder Plugins
If you are looking for an easy way to design and customize your WordPress blog, then there are drag and drop page builder plugins for WordPress that will make the job easy.
Most of us don't know how to code a website. Nor do we want to pay a website developer high rates to do this for us every time we need to make some changes.
Being able to quickly customize the design and layout of your blog pages using a drag and drop page builder is a hassle-free way of doing just that.
We've shortlisted the most popular drag and drop page builder plugins for WordPress
Elementor
Elementor is a simple yet powerful live page builder for WordPress. Elementor is available in free and paid versions. This page builder allows you to build pages quickly and see the final result live. No longer do you need to click preview just to see how it looks when you make changes. The whole process is done directly on the page as you go.
Available with many widgets such as image galleries, video player, buttons, social media icons, and much more.
Divi
Divi has become known for being the most popular theme in the world. Made by Elegant Themes, who have made some of the very best WordPress themes, Divi now being the most ultimate page builder and ideal for beginners.
Divi excels above the rest and takes WordPress to a whole new level. Being more than just another WordPress theme, Divi transforms WordPress into a website building platform. It gives you the power to create amazing designs with minimal effort.
As well as having practically limitless amounts of layout possibilities, it also replaces the standard WordPress post editor with a vastly superior visual editor. You just simply drag and drop items so that you can create the pages you desire with ease.
Use it on any theme you want by using one of the many content modules it offers, such as :
Call to actions
Sliders
Galleries
Forms
Testimonials
Audio
Buttons
Comments
Countdown timer
Email Optin
Images
Map
Portfolio
Pricing Tables
Shop
Social Media Follow
And more
As you can see, Divi is an absolute killer. Professionals don't just use it. It's also aimed at WordPress newbies. Anyone can create the pages that they want with the features that they need.
Join to get access to all of their themes, plugins, and everything else they offer. Membership is only $89 per year, a worthwhile investment for sure.
Avada
Avada is one of the most popular WordPress themes ever, with over 525,000 sales so far. Although lacking in features in comparison to Divi, it is certainly still very functional. With it, you are still able to create many types of layouts.
Features:
An intuitive feature-packed visual editor
Unlimited layouts and designs – design anything
Over 300+ Prebuilt Web Pages
100% SEO optimized
Responsive on any device type
Optimized for speed & performance
And more
Lower cost at around $60 one-off – free updates for life!
A relatively powerful page builder plugin with many features and design layouts. Perhaps not so user-friendly, but at a lower cost than Divi at $60 one-off, plus free updates for life, it is certainly a top contender.
BeaverBuilder
BeaverBuilder is a drag and drop page builder that works live on the front end of your website. You don't have to keep clicking on the preview button when making changes; everything happens live. You just publish the changes when ready.
You can start with modern-looking mobile-friendly templates featuring responsive designs and elements. You get full control over your design elements, with many drag and drop modules. These include contact forms, photos, text editors, video, audio accordions, call to actions, subscribe forms, pricing tables, and more.
All layouts can be saved and reused elsewhere on your website, or other websites that run BeaverBuilder.
BeaverBuilder works well with WooCommerce. If you have your own WooCommerce store, this might be a good option and worth looking into.
BeaverBuilder is available in a free Lite version and also a Premium version. Pricing is higher than other page builders at $99, but you can buy it once and then use it an unlimited amount of times on other websites. This makes it very affordable if you run more than one website.
WP Page Builder
WP Page Builder is a relatively new WordPress page builder in comparison to others available and was released in August 2018.
Available in a full-featured free version, the premium version has the same features but also includes lots of additional layouts.
With this page builder, you can create stunning web pages effortlessly. This is done via the front end real-time editing, which uses a simple design and easy to understand interface.
There's no design experience necessary and no coding required, so any level of user can easily use it. The blocks are well designed, and any edits that you make can also be reused elsewhere on your site.
Several predesigned blocks and layouts are available. This way, you can create a ready-made page with one click that's responsive and mobile-ready.
Premium has everything in the free version, along with 15+ premium layout bundles plus 83+ readymade page layouts.
The Best WordPress Social Media Plugins
Promoting your website on social media is important if you want to attract more visitors.
There are many ways of doing this from posting images on Instagram or Pinterest to writing posts on Facebook or tweeting on twitter. Some tools can help make this process much easier. Some plugins can even help your visitors do the sharing for you.
Social Media plugins for WordPress generally display share buttons on your pages. These are often just little share icons or share buttons below your content.
Let's take a look at the best social media plugins for WordPress.
Shared counts
Shared Counts is a social media sharing plugin for WordPress. It features sharing buttons that display on your pages and posts. This way, your readers can share your posts on their preferred social networks.
The share buttons also display the number of times that your post has been shared on each social network.
By helping readers share your posts on social media, you'll increase traffic to your blog.
Buttons include:
Facebook
Pinterest
Twitter
LinkedIn
Share by Email
Print button
And more
Sassy Social Share
Sassy Social Share is an easy to use social media plugin for WordPress. It features support for around 100 different social media networks. As well as being able to share your content, your readers can also be directed to your social media profiles.
Many options are available to customize the buttons to your liking, so you can make them fit into the style of your website more easily. The options allow you to add the buttons to your blog post content, or you can have a floating sharing menu that will always be displayed as the reader scrolls down the page.
There are many features available with this plugin, one of which gives you the option of showing the social share count, but you need to use a third-party service to access this.
WordPress to Buffer
Buffer is a popular social media management tool, similar to Hootsuite, which allows you to manage the publishing and scheduling of your content, respond to your followers, and monitor progress with analytics.
The WordPress to Buffer Plugin automatically posts your content to your buffer account so that they are posted to your social media accounts on a schedule that suits you.
WordPress Social Login
WordPress Social Login is a plugin that lets your users can register, login and comment on your site with their social media accounts.
Supporting many social media networks, this is a great easy to use tool for encouraging easier interaction with your site without the long-winded registration process, which puts many people off.
Revive Old Posts
If you haven't been promoting your WordPress site for long on social media, then chances are you have only been promoting your most recent posts. But the Revive Old Posts WordPress plugin is a great way to share old posts to your social media accounts automatically.
By providing a mix of both new and older content is a great way of keeping your social media accounts active and increasing your followers.
Make your content more popular by helping your followers discover and engage with your great content
Instagram Feed
The Instagram Feed plugin for WordPress is a great and easy way of displaying your Instagram photos within your site. It's an ideal way of promoting your Instagram account directly on your website to increase your followers.
The photos can be displayed anywhere on your site, from posts and pages to even sidebars and widget areas.
Better Click to Tweet
A great little WordPress plugin that lets you add little quotes in your content which your readers can click to tweet.
Already used by many blogs around the world, Better Click to Tweet is a great way of getting your content out onto twitter. This will help increase your followers and generating traffic for your site.
The Best WordPress Photo Gallery Plugins
Let's face it. Displaying images on your website is important. Not only does it help the pages look more visually appealing by breaking up the content, but the images can support the content and help get the message across.
But space is limited, especially on mobile screens. So rather than displaying several images on a page, you can utilize the space better in a far more attractive way by displaying the images in a gallery.
There are thousands of gallery plugins available for WordPress. Finding a good balance of aesthetics, features, and ease of use can be difficult and time-consuming.
Luckily we've shortlisted the most popular gallery plugins for WordPress to make things easier for you. But bear in mind the cost of these. Although many have free cut down versions, the premium versions might not be too far off the price of a page builder, which offers galleries as well as many more features.
NextGEN Gallery
Nextgen is the most popular gallery plugin available on the official WordPress repository. With over 26 million downloads so far, it features the most extensive list of features from any gallery plugin. Nextgen allows you to create beautiful photo galleries and albums very easily directly within WordPress
Slideshow, thumbnail, or image browser galleries are your three main gallery style choices. Each of these has many options for changing things like size, style, transitions and timings, lightbox effects, and more.
There is a bulk photo upload feature so you can quickly create albums of different galleries.
The pro version includes many more features, including new photo gallery displays, lightboxes, e-commerce, and more.
Envira Gallery
Envira Photo Gallery is a Freemium gallery plugin for WordPress, that looks great, is feature-packed and is easy to use.
You can get up and running quickly. Just simply upload photos and rearrange using the easy drag and drop gallery builder. You'll have your first great looking gallery ready within 5 minutes.
The free version allows you to create basic galleries that are responsive and mobile-friendly. However, you'll likely want to opt for one of the premium versions for more advanced features.
Premium features include:
Social sharing – share your photos on social media
Video support – even add youtube videos
Albums
Watermarks
Woocommerce support
Free version, basic version for approx $29, premium version for $99.
Modula
Modula is another great photo gallery plugin for WordPress. Featuring a user-friendly interface with great customization options. You can easily create galleries using the drag and drop gallery builder and preview as you go while creating them.
Modula comes with many of the common features that you would expect in a gallery builder. The premium version includes powerful extensions such as social media sharing icons, integration with Pinterest and Instagram, and more.
You can create galleries that are responsive and work on mobile devices, with unique styles for each device type, and your users can sort through photos from galleries by applying filters.
The thing that stands out most about modula is in its image resizing feature. It's currently the only image gallery that lets you freely resize images, so you can choose which ones you want to stand out.
Photo Gallery by WD
A close contender to NextGEN gallery is Photo Gallery by WD, with over 10 million downloads. You can create truly stunning, mobile-friendly galleries in just a few minutes.
Photo Gallery by WD offers:
Featuring a drag and drop interface, so you can create beautiful galleries in just a few minutes
Multiple gallery views, such as thumbnails, masonry, slideshow, mosaic, carousel, image browser, and blog style, amongst others.
Responsive and mobile-friendly
Fully customizable themes – or create your own
Lightbox with 15 different transition effects
Social sharing – share photos to the most popular social networks
Gallery groups – present photos in galleries, organize with tags
Ecommerce features – sell your photos
Watermarks and protection – prevent people from stealing your photos
Instagram integration – import photos from Instagram into your galleries
Add videos into your galleries – embed from YouTube, Vimeo and more
Integrates with Google Photos
Available in a free version, premium versions start at $30
Jetpack
We talk about Jetpack often on our site, but that's because it does do a great job of covering many of the needs that you have with extending WordPress.
One of the features that Jetpack offers is its ability to create photo galleries. While the galleries aren't as full-featured as the other gallery plugins we've mentioned, it's still a good option for creating general galleries that will cover the needs of many.
Here's an example of what a Jetpack gallery looks like:
If you just need a basic gallery for your pages or you're already using Jetpack on your site, then it's definitely worth a look.
The Best WordPress contact form Plugins
WordPress is a great blogging platform, however other than blog writing features which it excels at, WordPress doesn't come with any contact form features, which is something that every website should have.
As your blog grows, your website visitors are likely to want to get in touch for one reason or another. You certainly don't want to advertise your email address on your blog. This would only make it easier for spammers to find and easy to harvest for bots. A contact form is a professional way of helping your visitors get in touch quickly and easily.
WPForms
WPForms is a great form building plugin for WordPress that's ideal for beginners due to its ease of use.
This plugin features a drag and drop form builder. This makes it quick and easy to set up your first forms in a matter of minutes. Although the plugin is simple to use, that doesn't mean that it lacks power. WPForms comes with a whole host of features.
WPForms Lite is free, includes basic contact form features, basic form fields, captcha for spam protection, email notifications, and thank you confirmation pages.
You can see all of your form submissions within your WordPress dashboard as well as receive customized email notifications.
Premium features extend the functionality even more, with multi-page forms, email subscription forms, order forms, payment forms, and much more.
The premium version also comes with 150 form templates, so you'll quickly find a great looking form which with just a few tweaks, will cover your needs.
Formidable Forms
Formidable is, without doubt, the most advanced form building plugin for WordPress.
Featuring the typical drag and drop form building features, Formidable can create any basic type of form you require. With its powerful add-ons, you can create many different types of advanced forms, such as payment or registration forms, quizzes, surveys, and more.
Formidable is aimed at advanced users and developers or those looking for maximum capabilities when designing forms. This means it isn't recommended for people looking for a simple form building plugin.
One of the great things about Formidable is in how it allows you to display user-submitted data on the front end of your site. This means you can create powerful systems that you wouldn't expect WordPress to be able to do.
The advanced calculation fields that it offers mean that you can also create typical order forms or online calculators for mortgages or quotations etc.
Formidable integrates with various payment platforms and email marketing systems. This makes it not just a typical form builder, but a powerful system for transforming your website into almost anything you desire.
Gravity Forms
Gravity Forms is one of the easiest form building plugins for WordPress. With it, you can create both basic and advanced forms.
You can quickly build forms using the visual form editor, or use one of the many ready to go form fields.
Gravity Forms certainly doesn't lack features that the other form builders have. It integrates with many web applications and services, such as PayPal, MailChimp, and many many more.
Ninja Forms
Ninja Forms is a great little form builder, which has both free and paid versions. The free version is more than capable of creating basic starter forms.
However, if you are looking for more capabilities, then you can extend it with powerful add-ons. Add-ons help you connect your forms to services such as Campaign Monitor, Freshbooks, SMS notifications, and more.
The Best WordPress eCommerce Plugins
Selling products or services on your website is a great way to make money online. There are several e-commerce solutions such as Shopify, dedicated online stores that you can build, similar to how you use WordPress to blog.
But rather than having two sites, one for a blog and one for an e-commerce store, you can simply install an e-commerce plugin into your WordPress site to give you a fully functioning online store and keep everything running from the one site.
No matter what you want to sell, whether it be physical or digital products, the following e-commerce plugins will help you get up and running with selling in minutes.
WooCommerce
WooCommerce is the most popular e-commerce plugin for WordPress and used by millions of web stores around the world.
This e-commerce plugin for WordPress powers 8% of the world's online stores (attribute) and 21% of the top 1 million sites (attribute).
With WooCommerce, you can instantly turn your WordPress site into an e-commerce store, selling physical products, digital downloads, or subscriptions.
The plugin is free and capable of doing most of your e-commerce needs. Most stores don't need to spend any money, which makes a very economical way to start an online store. Quickly and easily create a store with a handful of products or thousands
WooCommerce even has its own extension store. This means that you can extend the functionality even more with extensions that cover all aspects of online selling.
Some of these extensions are free, although many range in price but do provide functionality you that's not available out of the box, although aimed at more advanced users.
Woocommerce is brought to you by Automattic, the same company that also develops WordPress. It is a solid plugin that is regularly updated and comprises of a large community of developers who contribute to its development.
Built-in integrations with popular payment providers such as Stripe, PayPal, Apple Pay, and extensions are available to integrate your store with many others.
Many premium themes work with WooCommerce with features that greatly enhance it, such as product galleries.
WooCommerce is quick to learn and easy to use for beginners. But with its capabilities, it is also great for advanced users.
We use it on our websites, and if you are looking at creating an online store, we highly recommend it.
Easy Digital Downloads
If you only need to create an online store to sell digital products on your website, such as ebooks or pdf files, then Easy Digital Downloads is the perfect WordPress plugin for you.
This e-commerce plugin is simple to use and makes managing and selling digital products quick and easy. Cutting out the clutter of other e-commerce stores such as WooCommerce and focusing only on sales of non-physical items. This is great for selling things like printables, photos, audio, and more, basically anything that's downloadable.
Easy Digital Downloads comes with a shopping cart so that you can process the payments directly on your website. When a buyer makes a purchase, they receive an email with the download link.
The free version handles most of the things that you are likely to need, including the ability to offer discount codes. This makes it an almost perfect and free way of selling digital products on your site.
Easy Digital Downloads also has a premium version that provides customer support and extensions. It even provides integration with payment providers and email marketing systems.
In addition to this, it also has a separate extensions library where you can buy individual extensions, and similar to WooCommerce these extensions can vary in price.
The Best WordPress Lead Generation plugins
Lead generation is vital for any blog that wants to be successful and should be a priority for you if you want to grow your blog, both in traffic and in revenue.
Do you know that, on average, 75% of people who visit your blog will never return?
That's a lot of wasted opportunities, a lot of hard work that you've put into your blog that you'll likely never see a return from. If you're not capturing leads, then your competitors are.
Whether you run a blog, an e-commerce store, or a company website, gathering the contact details of those who visit your website is significantly important to the success of your site.
Without any form of lead generation, it's going to be very difficult to drive your blog to success both in repeat visitors, sales conversions, or even customer interaction.
It's simple. You need to start capturing as many visitors as possible into potential leads, and you need to do it now.
Your visitors are anonymous, but capturing their details helps you begin to build relationships with your visitors and get to know them
There are many plugins available for WordPress, which can help with lead generation. It's important to encourage your visitors to sign up for your email list in return for giving them more information on what they are interested in. This can be information on your products or services, or the content you create, or even special offers and discounts.
Lead generation plugins can help you:
Display call to action (CTA) on your site influencing people to take action
Build an email list to build relationships
Help you create high conversion landing pages
Promote special offers and discounts only available to those who subscribe to your list
OptinMonster
OptimMonster is one of the most powerful lead generation platforms for WordPress. It is a complete web-based app that also has a WordPress plugin that helps you to easily embed the OptinMonster forms, including sidebar widgets, lightbox overlays, slide-ins, and fullscreen welcome gate.
OptinMonster helps you to convert your visitors into leads, subscribers, and customers and integrates with all the leading email providers. You use the OptinMonster online dashboard to manage various functions and create your offers using one of the many pre-built high performing templates which have been designed for maximum conversions, or a blank canvas if you prefer.
Next, you customize all of the details using the easy to use online editor. Just drag and drop the items you need, all without any coding.
Then, you target and personalize your offers. Page-level targeting is a powerful feature for displaying different forms on different pages for specific targeting. This means your offers appear at the right time to the right people based on the content that they're reading and their behaviors on the page. This allows for maximum possible conversions.
You can then monitor stats and make adjustments in real-time. You can also use split tests so that you can see how well your ideas perform over others right from within the dashboard while seeing other performance analytics.
OptinMonster has various opt-in forms but is best known for its exit-intent popup. This detects the behavior of the user as they are about to exit a page and prompts them with targeted campaign promotion.
Optin Forms
OptinForms is a free lead generation plugin for WordPress that lets you create opt-in forms on your website.
It is a simple plugin with a small feature set, as it only allows you to create opt-in forms and lacks the features from the more powerful lead generation plugins. This means that you may not be able to capture as many leads as you would with one of the more powerful plugins which have more features such as behavioral targeting.
It integrates with most of the main email marketing services such as ConvertKit, Mailchimp, Aweber, and so on and includes five customizable form templates to help you get started.
As a free plugin, if you have a limited budget, it may be worth a look until you are ready to move to a more powerful plugin.
LeadPages
Leadpages is a web page app that connects to WordPress via a plugin. You create your landing pages using the app from one of over 70-page templates, such as squeeze pages, sales pages, thank you pages, and more.
Using the drag and drop editor, you can fully customize your pages to your liking, and it will guide you through with recommendations on how to improve the conversions by making suggestions as you go.
Sumo
Sumo is a very popular tool that is currently installed on more than 800,000 sites, including Airbnb. Sumo features a simple suite of tools that simply aim to help you grow your email list and website traffic.
You can add various sumo tools to your site by using the WordPress plugin. These include list-builder popups, smart bar with email collection fields that stick to the top of your site, scroll box, or welcome mat. All are aimed at helping you grow your website traffic.
The free branded version has many features to help you get started, but if you are looking for more advanced features such as A/B testing or analytics then the paid version is around $39 per month.
The best WordPress Advertising plugins
Many of us who run WordPress sites rely on advertising as one of the main income streams when monetizing our websites. WordPress doesn't come with any advertising management features, so these need to be added separately.
The best WordPress advertising plugins enable you to easily insert ads into various areas of your site, above or below content, in sidebars and elsewhere, so that you can make the most of your advertising opportunities and money-making potential.
AdSanity
AdSanity is a WordPress ad management plugin ideal for beginners, which lets you insert ads easily anywhere on your website.
You can insert ads into widgets that can be displayed on various areas of your site such as sidebars, headers, footers, etc. You can also use the ad inserter buttons in the WordPress editor or shortcodes to insert ads into specific areas of your posts or pages.
You can display ads that you sell directly on your site or ads from ad networks such as Google AdSense.
Features include ad scheduling, ad groups, as well as full statistics for your ads.
AdRotate
AdRotate is very similar to AdSanity in that you can insert ads into various parts of your website very easily, from ad networks or ads that you sell direct.
The advantage of AdRotate is that it comes in both a free and paid version. The free version covers the basics for most small websites, but if you need more features such as ad scheduling, mobile ads, or geo-targeting, then you can upgrade to the paid version for many more advanced features.
Insert Post Ads
If you're looking for an easy way to insert ads into posts, then Insert Post Ads will have you covered.
Ads that are displayed within posts get the best click-through rate as they are embedded within the content so harder to miss and are often related to the content itself.
You can set it to insert ads after a certain amount of paragraphs automatically. This is a hassle-free way of inserting ads rather than having to manually insert them into each post, which can also be harder to manage when you need to make changes, especially if you have hundreds of posts.
Works with Google Adsense or any third party ad network using custom code.
Ad Inserter
Ad Inserter lets you create multiple ad blocks that can display ads from Adsense or other ad networks.
You can insert ads into many different areas of your content, such as:
before or after a post
before or after paragraph
after random paragraphs
after an image
after comments and so many more options similar to these.
Available in a free or paid version, the free version has many features which cover the needs of most small websites, the pro version has many advanced features giving you complete control of how your ads are displayed.
The best WordPress Affiliate Marketing plugins
If you are getting started with affiliate marketing and looking to make money with your WordPress blog, then there are some great affiliate marketing tools available for WordPress to help maximize your earning potential.
Affiliate marketing is one of the best ways to make money online. If you run your own blog, it is a no brainer to include some forms of affiliate marketing to help monetize your blog.
Many bloggers make a significant amount of money using affiliate marketing (including us!)
Below are our recommended affiliate marketing plugins for WordPress so that you can get started too.
ThirstyAffiliates
ThirstyAffiliates is an affiliate marketing plugin for WordPress, which makes the job of creating and managing affiliate links easy.
Firstly it lets you easily insert affiliate links into your posts without having to do it manually. To add affiliate links to your posts, you just use the Thirsty Affiliates drop down link inserter instead of logging into each affiliate program to obtain the links.
The links can also be cloaked so that they don't look long and ugly. This is how most sites handle their affiliate links, including the addition of adding nofollows so that it won't affect your SEO.
Within the dashboard, you can manage all of your affiliate links. You can even update all of your links without having to update every one of them manually throughout the site.
The free version is a great starting point for many sites with many great features, but for more advanced features, it is well worth the investment at only $49.
The advanced features include auto-linking keywords that let you provide keywords that will be automatically linked to your affiliate links. This way, you can focus on writing content without the fear of forgetting to make sure you've gotten your links correctly set up.
Other advanced features include reports full of useful statistics, geolocation link redirects, automatic affiliate disclosures, link health checks, and much more.
Pretty Links
Pretty Links is a handy little plugin for WordPress, which lets you easily cloak any affiliate links that you promote on your website.
In addition to this, you can also create short links to URLs on your website, which is ideal for sharing on social media.
Affiliate WP
Affiliate WP lets you create your very own affiliate program directly on your WordPress website.
If you have products that you sell on your site and you want to create a program for others to be able to recommend your products in return for a commission, then Affiliate WP is the WordPress plugin that makes the job easy.
The plugin integrates seamlessly into your site and provides advanced affiliate referral tracking.
You can manage all of your affiliates within the affiliate dashboard, view top earning affiliates, set referral rates, and more all with real-time reports and graphs.
Your affiliates can also log in to their affiliate dashboard where they can view earnings or see various performance statistics.
The plugin integrates with various WordPress plugins such as WooCommerce, which makes it easy to set up your affiliate program in just a few minutes.
Pricing starts at $99, but it is certainly worth the investment as having other sites recommend your products is the ideal way of generating and boosting sales.
EazyAzon
If you are signed up with the Amazon Affiliates program, you can add Amazon affiliate links to your website easily with the EazyAzon plugin for WordPress.
The plugin lets you find relevant Amazon products right from within your WordPress dashboard, so you don't have to find them and create affiliate links manually. You can even add Amazon buy buttons, cloak links, insert image affiliate links, and more.
Rel NoFollow Checkbox
Rel No Follow is a simple plugin for WordPress that lets you quickly and easily add nofollow tags to your links at the click of a button.
Whenever you add links to external sites within your posts and pages, you'll now have the checkbox option of whether each link you create is a nofollow link.
Adding nofollow tags to links can help prevent you from being penalized from Google for linking to too many sites or lower quality sites, so you can safely promote products without worry.
The Best of the rest of WordPress Plugins
What we've covered so far are the major categories of plugins which are almost essential to the success of your WordPress site. This will certainly take some of the hassles out of the day-to-day management of your site.
There are many more plugins that don't fall into any of these categories but are still highly recommended or certainly worth a mention.
Here we take a look at the best of the rest.
The best all-in-one WordPress plugins
These plugins are worth a mention. What all-in-one plugins do is to provide an extensive suite of features covering many of the aspects required to manage your WordPress site.
The beauty with these plugins is that you only have one subscription to pay. This way, you don't need multiple plugins, which combined would do the same as just one. This means fewer plugins to manage, which also helps make your website run more efficiently.
JetPack
If you run your own self hosted WordPress, then you'll be lacking in some of the features that are available on wordpress.com, such as site statistics and visitor engagement to backups and security enhancements.
JetPack provides a significant amount of modules that add various features to your WordPress website. You can choose to enable or disable whichever modules you like at any time to give you the features you require.
The modules include:
Site Statistics – monitor your website traffic right from your WordPress dashboard.
Sharing – add social network sharing buttons to your posts and pages
Promote – Automatically promote your posts to your social media channels
Related Posts – keep your readers engaged with your site by showing other posts that relate to the one that they are viewing
Ads – Quickly and easily monetize your site
Security – prevent brute force login attempts, scan your site for malware, filter out spam comments
Backups – Backup your site automatically
Lazy Images – load images as they scroll to speed up your site
Infinite Scroll – no need for pagination, users can continue scrolling to load more content
Image Galleries
Contact Forms
Proofreading Grammer checks
SEO Tools
As you can see, JetPack covers many features that you would need to get by installing and managing several other separate plugins. Still, as it is contained within the one suite, it means only one plugin to pay for, manage, and update.
Conclusion
With the plugins we have mentioned above, there is so much you can do to make your blog stronger, safer and more functional. There might be a slight investment with some of the plugins but the return is worth it.