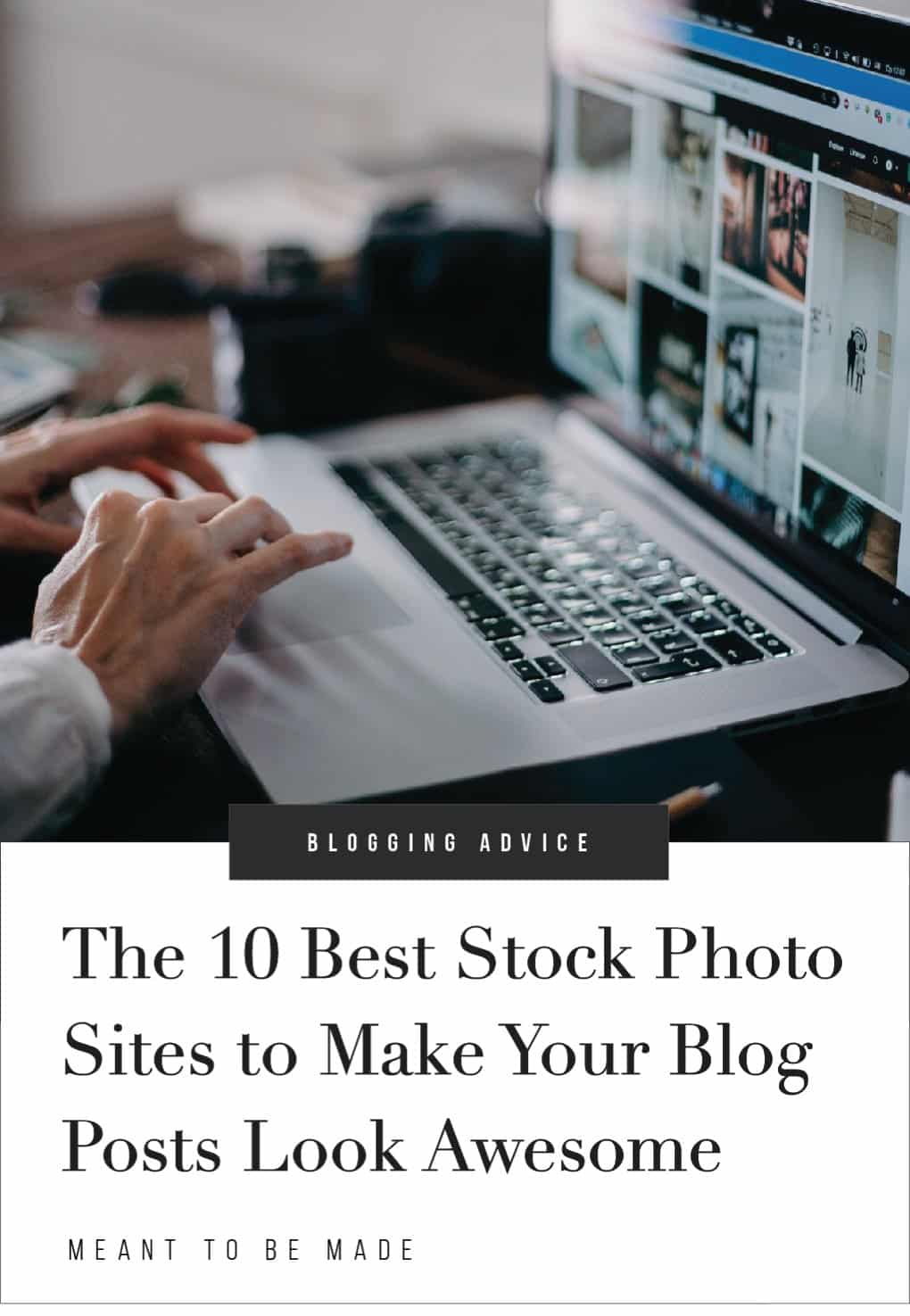 The best insight into amazing stock and boutique photography websites!
We all know that imagery is a key attribute to any kind of design. So it's really important to get professional and relevant photography and imagery right from the start.
Imagery is used to enhance the content you create, convey a message, and add aesthetic to otherwise visually bland subjects, but there's just one hitch.
Where can you get stunning, professional imagery that isn't the typical cringe-worthy stock photos you are so accustomed to seeing? Luckily, we have the answers.
We've sourced some of the best websites offering free and paid stunning, high-resolution images for you to use. These are updated daily and are popular amongst some of the best bloggers.
We will also cover the legal side of using the images from each site too!
Our favorite free stock image sites
Pexels
Pexels is a brilliant place to source free photos and offers a huge collection of very high-quality images. You can join Pexels for free, and by creating an account, you can save photos you like into relevant folders and then download the folders. It's super easy!
Pexels offers a search bar option, a trending option, and an explore option that has photos organized into different categories. As soon as you land on the Pexels homepage, you will see the top trending straight away. There are hundreds to choose from!
We are personally very impressed with Pexels as they offer a huge range of images and really do cater to any topic.
Another reason Pexels is so brilliant is that it is 100% completely free. There are only a couple of restrictions, but these don't affect you unless you're immoral and unfair.
All of the images on Pexels are free to use
You do not need to attribute or give credit to Pexels or the photographer
Users are allowed to edit or modify the photos
Do not resell unaltered images
Users cannot sell or redistribute on other stock photo websites or wallpaper platforms
You cannot imply endorsement of your product or blog from the people or brands on the image
You can use any Pexels image on your website, blog, app, or social media and use the images on your marketing materials and promotional advertising for your blog or product.
Rawpixel
Rawpixel offers photos, PSD mockups, and vectors. Want to know something super cool and convenient? They have a creative board dedicated to free blogging images for you to use!
Rawpixel offers three types of memberships on which you can download under – Free, Casual, and Premium. Each membership comes with its own separate license and terms and conditions.
We suggest you read the relevant information on the Rawpixel website.
Pixabay
Pixabay is very similar to Pexels, but Pixabay offers illustrations and vectors along with photos. When you scroll through Pixabay, you will notice there are a lot of images based on animals, flowers, and photoshopped fantasy images. There will definitely be more options, but these seem to be the most prominent, popular ones.
If you search for something specific using the search bar, you will find images more relatable to your blog and probably more along the lines of what you are looking for.
Pixabay runs with the same license as Pexels, so read above for any licensing terms.
Unsplash
A rising name in the world of stock photography, Unsplash offers a huge range of photographs for different categories, found at the top of the webpage. So looking for the perfect image for your needs is a doddle.
The images are beautiful, high quality with some unique shots along with the odd sponsored image thrown in there. If you like the look of a sponsored image, then don't worry, they are free too!
Unsplash is another stock photo site that gives you complete free run of their images. All they request is that you don't compile their photos to sell or give to another similar or competing service.
Reshot
Reshot is definitely one for the creatives out there. Focusing on the best emerging photographers, Reshot offers incredible, creative photography with a genuine point of view.
Reshot uses simple navigation with a search bar and every photo the offer underneath with an infinite scroll. The only problem? There aren't any categories, but this could be down to clever marketing.
If you click on their 'packs' tab in the top right-hand corner, you can download packs of photos in exchange for promoting them.
Reshot allows you to use their photos for both personal and commercial use. However, they have one restriction – don't compile their images to sell on a similar or competitive site.
StockSnap.io
StockSnap.io is another stock photo website offering free images perfect for beginner bloggers. When you land on the StockSnap.io homepage, you'll see the most recently added free photos. As you scroll through them, you might notice two things.
There are a lot of repetitive photos of the same thing from different angles
There are plenty of really unrelatable images. In and amongst these, you will find some great hidden photos, but you have to really look for them.
One feature of StockSnap.io that we think is nice is in the category section. You will see that in the categories tab, all the photos are organized into so many different categories.
Underneath each category is the search keywords that relate to each category and search. This is extremely handy for seeing at a glance what type of images can be found inside each category, helping the viewer locate what they need quickly.
StockSnap.io photos are completely free to use with no attribution needed for both commercial and personal use.
Gratisography
Gratisography is a real gem to know about and they pride themselves on their quirky and unique stock photos. They focus on strange but relatable photos and is anything but the traditional stock photos you normally find.
Keeping it simple, Gratisography takes you straight to their images when you land on their site. We think Gratisography is a fresh find in a world of countless stock photo websites trying to be the same.
Gratisography offers a free photo license that works the same as the other licenses, as mentioned above. However, they do state that some images may be subject to other intellectual property rights.
If you have a concern about an image, then do your research and get in touch.
Picjumbo
Picjumbo offers a generous collection of free stock photos. They offer a premium service that gives you access to extra photos, fonts and photo collections.
The website uses simple navigation so you can get to what you need quickly. It also has a 'see similar images' option.
New Old Stock
New Old Stock is a really interesting free stock image site that we just had to include. If you run a vintage-inspired blog, then this is a great find for you. If you don't, we bet you could spend hours trawling through all the old photographs.
All of the photos shared on New Old Stock are free from copyright and are easy to navigate with their basic layout.
Life of Pix
Life of Pix offers a truly stunning collection of free high-resolution photos. Scrolling through the website is reminiscent of scrolling through your favorite photographers on Instagram as the photos are extremely professional but completely different from typical stock photos.
Having said that, when looking through the photos, it is hard to see how these would fit into a blog to support content as it is like looking through a photographers portfolio rather than stock images.
Life of Pix also offers free videos, clips, and loops of equally the same quality! This website is up there with the best.
Our favorite paid stock image sites
It's fair to say we've spoiled you with our free stock image site recommendations, and there is simply something for everyone.
ut what about when you need that extra 'oomph'? Or when you simply want unique stock images without the fear that 100,000 other blogs out there are using the same ones?
That's when paid stock images come into play. These paid stock sites offer major out of this world professional photos.
Getty Images
Unless you've been living under a rock, you must know about Getty Images. They are one of the biggest stock images sources in the world and for a reason. Getty Images offers a wealth of photos from general creative photography to editorial pieces (hello celebrities and people of wealth).
Getty Images has also teamed up with some great partners such as BBC Motion Gallery, Sony Pictures, and Lighthouse Films to give you incredible video footage available to download, and that isn't all!
They boast an impressive partnership with some of the most recognizable companies out there – Walt Disney Studios, Warner Bros, ABC Studios, and Sky News, to name a few.
If big names aren't your thing, then not to worry. It's not about the names, it's about the content, and each of these partners provides an abundance of high-quality footage for Getty Image members to use.
If you want to level up the visuals on your blog, then Getty Images is a great place to start.
iStock
iStock is a part of Getty Images so you can guarantee nothing but the best quality. iStock offers vectors and audio along with photographs and video, so stands apart from Getty Images in that respect.
Remember, as important as photos and images are, you need to focus on all visual aspects of your blog, so if you're looking for high-quality vectors and artwork, iStock is the place to go.
Don't push iStock to the side in favor of Getty Images when it comes to stock photos, iStock can stand its ground on the photography front, and you may find something that fits you from here rather than from Getty Images.
Dreamstime
Dreamstime has an appealing partnership with some incredible stock photographers and boasts of its flexible payment plans for both large businesses and small blogs.
With an impressive database, Dreamstime can offer photography, illustration, vectors, video, and audio to suit every niche, and the database is updated daily with new content.
Dreamstime is also home to the world's largest stock photography community, with over 110 million stock photos taken by 532,935 photographers, so variety is certain.
Shutterstock
Shutterstock holds a library of over 90 million stock images, which is updated weekly, giving you an ample choice when it comes to your needs.
Along with stunning photography, Shutterstock offers vectors, illustrations, icons, video footage, and music for all of your creative projects along with access to their editing software, which allows you to customize content ready for publishing easily.
A bonus of Shutterstock is that they keep all the pricing of standard and higher quality photos the same, meaning you won't be charged a higher rate for a high-quality photo.
Also, if you plan to download a large number of photos consistently (say, for example, to kit out your entire blog), then Shutterstock offers the best deal.
123RF
123RF is a key competitor in the stock photo business with affordable payment plans, renowned customer service and incredible, competitive choice of stock photography and footage. It is argued that 123RF is the cheapest place to get high-resolution stock photos without compromising on originality and quality.
123RF also offers high-quality footage and audio along with on-site editing software and a handy mobile app so you can browse on the go.
Adobe Stock
When you think of anything Adobe related, you know that whatever you're investing in is going to be phenomenal. With the user in mind, Adobe offers everything they create on the highest level possible and with ease, and this is obvious when looking through Adobe Stock.
Adobe Stock offers photos, videos, templates, and vectors and illustrations along with their premium content. They also offer different monthly payment plans, which can give you access to their 4K footage and aerial video clips.
Because of who Adobe is and what they offer, you can expect prices to reach the higher end of your budget but know that you are getting the best quality.
Adobe Stock also offers a service that allows you to download watermarked photos into your designs and manage your license and purchases directly from your Adobe software, which is handy to try before you buy.
Boutique Bonus
Along with the typical free and paid stock photo websites, there are also hidden gems out there in the world of small businesses offering boutique imagery.
There are some nice benefits to purchasing boutique stock photos, such as finding niche stock photo sellers, which are guaranteed to be unique and more suited to your specific needs.
A couple of key things that are good to remember when purchasing from boutique stock photo retailers:
Not many people are aware of them and instantly turn to the most popular, well-established stock websites. Meaning, if you purchase from a small seller, you have a higher chance of having beautiful, unique imagery on your blog.
When purchasing from a boutique seller, you are supporting a small business or an individual rather than giving your money to the fat cats. Knowing your purchase paid for school dinners or a birthday present is much nicer than knowing it's paying towards someone's private yacht.
Always fully read the licensing agreement and the terms and conditions for smaller sellers as their terms may differ greatly from the terms on the larger, well-established websites.
Ivory Mix
Chances are if you've been doing your research into the blogging world, then you've heard the name Ivory Mix pop up a few times.
Ivory Mix is well established amongst bloggers offering an incredible variety of professional, beautiful stock photos along with stock photo purchases and photo memberships.
Stock photo bundles range from $10 to $35 and cover a variety of niches and needs from flat lay to templates and styled photos. Photo memberships come at three prices:
FREE $0 – access to 550+ stock photo library, 4= new photos monthly, unlimited downloads
ELITE $47 Quarterly / $15.66 per month– access to 2700+ photos and graphics, 100+ new photos monthly, 30+ new social media quote graphics monthly
VIP $137 Annually / $11.41 per month – Unlimited access bundle, 3500+ photos and graphics, access to VIP photos in popular niches, 100+ new photos monthly
Createherstock
Createherstock offers simply stunning stock photography of REAL people, REAL situations, and REAL life, and we completely love it.
What else is great about Createherstock? You can access and download the freebies from 2018 right now for free. That's 12 months of free stock photos, all equally gorgeous straight to your dropbox.
Premium subscriptions are easily affordable and come in four options:
Blogger $10 Monthly – Access 2500+ images, unlimited downloads
Brand $35 Quarterly – All-access, unlimited downloads, living photos
Tribe $65 Monthly – All-access + 3 users, unlimited downloads, living photos
Influence $99 Annually – All-access, unlimited downloads, living photos
Styled Stock Society
We are very fond of Styled Stock Society photos as they are delicate, beautiful and have a simply delightful color palette.
Styled Stock Society photos give a very elegant feel and are very feminine, perfect for female bloggers and entrepreneurs wanting to add a little class to their blog visuals.
Styled Stock Society offers three different payment plans and is a little bit pricier. However, when you consider the quality of the photos in ALL of the collections (there are lots, and they are all gorgeous) then the price is worth it.
$75 Quarterly / $25 per month (auto-billed every 3 months)
$250 Annually (auto-billed once a year)
$495 Lifetime (one-time payment, lifetime access)
All membership plans cover the following:
Instant access to over 2500 images
New images added monthly
Unlimited downloads
+ bonus resources! 100 predesigned Instagram graphics, 365 Instagram caption prompts, customizable Canva social media templates, stock video and worksheets added monthly.
Haute Stock
Last but not least is Haute Stock. Haute Stock offers stunning stock photos that focus on class, style, and gorgeous aesthetics and is aimed at women entrepreneurs.
As soon as you land on the Haute Stock website, you can tell that you're in for a treat and can instantly recognize the quality you're dealing with. If we could sum up Haute Stock, it would be stunning simplicity.
Haute Stock memberships come in two plans:
$99 Quarterly (billed every 3 months)
$299 Annually (billed once a year)
Both plans have access to instant access, unlimited downloads, and new monthly uploads of:
Lifestyle Images
Desktop Images
Mockups
Pre-made Social Media Graphics
Seasonal Images
Exclusive Graphic Packs
Conclusion
We've given you so many suggestions for free, paid, and boutique stock photos sites and broken them down for you.
In our opinion, many small businesses start with free stock images then upgrade later to the paid sites to get a bigger selection to cover a bigger space.
If you are looking for something specific or particularly feminine, then one of our boutique recommendations might be better suited to you.