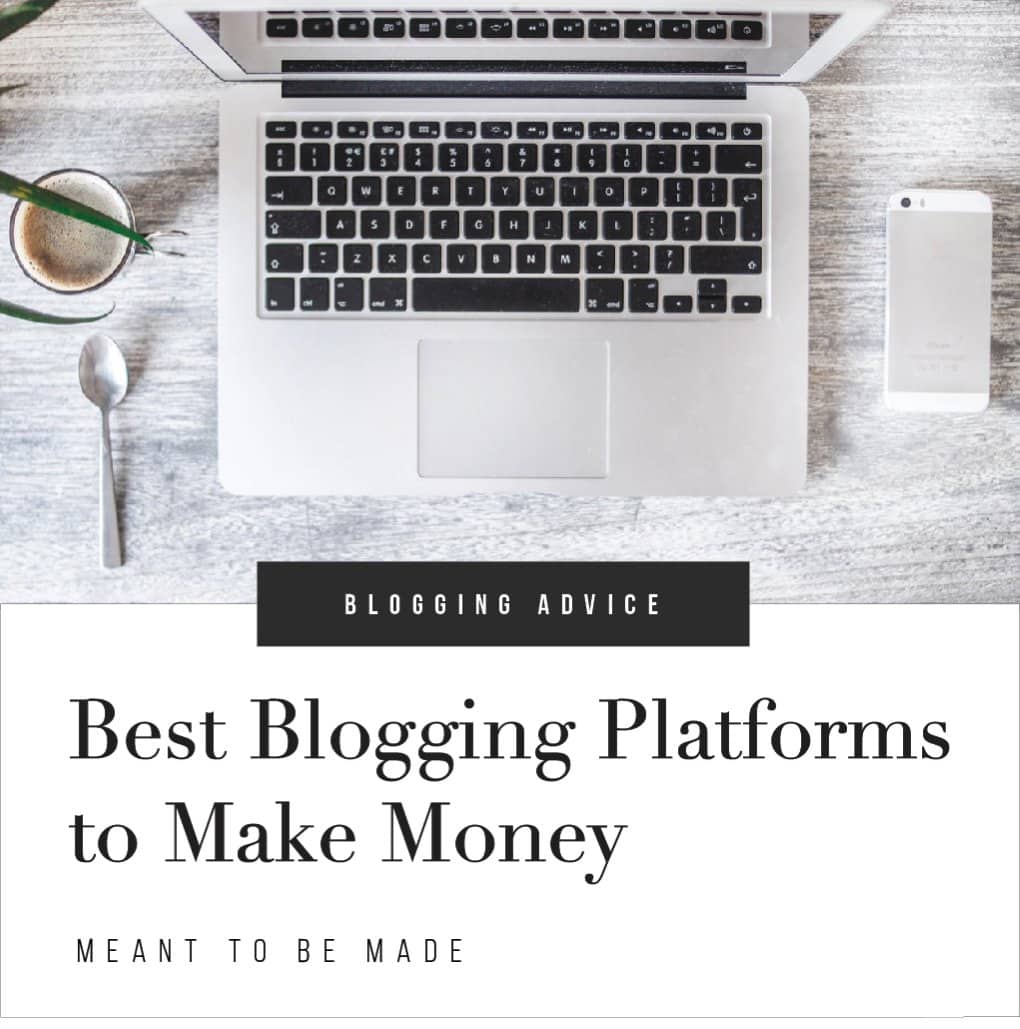 How to choose the best platform for your new blog!
The first decision you need to make before you look into blogging platforms is the goal of your blog.
Will you be blogging purely as a hobby?
To start and learn and maybe blow off some steam?
Or will you be blogging for business?
Will your blog compliment your current business, or will your blog become your business?
Do you want to earn money from your blog?
Answering these questions will make it so much easier for you to choose the right blogging platform for your needs.
To help you make an informed decision, we've compiled some of the best blogging platforms (paid and free) to show you the available options.
Knowing the top blogging platforms helps to point you in the right direction, so you don't have to scroll through pages and pages of websites trying to find the information you need.
A quick overview of what a blogging platform is + needing a host
So you're looking to see what the best blogging platforms are, but how much do you understand about what a blogging platform is?
There are two types of blogging platforms – hosted and self-hosted. The differences between them are worth noting as they can play a huge part in the progression of your blog.
If you opt for a hosted blog provided by a blogging platform, you will have access to the tools needed to build your blog without having to source anything externally. However, a hosted blog does have its limitations.
If you decide to go down a self-hosted route, you will also need to sign up with a host to support the blogging platform.
You might be thinking, "That sounds like more work and more investment, so why should I?"
Well, a self-hosted blog offers so many options for growth and customizing, along with the fact that it solely belongs to you.
Hosted vs self-hosted
There are some things you should consider when it comes to choosing a platform such as:
Flexibility
Does the platform offer you the flexibility to create the right kind of site to suit you? Can it create outstanding blogs, brilliant e-commerce sites, visual portfolios to the standard you desire?
Support and Growth
Can the platform support your blog as it grows? Does it offer unique plugins and features to enhance your blog as you build a bigger audience? Does the platform also offer support for you when you need advice, guidance, or help?
Monetize
If you're looking to build a blog with making money in mind, then this settles the debate quickly for you. Most hosted blogging platforms limit you with how you can make money from your blog. Some even force their adverts on your blog.
That sounds shocking, right? But guess what? Hosted blogs don't 100% belong to you, so it's fair game.
Self-hosted is the best option if you want free reign of your blog with the option to make money from it.
Choosing to self-host your blog doesn't have to be difficult. In fact, it's pretty easy, especially if you choose a great platform such as WordPress.org, combine it with a great host like Bluehost and have some great mentors like us! If you have these three things on your side, you'll be able to make a brilliant blog that grows with you.
Ease of use
Ok, so a biggie for a lot of people, especially those who aren't tech or design-savvy, is whether the blog will be easy to build. Hosted platforms are easier because everything is already built-in – security, themes, features, but these are limited.
Self-hosted platforms need certain things outsourced and integrated but the great thing about self-hosted platforms is you get to choose the best to suit your blog.
Depending on the self-hosted platform you choose, you can get access to thousands of themes, plugins, and features to really elevate your blog and fully customize it. With a bit of guidance, you can do this easily – take a look at some of our articles to help.
We've mentioned a few differences between hosted and self-hosted blogging platforms, but let's look a little deeper into both.
Free blogging platforms
A free blogging platform is exactly that. It is a platform that will allow you to build a blog or website without any monthly fee. The majority of self-hosted platforms offer a free but limited version.
You also tend to run your site under a subdomain rather than a custom domain, for example – https://yourblog.blogspot.com. Also, some free versions of self-hosted platforms will require you to show their branding and ads on your blog too.
Wix (free version)
Wix is a popular web hosting platform renowned for its simple building tools and small learning curve.
It is also home to 150 million users worldwide (although how many use the free version, I don't know).
One of the main pros of Wix is it's easy drag and drop building tools, which are available for the free version and the paid version.
The main con of using the free version is their ads will be featured on every page of your site. Your blog is also assigned a partial domain name such as 'username.wixsite.com/siteaddress'.
If you're looking to blog as a hobby or just to test the waters, then this isn't a problem. However, if you are planning on making a business blog or site on Wix, then we recommend paying for premium.
Blogger
Blogger is a basic blogging platform run by Google. It is easy to use, which makes it a prime option for many bloggers starting out. However, these bloggers tend to switch to a self-hosted platform as their blog and audience grow. Blogger does allow you to monetize your blog, but it is very limited with only targeted ads. Blogger uses Google Adsense to display targeted ads on your blog so you can earn ad revenue.
One downside to using Blogger is the limited design options and templates. Also, it doesn't run updates often, so your blog can easily become outdated and unreliable.
Blogger is run by Google, so if they decide to suspend Blogger without warning, then you can kiss your blog goodbye.
Blogger is a free hosted platform without the availability to upgrade, hence why many people eventually switch.
WordPress.com
WordPress.com, not to be confused with WordPress.org, is a free and easy to use blog hosting service. This platform is good for beginners, but it is limited in design and customization features and doesn't allow third-party plugins.
It will also show their ads on your site, and you will be given a subdomain like other free hosting services.
Unlike a self-hosted platform, WordPress.com handles website backups and security internally, so you don't need to worry about sourcing this.
Because of its many limitations, many people who start with this platform switch to the popular and powerful WordPress.org.
Medium
We've put Medium at the end of the free platform list as it used to be free. However, it isn't a straight forward blogging platform like others we've discussed, so in reality, it fits in its own category.
Rather than the typically hosted platforms we have been discussing, Medium is more of a platform/ limited social network. It has an already established audience that features bloggers, writers, and experts. This makes Medium a good place to start if you are looking to 'just write' and get your voice heard along with reaching out to other like-minded individuals.
One of the downsides to blogging on Medium is that you don't own your audience. If Medium shuts down your account, you will lose all of your followers.
We don't recommend using Medium if you are planning to build a business with your blog as it's main focus is on writing rather than designing. It also has very limited design and branding options with no option to monetize.
Medium used to be free but now costs $5 p/m to become a member. You won't have a custom domain, rather just a username account like Facebook.
Paid blogging platforms
Paid blogging platforms are best for those who want to be taken seriously as a blogger or are looking to monetize their blog.
There are some great paid options available, some of them we've even mentioned in the free section (due to their free options).
The great thing about paying for a blogging platform is that you aren't subject to someone else's rules. You aren't restricted to using their branding or not being able to run ads or affiliates, which limit your money-making abilities.
WordPress.org
WordPress.org is the creme de la creme of blogging platforms. It is the most popular blogging platform in the world and is renowned for its powerful functions. Many of the top bloggers and businesses use WordPress.org, and it's easy to see why.
WordPress.org is free to use, but for it to work, you need to sign up for a hosting service such as Bluehost. One of the great things about using WordPress.org is that you can choose any hosting service you want to suit your needs and budget, and there are plenty of them out there.
If you use WordPress.org, you will have full ownership over your site or blog, meaning you can monetize it in any way you want.
You can add features, plugins, and different customization options to suit your needs. You will have access to thousands of free and paid themes that you can switch up whenever you feel like it.
There is a bit of a learning curve when getting started with WordPress.org, but it's a learning curve worth tackling to have a powerful and professional site. We offer a ton of guides and support to help you set up your WordPress site seamlessly. We also offer guides on how to start with Bluehost and integrate it into your WordPress.org site.
WordPress.org is free, but you will need to pair up with a hosting service to start. With our link, you can currently purchase Bluehost for an amazing discounted offer of $2.95 p/m. You will also get a free domain name and SSL certificate included.
It is too good to miss AND is the perfect combination for starting a professional, top quality blog, or site.
Squarespace
Squarespace is another big name in blogging platforms. You might have noticed them a lot more lately due to the increase in advertising. Honestly, Squarespace adverts are everywhere!
Squarespace is a great starting point for beginners. It uses a simple drag and drop format, making it easy to design your website along with professional and beautiful themes. However, it does lack features and plugins.
Squarespace offers different payment plans, and it is cheaper to pay annually rather than monthly.
The cheapest plan starts at $12 p/m (paid annually) or $16 p/m (paid monthly) with the most expensive plan costing $40 p/m (paid annually) or $46 p/m (paid monthly).
The more expensive the plan, the more additional features and benefits you will receive, but not every plan is suitable for your business.
Wix (Premium)
If the simplicity of the Wix has caught your eye, but you want a bit more than what the free version has to offer, then you can always opt for one of Wix's premium plans.
A Wix premium plan allows you to use your own custom domain name, and you won't be required to show Wix branding or advertising on your site.
You will be able to use affiliate marketing to make money from your site, but depending on the plan you choose, you won't be able to sell from your site.
If you simply want a website or blog without the option to make money, then you can do this for as little as $6 p/m. If you want to add online payment methods to your site or blog, then you will need to opt for a business & e-commerce plan which starts at $13p/m.
Gator by HostGator
HostGator offers both a hosting service and also a blogging platform. Here we are going to discuss Gator, which is the blogging platform that HostGator provides.
Gator is much like Wix and Squarespace in the sense of design features, and ease of customization. Gator also deals with security and backup internally. There is the option to make money from a Gator blog, but these features are only available in the higher-priced subscriptions.
The basic starter plan costs as little as $3.84 p/m but does not include any e-commerce features. An e-commerce plan costs $9.22p/m and allows you to manage and sell products on your site or blog.
Typepad
Typepad is a fully hosted blogging platform perfect for both beginners and the more advanced user. With a built-in theme builder, you can easily customize your blog to suit your style. Typepad also offers CSS for those who are more advanced and would rather design that way.
Typepad also offers different publishing options such as publishing from mobile and directly from email. We have read some reviews that Typepad can look terrible on a mobile device, but this can be a matter of opinion or personal design flaws.
Typepad doesn't offer a free option but offers a 14 day free trial of all of its accounts with a monthly bill being charged after the trial ends.
An overview of the article
We've given you plenty of options to choose from, some free and hosted, some paid and hosted, and some paid and self-hosted.
In our opinion, we find having a self-hosted blog such as WordPress.org combined with a powerful host such as Bluehost is one of the safest places to start.
If you decide to use these two platforms combined, you will have a powerful blog from the very start. You will also have unlimited design and customization options along with free reign of your site with no one to answer to.
You can monetize your blog or site easily with no restrictions, and you don't need to pay to upgrade it to run e-commerce features.
A self-hosted option might be a little bit more expensive with the initial start-up, but it balances itself out over the years you use it. Especially when you start making money from it!