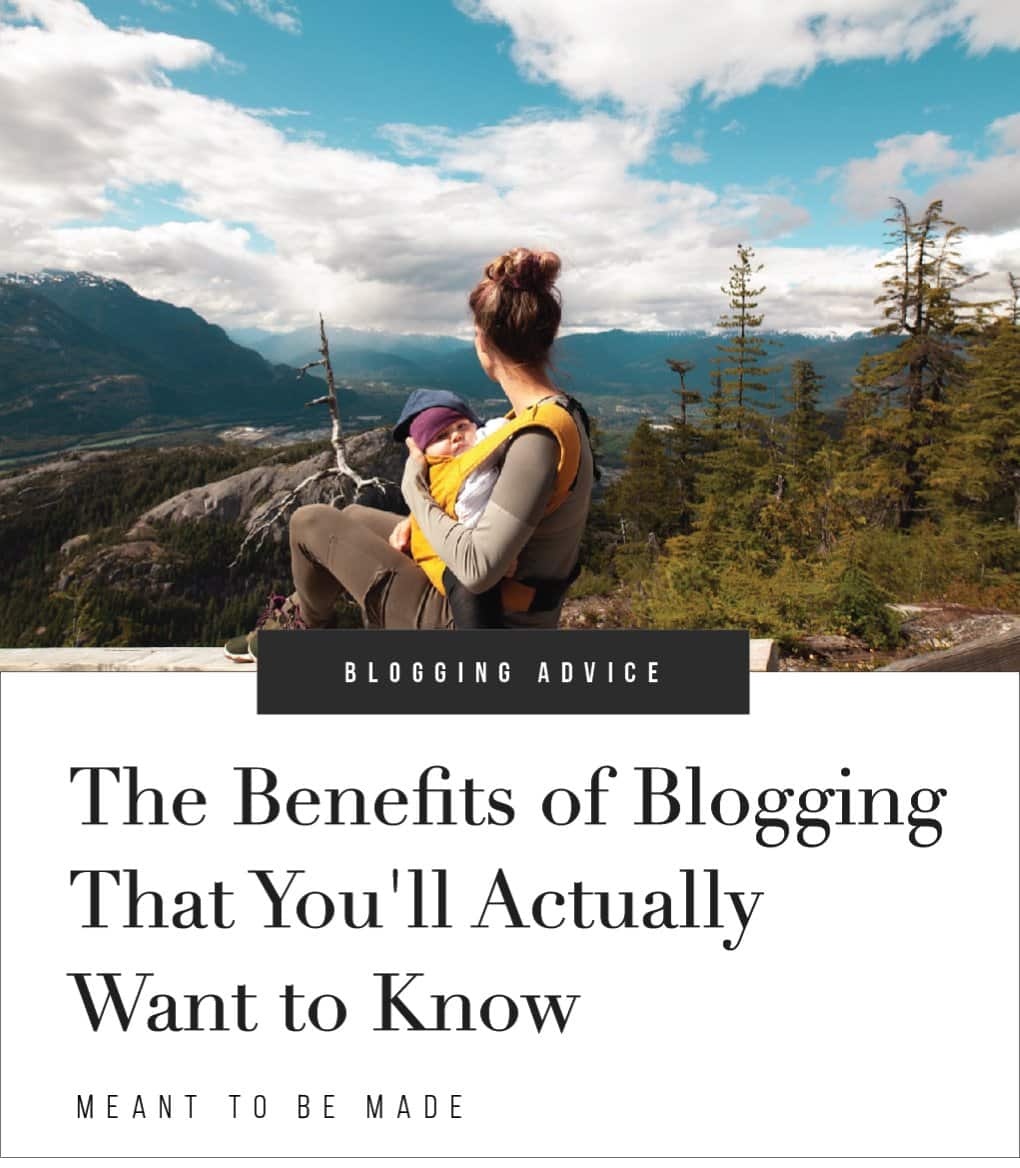 The reasons why blogging is great for your life, well-being, and wallet.
Blogs didn't exist twenty years ago. From the early days of online journals to the distinctive niches that we have today, blogs have changed so much over the last few years.
These days we have blogs covering every topic under the sun. From blogs on business, lifestyle, entertainment, fashion, food, and much much more.
While blogging has developed significantly over the last decade, there are now far more benefits to blogging than ever. Blogging is one of the most important things that anyone can do to advance their knowledge, skills, online presence, and life.
Blogging is cheap, accessible, and anyone can do it. The reasons that each of us does it are different.
The personal and professional rewards are why we recommend you start a blog. Blogging is so easy to get started with and there should be no reason why you can't get started quickly and easily with your own blog too.
Here is a list of just some of the reasons why people blog and how blogging can benefit your personal and professional life.
Express yourself – share your knowledge and passions
A great benefit of blogging is you can write about the things that interest you. Whether your interests are:
crafting
baking
personal finance
DIY
business
blogging is a great way to express yourself by sharing your passions and become even more knowledgeable in these areas.
Refine your writing skills
You don't need to be a good writer to become a blogger. However, the more you write, the better at writing you'll become, and many bloggers start this way.
There are a couple of tools we recommend to make your content that little bit cleaner, such as Grammarly. This will correct any spelling and grammatical errors along with offering intelligent writing techniques and a simple thesaurus.
Don't laugh. A thesaurus is so simple we know, but sometimes you just need a better synonym to give your content a little more edge.
As you continue to write regularly, your confidence will grow, you'll not only become more proficient at writing itself, but you'll also get better at analyzing and proofreading your content.
You'll also learn to use the technical side of writing. While staying focused on the reader, you'll be more accustomed to writing content that is search engine friendly.
Earn more exposure/market your business / get more clients
There are many cases where a blog is not the primary focus but rather an extension to an existing business. For example, many businesses create blogs to expand their current online presence.
Their static websites draw in only a certain amount of visitors, but a blog helps them open this right up by drawing in more prospective customers, promote their brand, generate leads, and more.
It's not only a great way to market your business but is also a great way of producing regular fresh new content that the search engines love, rather than static content sites that are rarely ever updated.
Answer frequently asked questions about your business
Blogging is a great way of helping customers solve their problems and lets you answer frequently asked questions without the need to answer the same questions repeatedly. You can simply direct customers to the answers on your blog, and they'll hopefully find the answer to their questions along with many others.
Meet new, interesting people / build your professional network
Blogging shouldn't be just about you and your readers, and blogging itself makes up only a small part of having a blog (read more here).
An important aspect for bloggers is in networking – reaching out to other bloggers, building relationships, and even making new friends.
If you are a solopreneur or blogging to market your business, meeting new people and building your professional network will help with your blog and business growth.
Meeting new people, especially people who are in a similar line of work as you can offer new opportunities and adventures. There is a whole world of opportunities out there, and people make them happen. If you stick to yourself, it can be a lonely place.
Help you get a (better) job / take control of your online identity
These days employers often mine online profiles before hiring new staff. Employers prefer to hire people with a positive online influence. So much can be learned about the person other than just what they have to say.
Employers can see the quality of their writing, the knowledge of their field, the strength of their online influence, and more. Blogging is the ideal way of taking control of your online identity and achieving a positive online influence.
Can't get a job – so make your own
There are simply some circumstances where you are just unable to get any work, not for want of trying. You might have served jail time or live in an area that has minimal employment opportunities. Perhaps you're near retirement age or disabled and find it difficult for employers to give you a break, especially in the competitive landscape of today regardless of equal opportunities.
In this case, blogging gives you the ideal opportunity to create your own job. Many people leave their jobs and take up blogging as a new venture, and there's nothing stopping anyone, whether they are in work or out of work, to see blogging as an opportunity to earn a living. As we outline the various methods of monetizing your blog, it could actually be a very rewarding opportunity indeed.
The world is changing, and so is the economy. People are losing their jobs to machinery and artificial intelligence, people are losing their jobs because of politics, and many people will be turning to a more modern approach to employment and business – the world of online work.
There is definitely no shame in leaving tradition behind, the world is changing, and the most intelligent thing you can do is change with it.
Learn new skills that are in demand
Over time, after you start out blogging, you'll begin to learn new skills that you may not have anticipated that you would need to learn. Many people who start blogging don't have any technical skills, and the beauty of WordPress is in it's easy to use blogging features.
As you become more experienced with blogging and your blog continues to grow, you'll begin to adopt new processes. You'll learn about creating your own graphics and do basic editing of photos. You'll also learn how to market your content with search engine optimization or social media marketing.
You may even learn some basic HTML and CSS when you wish to carry out some minor cosmetic tweaks to your website theme.
These new skills that you develop over time will not only help towards your blogging success but will also make you more attractive to potential employers.
Stay knowledgeable in your field
Becoming a blogger and aiming to write regularly means you'll constantly be reading and researching articles in your niche. You'll be staying up to date with the latest news, having conversations with peers in your field, and generally looking for information for your content creation for sharing with your readers.
Become an authority/expert in your field
Anyone can create a blog about any topic, but becoming an authority in your field means posting regular content that is relevant, up to date and knowledgeable.
As you post more and your expertise builds your blog will grow too, you will gain the recognition from those in your industry, and soon you'll be known as a trusted source of valuable information for your specific field.
Help others
Whether your blog is about baking or recipes, financial advice, how-to articles, diet tips, or even parenting advice, you'll be providing valuable help to your readers.
Blogs connect with their readers on an intellectual or emotional level and make for the perfect way to educate or inspire them to try something new and can even bring like-minded people together, all of this can make blogging a great way to help people.
You might not change the world with your blog, but you may be the stimulus to change one person's life making all of the difference to their world.
Blogging can give you a healthy emotional outlet
Although fictional writing gave nick carraway from the Great Gatsby, an emotional outlet, decades of research have shown that writing down your emotions does have health benefits. Your blog may not be a diary of sorts, but it can still help as a form of emotional output.
Blogging is fun!
Blogging may not be an entirely enjoyable experience for some. But for most who get into it and become passionate about it, it can become addictive if not a very enjoyable experience.
When you start blogging, it is hard work, we're not going to lie, but the more hard work you put in from the start, the quicker you will reap the rewards and start to benefit from all your sweat and tears.
So yeah, it might not be fun to start with, but we guarantee you'll be finding it fun when you're blogging by your private pool sipping on a large mimosa.
Conclusion / final word
Unlike the early days, bloggers don't need technical knowledge of servers and coding. WordPress and guides like our 'How to Start a Blog (and Make Money) in 2020' make it quick and easy to set up a blog in the time it takes to have your lunch break.
The internet takes up a significant part of our daily lives, and what we've detailed here are just some of the great benefits of blogging, but there are certainly many more, and all in all, these benefits do become hard to ignore.
Blogging is a process that requires patience. Being able to express yourself and share your knowledge and passions can be an enjoyable experience.
Earning more exposure while marketing your business, meeting new and interesting people, and building your network are certainly rewarding and are more than just improving your online presence.
Refining your writing skills and learning new skills, becoming knowledgeable in your field, and improving your job prospects can also be a way of improving your skills.
Being able to help others with your valuable advice, but most of all, being able to help yourself with a healthy emotional outlet can also be a way of improving your life.
Blogs take time to gain traction, so don't give up. Be persistent with your goals, and the benefits of blogging will be yours to have.